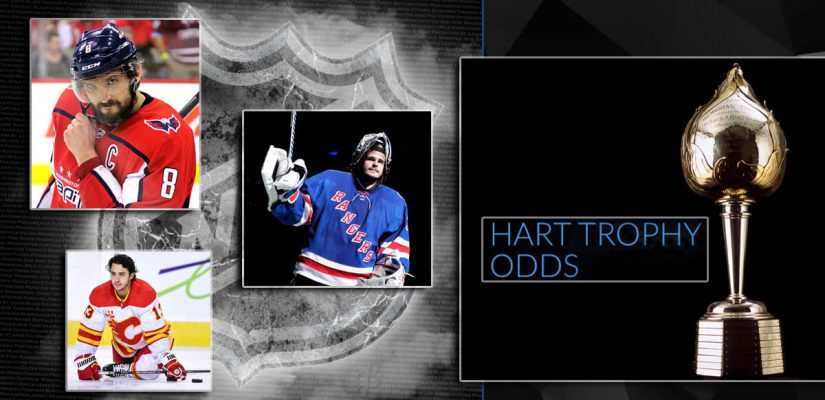 We're not quite at the home stretch of the NHL season yet, but we're gettin' there.
While I'd like to see some playoff races tighten a little bit (looking at you, Eastern Conference) there remains plenty of value in the futures market in terms of individual awards. That's not to say every division is locked down, but I'm liking the value on the players first and foremost at the moment.
We've touched on a few awards so far such as the Jack Adams Award and Calder Trophy, but we'll head to the MVP race where the Hart Trophy race has some intriguing names sporting solid value.
Let's dive into three players sporting nice value at prevailing odds.
*Odds courtesy of Bovada
Alex Ovechkin, Capitals (+325)
He's already sporting three Hart Trophies on his mantle, can The Great 8 make it four at the ripe old age of 36?
I sincerely believed his Hart candidacy was over years ago while he remained a top goal-scorer in the league, but Ovi is proving me wrong in spades. With 31 goals and 62 points across 50 games and an NHL-leading 225 shots on goal, his making his case.
Ovechkin sits fourth in the goal-scoring race and tied for sixth in points, and while there's time to make up ground in those areas, you have to wonder where the Capitals would be without his elite production this season.
There's no doubt the Capitals are in tough in that Metropolitan Division with the rise of the Rangers alongside the Hurricanes and Penguins in the top three, and there's not exactly much challenge (as of now) from anyone currently sitting on the outside of the playoff picture looking in.
That said, Nicklas Backstrom, T.J. Oshie and Anthony Mantha — three of the team's top-six forwards — have missed a total of 109 games this season. Another way to look at it is those three bodies have combined to play in just 30% of the team's games this season. Yet, here the Caps are sitting 12th in offense and seventh of eight teams in the Eastern Conference playoff picture and 11th overall in points percentage at .625.
Alex Ovechkin just had to make more history before midnight ??

He's now the all-time NHL PPG leader with 275 ?pic.twitter.com/RiAwY3v4hH

— Hockey Night in Canada (@hockeynight) January 1, 2022
Ovechkin has scored more than twice the number of goals the second-highest goal-scorers on the Caps in Evgeny Kuznetsov and Tom Wilson, each with 15. He's scored 18.3% of his teams's goals this season and has 14 more points than second-place Evgeny Kuznetsov among Capitals' skaters.
If the Hart Trophy — the NHL's version of Most Valuable Player — still means "most valuable to your team", than you'd be hard-pressed to find a player more deserving than No. 8.
Igor Shesterkin, Rangers (+1500)
A goaltender hasn't won the Hart since 2015 when Montreal's Carey Price took home the honor. In explaining the context of how rare it is for a goaltender to win NHL MVP, perhaps it's more appropriate to note only two goaltenders have won it since 1999: Price and Jose Theodore, the latter of whom also wore a Canadiens jersey when he won it in the 2001-02 campaign.
So, a goalie is winning the Hart about once a decade these days. It could be Shesterkin's turn this season and at surplus value to boot.
Like with Ovechkin, where would the Rangers be without Shesterkin? Consider this: The Rangers rank 26th in both high-danger chances against/60 and expected goals against/60 at 5v5. They generate just 46.59% of the high-danger chances (24th) and deserve just 45.89% of the expected goals at 5v5 action, good for 29th league wide.
At the same time, they rank third (!!!) in overall defense, averaging just 2.50 goals against per game. The difference-maker in the calculations? It's the 26-year-old Moscow native playing in just his first season as a No. 1 NHL netminder.
What a save by Igor Shesterkin ? @NYRangers pic.twitter.com/cVJ0ZayIFf

— ESPN+ (@ESPNPlus) February 16, 2022
After setting the KHL ablaze during his years in the world's second-best league, all Shesterkin has done since coming to North American is turn in a 2.35 GAA and .928 Sv% across 79 games. His numbers this season are unworldly.
Here's where Shesterkin ranks among qualified NHL netminders:
GAA: 2.01 (2nd)
Sv%: .939 (1st)
Shutouts: 3 (T-3rd)
While these traditional stats are all well and good and certainly do their part in showing just how brilliant he's been, let's brief turn our attention to Hockey Reference's goals saved above average (GSAA) stat. Here's the rankings atop that list:
I. Shesterkin – 30.69
J. Markstrom – 20.79
F. Andersen – 18.69
J. Saros – 18.44
T. Jarry – 15.43
According to Hockey Reference, Shesterkin has far-and-away been the best goaltender in the NHL, all due respect to the other names on that list.
He's currently +110 to win the Vezina Trophy as the league's best goaltender, a bet I would certainly make even with 32 games remaining the Rangers' season. Another bet I would absolutely make is Shesterkin to take home the Hart given his overwhelming value to his team.
Johnny Gaudreau, Flames (+3000)
A free-agent at season's end, it seemed as if this was Gaudreau's last kick at the can as a member of the Flames after a pair of underwhelming seasons by his standards. He and head coach Darryl Sutter didn't exactly hit it off when the latter took over the head-coaching reigns for his second tour with the Flames, and after a wildly disappointing season, it would have made sense if the team moved on from the pending unrestricted free agent.
"Hopefully he has more energy than in his 499th game." – Darryl Sutter on Johnny Gaudreau playing his 500th career @NHL game tonight. pic.twitter.com/4SPRPePft3

— Sportsnet (@Sportsnet) March 27, 2021
It's probably a good thing they didn't.
With 64 points in 49 games, Gaudreau sits fourth in league scoring, trailing only Jonathan Huberdeau (72), Connor McDavid (71) and Leon Draisaitl (70). He's in tough to climb all three of those players for Art Ross supremacy, but he does have 33 games in his pocket to give it a go.
Unlike many of the league's superstars, Gaudreau doesn't feed off the power play to produce. A quick look at the top-five in NHL scoring with points followed by power-play points and percentage of points recorded on the man advantage reveals just that.
| Player | Points | Power Play Points | Power Play Points % |
| --- | --- | --- | --- |
| Huberdeau | 72 | 21 | 29.2% |
| McDavid | 71 | 27 | 38% |
| Draisaitl | 70 | 27 | 38.6% |
| Gaudreau | 64 | 11 | 17.2% |
| Kadri | 63 | 19 | 30.2% |
You can't fault a player for racking up points on the man advantage, but what Gaudreau has done at even-strength has been flat-out impressive. He ranks fourth in points and tied for 77th in power-play points.
Some other fun Gaudreau 5v5 numbers and rankings:
| Stats | Total | NHL Rank |
| --- | --- | --- |
| Total Assists | 30 | 1st |
| Primary Assists | 26 | 1st (by far) |
| Total Points | 44 | 1st |
| GF%* | 77.63% | 1st |
*Min. 350 minutes played
At the time of this writing, the Calgary Flames are on a 10-game winning streak and Johnny Hockey has tallied four goals and 13 points in that time. It's been a collective effort for a Flames team that now sits in top spot in the Pacific Division, but Gaudreau's contributions this season have far exceeded the expectations of many — including myself — who thought his leading this Flames core wasn't going to work again this time around.
He's got work to do in a crowded Hart race, but at +3000 he's worth a flier as the most productive even-strength player in the league this season, by a notable margin.