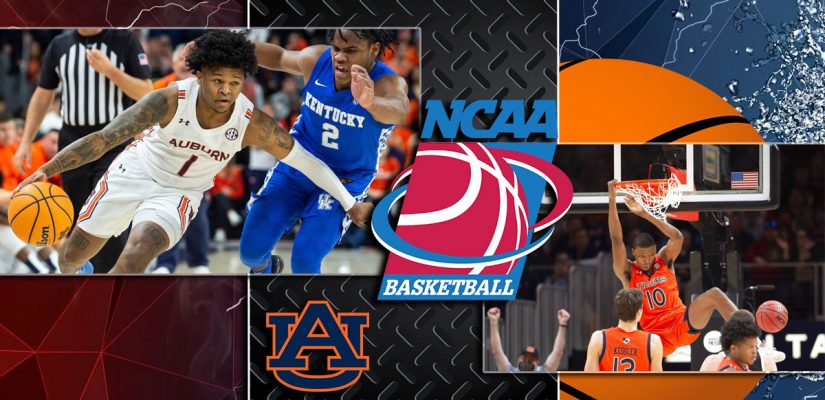 One-bid league participants crowd power conferences in some betting trends
Belmont is the top cover ATS after a loss
Auburn produces 13 covers after wins
Win/Loss Record:
1. Auburn 19-1 – 95%

The Tigers rose to No. 1 for the first time in school history and then they had a tough 55-54 win on the road at Missouri on Tuesday night. This is the deepest team in the nation that has a bulldog mentality with guards KD Johnson and Wendell Green, Jr. manning the backcourt as starters while shot-blocker Walker Kessler and Wooden Award candidate Jabari Smith work for that athletic inside-outside game at 7-1 and 6-10. Coach Bruce Pearl's team has a chance to get this program back to the Final Four with its well-documented offense and a defense that averages 8.2 blocked shots per game and holds opponents to 39.1 percent from the field.
2. Colorado State – 16-1 – 94.1%

Niko Medved's team is proof of the "get old and stay old" philosophy as the Rams are an experienced unit as three juniors in David Roddy (18.6 ppg), Isaiah Stevens (15.1 ppg) and John Tonje (10.6 ppg) lead Colorado State in scoring. The Rams have won five in a row since a 79-49 loss at San Diego State back on Jan. 8, with the rematch coming in Fort Collins next Friday. CSU shoots 50.1 percent from the floor and makes 38.2 percent (19th/CBB) of its three-point shots. The Rams are 3-4-0 ATS in their last eight games and the UNDER has been the play in nine of Colorado State's last 10 games.
3. Murray State – 19-2 – 90.5%

Like the Tigers and the Rams, the Racers are extremely well-coached in coach Matt McMahon's seventh season as Murray State has two of the most dynamic scorers in the nation in Tevin Brown (17.5 ppg) and KJ Williams (16.8 ppg). Justice Hill (13.4 ppg) is another dynamic scorer, who joins Brown as the team's top two three-ballers. Murray State outrebounds its opponents by 8.5 boards per game. Murray State has been a double-digit favorite in eight of its last nine games and covered five of those. The Racers also cover (+6) at Belmont in running away from the Bruins, 82-60.
Against the Spread (ATS)
1. Monmouth (15-3-0) – 83.3%

The Hawks are currently third in the Metro Atlantic Athletic Conference as they rely on the play of 6-11 center Walker Miller and Shavar Reynolds. George Papas leads the Hawks in scoring though at 15.6 points per game as he takes 8.6 three-point shots per game and makes 37 percent of those. Monmouth had a four-game losing streak where they failed to cover those three losses. They covered (+11) in a 61-59 win over Cincinnati earlier in the season.
2. Middle Tennessee (13-3-1) – 81.3%

The Blue Raiders have covered four out of their last five games after they were a (+2.5) at Marshall on Thursday night and pulled out a late 81-79 win. Their most impressive cover came in a loss to Murray State as they were given (+12) and lost 93-87. Middle has won four in a row and the Blue Raiders are tied atop CUSA's East Division with Charlotte as both sit at 4-2. The Blue Raiders' opponents average only 65.3 points and shoot 41.9 percent. They are an inside-out offense that gets to the line 18.6 times per game while shooting 55.8 percent in the mid-range and paint and only 29.3 percent from three.
3. Norfolk State (11-3-1) – 78.6%
The Spartans are 7-1-1 ATS as a favorite, 9-2-1 after a win, and 7-2-1 with a rest disadvantage. They have now won five in a row and have covered the spread in four of those five games with a push as they were a (-7) in an 84-77 win over Coppin State at home. Joe Bryant (16.2 ppg, 5.1 rpg) leads the Spartans as he shoots 48.8 percent from inside the arc. He also leads the MEAC in scoring at 21.6 points in conference play.
OVER/UNDER
1. Bowling Green (15-3-0) – 83.3%

The Falcons are on the end of two spectrums as they average 83 points per game (5th/CBB), but they give up 77.8 (339th/CBB). In the MAC, which is a one-bid league with a ton of solid players, BGSU is going to be one of the picks you watch each weekend. The Falcons have covered the OVER in 10 consecutive games which date back to a 73-72 win over the Oakland Golden Grizzlies on Dec. 4 where the UNDER was the play with the number set at 149. Daeqwon Plowden is the Falcon's go-to guy with 16.1 points and 7.5 rebounds per game.
Bowling Green has won three of its last four games as it is parked in the middle of the MAC and has covered the OVER in all nine of its league contests.
2. Columbia (12-3-1) – 80.0%

The Lions are 4-13 and have lost eight out of their last nine games and they give up 78.5 points per contest (343rd/CBB) while opponents shoot 45.9 percent (324th/CBB). The consistent lack of defense with the Lions, like the Falcons, is a reason to find them and wager on the OVER. Columbia's last three opponents have averaged 89 points per game and the only UNDER in the nine-game stretch came when they won a 73-69 decision over Penn. The Lions are 6-1-0 on the OVER when playing at home and 8-3-1 after a loss.
3. Weber State (13-4-1) – 76.5%

The Wildcats have won five in a row and have a one-game lead in the competitive Big Sky Conference over Montana, Montana State, and Southern Utah. The offense is the name of the game for Randy Rahe's 'Cats as they average 78.3 points overall (41st/CBB) and they lead the Big Sky with 82 points per game. This team can hit the triple but makes its money in the paint and the mid-range at 56.7 percent (18th/CBB). Weber State has covered four OVERs in a row and six in its last seven games. The Wildcats have gone 8-0-0 in covering the OVER after 2-3 days of rest and they are 7-4-1 when posted as a favorite. Utah State transfer Koby McEwen leads four Wildcats in double figures with 17.3 points per game.
ATS After a Loss
18 teams have a 100% cover rate after a loss, so here are five who were among the most win totals.
1. Belmont (5-0-0)

The Bruins were prohibitive favorites after their last two losses to Murray State and Morehead State as they took an 80-64 win over SIU Edwardsville as a (-14.5) favorite and then a 90-56 blasting of Eastern Illinois as a (-25.5) favorite. Coach Casey Alexander has a veteran team led by Ben Sheppard (15.9 ppg) and 6-11 Nick Muszynski (15.0 ppg, 5.7 rpg) that makes 60.6 percent of its shots from inside the arc. The Bruins are two games behind the Racers and Eagles in the OVC as they were most people's preseason favorite.
2. Texas Tech (4-0-0)

First-year coach Mark Adams has the Red Raiders cresting in the Big 12 as they are currently third in the league behind Kansas and Baylor. They feature four double-figure scorers which are led by 13.7 points from Bryson Williams. The Red Raiders were a (+7) underdog against Kansas after a 51-47 loss to Iowa State and they covered with a 75-67 rendering of Bill Self's crew. They followed a 62-51 loss at Kansas State by covering (-8.5) in a 72-60 besting of the Cyclones. Tech lost a heart-breaker on Monday night to Kansas, 94-91, in double OT as they covered (+7.5). Tomorrow's matchup in the Big12-SEC Challenge against Mississippi State will give the Red Raiders another chance for a cover at home. At present time, no line is yet posted for the game.
3. Saint Mary's (4-0-0)

The Gaels win big under Randy Bennett and are in contention for the 2-seed in the WCC as Gonzaga is once again hitting its stride and it is looked at as a Final Four contender. Bennett's team is once again built around its defense as it gives up 58.6 points (8th/CBB) and allows opponents only 5.3 threes per game (17th/CBB). SMC covered a (-13) in a 77-62 win over Pepperdine after a loss to BYU earlier this month and earlier in the WCC schedule. After losing to Colorado State, 74-58, on Dec. 4, the Gaels then covered (-8) in an 80-59 win over UCSB. The Gaels have won four in a row and six out of their last seven games.
4. Texas A&M (4-0-0)
Quenton Jackson adds a balanced Aggies attack with 13.0 points per game as six Aggies average between 7.9 and 13.0. A&M has lost three in a row after getting off to a 15-2 start. The Aggies covered (+9) twice this week in a three-point loss at Arkansas and a six-point loss at LSU. Earlier losses to Wisconsin and TCU were followed by covering (-2.5) twice in wins over Butler and Oregon State. The Aggies are known for their defense as opponents are minimized from the three-point line and they give up only 64 points on average (57th/CBB).
5. UAB (4-0-0)

The Blazers are the favorite to win Conference USA and they have done a good job so far as they are tied atop the CUSA West at 7-1 with North Texas and Louisiana Tech. The Blazers are an efficient team in outscoring their opponents 80.5 (17/CBB) – 63.0 (39th/CBB). UAB covered double-digit point spreads after all four of their losses. The latest came in conference play as after they were defeated 85-80 at Rice, the Blazers came back and covered (-17) with an 84-56 rout of FIU.
ATS After a Win
These are five of the highest win totals as Auburn leads with 13 followed by six with 11 wins so I picked out four based on my confidence in these teams' ATS after their wins.
1. Auburn (13-5-0)

The Tigers are finding ways to win games in the clutch as they showed against Mizzou as they won 55-54, but were a (-12.5) favorite. They had covered eight in a row in the favorite's role before that loss. Auburn lost its only game as an underdog back in the Battle For Atlantis where the Tigers were grabbing (+2.5) but took a 115-109 double OT loss to Connecticut. The Tigers have covered the OVER in five of their last seven games and covered nine in a row before missing (-12.5) at Missouri.
2. Davidson (11-4-0)

The three-point dynamo known as the Davidson Wildcats shoot 41.0 percent from three (2nd/CBB). The Wildcats have only covered the spread in four of their last six games and 4-3-0 in covers in their last seven games. They have a target on their back as they are now posting (-135) odds and are the favorite to win the Atlantic 10. After winning 15 in a row, Davidson was favored by (-3.5) over VCU on Wednesday night, but the Rams took an outright 70-68 win at Davidson.
3. LSU (11-4-0)

The Tigers snapped a three-game losing streak with a 70-64 win over Texas A&M on Wednesday night. They also failed to cover (-6.5) in a 65-58 loss to Arkansas which of course is their last failure to cover after a win. In starting the season 12-0, LSU failed to cover three of those wins. Defensively, the Tigers are a huge threat as they lead the SEC in seven different defensive categories inside of league play. Nationally, they only give up 58.4 points (7th/CBB) and opponents only make 35.9 percent of their shots (1st/CBB). The length and athleticism inside with Tari Eason and Efton Reid also allow for only 12.6 made twos (2nd/CBB) per game. Eason leads the Tigers in scoring at 15.9 points per outing.
4. Houston 11-5-0

The Cougars lost leading scorer Marcus Sasser and dynamic scorer, Tramon Mark, off of the bench, but they have stayed in step at 17-2 and are a heavy favorite (-400) to win the American. Houston missed the cover on three of four American games as all of these came after wins. The latest were back-to-back (-11.5) favorites after wins over South Florida and Wichita State. In their last two games, the Cougars have covers (-18) in a 74-55 win over USF and (-19) when they smacked East Carolina, 79-36, on Tuesday. This is the typical mentally tough Kelvin Sampson team that defends at an elite clip. They only allow 19.1 made baskets per game (1st/CBB) in allowing just 56.6 points per game (3rd/CBB).
5. Baylor (11-5-1)

The Bears had a hiccup for a week as they lost to Texas Tech and Oklahoma State, but they have reeled off three wins in a row and look to be ready to challenge Kansas for the Big 12 title. The Bears failed to cover the (-11.5) with an outright loss to Texas Tech after defeating TCU, 76-64. Including the two losses, the Bears had four games in five that were failed covers. The Bears are another team that plays solid defense in allowing only 59.3 points on average (11th/CBB), which stars with allowing only 29.4 percent (31st/CBB) on the perimeter. Guard LJ Cryer is having a break-out season for coach Scott Drew as he leads the team in scoring at 13.9 points per game as he shoots 47.8 percent from the field. James Akinjo connects for 13.2 points as he was a major pickup in the transfer portal from Arizona.
6. Iona (11-5-0)

Hall of Fame coach Rick Pitino has the Gaels cresting in the Metro Atlantic as they have won their first nine games and have a 17-3 overall record. The Gaels are 3-2-0 in covers after their last five wins. They were impressive in Orlando over Thanksgiving weekend as they defeated Alabama, 72-68, as a (+13) underdog and also lost, 96-83, to Kansas as a (+13.5) underdog. The Gaels' last cover was (-15) in a 74-57 win over Siena on Tuesday night as it followed Sunday's 76-61 win over Quinnipiac where Iona was favored by (-8.5) over the Bobcats. The Gaels are 4-4-0 ATS in their last five games. This is a typical Rick Pitino team with its running and pressing style that no one wants to see on their line in the brackets come March. This team is not a good three-point shooting team, in general, but the players get to the rim off the dribble and big man Nelly Junior Joesph is the second leading scorer (13.6 ppg) and leading rebounder (8.6 rpg). SMU transfer Tyson Jolly leads the Gaels in scoring at 14.9 points per game.
7. Wisconsin (11-4-0)

The Badgers have failed to cover in their last two games where they were a (-3) favorite in an 86-74 loss to Michigan State and then they were favored by (-9) over Nebraska and won 73-65. They had covered five in a row after a win that dated back to Dec. 29 when they failed to cover (-17) in an 89-85 win over Illinois State. Wisconsin is led by guard Johnny Davis (21.7 ppg, 7.5 rpg), who has the second-best odds to win the Wooden Award at (+700) as he had been on top of the odds boards for that award for several weeks. The Badgers only average 8.6 turnovers (3rd/CBB), which is a big key in an adjusted offensive efficiency rate that is 29th in the nation, per kenpom.com.