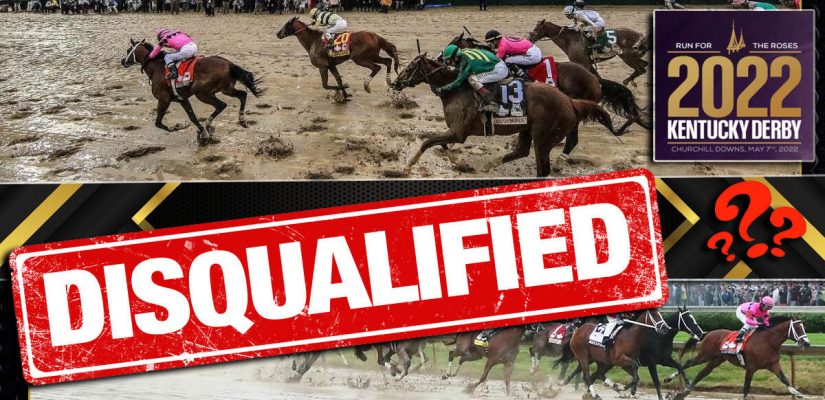 For the second time in three years, there was a Kentucky Derby winner disqualified. Bob Baffert's Kentucky Derby in 2021 is the most notable DQ in horse racing history.
Baffert, who is the biggest trainer and most recognizable person in the sport, finally had the ban hammer come down on him after years of failed drug tests. His horses have been testing positive for illegal substances for decades, with Medina Spirit the fifth since 2020. He skirted what many would consider too many drug violations in his career. This isn't the first time that Baffert has been caught up in a scandal. However, it is the first time that he received severe sanctions for one of his horses failing a drug test.
Medina Spirit tested positive for the drug betamethasone. Baffert stated that it must have been from tainted hay. As in Medina Spirit ate hay which was contaminated from a groom's hay. Uh, yeah. Then the next excuse was the horse was being treated with betamethasone for a skin condition.
Medina Spirit won the Kentucky Derby, but that was officially overturned in February, and the win given to Mandaloun. It almost took a full year for Medina Spirit to be wiped from the record books. After several challenges by Baffert in court, the 2021 Kentucky Derby winner was disqualified. There is no evidence of Medina Spirit winning in the record books or at Churchill Downs.
While the Kentucky Derby winner was in 2021, there was another controversial disqualification in 2019. Over $40 million changed hands on the decision to disqualify Maximum Security for interference and give the win to Country House. What happened to Medina Spirit and Mandaloun bettors, though?
What Happens if the Kentucky Derby Winner is Disqualified?
If the Kentucky Derby winner is disqualified, what happens to your bet? Well, it depends. In the case of Medina Spirit in the 147th Kentucky Derby, all bets stand as is from the results that happened on the track at Churchill Downs.
Immediately after the race, the stewards and officials at Churchill Downs welcome any challenges from teams to review.
If they review the tape and feel that there haven't been any infractions, the results stand and the race is deemed official for betting purposes. Medina Spirit was not disqualified because of a track infraction; thus, wagers stand.
Any Kentucky Derby winner disqualified after the fact because of a drug test will not impact the betting public. In other words, if you had Mandaloun on a win bet, or selected the exacta, trifecta, and superfecta correctly, tough luck.
Baffert's team must repay their winnings for the win, with Brad Cox his team will receive the top prize out of the purse and the Kentucky Derby trophy.
In 2019, Maximum Security was disqualified after inference. He won the race at the wire, but Maximum Security bets were ruled a loss after the DQ. County House bets stand as the winner.
As noted above, approximately $42 million changed hands and more that was likely unaccounted for officially. Yes, bad beats are a thing in horse racing as well.
Kentucky Derby Winner Disqualified 2021
The Kentucky Derby disqualification in 2021 will go down and be remembered for a long time. When I'm old and gray in 50 years, Bob Baffert's Kentucky Derby in 2021 will still be talked about.
For a trainer of his stature to have a Kentucky Derby title stripped and then the consequences that followed, it's a day that people thought would never happen. Baffert had escaped punishment before, but he couldn't run away this time. Medina Spirit did not go into the Kentucky Derby as the betting favorite. He was running well enough on the Road to the Kentucky Derby, though didn't look like the one to beat. However, with a Baffert horse in a big race, you can never count them out.
Authentic won the Derby a year earlier at 8-1 for Baffert and then Medina Spirit was 15-1 on the morning-line for the 2021 Kentucky Derby. Essential Quality was the favorite at 2-1. He did look like the best leading up to the race.
If you had a hunch that Medina Spirit was going to be juiced, well done with that handicapping strategy. It ended up working, as Medina Spirit won by a half-length over Mandaloun, who was 15-1 on the morning line as well. Mandaloun bettors get the short end of the stick in this whole situation. They don't get paid while Medina Spirit backers keep their winnings.
The saddest outcome of the scandal was that Medina Spirit died after a workout in December. The results came back inconclusive, with a heart attack the probable cause.
Bob Baffert Kentucky Derby 2021
Bob Baffert responded immediately to the failed drug tests claims. He even went on FOX News and said Medina Spirit is a victim of cancel culture.
His first explanation for the failed test was contaminated hay that Medina Spirit must have eaten. A groomer, who consumed the drug in question, urinated and it ended up in his stall. When that didn't gain much traction, Baffert stuck with the explanation that the horse was being treated for a skin condition on his hindquarters with topical ointment Otomax.
Churchill Downs didn't buy it nor did the Kentucky Horse Racing Commission. Baffert brought his case to the courts and they didn't budge either.
In addition to being stripped of the 2021 Kentucky Derby title, Baffert was banned from Churchill Downs for two years. He is also currently under the microscope in New York by the NYRA.
There is a chance he is banned from running in New York for two years as well. New York is home to big stakes tracks like Aqueduct Racetrack and Belmont Park.
Disqualified Kentucky Derby Winners
Medina Spirit is the second Kentucky Derby winner disqualified in three years. Maximum Security, who was much the best horse in the 2019 Kentucky Derby, received a disqualification after cutting off and interfering a foe.
There have been only three disqualifications in the Kentucky Derby's 147-year history. Dancer's Image was disqualified for an illegal substance in 1968. Medina Spirit is the only other horse to receive a DQ for drugs.
Maximum Security was disqualified on the spot shortly after the Kentucky Derby in 2019. This was for interference, and is the only horse to be disqualified in the Kentucky Derby for a race infraction.
Odds of a Disqualification in the 2022 Kentucky Derby
With only three Kentucky Derby qualifications in 147 races, this equates to a DQ in 2.04% of races. With a 2.04% chance of a bet winning, the correct odds should be +4802 if we're going by this measurement..
However, with two of the last three Kentucky Derby winners getting disqualified, recency bias is going to be in effect. Oddsmakers would have to take into consideration that the public remembers well what happened recently.
Also, note that the Kentucky Racing Commission is tightening up their rules. Drug testing wasn't nearly as robust in the early days of the Kentucky Derby as it is now. Disqualifications for in-race infractions are more common as well.
There is better than a +4802 chance of a horse being disqualified in the 2022 Kentucky Derby. However, it is much more favorable than races from well before this year. Odds of +2500 for a disqualification look about right.
Derby betting sites don't typically have this prop bet, but something to keep in mind. Check out the link for the best 2022 Kentucky Derby betting sites and odds.