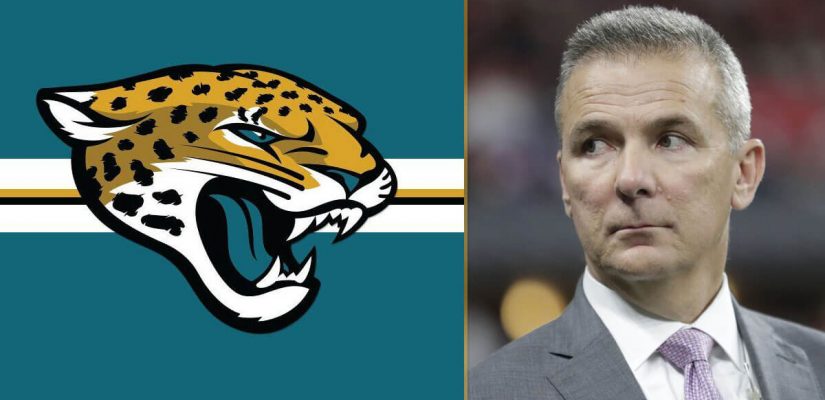 Urban Meyer found himself in hot water once again after videos of the Jacksonville Jaguars head coach went viral over the weekend, showing Meyer being very "friendly" with a woman that wasn't his wife.
This isn't the first time controversy has struck in Jacksonville since the hiring of Meyer in January. When he first took the job, Urban hired Iowa strength coach Chris Doyle and it sparked an immediate backlash.
Doyle had been accused of bullying players when at Iowa. Once the backlash increased, Doyle resigned from the Jaguars.
To make matters worse for the franchise, Jacksonville is in the midst of a 19 game losing streak. They haven't won since the 2020 season opener. The record for consecutive losses is 26 by the Tampa Bay Buccaneers of 1976-77.
The Jaguars are well on their way to threatening this record that was previously thought to be untouchable.
With the latest scandal,
NFL betting sites
have released a prop bet asking what will happen next in Urban Meyer's immediate future.
Let's huddle up to examine this prop bet, see where we should lay our money, and take a look at some of the hilarious tweets that have popped up regarding Meyer's blunder.
Urban Meyer continues to make terrible decisions when it's come to tight ends pic.twitter.com/FBZ19AoxJo

— NFL Memes (@NFL_Memes) October 5, 2021
NFL Betting Odds
The following NFL prop bet is courtesy of BetOnline:
Urban Fired/Resigns:
+350
Urban Meyer's wife and the Jaguars partying after tomorrow's game pic.twitter.com/lluaGSm3b0

— Guy P. Football (@Guy_P_Football) October 3, 2021
Wife leaves him (+2000)
So, the story goes that Meyer decided not to fly back with the team to Jacksonville following their loss on Thursday Night Football last week to the Cincinnati Bengals.
Instead, Meyer went to Columbus, Ohio, to visit with his grandchildren. That's a pretty cool gesture from the Jaguars owner Shad Khan to allow the head coach some time off with the family despite a 19-game losing streak.
On Friday night, October 1st:
Meyer and family members went out to his restaurant – Urban Meyer's Pint House. It was a nice evening with loved ones until a party had the audacity to ask the coach to come over, take pictures, and hang out with them.
Making things even worse for Meyer was that members of the party asked him to come out on the dance floor and "screw around."
Everything seemed rather harmless until the old ball coach decided to show patrons of the establishment how to properly take the snap from a center and began touching the backside of a woman that wasn't his wife.
Of course, this turned out to be a random, younger lady who just so happened to be an evil temptress that Meyer couldn't resist.
Once the "how-to snap a football" videos of Meyer and the lady went viral, penalty flags were thrown and the football coach was sleeping on the couch in his assistant coach's house for the next week.
Of course, Meyer just blamed it on the alcohol and his need to teach others how to play football.
As for his wife, well, I think one tweet sums it up best – she's prowling on Tinder.
Meyer stated that the family was upset, but this isn't the first time Urban has gotten in trouble and it won't be the last. He also publicly declared how strong his marriage is:
"I don't want to get into our personal life, but 37 years we've been together and it's been awesome, man. And this speed bump's not going to get in the way of that."
Hopefully, his wife didn't sign a prenup. Btw, the girl in the video was well below the age of 37.
Urban Meyer Still Adjusting To Speed Of NFL Cover-Ups https://t.co/vDUHaJht53 pic.twitter.com/TGQsbvoPrc

— The Onion (@TheOnion) October 5, 2021
Urban Fired/Resigns (+350)
Meyer has already come out and said that he won't re-sign. Urban also stated that he has apologized sincerely to everyone in the Jaguars organization and his family.
Jaguars' owner Shad Khan publicly chastised Meyer for this behavior, but won't suspend or fine the coach. Khan made the following statement:
"What I will say is his conduct last weekend was inexcusable. I appreciate Urban's remorse, which I believe is sincere. Now, he must regain our trust and respect. That will require a personal commitment from Urban to everyone who supports, represents or plays for our team. I am confident he will deliver."
In other words, Khan is saying that the next time this happens, don't be an idiot and get caught on camera.
As of now, the NFL hasn't gotten involved with this matter as it isn't a crime. However, that could change if a video comes out showing off Meyer's dance moves on the floor!
Is this why Urban Meyer is trending? ? pic.twitter.com/nFg8kUFVli

— Dude In Texas™️ (@ChiefSVP) October 3, 2021
Jags Win a game (-600)
Looking at Jacksonville's schedule, I don't see this team having a realistic shot at winning until Thanksgiving.
They play the Titans, Dolphins, Seahawks, Bills, Colts, 49ers, and Falcons. Of those teams, Atlanta is the only one they have a decent shot at beating. The game against the Falcons will take place on November 28th. Additionally, the Jaguars will enter that contest with a 25-game losing streak and one loss from tying the all-time mark for futility in the NFL.
If the Jags lose to Atlanta, their next best chance is on December 19th against the Texans. That means they could be on a 28-game losing streak by then.
Which Meyer Betting Option Should We Take?
Unless Meyer's wife is going to be a millionaire due to a divorce, or there's another controversy before Thanksgiving, this prop bet clearly leans towards the Jags winning a game before Meyer departs the team or his wife departs the marriage.
With the amount of heat that Meyer has caused, he should talk to Shad Khan's son Tony who runs the highly successful pro-wrestling league AEW.
Meyer already appeared on All Elite Wrestling programming earlier this year. He could be the biggest heel on the show if AEW times it to where they have him on their episode of Dynamite that will be live in Jacksonville later this month.