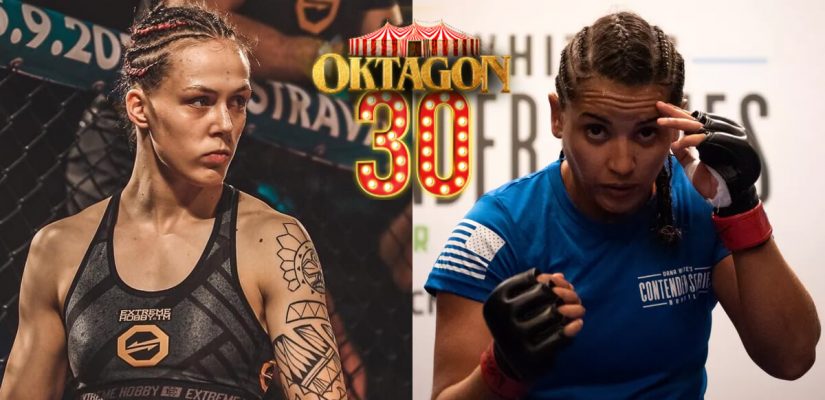 This week, there is no UFC event and no Bellator event, so the Czech Republic comes to the rescue with OKTAGON 30. This nine-bout card is at O2 Arena in Praha on December 30th, 2021. In our main event, two women's flyweights go head to head. We're covering each fight in this OKTAGON 30 betting pick, starting with the main event and diving deep into the stats to make the only MMA card of the week count for betting fans!
We'll be covering each bout, starting with the main event and working our way down to the prelims.
Story of the Fight
Eastern Europe produces some of the best womens' MMA stars, such as Shevchenko. Oktagon continues putting women center stage that may very well have a future in organizations like the UFC. Our main event is between two female finishers, submission specialist Tereza Bleda and powerhouse Mabelly Lima.
OKTAGON is taking this momentary lull in major MMA shows by stacking this card with five undefeated fighters and many of Czech and Eastern Europe's best fighters. When it comes to cards worth betting on, OKTAGON 30 is a great card to start with if you've never bet on International MMA before.
Note that no fights currently have prop bets of any kind. Only the fighter money lines are available for
betting at BetOnline.ag
and other offshore sites.
FIGHT CAAARD IS HERE??

? Get your PPV here ➡️ https://t.co/TVP7NaDRbZ
? 30. 12. 2021 pic.twitter.com/BgkiyANy2O

— OKTAGON MMA (@OktagonOfficial) December 24, 2021
Mabelly Lima vs Tereza Bleda
Our main event looks like a strong fight and a likely early finish. Lima is coming all the way from Brazil to the Czech Republic to make the fight versus local amateur champion Bleda. Bleda is on a thirteen-fight winning streak and plans on devastating Lima with ease.
Bleda's nickname is Ronda due to her aggressive style, Judo black belt, and a tendency for first-round finishes.
Mabel is a tough competitor, and her only loss was in the DWCS 2018 bout versus now contracted UFC fighter Luana Carolina at bantamweight.
Tale of the Tape
| Tereza Bleda | Fighter | Mabelly Lima |
| --- | --- | --- |
| -400, $0.25 | Moneyline and Payout per Dollar Wager | +300, $3.00 |
| 19 | Age | 27 |
| 5'9″ | Height | 5'2″ |
| NA | Reach/Stance | 63″ |
| 4-0 (9-0 amateur) | Record | 9-1 |
| 2/1 | Submissions/TKO | 2/2 |
| Hanuman Gym Prague | Fighter Training Camp | Master Kombat |
Bleda's seven-inch height advantage is notable. She's spent her career at flyweight and fought at bantamweight in older bouts. Meanwhile, Mabelly has fought at strawweight (115 pounds) in several 2015 bouts. Bleda will have a strong size advantage, and likely, a serious reach advantage.
Lima's experience advantage is superficial. Her professional bouts early in her career are only due to a lack of an amateur scene in Ceara, Brazil. Bleda has had more fights in a shorter period of time, starting her amateur run in 2017.
Fighter's Camp Comparison
Bleda's Hanuman Gym is located in Prague. Currently, the gym is producing a number of quality athletes like Leo Brichta, a young athlete on a five-bout winning streak. Hanuman also exported Roshan Mainam to ONE FC.
Master Kombat is run by Gean do Vale, a 4-1 BJJ fighter. Vale produced Wagner Silva, a fighter who's done quite well in the Brazilian DWCS feeder Jungle Fight. They've had success on a local stage but are still a relatively new gym. Hanuman Gym gives a slight advantage, but Master Kombat is still growing and learning.
Fight Analysis for Bleda vs Lima
Bleda has a 75% finishing rate as a professional and a 61% finishing rate across all bouts. Many of her amateur fights that went to decision were heavily in her favor and could have finished with a bit more time.
Let's break down a bit more fight tape to find our betting pick.
Bleda vs Edna Oliveira
In Bleda's last bout just three months ago, she won via armbar from guard in the first round. Her opponent was the 10-7-1 Edna Oliveira from Brazil.
Bleda showed that she still had room to grow. Her striking is clunky, and it's clear her focus is grappling and ground striking.
Her first takedown of the bout took place inside the first forty seconds, from which point she slowly demolished Oliveira.
Bleda's weakness will be in standing exchanges, where she will tower over Lima.
Lima vs Luana Carolina
Carolina towers over Lima, striking down at the much shorter and smaller fighter. It's a wonder this fight lasted as long as it did. Lima impressed with her ability to punch her way inside with overhand rights. However, her goal was to clench with the much bigger fighter and she was easily reversed.
Lima is very talented, and ironically, if she had chosen to simply continue to strike instead of moving to clench, she would have continued to get the better of each exchange.
In the third round, Lima is exhausted by the larger fighter and Luana dominates the fight for a decision victory.
Final Betting Pick
At the end of the day, Lima is the better fighter but is two weight classes too small. She should be looking for competition at the strawweight division but instead will fight one of the biggest undefeated flyweights I've ever seen.
Look for Bleda to win a unanimous decision after winning top position in repeated wrestling exchanges.
Jeremy Kimball vs Jose Toledo Canellas
It's America vs Spain in this Light Heavyweight bout between two fighters at a crossroads in their career. Kimball is a UFC veteran that was released in 2018, quickly signing with OKTAGON for regular fights. Canellas is a regional champion of Spain who's shown mixed results for major European organizations like ACA.
Tale of the Tape
| Jeremy Kimball | Fighter | Jose Toledo Canellas |
| --- | --- | --- |
| -240 | Moneyline | +190 |
| 19 | Age | NA |
| 6'0″ | Height | 6'3″ |
| 72″ | Reach/Stance | NA |
| 17-9 | Record | 12-10 |
| 1/8 | Submissions/TKO | 1/6 |
| MMA Lab, Shingitai Jujitsu, Wildman Vale Tudo | Fighter Training Camp | Sur Union |
Canellas is bigger than Kimball, but little else is known concerning their stats. Canellas has been active since 2010, similar to Kimball who's amateur debut was in 2009.
Both fighters have significant finishes, boasting multiple knockouts.
Canellas' record is nearly even in losses and wins. He's been put away by knockout four times in his last five losses. It's clear that OKTAGON is protecting Kimball, who lost his last fight at OKTAGON 14 in 2019. They want to keep former UFC fighters active to bring legitimacy to their promotion.
Comparing Fighter Camps
Kimball has trained with some of the best in the world at the MMA Lab. However, he lives in Colorado Springs and may not have year-long access to the gym. Kimball is now a full-time coach at the gym he opened in Colorado, Wildman Vale Tudo. He appears to be mostly doing mitt work, commonly working with local fighters that he himself has trained. It doesn't bode well for a bet on Kimball.
Canellas trains at Sur Union Fight Club is a BJJ gym with MMA programs for kids and adults. This gym hasn't produced any notable fighters, but at least it has organized classes and sparring partners. I'd put these two camps in the same category of capability.
Fight Analysis for Kimball vs Canellas
Looking at both fighters' recent bouts, we'll get an idea of who's more likely to take home the win. I worry about Kimball's six submission losses. He's not currently training much jiu-jitsu with high-level fighters, as he's creating his own gym.
Kimball vs Petrasek
In one of his 2019 showings for OKTAGON, Kimball walked away with a narrow decision win. He was taken down and mounted inside the first minute of the fight. The stand-up exchanges were close, but there wasn't much action in the first two rounds.
Kimball looked to be in poor condition and continued to keep his chin as high as possible, just as he did in the UFC. Canellas will connect if he hasn't fixed this defect.
Kimball vs Feucht
Kimball looks to be in even worse condition in this bout. Feucht walks through him after landing one straight right in the first round.
Canellas vs Xavier
Canellas has fought twice this year losing both times. For OKTAGON he fought Rafael Xavier, a 9-6 finisher from Brazil.
Canellas looks good in the clench. He's a very strong light heavyweight and should win clench exchanges with Kimball. However, his grappling is underdeveloped. Canellas struggled with striking exchanges but is clearly developing a shoot boxing game, with the goal of taking top position and dealing ground strikes.
Before Canellas was knocked out, the fight was close. He scored three takedowns on a BJJ blackbelt and maintained almost four minutes of top control.
Final Betting Pick
I believe that OKTAGON's goal in this fight is to bring back Kimball for a win, but Canellas will spoil that return. Kimball looks worse and worse with each fight, refusing to do his conditioning and now training himself for international bouts. Bet lightly on Canellas, a +190 underdog.
Matus Juracek vs Robert Pukac
This welterweight bout is between the young Czechian Karate fighter Matus and the #17 Czechian Welterweight out of Yugoslavia, Robert Pukac.
Both fighters show a striking centered style, but only Pukac has been finished in 2021.
Tale of the Tape
| Matus Juracek | Fighter | Robert Pukac |
| --- | --- | --- |
| -180 | Moneyline | +150 |
| 26 | Age | 29 |
| 6'3″ | Height | 5'11" |
| NA | Reach/Stance | NA |
| 8-2 | Record | 15-8-1 |
| 3/2 | Submissions/TKO | 4/3 |
| Pro7Sport | Fighter Training Camp | Octagon Fighting Academy |
We can see that Matus has a much stronger finishing percentage at 50% to Pukac's 29%. Matus is also younger and taller. He's been active since 2012, and Pukac started in 2010.
After a look at their records, you see that Pukac has fought much tougher competition, such as ACA's champion Patrik Kincl way back in 2015.
Fighter Camp Comparison
Juracek's home gym Pro7Sport has produced eight professional fighters since 2013. The majority of fighters on the team run a similar path and skill level to Juracek, local level fighters with a better percentage of wins to losses overall.
Pukac is at OFA, a Slovakian gym run by Ilja Skondric. Many of these fighters have wins in 2021, which is promising for the underdog. All in all, these gyms are very closely aligned in terms of the ability to produce fighters.
I will say that Octagon Fighting Academy looks to be very strong overall, with some fighters that clearly have a little help from restricted supplements.
Fight Analysis for Juracek vs Pukac
Both fighters have two bouts for 2021, with Matus winning both and Pukac going 1-1.
Jurack vs Tato Primera
Jurack's last bout showed aggressive out striking of a much shorter Primera. Primera pushed forward, unafraid but clearly outmatched when engaging with Jurack's offensive striking. The clench work was equally impressive, with Jurack able to bully the much smaller welterweight.
Jurack is a massive 170 pounder, and it's most apparent on the ground. His conditioning came into question during the third round, where Primera clearly dominated the fight, nearly finishing a guillotine at the buzzer.
Pukac vs Malach
In Pukac's only win of 2021, he showed first-round submission skills. Pukac won't be as big as Jurack, but his wrestling and shoot-boxing is higher quality and clearly more technical. He got the takedown inside a minute, and the submission locked inside three minutes.
Pukac vs Kertesz
Pukac lost a unanimous decision in his most recent fight, September of 2021.
Pukac focused on boxing exchanges, throwing long strikes, and avoiding the grappling game of Kertesz. After Pukac won the first round, his opponent came out with takedown attempts immediately, pushing Pukac to the fence and kept him there for two rounds. Pukac gave up the second and their round in grappling control alone.
Final Betting Pick
It doesn't look like Pukac's defensive wrestling is where it needs to be, and against a larger fighter, he'll be giving up early rounds. Pukac's hope will be a third-round finish that I don't see coming for him. I'll be betting on Matus Juracek at -180.
Lucia Szabova vs Olga Rubin
This bantamweight bout shows us an undefeated Szabova vs a fighter fresh out of Bellator. Lucia has only ever lost in an exhibition bout versus Tereza Bleda, our main event Flyweight world-beater.
Tale of the Tape
| Lucia Szabova | Fighter | Olga Rubin |
| --- | --- | --- |
| -400 | Moneyline | +300 |
| 24 | Age | 24 |
| 5'8″ | Height | 5'9″ |
| NA | Reach/Stance | 69″ |
| 6-0 | Record | 7-2 |
| 3/2 | Submissions/TKO | 0/2 |
| Hanuman Gym Prague | Fighter Training Camp | Great Britain Top Team |
On paper, there are a few differences between these two fighters. Don't let Lucia's higher submission win count fool you, Olga's main hope is to get this fight to the ground.
Lucia has a professional Muay Thai record of 1-0 and is the more experienced kickboxer.
Olga does have an older career than Lucia. She began competing in 2016 and has been active each year since.
Lucia is a serious favorite. I will say that Olga has faced tougher competition, losing to some of the highest quality bantamweights in the world- Julia Budd and Sinead Kavanagh. Lucia has only fought local fighters.
Comparing Fighter Camps
Hanuman is the same gym as main event fighter Tereza Bleda. It's high quality for the area but lacks world-class coaching.
Great Britain Top Team is run by the UFC's Brad Pickett. They've produced a number of Bellator and ONE FC level fighters as well as local Cage Fury champions, including Ashleigh Grimshaw and Dominique Wooding. While they've struggled at the Bellator level, they've shined at the local and OKTAGON level. I say Olga's GBTT has a big advantage.
Fight Analysis for Szabova vs Rubin
Szabova is a better kickboxer and Rubin's been finished twice with standing strikes, but I want to make it clear that we're talking about two very different levels of competition. Rubin has fought two women in the world's top twenty women's bantamweight.
Szabova vs Zouak
Zouak is a French fighter, now 5-4. Zouak landed a beautiful spinning elbow that knocked Szabova down and nearly ended the fight. In the second round, Szabova showed better conditioning and defended several throws from the Judo black belt Zouak. Szabova won the fight after a failed throw from Zouak offered up her back, leading to the armbar finish.
Olga Rubin vs Julia Budd
This 2019 bout shows an undefeated Rubin vs the toughest woman in Bellator other than Cyborg. Budd was #2 in Bellator at the time and Rubin was fed to her as a way to bounce back from losing the title.
Rubin looked good early, with quality striking and good management of distance. Budd finished with ground strikes early after landing a gut-checking front kick.
Olga Rubin vs Souza
This fight was Rubin's first in OKTAGON, just one month ago. Souza has taken tough fights and gone to decision versus fighters like UFC's Molly McCann and Roxanne Moderaffi. Souza and Rubin had a close fight and Rubin won via split decision. Souza won on control time, but Rubin definitely did more damage and landed more total strikes.
Final Betting Pick
Rubin is underrated. She's fought some of the tougher fighters at bantamweight worldwide. Meanwhile, Szabova has had close fights with girls who've never touched the world ranking. I think the oddsmakers are going to judge Bellator women's division differently after this bout. I pick the underdog, Olga Rubin at +300. She's underrated and coming off a level of fights that Szabova hasn't even come close to.
Jakub Tichota vs Dawid Kareta
Undefeated finisher Tichota goes up against the submission centered Kareta in a classic boxer versus grappler bout. This will be one of the tougher tests of Jakub Tichota's defensive wrestling abilities in his career so far.
Tale of the Tape
| Jakub Tichota | Fighter | Dawid Kareta |
| --- | --- | --- |
| -300 | Moneyline | +240 |
| 22 | Age | NA |
| 6'0″ | Height | NA |
| 64″ | Reach/Stance | NA |
| 3-0 | Record | 4-1 |
| 1/2 | Submissions/TKO | 2/0 |
| Hanuman Gym Prague | Fighter Training Camp | Octagon Team Cieszyn |
Kareta was also 4-1 in his amateur career, while Jakub went 14-5, competing since 2017. This is a very high rate of competition. It's notable that Jakub hasn't been submitted in his professional or amateur career, and finished four amateur bouts on the ground.
It's unfortunate that we don't know more about Dawid.
Jakub is a tall featherweight, while Dawid looks about average-sized in most bouts.
Fight Analysis for Tichota vs Kareta
Trichota's size should offer a significant striking and grappling advantage. Kareta was outsized in his last bout and won with throws and ground control. A bet on Kareta means that you see Jakub getting controlled or submitted, and that feels like a very long shot for this lanky, active featherweight.
Tichota vs Dimitrov
Jakub's pressure was immediate in this bout. He lands his first knockdown of the fight inside the first thirty seconds and finishes with ground strikes. He received little to no resistance or submission-based opposition.
Tichota vs Tripsansky
This September 2020 bout was another KO for Trichota. Tichota comes out quickly yet again, but paws with the jab. Jakub towers over his opponent at 145 pounds and dismantles him with looping hooks.
What I'm really looking for is his wrestling. Someone shoot on this guy!
Trichota vs Konrad
In Jakub's professional debut, he fights 8-8 Konrad, a submission-centered fighter. Jakub was quickly put on his back inside the first minute. Konrad managed to find top position, but Jakub showed good guard work and developed opportunities to stand up. Jakub caught the shot late in the first round, leading to his RNC finish inside four minutes.
Kareta vs Gabal
In Kareta's most recent bout in August 2021, he faced Gabal in a three-round banger. He survived the early striking onslaught of Gabal to do some work in the clinch position. This is a fight that demonstrated Kareta's lack of striking at range and ability to develop takedowns versus bigger fighters. Kareta won the bout on conditioning and perseverance, but Gabal's groundwork is limited compared to Trichota's.
Final Betting Pick
It's clear to me that Trichota is a level up from Kareta. He's developed his striking in a way that Kareta simply isn't ready for, and his grappling is capable of handling the much smaller Kareta. Pick Jakub Trichota at -300 for a clean win.
Tadej Dajcman vs Daniel Dittrich
Our only heavyweight bout on the card is between two middle-of-the-road fighters. Both fighters are coming off knockout wins this year, and both have KO losses, so we can expect an early finish.
Tale of the Tape
| Tadej Dajcman | Fighter | Daniel Dittrich |
| --- | --- | --- |
| +190 | Moneyline | -240 |
| 25 | Age | NA |
| 6'2″ | Height | 6'2″ |
| NA | Reach/Stance | NA |
| 3-2 | Record | 6-5-0, 1 No Contest |
| 0/2 | Submissions/TKO | 0/5 |
| Hard Knocks | Fighter Training Camp | Jayman MMA Fighting Systems |
Both fighters are big heavyweights that tend to either knock the opponent out or get knocked out. Note that Dittrich has twice the volume of experience, He's been fighting far longer as well. Dittrich started his MMA career in 2011, while Tadej's first fight was in 2019.
Comparing Fighter Camps
Hard Knocks is a 2020 MMA school that's struggled this year. Their four most experienced fighters all have lost their most recent bout in 2021.
Jayman is an older Czech fight gym with a large stable of fighters. They've had mixed success over the past three years and appeared to shut down entirely for a few years between 2013 and 2017. The schools are evenly matched.
Fight Analysis for Dajcman vs Dittrich
Unless Dajcman fully rethinks his grappling and takedown defense, he'll find himself on the receiving end of Dittrich's ground striking game.
Dittrich vs Narmo
In his last bout of 2021, Dittrich caused his opponent to retire during the break after round one. Dittrich demonstrates decent head movement and understanding of range, but his strikes are looping and almost silly in how bad they are. However, he gets a takedown and lands ground strikes, many to the back of the head of his opponent. These strikes aren't called by the ref, and they lead to the win.
Podkrajsek vs Dajcman
This 2019 bout shows Dajcman's earliest loss. Dajcman finds himself taken down early. The fight was gritty, and Dajcman gave in more to exhaustion than strikes.
Dajcman vs Cosic
In this 2020 bout both fighters were swinging for the fences early. Again, Dajcamn was dumped on his back, this time to be finished with ground and pound strikes from turtle position within moments of being taken down.
Final Betting Pick
Daniel Dittrich is a quality favorite. He's a better grappler, he's been training longer, and he plays a fight game that has beaten Dajcman in the past. I bet the favorite at -240.
Daniel Skvor vs Jhonathan Azevedo
This light-heavyweight bout is another striker versus grappler showdown. Azevedo is an undefeated Brazilian BJJ artist and Skvor is a seasoned kickboxer with multiple amateur and professional kickboxing bouts.
Tale of the Tape
| Daniel Skvor | Fighter | Jhonathan Azevedo |
| --- | --- | --- |
| -275 | Moneyline | +215 |
| NA | Age | 35 |
| NA | Height | 6'7″ |
| NA | Reach/Stance | NA |
| 1-1 | Record | 4-0 |
| 0/1 | Submissions/TKO | 3/0 |
| NA | Fighter Training Camp | Pitbull Brothers |
I'm confused by these stats, but this is what's on record. Skvor is 25-6-2 as a pro kickboxer with ten knockout wins. He was choked in the second round by his opponent Oumar Sy. Azevedo claims to be 6'7" but I couldn't find any footage to confirm this. He's an undefeated fighter from Pitbull Brothers, a very high-level school, and he's a +215 underdog?
This seems too good to be true, or perhaps it simply slipped by the oddsmakers that this submission specialist and an absolute giant is taking on a fighter who's already lost by submission to a local athlete.
Fight Analysis for Skvor vs Azevedo
Mostly, Skvor's available bouts are GLORY kickboxing bouts. It's clear he will be the better striker, there is no question. The only thing we need to know is if he'll survive the underdog's submission attacks.
We don't have any fight footage for Azevedo, as all of his fights are on the local level. However, we know he's been competing since 2015 as a professional. He's training at a gym that has produced UFC fighters and various submission specialists at the highest level.
Skvor vs Oumar Sy
This fight is Skvor's one MMA loss. Sy pushes Skvor to the fence inside the first thirty seconds and is taken down with ease. While standing, Sy exchanged well and even landed some significant shots on Skvor.
Skvor scored a knockdown in the first round, but as his conditioning faded in the second, he was taken down and choked with relative ease. Oumar isn't exactly a submission specialist, but Skvor's ground game has a long way to go.
Final Betting Pick
Skvor needs to spend some time at a high-level gym learning takedown defense so that he can deal with these high-level fighters. People saw the success of Giga Chikadze and they think they can come in and jump to the highest level. I see an upset, with Jhonathan Azevedo winning via submission or slow decision at +215.
Matej Penaz vs Cheick Kone
Originally a member of the main event, Penaz was dropped to the bottom of the card after his original opponent withdrew. Kone is taking the fight on short notice and has one win after coming off a six-fight losing streak.
Tale of the Tape
| Matej Penaz | Fighter | Cheick Kone |
| --- | --- | --- |
| +400 | Moneyline | -600 |
| 38 | Age | NA |
| 6'3″ | Height | NA |
| NA | Reach/Stance | NA |
| 18-10 | Record | 4-0 |
| 1/6 | Submissions/TKO | 0/4 |
| Atch Academy | Fighter Training Camp | Jetsaam Gym BRNO |
Kone is the #2 light-heavyweight in France. He's been in the game a very long time and faced off with UFC legends Jonny Walker and Paulo Thiago.
Penaz is a decorated amateur boxing and kickboxing champion, retaining six titles. Note that Matej has finished all four of his pro bouts via knockout. He's also an undefeated amateur.
Comparing Fighter Camps
Jetsaam is home to UFC contender Jiri Prochazka and has three boxing coaches full-time on staff. This gym is probably the best in all of Northern Europe.
Acth is a French gym with dozens of local fighters but few notables. They dominate the local scene but have struggled at the highest levels. Gregory Babene is one of their most successful fighters and coaches.
Jetsaam is clearly the better gym and produces fewer but consistently better athletes.
Fight Analysis for Kone vs Penaz
We need to focus on the striking of both fighters to determine if Penaz will win with ease. His knockout power is unquestionable, and Kone is 38. That's a bit old to be fighting up-and-coming knockout specialists.
Cheick Kone vs Vallee
In Kone's most recent bout in October 2021, he showed moderate striking and a stalking style. Kone showed a good jab and won with point fighting. The exchanges were few, but Kone got the better of most of them.
Kone vs Walker
The exciting young knockout artist Walker gets taken down early in the first round by Kone. Kone will look to perform a similar counter wrestling style against Penaz. Walker made it back to his feet after a minute and scored a trip takedown that spelled the end for Kone.
Penaz vs Strzelczyk
We don't have exact stats, but this kid is very tall and lanky. Kone will have trouble using his stalking jab against someone so decorated with this reach.
Penaz defended some takedowns and slick leg lock attempts. In a flash, after landing only a few strikes, Penaz landed a fight finishing right hand.
Final Betting Pick
Too much is working against Kone on this one. He's 38 coming into a fight on short notice with a very talented knockout striker. His takedown game isn't ready for Penaz's power. Play it safe and bet on the -600 favorite in Penaz.
Tato Primera vs Emmanuel Dawa
These two welterweights are quality fighters on losing streaks. Dawa has been finished in his last three fights while Tato has lost two close decisions on a local level.
Tale of the Tape
| Tato Primera | Fighter | Daniel Dittrich |
| --- | --- | --- |
| -325 | Moneyline | +250 |
| 30 | Age | 37 |
| NA | Height | 6'1″ |
| NA | Reach/Stance | 76″ |
| 17-11 | Record | 9-6 |
| 2/6 | Submissions/TKO | 0/5 |
| NA | Fighter Training Camp | DNA Fighter |
Unfortunately that we don't have a gym for Tato. DNA fighter is a good gym, and multiple Atch fighters cross-train there. Mansour Barnaoui is their most successful athlete.
Both fighters have had mixed success. Dawa is a knockout artist with little to no grappling game, and Tato's two submission victories don't bode well for him.
Fight Analysis for Primera vs Dawa
This fight will come down to Tato's willingness to grapple and clench fight. Primera looked good as a clench fighter against Juracek as we explored earlier. Primera has quality conditioning, and I wonder if we'll see a long fight versus the heavily muscled and older Dawa.
Dawa vs Broz
Dawa looks fast and light, especially given his age. He's also a big welterweight. Once Broz found Dawa against the cage, he smashed him for the remainder of the fight and finished with ground strikes to a submission.
Dawa vs Velickovic
Second in Dawa's string of recent losses is this KO loss. Again, Dawa looks good. He pulls quickly and longs solid leg kicks in the first round. At some point, Dawa throws a kick that damages his knee, and then a leg kick landed by Velickovic ends the bout suddenly after competitive exchanges.
Primera vs Kalasnik
This was Primera's last win, at OKTAGON 19 in 2020. His forward walking and stalking style is going to work well versus Dawa and I see him taking significant leg kicks. In the second round, Primera finds top position and begins to do real damage. The fight is a close decision victory based on control.
Final Betting Pick
On paper, it seems clear that Primera will win, but I'm leaning toward Dawa. Emmanuel Dawa has just as good a chance at winning this fight. He pays out more and has better striking technique by a mile. Pick the underdog at +250.
Last-Minute Additions
OKTAGON 30 has also added some bouts to the prelims airing on Youtube. No bets are currently available, but look for these fights to hit sportsbooks on the 29th or 30th!
?? Kolontai (8-1) vs. Sanikidze (6-2) ??

? Full tournament here ➡️ https://t.co/TVP7NaDRbZ ?
? 30. 12. 2021 pic.twitter.com/tG0CnayjqV

— OKTAGON MMA (@OktagonOfficial) December 27, 2021
OKTAGON 30 Betting Picks Wrap Up
If you have any questions about our betting picks and odds, check out the MMA betting guide. Oktagon fighters are often up and coming, looking for entrance into organizations like ACA and Cage Fury Fighting Championships. Oftentimes, it's easier to examine fighters competing at smaller shows rather than determining who will win between fighters at the champion level.
I feel OKTAGON set up a card that is predictable in its promotion of several high-profile candidates for bigger shows, but in reality, they've paved the way for several big upsets on a small card.
It's good for the fighters, hoping for promotion to bigger pay, and it's great for the betting community that gets to capitalize off one-sided bouts.