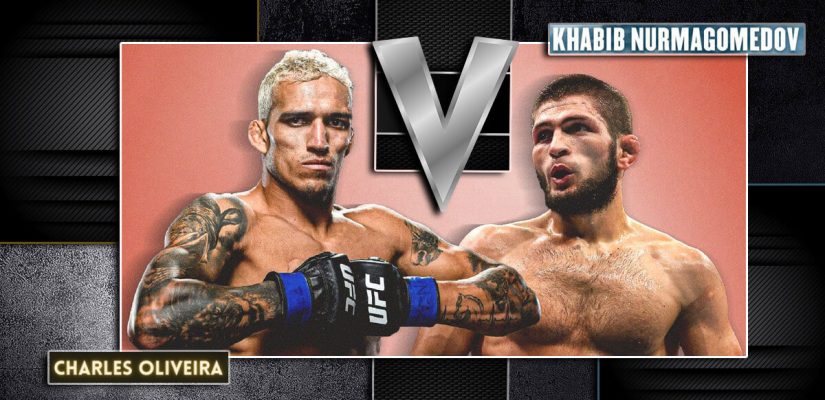 The mere mention of Charles Oliveira vs. Khabib Nurmagomedov is enough for our mouths to start watering. There's really no other way to say it. It'd be a clash of titans; these two are some of the best fighters who've ever walked the planet. And while that might sound like an overly theatrical statement, it is by no means incorrect.
Khabib's dominance is well documented and, frankly, it still lingers in the back of our minds even though we haven't seen him fight in quite a while; his last appearance in the octagon was all the way back in October of 2020. This prodigious Russian had no equal during his reign. The things he did and the fashion in which he did them left no one indifferent. He wasn't always exciting to watch, but whenever he had a capable contender across the octagon — someone who could (at least for a moment) push him to his limits — Khabib shined and dominated like so few who came before him — or have come since.
Calling it a career after twenty-nine exceedingly impressive wins simply made sense.
What more could he have done?
Gone up in weight?
Fought for ten more times?
There was nothing for him to gain other than, say, an even more beautiful record. But there must come a time when one "calls it quits." And that is a decision best made when you're on top; the alternative — getting carried out on a stretcher — is far less alluring. But that, too, is an inevitable outcome that awaits every single fighter should they overstay their welcome.
Khabib understood this far too well.
Instead of inflicting more damage to his body, he thought it'd be best to retire while on top — and we agree wholeheartedly. It's an incredibly rare occurrence for a champion of such unparalleled strength and talent to retire while still in his prime. We all thought he'd go on and dominate for the years to come, but fate (and Khabib) had other plans. Needless to say, he took a page from Georges St-Pierre's book.
The aftermath of it all is clear:
We cannot help but compare fighters to Khabib. It's the highest compliment one can give, but it's also damaging — there are so many individuals competing in his shadow. That's the result of him cleaning out the division and making it look easy, too.
And then, out of nowhere, came Charles Oliveira. An unlikely challenger-turn-champion, but also one that has blown our minds in the most unexpected of ways.
A Worthy Successor
The sheer fact that Oliveira rose to the occasion — after years of looking like a flawed gatekeeper — is arguably one of the biggest surprises in MMA history. It truly came out of left field and had stunned both his peers and pundits alike.
And even when he beat Tony Ferguson most folks still questioned his ability to compete at the highest of levels — and rightfully so.
Tony was (and still is) on the decline, so a win over such a perennial contender didn't mean nearly as much as it would've way back when. But wins over Michael Chandler and Dustin Poirier? Now that speaks volumes. The fact that he finished both (in the second and third round, respectively) only further solidifies his spot as one of the best lightweights to ever do it.
OH MY GOODNESS!!!!!!!!

??@CharlesDoBronxs #UFC262 pic.twitter.com/g0lLQSi1lC

— UFC (@ufc) May 16, 2021
If he can deal with Justin Gaethje and Islam Makhachev — preferably in a similar fashion — he would not only erase all doubt but also have a resume that would rival that of Khabib's.
And just writing such a sentence makes one feel exceedingly strange; this is Oliveira we're talking about! But credit where credit is due — the man's been killing it!
With such a dominant champion reigning over the lightweight division, one simply has to wonder: what are the odds of Oliveira vs. Khabib happening?
Well, the answer's pretty complicated.
Oliveira  vs. Khabib | The Clash We All Yearn For
What made Khabib so great is that you never saw him threatened. He was never really in danger which has resulted in him having an aura of invincibility. Oliveira simply doesn't have such a vibe. He is a talented but ultimately flawed champion.
His wins over Poirier and Chandler might have ended in a dominant fashion, but he took way too much damage in the process and was nearly knocked out cold. He did get the job done, which is ultimately the only thing that matters, but if you're looking to set up some kind of narrative and pit him against the best lightweight to ever do it, moments like those — the ones during which his flaws are on full display — will be the bane of your existence.
It's not a clash of titans if one of said titans has a slew of exploitable weaknesses. It's only a matter of time before someone shows up and solves the "puzzle." That's not something you ever felt about Khabib.
It's like his dominant wins shine even brighter with the passage of time.
Oliveira still has a long way to go before he can be considered as an actual threat. Still, we'd be remiss if we didn't say that he's on the right path and could, by all means, reach that point in a few months' time.
Oliveira vs. Khabib | What Are the Odds of It Happening?
There's a fairly high likelihood that these two individuals will share the octagon in the (relatively) near future. Few are the fighters who've actually retired — and even they constantly flirt with the idea of mounting a comeback.
At that level it's no longer about the money or fame but rather legacy. The fact that GSP took down Michael Bisping after a multi-year-long hiatus basically solidified his position in the MMA pantheon. He didn't have to do it, which made his triumph all the more impressive and praiseworthy. It was a challenge of gargantuan proportions and that's why it was so alluring. GSP basically fought three different generations of fighters, and he dominated all of them. The "game" changed during his many years of competing, and yet he weathered the proverbial storm and etched his name in history with seeming ease.
That's probably the only kind of challenge that would bring Khabib out of retirement. For him to re-emerge, Oliveira will have to do something truly incredible. Getting wins over top-tier prospects and challengers simply won't cut it. And why would it? Khabib has done the same, and in a far more dominant fashion. Oliveira will first need to attain a similar aura — the one of invincibility — before (potentially) drawing Khabib out of retirement.
So the ball's pretty much in his court.
The onus is on him to perform and deliver. Khabib has not gone out of the public eye. He's always observing, making comments (often controversial in nature), and stirring up a conversation. He's still seeking attention and is probably looking for a challenger that would motivate him to put on his gloves and enter the octagon for what would probably be the very last time.
Is Charles Oliveira the guy to do it? We're still not fully convinced, but he very well could be. It'll all depend on his next few fights and the way in which he performs.
Oliveira vs. Khabib | Odds and Predictions
Should it all come to fruition, it'd be ludicrous not to side with Khabib. For the biggest and most talented fighters in the world, ring rust simply isn't a thing. Plus, it's not like Khabib's old or past his prime — he's just thirty-three years of age at the time of this writing.
If he were to make a comeback in the next two years he'd still be in a favorable position over Oliveira. The online sportsbooks, too, would no doubt give Khabib the edge should these two ever step inside the octagon. You simply don't bet against a legend like Nurmagomedov — he's done more than enough to earn our benefit of the doubt and Oliveira, talented though he is, simply doesn't have that kind of clout.
The last time Khabib wasn't a favorite was all the way back in July of 2012. Let that sink in. His reign was one defined by utter dominance. Then again, Oliveira has a couple of records that certainly paint him as a thoroughly dangerous individual: most submission wins and most finishes in the UFC at 15 and 18, respectively.
That's nothing to scoff at.
He's a dangerous fighter both on the feet and on the ground, but Khabib's wrestling and ground control is second to none. Oliveira can't pull off a submission if he has no free limbs to work with. Many had tried to solve the Nurmagomedov puzzle, and just as many had failed. Oliveira might pose a slightly more layered challenge, but by no means would he be any more favored to end up on top.