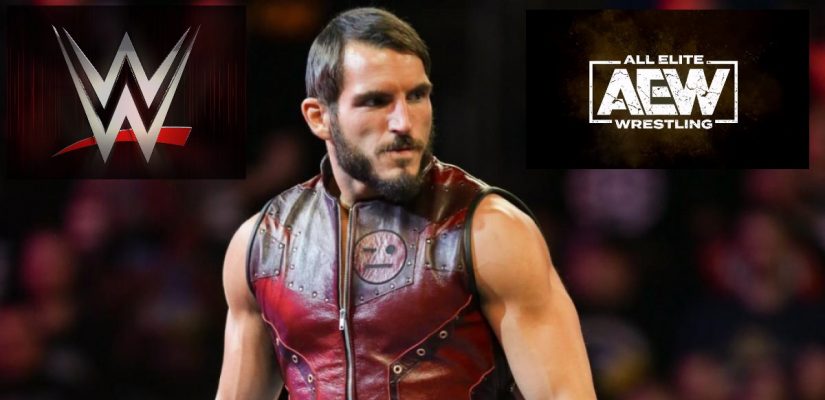 In what's beginning to be a familiar story in the wild world of professional wrestling, Johnny Gargano, one of the stars of WWE's NXT brand, is hitting free agency!
Kyle O'Reilly is in the same boat, much like his faction mate Adam Cole was a few months ago. Cole has since become a fixture of AEW programming and was subsequently joined by Bobby Fish, the third member of The Undisputed. O'Reilly is widely expected to rejoin Cole and Fish in AEW very shortly.
| | |
| --- | --- |
| Gargano's Next Wrestling Appearance | Betting Odds |
| WWE Smackdown | +100 |
| WWE Raw | +150 |
| AEW Dynamite | +300 |
| WWE NXT | +450 |
Johnny's next move has been a little less obvious.
However, news broke on Thursday that Gargano's contract was set to expire at midnight, making him free to sign anywhere he wants as of Friday.
WWE failing to get an extension signed before his contract expired has wrestling pundits and fans alike abuzz over where he'll appear next.
WWE NXT (+450)
Let's start with the show he's leaving…
I think the oddsmakers have this market right. Gargano's least likely landing spot is NXT, where he's been wrestling since 2015. Johnny Gargano has done everything he could possibly do over his long tenure with WWE's developmental brand.
(The "developmental" promotion signed the hottest stars from the indie wrestling scene and produced a dramatically better product than WWE's main roster for several years under Triple H's leadership.)
NXT 2.0
Unfortunately, the glory days of NXT are over.
The downfall started when WWE moved the black and gold brand to the USA Network to run head-to-head against upstart promotion AEW's new weekly show Dynamite. They went live for two hours every Wednesday with quarterly Takeover PPV events.
When Levesque's group lost the Wednesday Night Wars, Vince McMahon started getting involved. In April, NXT moved back to Tuesday nights. Then Triple H (real name Paul Levesque) suffered a severe heart condition, taking McMahon's son-in-law out of the picture and opening the door for NXT 2.0.
Over the last few months, McMahon and his cronies have systematically dismantled NXT, released dozens of performers, and focused the product on oversized athletic prospects first learning how to wrestle — at the expense of more polished indie talent.
It's been reported that Vince only wants to sign performers under 30-years-old, over 6-feet-tall, and at least 200 pounds.
NXT 2.0 is returning the product to its roots as a place to develop young talent for the main roster rather than a legitimate third brand.
Gargano is one of the last NXT originals and doesn't fit into this new iteration's long-term vision.

On Tuesday, he gave what appeared to be a final goodbye to the NXT fans after closing out War Games a few days earlier with a similar speech. However, he was cut short when ambushed by Grayson Waller and beaten mercilessly – a proper WWE send-off.
Smackdown (+100) / Raw (+150)
I was shocked to find both WWE brands at the top of the betting odds. It seems to me that if Johnny were planning to appear on either show, he would have signed an extension before letting his contract expire.
However, the more I think about it, I can't help but wonder if all the discussion about War Games being Gargano's last show was an elaborate swerve.
One more.. for old time's sake. @NXTCiampa #GLORIOUSBOMB @PeteDunneYxB @LAKnightWWE #NXTWarGames pic.twitter.com/UayvuwZALl

— Johnny Gargano (@JohnnyGargano) December 5, 2021
I wouldn't expect WWE to allow this much focus on the possibility of a beloved wrestler leaving, especially if that meant he'd likely be signing with the promotion's main competitor.
On the other hand, maybe they don't care as much since Johnny Wrestling doesn't fit Vince McMahon's vision for main roster superstars, and he's just leaving NXT.
Even after last night.. I still can't put EVERYTHING I'd like to say into words right now. Just know that I appreciate all of you more than I can ever really express. Hope I made ya proud.

— Johnny Gargano (@JohnnyGargano) December 8, 2021
It's also possible that Gargano genuinely hasn't decided what he'll do next. His wife is giving birth to their first child in February. He might want to lay low, be a father, and let his body recover after putting his body through hell in the ring for years.
Hell of a run..

Thank you all. ❤️#JohnnyTakeOver pic.twitter.com/VowS6CEHSg

— Johnny Gargano (@JohnnyGargano) December 6, 2021
Either way, I'm afraid I must disagree with the WWE brands being the favorites.
He will return to wrestling eventually, but he must see the writing on the wall regarding WWE. McMahon's promotion has been ruthlessly firing talent at regular intervals all year – including performers who recently signed new contracts.
Nobody but a handful of Vince's favorites are booked well, or even coherently, on the main roster.
A guy Johnny Gargano's size with the indie background doesn't stand a chance. Not for long anyway – they may give him a push in a storyline featured on TV for a month, but he'll be one of the jobbers chasing the 24/7 title in no time flat.
AEW Dynamite (+300)
The smart money is on AEW Dynamite at +300!
Where has everyone else who let their contract expire gone?
Jon Moxley, Bryan Danielson, and Adam Cole all waited out their deals and jumped ship in free agency.
Then there's the dozen or so former WWE talents who were fired or let go only to show up on AEW and become more popular than ever.
I have to believe wrestlers like Johnny Gargano see the difference in how their peers like Miro, Malakai Black, Andrade El Idolo, and the late Brodie Lee were utilized by Tony Khan after languishing on WWE television for months, if not years.
AEW is a perfect fit for Johnny Gargano, and I think he knows it.
How could he not?
This same story has been repeating itself every few months for the past year!
Rush to MyBookie and take AEW Dynamite at +300 while you still can. This kind of betting value doesn't present itself every day!