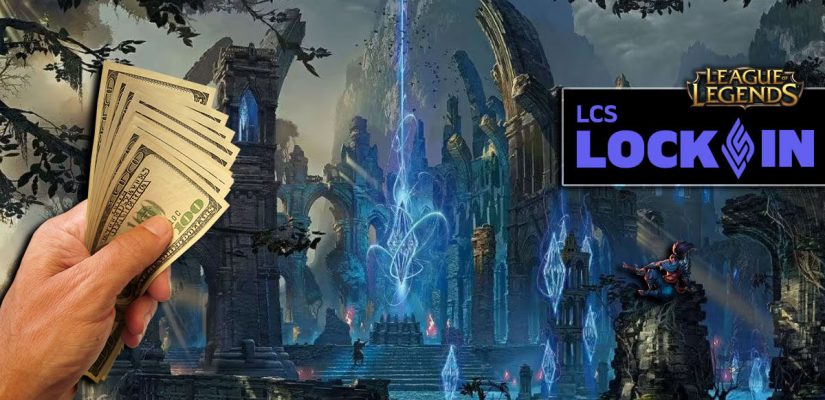 We are mere days away from the second-ever 2022 LCS Lock-In tournament, which means that a fairly thorough preview is in order! So, let's go over some of its biggest favorites and potential dark horses; we're expecting quite a lot of chaos this time around, so those willing to put their money on the line (and side with the underdogs) could potentially win big!
If you don't know what the LCS Lock-In is, we'll try to explain in the shortest, most succinct way possible: it is a tournament that carries very little significance and is conceived more as a "testing ground" (i.e. for entertainment purposes) than anything else. There's nothing on the line other than a sizable sack of cash and a bit of prestige. That's nothing to scoff at, in all fairness, but it nonetheless pales in comparison to the Spring and Summer splits.
The LCS Lock-In is the only part of the season during which teams can play without fear and hesitation as they have nothing to lose. It's also a load of fun as there's very little synergy and team-wide cohesion so teams tend to experiment and try stuff out they normally wouldn't. The folks over at Riot perhaps explained it best:
"Lock In was a major success in 2021, and its structure will remain unchanged in 2022 — all 10 LCS teams will battle through groups and bracket stage for the Lock In trophy, $150,000 and bragging rights. To begin the Lock In Tournament, 2021 LCS Championship finalists 100 Thieves and Team Liquid will draft teams into their groups for a single round robin. Unlike 2021, the entire Lock In tournament will be held on LAN at the LCS Studios, with the final set for January 30," as per the official announcement.
In other words: it is a great "acid test" for everyone involved but it should also be taken with a fair bit of reserve — some teams simply need more time to gel properly and a bad showing at the LCS Lock-In is by no means the be-all and end-all.
So, with that little introduction out of the way, let's take a closer look at who's competing and why betting on the 2022 LCS Lock-In makes a lot more sense than one would expect!
2022 LCS Lock-In | Groups
The ten permanent partners have been divided into two groups of five:
| | |
| --- | --- |
| GROUP A | GROUP B |
| 100 Thieves | Team Liquid |
| Cloud9 | Evil Geniuses |
| TSM FTX | Immortals |
| Golden Guardians | Counter Logic Gaming |
| FlyQuest | Dignitas QNTMPAY |
These teams will compete in a single round robin (Best of 1 format) with the top four teams from each group advancing further into the Knockout Stage. Quarterfinals will be played in the Best of 3 format with all subsequent matches being Best of 5.
Right now, as things stand, it's quite impossible for one to predict how things will pan out and unravel. There's just no other way to put it — there are simply too many factors at play. We don't know which of these teams will come out the gates swinging and which will sort of meander through the tournament in hopes of developing synergy. And even though they'll all try their hardest, only a select few will be able to find a concrete amount of success. Some of these line-ups have been assembled with a singular goal in mind: hoisting the LCS trophy. Others, however, are only supposed to "stay afloat" and await better days.
2022, however, will usher in a different kind of status quo — one that has more top-tier challengers than ever before. 100 Thieves, Team Liquid, Cloud9, Evil Geniuses, and TSM FTX all have a shot at leaving a mark. Some of them have a better shot than others, of course, but the point still stands. That's a whopping five teams vying for a spot at the very top of the North American region — not too shabby!
But who's favored the most and why?
2022 LCS Lock-In | Biggest Favorites
The most important thing when it comes to betting on the 2022 LCS Lock-In tournament is neither mechanical prowess nor experience — it's synergy. Those who have it most will stand the absolute best chance of leaving a mark and, eventually, etching their names in history.
The 2022 #LCS Lock In Draft Results

Matches kick off on 1/14/2022 pic.twitter.com/P2KZbPYqta

— LCS (@LCSOfficial) December 15, 2021
This is a two-week-long tournament which, in all fairness, is an incredibly short amount of time. Building team-wide cohesion, on the other hand, requires months. Nine out of ten LCS teams have made huge, sweeping changes to their starting line-ups which means they'll have to rebuild synergy from the ground up.
The one team that didn't make any big changes is 100 Thieves.
The reigning, defending LCS champions. And, well, that should really come as no surprise; why fix something that doesn't fixing? Now, they are by no means perfect, but have nonetheless found the strength to challenge the LCS pantheon and have survived to tell the tale.
They are, without a shadow of a doubt, the biggest favorites to win the 2022 LCS Lock-In tournament; for some odd reason, however, the oddsmakers happen to disagree; absolute lunacy! There's no room for discussion on this one — it's really that simple.
100 Thieves — Five LCS champions all under one roof. A Korean legend in the top lane, a former TCL MVP in the jungle, one of the most capable mid laners in the West, and the de facto best bottom lane duo in North America.
100 Thieves have all the tools and weapons to fend off all incoming challengers and successfully defend their throne. Again: they're not perfect but have grown tremendously throughout 2021 and, frankly, their best days are still ahead. With a tremendously stacked coaching staff and one of the most revered head coaches in the history of the game, they're all but guaranteed to wreck house and leave a mark.
And, well, the fact that they're already on the same page means that they'll be able to hit the ground running — unlike everyone else.
There is one potential complication, however, and it pertains to their sixth member: Milan "Tenacity" Oleksij.
100 Thieves want to incorporate him into the starting line-up as soon as possible, which means there's a very good chance he'll get the nod over his more seasoned colleague Kim "Ssumday" Chan-ho.
If that happens, 100 Thieves probably won't be as dangerous as we expect, although it probably won't be a night and day difference. In any case, it's worth mentioning.
Betting on 100 Thieves to win the 2022 LCS Lock-In tournament is not only the most logical option, but it could also yield a pretty respectable payday! So, don't think twice about it!
OUTRIGHT WINNER ODDS: +307 at Pinnacle
Team Liquid — The former four-time LCS champions Team Liquid are poised to leave a mark in 2022 and are, therefore, the second biggest favorites to go the "whole nine yards." For some odd reason the oddsmakers are giving them an edge over 100 Thieves.
Which, in short, makes no sense whatsoever.
Team Liquid might be more stacked pound-for-pound, but they'll need a bit of time before they can get on the same page and actually execute as a five-man unit. In the meantime, they're bound to struggle much like everyone else.
Team Liquid are bound to impress from the very moment they step foot on stage, but their full potential will only be realized in a few months' time. Building synergy is an arduous process filled with growing pains and there's simply no way to cut corners. The breadth of experience these individuals have will surely help out a ton, but they'll still have to conjure up an identity to call their own.
That cannot be done overnight.
The Bet:
2022 LCS Lock-In | High Value Dark Horses
Evil Geniuses — The boys in black and white have a legitimate chance of "going the distance." There's no other way to put it. The five players who'll compete under the Evil Geniuses banner in 2022 are all astoundingly talented and need no introduction. Well, four of them, at least. We've heard amazing things about the fifth one, too, but we're not willing to board the hype train just yet.
Evil Geniuses have made three roster changes during the most recent off-season and, well, they've done an incredible job overall.
Two of the three aforementioned signings are obvious upgrades — we're talking about a couple of individuals who'll no doubt serve as a boon to EG's chances of challenging for the LCS throne. The third signing (or promotion, rather) — while undoubtedly risky — could, potentially, end up being a home run as well.
The willingness to invest into a young, native mid laner is not only commendable but also somewhat ludicrous! Heck, EG could've signed Nicolaj "Jensen" Jensen, one of the best and most accomplished Western mids of all time — and yet they've opted to give their Academy mid laner a shot. Truly commendable and a decision that seldom happens on North American soil.
If things pan out, Evil Geniuses could very well end up being the biggest dark horse in the LCS. But that's more of a "long term" possibility. We simply cannot give them an edge over the two teams listed above — at least not for the time being.
In any case, we can't wait to see them play as they have a metric ton of potential.
The Bet:
Cloud9 — We don't expect Cloud9 to accomplish much in the forthcoming Lock-In tournament. They've simply made too many changes to their starting line-up and, well, they'll face an uphill battle going forward. Heck, one could even argue that Cloud9 have taken too big of a gamble so it's nigh impossible to predict how well they'll do once they finally take the stage in 2022.
We're not going to start doubting the boys in white and blue after all that they've accomplished over the years. Cloud9 is still amongst the most successful organizations in the entirety of North America and has earned our benefit of the doubt. Plus, with Nick "LS" De Cesare at the helm, we're definitely intrigued by their fascinating little experiment. It might look crazy on paper, but there's definitely a method behind all the madness. LS is a well known figure and has always been ahead of the curve. So, if he can "work his magic" and lead this perplexing line-up in the right way, Cloud9 might actually stand a chance further down the line.
But, much like Evil Geniuses, they're probably not going to "move the needle" in the near future; an incredible amount of work needs to be done before they can even think about challenging for the LCS throne.
The Bet:
2022 LCS Lock-In | Closing Remarks
This seemingly irrelevant tournament will be an incredibly important "acid test" for basically all ten permanent partners.
Our predictions are rooted in reality but it's also worth mentioning that there are never any guarantees — strange things tend to occur on North American soil, so exercise caution and make sure to watch as many games as you possibly can as a lot can change overnight. We're siding with the defending LCS champions on this one (100 Thieves), but it's not going to be easy — they'll have to go through a murderer's row in a wholly unforgiving format.
Be that as it may, they're well equipped for the task at hand and will surely prove it, too.