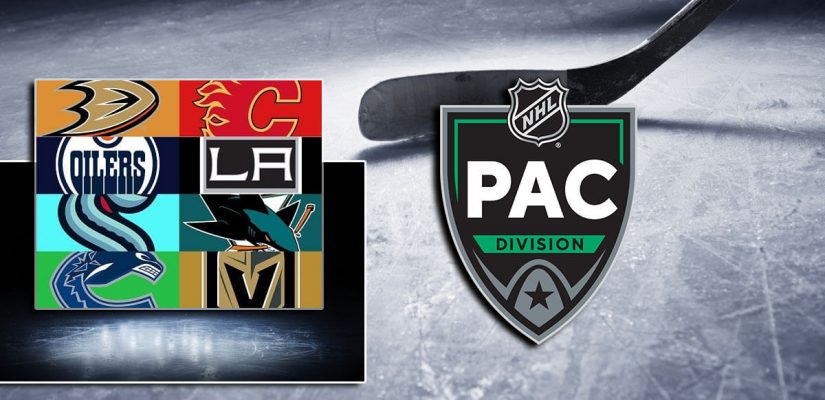 As we maneuver through these (once again) extremely uncertain times in the National Hockey League, we need to keep our eyes on the prize.
While it's easy to be negative given the recent cancellations of many NHL contests and international tournaments such as the Women's U18 Worlds and the U20 World Junior Hockey Championship, yours truly is determined to stay on the positive side of the ledger.
With that in mind, we have some more NHL futures business to handle.
We've already tackled the Atlantic and Metropolitan Divisions, and now it's time to head west into the Pacific as part of our NHL Divisional odds updates series.
We'll break down each club — along with their current odds as provided by BetOnline — as well as what we like and don't like about each club at the moment before dishing out the best value pick to take down the division!
Let's go!
Vegas Golden Knights (+115)
Record: 22-13-1 (1st)
Points Percentage: .625 (2nd)
What We Like
Road work. The Knights' have actually lacked their usual dominant home-ice advantage at just 10-7-0 at home this season, but their work on the road has been far superior.
Vegas has collected 11 road wins in 16 tries on the season, good for a share of the second-most road wins in the league and tied for first in the Eastern Conference.
Vegas sits second in the league with 3.69 goals per game on the road while their power play clip of 27.8% outside of Sin City sits fourth and nearly double their 15.2% mark at home which sits 27th league wide. The Knights have seen an offensive spike in overall production since they got healthier after a rash of early-season injuries, but the power play has been a major weapon of late, going 8 for 17 (47.1%) over their last seven games including a 5 for 11 (45.5%) clip over their last five games on the road.
While the underlying defensive metrics suggest they've been better on the road despite the surface results more or less equalling out with their work at home, it's another feather in their road-work cap.
If Vegas can get back on track and regain that infamous home-ice advantage they could once again reign supreme atop this Pacific Division.
What We Don't Like
Subpar defense. It's improved as the season's moved along, but the Golden Knights have been wildly uncharacteristic in terms of their ability not only to keep the puck out of their net but in preventing opportunities for the opposition to do so.
Vegas sits 20th in overall defense and a 77.9% penalty kill isn't helping, and while we're just 33 games into their season, they were among the very worst defensive teams in the NHL in terms of underlying metrics for much of the first third of their campaign. Remember, Vegas was the best overall defense and penalty kill in the NHL last season, so their work is visibly inferior by a gargantuan margin here in the 2021-22 campaign.
They've rebounded from bottom-two rankings in many underlying defensive metrics over the last few weeks, but still sit 26th in terms of high-danger chances against/60 and 21st in expected goals against/60 at 5v5, as per Natural Stat Trick.
Despite the metrics telling us they have been better of late, the club has still surrendered 3.11 goals per game over their last nine, so it would appear there's still plenty of work to be done on this Vegas back end.
Calgary Flames (+175)
Record: 17-8-6 (3rd)
Points Percentage: .645 (1st)
What We Like
Balance. It's very difficult to find a department where the Flames have underperformed this season, at least on the surface.
Offense? No problem, the Flames sit 13th overall. Not elite, but above average nonetheless. Defense? Fantastic, as the Flames sit second overall there. How about special teams? Sitting 11th on the power play and fourth on the penalty kill works just fine.
How about some other areas, such as faceoffs, shots for and shots against? The sit fourth in shots per game, sixth in shots against per game and 12th with a 50.5% clip in the faceoff circle.
And then there's the underlying data if we want to gauge just how sustainable this balance is. That's where the Flames sit 11th in high-danger chances for/60 and ninth in high-danger chances against/60 at 5v5 action. It's also where they sit seventh in expected goals for/60 and ninth in expected goals against/60 at 5v5 play. Again, solid across the board.
There's no shortage of storylines when it comes to this year's version of the Flames including a lights-out season from the likes of Johnny Gaudreau and the play of Jacob Markstrom between the pipes, but it's been awfully difficult to find a weak spot in these Flames and they're in contention to take down the Pacific as a result.
What We Don't Like
Sean Monahan. As noted, it's been tough to see a soft spot in this club on the whole, so we'll pivot to individual performance and the offensive results from Monahan have been rather disappointing.
A guy that scored at least 27 goals in five straight seasons and reached a career-high 82 points in 78 games in the 2018-19 season has seen his offensive results crater of late. Monahan tallied 22 goals and 48 points the following season and just 10 goals in 28 points across 50 games in the abbreviated 2020-21 campaign.
This season, Monahan has recorded just four goals and 15 points in 31 games, his worst point-per-game production since his rookie season way back in 2013-14. He's put just 48 shots on goal in those 31 contests and is a team-worst -10 on a team that sits +27 in goal differential column, tied for the best mark in the Western Conference alongside the Colorado Avalanche.
For a former premier, No. 1 pivot, Monahan's production has led head coach Darryl Sutter to drop him all the way to the fourth line as Elias Lindholm, Mikael Backlund and Dillon Dube now all sit ahead of the nine-year veteran on the center-ice depth chart.
If we want another area to criticize on this team it would be their 4-3-4 record on home ice — compared to 13-5-2 on the road — but the shocking drop in production from the team's former No. 1 center stands out most.
Edmonton Oilers (+700)
Record: 18-14-2 (4th)
Points Percentage: .559 (5th)
What We Like
97/29 combo. In a season that is shockingly now filled in nothing but turmoil, the team can at least continue to sport the top two players in the game.
Alex Ovechkin is giving them a run for their money in the Art Ross race, but as we sit here today there's a two-way tie for first in league scoring with both Connor McDavid and Leon Draisaitl pacing the league with 53 points apiece. McDavid has the slight edge with a 1.61 points-per-game clip after missing Wednesday's contest in Toronto after testing positive for COVID.
Is this a surprise? Absolutely not. McDavid and Draisaitl went 1-2 in league scoring with 105 and 84 points, respectively. Not only that, but Draisaitl's second-place 84 points were still 15 more than third-place Brad Marchand. In other words, these two guys are in a league of their own on a completely different planet.
For good measure, Draisaitl leads the league in goals with 26 on the season and McDavid sits in a share of seventh with 19.
We could dive into the numbers if we want, but know that the Oilers are drastically outplayed and outscored when these two are not on the ice at even strength this season. They're about the only thing going right with this team these days before the COVID hiccup with McDavid.
What We Don't Like
Jeez, where to start? I'd like to attack the (once again) lack of any offense outside of the McDavid/Draisaitl ice time, but I'll go with the back end due to the fact it was blatantly obvious this group would not hold up over the course of a full, 82-game grind.
We'll start in goal where the Mike Smith/Mikko Koskinen duo looked lackluster from the outset. Smith shocked the hockey world with a lights-out performance at age 38 last season (in a shortened year) but what were the odds of repeating such production while staying healthy? Smith has not only appeared in just six games this season but owns an ugly 3.67 GAA and .898 Sv% in that time.
Koskinen proved unable to handle another chance at the No. 1 gig in Smith's lengthy, two-month absence as he has turned in a 3.19 GAA and .900 Sv% on the season and did not like being called out by his head coach after some suspect play and puck-handling mistakes in New York.
Apparently, goaltender Mikko Koskinen isn't going to take heavy and isolated criticism without a bit of a retort. After being called out by head coach Dave Tippett for a number of mistakes and a bad game agains… …https://t.co/y2It8mexlV

— Shop PRO Hockey (@ShopProHockey) January 6, 2022
As for the blueline, it's performed about as expected. While the Oilers sit 22nd in overall defense, but also 22nd again in high-danger chances against/60 as it's been a porous group.
Darnell Nurse is the lone reliable defender among this group, and while Duncan Keith and Cody Ceci haven't been terrible on a nightly basis, it's a wildly underwhelming second pair for a team with supposed Stanley Cup aspirations.
General manager Ken Holland had to know there was risk in allowing the Smith/Koskinen tandem playing behind a suspect blueline, and after a strong start the Oilers have dropped 11 of their last 13 and five in a row as Holland's offseason decision-making has come back to bite a team that is quite poor outside of the aforementioned 97/29 combo.
Anaheim Ducks (+800)
Record: 18-11-7 (2nd)
Points Percentage: .597 (3rd)
What We Like
The young guns. I noted in my pre season predictions for this club that they needed their young core to step up in a big way if this team was to have any chance, and they've done just that.
Not every youngster had made a notable impact, but Troy Terry sits third in the NHL with 21 goals behind only Draisaitl and Ovechkin while Trevor Zegras has future superstar written all over him and introduced a new, slick move into the hockey world. Zegras is up to 25 points in 30 games after a slow start to his rookie season while Terry paces the club with 34 points across 35 contests.
Trevor Zegras with an unreal pass to Sonny Milano. pic.twitter.com/cm6KgUXpnf

— Campbell 4 Vezina (@LeafsAllDayy) December 8, 2021
He might not be considered a youngster at the age of 25, but Sonny Milano deserves his fair share of credit with 23 points in 31 games. Not bad for a player who appeared in just six NHL games last season while his 23 points on the season ties a career-high he set between the Ducks and Blue Jackets in the 2019-20 season, but in 55 games.
There's other bright spots in veteran Ryan Getzlaf who has shook off washed up criticisms with 22 points in 29 games as well as Ducks goaltending that has combined to turn in a stout .921 Sv% between John Gibson (.917) and Anthony Stolarz (.932), the latter of whom has been surprisingly brilliant in 10 outings.
That said, without the contributions of two franchise pillars in Terry and Zegras this Ducks team wouldn't be sniffing a postseason spot.
Los Angeles Kings (+5000)
Record: 16-12-5 (5th)
Points Percentage: .561 (4th)
What We Like
Full-circle vets. Let me explain: When the Kings won two Stanley Cups in a three-year span in the early 2010s, the club was led by center Anze Kopitar and netminder Jonathan Quick. Those were some deep teams with many contributors, but it's difficult to envision the Kings bringing two Cups home without those two players.
Fast forward to the 2021-22 season and guess who's leading the way again? Indeed, Kopitar is pacing the club with 29 points on the season (seven clear of second-place Adrian Kempe's 22) while Quick — considered the 1B option to Cal Petersen after a few years of declining play — has turned in a 2.37 GAA and .923 Sv%. Without that effort from Quick, the team would be look at Petersen and his 3.10 GAA and .893 Sv%.
Kopitar has cooled after a white-hot start, but remains a dominant two-way force in his 16th NHL season. He's about 53% in the Corsi For% department despite starting more shifts in the defensive zone than at the offensive end of the ice and he's turned in an elite 57.1% clip in the faceoff circle, good for ninth in the NHL among players that have taken at least 300 faceoffs this season.
As for Quick, his .923 Sv% ranks ninth among the 34 netminders that have appeared in at least 15 games this season while his 8.47 goals saved above average (GSAA) sits 10th of the 68 qualified netminders. In what few saw coming, his 21 starts are just shy of double the 11 that Petersen has made this season.
Ten years after leading the Kings to a Stanley Cup, Kopitar and Quick are once again leading the charge towards a playoff push.
What We Don't Like
Suspect metrics. You might not consider analytics a key cog in assessing future performance, but I strongly lean on it. If we do take their defensive metrics into consideration, it doesn't bode well for their chances.
On the surface it appears the Kings are back to their defensive form from yesteryear when they were annually one of the best defenses in hockey. They're tied with the rival Ducks for ninth in overall defense, which is all well and good. However, the underlying data does not support such strong work.
The Kings also sit 29th in terms of high-danger chances against/60 and 26th in expected goals against/60 at 5v5 this season. Their 1.98 goals against/60 at 5v5 is miles below their 2.59 expected mark, a comparison that has defensive regression written all over it. Add in a penalty kill that sits 26th at just 75.5% and the immediate future of the L.A. Kings' defense doesn't look all too bright.
And that's the Quick factor. He's saved nearly nine more goals than average this season, which is big in a league chock-full of one-goal affairs. If he is too see a dip in production over the next 49 games, the Kings could be in trouble. Additionally, they probably can't lean on him as heavily as they have of late as he's started eight of their last nine games. Remember, this is a goaltender approaching his 36th birthday with 772 career games under his belt between the regular season and playoffs. That's an eternity for a netminder.
We'll see if they can continue to play with fire and avoid getting burned, but don't be surprised to see this club's defensive results slip moving forward.
San Jose Sharks (+5000)
Record: 17-16-1 (6th)
Points Percentage: .515 (T-6th)
What We Like
Respectability on the back end. The Sharks have probably been a little better than we expected this season, and while the surface results might not show it, the back end in San Jose has been far more palatable than we've seen in recent seasons.
The Sharks have long received some of the worst goaltending in NHL, but at least veteran James Reimer has come in and posted a solid 2.68 GAA and .916 Sv% across 20 appearances. That's far and away superior to the work Martin Jones put in as the team's No. 1 over the last couple of seasons while Reimer's 3.52 GSAA sits 21st of 68 qualified goaltenders.
Adin Hill hasn't been quite as good as the 1B option in the Shark Tank with a 2.97 GAA and .897 Sv% in 17 games played, but with Reimer in goal they've been a far better defensive club.
The defense itself has been quite solid. Sure, they sit 20th in overall defense, but also a respectable 13th in high-danger chances against/60 and 14th in expected goals against/60 at 5v5. For context, they finished last season ranked 28th in both of those categories last season, not giving Jones and Devan Dubnyk much of a chance.
We're not going over the top and qualifying this Sharks back end as robust, but it's seen a major improvement from the bottom-feeding results we've witnessed of late.
What We Don't Like
Lack of offensive depth. We're watching Timo Meier break out with monster season up front, Logan Couture is approaching a point-per-game, Tomas Hertl has performed as expected, Alexander Barabanov has been fantastic seemingly out of nowhere and the Burns/Karlsson duo on the back end has produced wonderfully.
That may seem like a lot of names, but there's been very little after them. Andrew Cogliano has 10 points in 30 games, Jasper Weatherby has seven in 30, Nick Bonino has six in 34, Kevin Labanc has six in 21, Matt Nieto has six in 27, Jonah Gadjovich has two in 20, as does Lane Pederson.
That's also a lot of names. In other words, the Sharks are getting very, very little outside of their top six, and that makes for an offense that sits in share of 20th despite healthy production from their top-six and top-two defenders.
Labanc's season is perhaps the most disappointing out of the group, but even Bonino above nearly a 0.50 point-per-game pace just last season (and better than that in 2019-20) but is at just 0.18 points-per-game this time around. Couture is out due to COVID protocols at the moment, making Bonino the second-line center and six points in 34 games isn't cutting it in the top six, or even the top 12 if we're being honest.
They've hung tough, but a total lack of scoring depth has hurt this offense.
Vancouver Canucks (+5000)
Record: 16-15-3 (7th)
Points Percentage: .515 (T-6th)
What We Like
Uhhh… Bruce Boudreau! I mean, there was zero — perhaps less than zero — things to like about how this Canucks team was playing before a coaching change that saw Travis Green ousted and veteran bench boss Bruce Boudreau brought in to right the ship, and right the ship he has done.
Under Boudreau, the Canucks are a cool 8-0-1, collecting 17 of a possible 18 points in the process. For a comparison, the club went 3-9-1 under the final 13 games of Green's tenure, so what an unbelievable turnaround it's been.
A "BRUCE, THERE IT IS!" chant fills the arena!

Safe to say, Canucks fans like what they are seeing from this Bruce Boudreau coached team.

?-@Sportsnet pic.twitter.com/plUH3vbezB

— CanucksArmy (@CanucksArmy) December 7, 2021
Even after the recent white-hot stretch, the Canucks remain 10 points back (albeit with two games in hand) on the Pacific-leading Golden Knights, but they are just three points back of the second Wild Card spot in the Western Conference. Admittedly, they still have the Sharks, Kings Jets and Oilers to climb to call that spot their own, but with 48 games remaining on the schedule a lost season has become a motivated one, largely thanks to the harsh yet endearing veteran NHL head coach.
Honorable mention: Thatcher Demko. I highlighted Boudreau for obvious reasons. The team is on an absolute heater since he took charge. That being said, we'll also note that Demko has been sensational to the tune of a 2.55 GAA and .920 Sv% on the season with an 8.84 GSAA that sits ninth league wide.
I mean, I hate pumping my own tires and all, but yours truly did nominate Demko for a look on futures market as part of the Vezina discussion. He's now in that conversation and very much an enormous reason as part of the turnaround of late.
What We Don't Like
Elias Pettersson. Don't get me wrong, Pettersson is an elite talent and has a long and outstanding career ahead of him. However, six goals and 17 points in 34 games ain't getting it done.
Me being the positive/negative regression guru that I am in attempting to predict future performance, I'll note that Pettersson's current 8% shooting clip is exactly half of his 16% career mark. He hasn't shot at less than 15.9% in his career, so indeed the goals should start piling up for the Swede, but even he hasn't scored over his last four games despite the Canucks winning three times in that stretch.
For Canucks fans, this is good news. Pettersson is far too good of a player to keep quiet this long, and while young players certainly endure one or many speed bumps along their journey to stardom, I'd suggest a red-hot second half is very much in the cards here.
When your best player has been quiet during a heater, chalk that up on the positive side of the ledger moving forward.
Seattle Kraken (+50000)
Record: 10-19-4 (8th)
Points Percentage: .364 (8th)
What We Like
Strong defensive work. Pardon? The 30th-ranked defense is strong? Well, look away if you despise analytics because this is a textbook example of how we can decipher where the problem is.
After the expansion draft and the lucrative deal handed out to goaltender Philipp Grubauer on the heels of a Vezina-type season, the Kraken actually looked pretty solid on the back end which, in turn, would be their route to the postseason.
The blueline has held up their end of the bargain. Seattle ranks third in the NHL in terms of high-danger chances against/60 and fourth in expected goals against/60 at 5v5. Somewhat comically, their 3.18 actual goals against/60 at 5v5 is one full goal above their 2.18 expected mark.
They sit fourth in expected  goals against/60 but 32nd in actual goals against/60 at 5v5. That's hard to do.
What We Don't Like
Goaltending. I've been a huge fan of former Panthers netminder Chris Driedger who has been one of the best goaltenders in the NHL despite a tiny 35-game sample over the last two seasons, but he has disappointed to an ugly 3.49 GAA and .892 Sv% in nine games while dealing with injuries throughout the season. He posted a 2.07 GAA and .927 Sv% in 23 games with the Panthers last season.
And then there's Philipp Grubauer. On the heels of a Vezina-caliber 1.95 GAA and .922 Sv% last season in Colorado, Grubauer has — by many accounts — been the worst goaltender in the league this season.
Grubauer owns a 3.30 GAA and .882 Sv% on the season, but his -17.98 GSAA is by far the worst in the NHL. The second-most mark among the 68 qualified goaltenders is the Blue Jackets' Joonas Korpisalo who owns a -9.17 figure. Yikes.
The back end in Seattle had potential to keep them competitive and perhaps in the playoff race, but they're 11 points clear in the basement of the Pacific and clear deadline sellers.
Best Value Bet
Vancouver Canucks (+5000)
I mean, why not?
This is a tough one to predict. We could go with Vegas due to track record and a solid offense, but between injuries and a weak back end, they don't exactly have the makings over a powerhouse this time around.
The Flames are a very well-rounded club, that's for sure. They are a nice look at +175 to be sure.
It's a tall hill to climb, but let's give the Canucks a look rather than decide between the two front-runners. Obviously, there's plenty of obstacles, and that makes sense at +5000. They are 10 points back of first (with two game in hand), but also still five points back of the Flames with Calgary holding three games in hand.
They also won't remain nearly undefeated under Boudreau the rest of the way. That said, the underlying metrics have a once-maligned Canucks blueline in the top half of the league, and as noted, their best offensive forward has yet to get going, and he most definitely will get going.
Thatcher Demko is making good on on his pre-season Vezina potential, and a hot goaltender can take you a long way.
Add it up and I'd rather hit the Canucks as major long shots with a culture change under their belt than guess between two teams holding similar odds at the top.