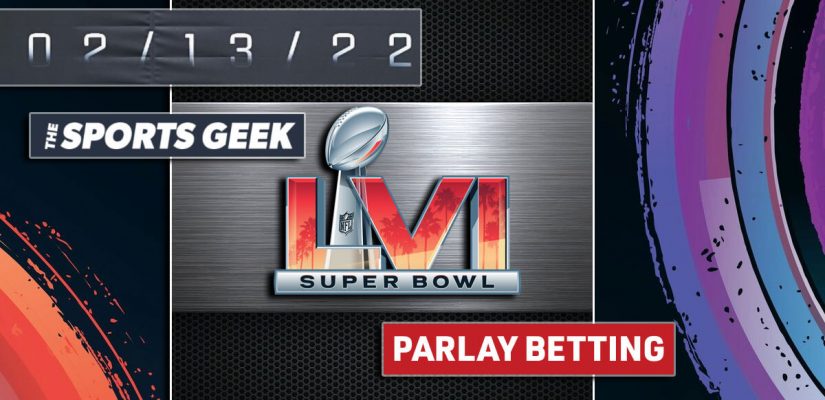 The big day is finally here, as the Big Game kicks off later today from SoFi Stadium in Los Angeles, where the LA Rams play the Cincinnati Bengals in Super Bowl 56, for the rights to call themselves world champions! The Super Bowl is the single biggest sporting event in the world, and with so much attention surrounding the game, sportsbooks are expected to bring in an all-time record handle today! With so much action available, we at TheSportsGeek are here to help you navigate all of your various betting options, so you can get paid on Super Sunday!
It all comes down to this moment. ?#RamsHouse | #RuleItAll

?: #SBLVI — 6:30pm ET on NBC
?: NFL app pic.twitter.com/VAOgd3qMkz

— NFL (@NFL) February 13, 2022
In this article, we are going to give you what everyone is craving, the winning side, and the winning total for Super Bowl 56! Betting prop bets like which player will win MVP, will the coin flip be heads or tails, and how long will the halftime show last, are all lots of fun, but when it comes down to it, what every bettor wants to know is who will win? Who will cover? And will it go over or under the total?
That is what we are going to give you in this article in this special Super Bowl edition of everyone's favorite way to play, the parlay! Before we get too deep into the bets, though, let's first take a quick step back for all of you casual sports bettors and explain exactly what a parlay is and how you can make a parlay bet for Super Bowl 56.
Can You Parlay Super Bowl Bets?
The first question that we have to address is, can you even parlay Super Bowl bets? The answer is absolutely! For those of you out there that aren't up on all of the sports betting lingo, a parlay is a bet where you combine several bets into one play and must win each bet, or leg, of that parlay, in order to win.
So, now that you know what a parlay bet is, why would you want to combine your bets into one play? Because you get paid out in odds when you make parlay bets! For example, let's say that you think the Bengals are going to cover the +4-point spread, and the game is going to go over the total of 48.5 points.
If you were to bet $100 on each of those bets independently, and they both came in, you would win $182 dollars of total profit. That is because those bets are what we can even money plays, where you only win the amount that you bet, minus the juice (what the books charge you to make the bet), which for a standard bet is -110. So, each bet would pay you your hundred bucks back plus your $91 dollar win.
The wait is over. LET'S GO! ?#RamsHouse | #RuleItAll

?: #SBLVI — 6:30pm ET on NBC
?: NFL app pic.twitter.com/xDHyVf6uVV

— NFL (@NFL) February 13, 2022
Not bad, right? But look at what happens when you parlay those bets together. Let's take that same $200 investment that you made on your 2 $100 straight bets on the Bengals and the over and instead parlayed them together. Now, if both bets win, instead of profiting $182 dollars, you would now win $265! Same amount bet, same outcome in the game, yet you win a bunch more money when you parlay!
Some of you out there might be saying, what's the catch here? Well, the catch with a parlay is that while it does pay out better when it hits, if you lose any part of the bet, you lose it all. That is where the risk/reward ratio comes in. For many casual sports bettors, parlays are a great way to win big money without a big upfront investment, and while parlays are harder to hit than straight bets, the difference in payouts makes them very attractive if you want a shot at a jumbo payout, without a jumbo investment.
Super Bowl Parlay Bets
Now that we know what a parlay bet is, we are going to take a quick look at all of the different parlay bets that are available to you to make on Super Bowl 56. If you go back a decade or so, your options for a Super Bowl parlay were very limited. Most brick-and-mortar sportsbooks would only allow you to parlay the side and the total. That's it. That meant that the most action you could get on a parlay on the Big Game was a 2-teamer.
But now, with the vast expansion of sports betting across the world, and the emergence of online sportsbooks, you can parlay pretty much anything that you want! Do you think that Joe Burrow is going to throw over 279 yards, and the coin flip is going to land on tails? Parlay it! Or that Aaron Donald will get a sack, the halftime show will have more than 6 songs, and Matthew Stafford will win Super Bowl 56 MVP? You got it, parlay it!
Fans can relive the @Pepsi #SBLVI Halftime show w/ @drdre, @SnoopDogg, @Eminem, @maryjblige & @kendricklamar, the National Anthem w/ @MickeyGuyton & America the Beautiful w/ @JheneAiko after their performances! Pre-Save the live visual album now: https://t.co/wb9yMShrSx pic.twitter.com/lRg5frGCLW

— NFL (@NFL) February 13, 2022
The options are nearly endless now, and we regularly see bettors making 10 or more leg parlays that can pay out thousands of dollars on tiny upfront bets. If you are feeling a bit overwhelmed with all of these options, don't worry, as TheSportsGeek is here to help, and we are going to tell you exactly the parlay bet that you need to make to get paid later today!
Super Bowl 56 Parlay
Alright, guys, we have told you what a parlay bet is and how to make one, and now we are finally to the part of the article where I give you the goods, your winning parlay bet for Super Bowl 56! Parlaying props can be fun, and I will put in my fair share of those today as well, but what we are going to focus on for our Super Bowl 56 parlay is the side and the total. Who wins? Who covers? And will it go over the total?
Rams (-4)
The line opened up at Los Angeles -3.5-points and has bounced around between the opening number and -4-points for much of the last 2 weeks. Some books are sitting at -3.5 right now, while others are at -4, but as far as I have seen, I haven't seen the number move any higher or lower than that. And while you are going to want to line shop (industry jargon for finding an online sportsbook with the best line for your play, you can find more info about that here), we can safely say that you are going to get a similar line no matter where you go to make your Super Bowl 56 parlay.
I think the Rams are going to dominate this game from start to finish, and covering the spread, whether you get it at -3.5 or -4, isn't going to be much of a sweat, as LA could win this game by 10 or more points. That is no disrespect to Joe Burrow and his Bengals, as they are certainly a feel-good story, but when it comes to winning Super Bowls, experience is key.
? TODAY'S THE DAY. #SBLVI pic.twitter.com/McliWQvZfg

— Los Angeles Rams (@RamsNFL) February 13, 2022
The Rams have a star-studded cast of players that have put in their time and are ready to break through and take home a ring. This matchup is eerily similar to last year's Big Game, where the far more experienced Tampa Bay Buccaneers, with their veteran quarterback Tom Brady, and a slew of veteran players surrounding him like Antonio Brown, Rob Gronkowski, and Ndamukong Suh, dominated the upstart Kansas City Chiefs.
The Bengals have talent all over the field, but Joe Burrow is in just his 2nd NFL season, Ja'Marr Chase is a rookie, and skill position guys like Joe Mixon, CJ Uzomah, and Tee Higgins are all fairly new to the league and playing in their first-ever Super Bowl. That inexperience is going to cost them, and sadly, I see this year's game being as anticlimactic as last year's game, with the Rams defense shutting down the Bengals offense and this game not being overly competitive.
Under 48.5 Points
The first leg of my parlay is the Rams -4-points, and the second leg of my 2-teamer is going to be on the under 48.5 points. Nobody wants to root for a low scoring blowout type of a game, but that doesn't mean that isn't what is going to happen tonight in the City of Angels. The NFL has evolved a lot over the last several decades as the league went from 3 yards and a cloud of dust, to throwing the ball on every play and high scoring shootout games.
This year's postseason has been a great example of that, as nearly all of the games have been higher scoring and exciting. But just like last year's Super Bowl, which was a bit of a dud, this game is going to be a grinder of a game, where the Rams get up early and play keep away to coast to the victory.
As much as the NFL has changed, some things will never change, and that is that football games are won in the trenches. The team that wins that battle at the line wins the game. Period, end of story. And when you look at this matchup, the Rams are going to obliterate the Bengal's front five.
Joe Burrow is the man, and he is going to be one of the faces of the NFL for the next decade. But his offensive line isn't up to par, and he has spent the entire postseason running for his life. Against the Tennessee Titans in the AFC Divisional round, Burrow got sacked an NFL record 9 times! Those aren't the type of records you want to be setting, and with all of that pressure, the Bengals scored just 19 points.
That was good enough to sneak past the Titans as they were so banged up on offense with Julio Jones, AJ Brown, and Derrick Henry all missing big chunks of the season in preparation for the playoffs, but that won't be good enough tonight against the Rams. All told, Burrow has been sacked 12 times in this postseason, and he is a mortal lock to break the all-time record for the most times sacked in one postseason.
You can never expect a guy to get sacked 9 times in a game, but the Rams D line is ferocious, with Aaron Donald and Vonn Miller up front, and Burrow is going to get smashed in this game. Donald and Miller are two of the top pass rushers of all time, and you can't double team both of them. Football games have always, and will always, be decided by the ability of the lines to enforce their will, and that will be the Bengals undoing in Super Bowl 56.
Joe Burrow is AFC Championship-bound despite being sacked 9 times. Wild. @brgridiron pic.twitter.com/UykNhGBvet

— Bleacher Report (@BleacherReport) January 23, 2022
Throw in the fact that the Rams are going to be content with running the football and keeping the ball out of Burrow's hands, and a play on the under shows outrageous value. Ram's tight end Tyler Higbee was placed on IR for this game, taking away one of Matthew Stafford's favorite targets in the passing game, and they replaced him on the roster with previously injured running back Daryl Henderson.
Henderson joins Cam Akers and Sony Michel in the backfield, and with Cooper Kupp and Odell Beckham Jr sure to draw lots of attention in the passing game, the Rams are going to run this ball down the Bengal's throats tonight. I am sure that Cincy is telling themselves that they can't let Kupp and ODB beat them, but that will be their undoing, as you can't win a game if you can't stop the run. I hate to be "that guy", but all signs point to a boring Rams victory. I'll call it at 24-10 final score with the Rams covering and the game staying under the total.
The Bet
So, now that you have the play, what does it pay? For every $100 that you bet on this 2-team parlay, you will get back $365. If you bet $500 on the game, you would win $1,825. If you only want to bet $20 on this play, you would win $73. That is a nice juicy payout where you aren't going to have to spend a lot of cash to win a boatload of money when the game goes as expected. Give me the Rams and the under for all of the money tonight at Super Bowl 56!
The Bet
Rams (-4) and Under (48.5)
Wrap Up
And there you have it, folks, my parlay of the day play for Super Bowl 56! Make sure that you swing by TheSportsGeek today for all of your betting advice needs, where our team of expert handicappers have given you all of the high-value advice that you need to get paid when betting on Super Bowl 56! Thanks for reading, and good luck betting tonight on Super Bowl 56!