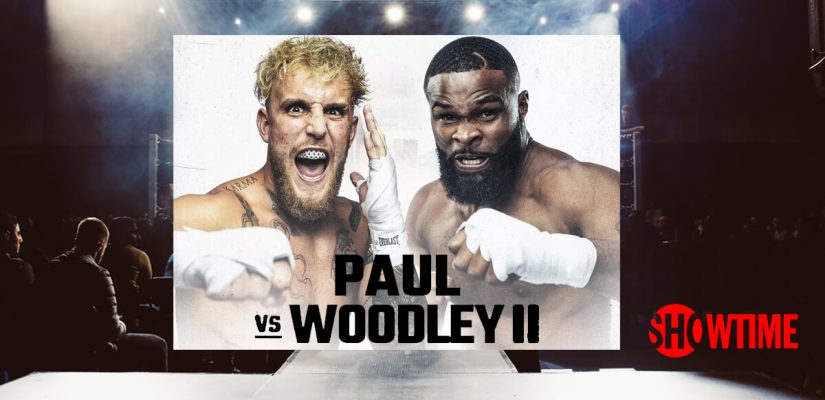 If you haven't read it, we've worked up some reasons that you shouldn't bet on celebrity boxing bouts like this weekend's Paul vs Woodley II card. Many of us will still place bets so we'll be analyzing the stats, breaking down the last bout, looking at the contracts for any kind of funny business, and producing our top betting pick for each fight on the card.
This Saturday, December 18th, 2021 at Amalie Arena in Florida, Jake Paul will face Tyron Woodley yet again on a $60.00 pay-per-view that includes seven fights, three pro-mixed martial artists, two football players, and one Youtube celebrity. You'll get to watch the fights for free on Showtime.
Jake Paul vs Tyron Woodley
Paul was knocked into the ropes twice in his first win over Woodley. Woodley seemed to have him stunned, but was conservative in forcing the action. After the fight was completed, it was revealed that there was a possibility of a sketchy clause inside the Paul v Woodley contract stating that neither fighter could knock the other out. Of course, this is fight fixing, a highly illegal thing to do. All fighters claimed they had no part in fight fixing, and Woodley cited a shoulder injury as the reason he wasn't more aggressive.
Final Betting Pick
With the last fight looking to fans like a fixed event, both fighters will swing for the fences. I see an early night. Though I feel a Jake Paul bet is slightly more conservative, I pick the 'Fight Doesn't go to Decision Prop' at -105.
Story of the Fight
In their first bout, Paul won a narrow split decision victory over the retired MMA champion. He was scheduled to fight Tommy Fury, the younger brother of Heavyweight sensation and champion Tyson Fury. Just a week ago, Fury pulled out due to medical reasons.
Woodley quickly jumped on another opportunity to fight Paul, especially after considering that the last bout was among the biggest paydays of his entire career.
Jake Paul vs. Tyron Woodley 2 PPV price revealed, four-fight main card set for Dec. 18 (@DamonMartin) https://t.co/Pk2QUK1T6Q pic.twitter.com/goNFXhjtd3

— MMAFighting.com (@MMAFighting) December 13, 2021
Steroid Use in Paul vs Woodley
One of the reasons I see Tommy pulling out is the lack of testing at these boxing shows put on by Showtime and Florida State. Paul was open that he would deny any testing of PEDs at the time of the show. Fury pulled out with injury shortly after this revelation.
While many fighters are using, there are still protocols for getting clean by showtime, and the fact that Paul refuses the tests should clue everyone in on his use. This means that Woodley is open to use as well, but Paul has had a whole fight camp to prepare, and to throw the kitchen sink of performance enhancers into his body.
Tale of the Tape
| Jake Paul | Fighter | Tyrone Woodley |
| --- | --- | --- |
| 24 | Age | 39 |
| 6'1″ | Height | 5'9″ |
| 76″ | Reach | 74″ |
| 4 | Total Fights | 1 | 19-7-1(MMA) |
| 4-0 | Record | 0-1 |
| 3, 75% | Knockouts | 6, 22% (MMA) |
| Orthodox | Stance | Orthodox |
| 110 days | Inactivity | 110 days |
| Cruiserweight | Normal Weight class | Welterweight |
Their last fight was less than four months ago. Paul maintains the majority of physical advantages. In their first fight the quality of boxing was questionable, but we did see that Woodley was able to get inside the reach of Paul with ease.
Betting Odds for Paul vs Woodley II
There are a number of absurd things to bet on during the Woodley vs Paul fight as you'll see below. We didn't even scrape the surface of these bets. Many of them are poking fun at the whole spectacle. You can choose to bet on one of ten colors of shorts worn by Paul.
In spite of these silly offers put together by sportsbooks, we've selected the most common and possible of the bets and thrown in a few of the random ones.
Bet
Odds and Payout per Dollar Wager
Jake Paul Moneyline
-260, $0.38
Tyron Woodley Moneyline
+200, $2.00
Paul by Decision or Tech Decision
+130, $1.30
Paul by TKO, KO or DQ
+190, $1.90
Woodley by Decision or Tech Decision
+700, $7.00
Woodley by TKO, KO or DQ
+350, $3.50
Will the Fight go the Distance?
Yes -125, $0.80
No -105, $0.95
Color of Paul's Trunks
Orange +275, $2.75
Red +800, $8.00
Who Will be Wearing a Hood During Walkout?
Woodley Only +220, $2.20
Both Fighters +500, $5.00
Will Either fighter Lose Mouthpiece?
Yes +325, $3.25
No -550, $0.18
Will Fighters Touch Gloves?
Yes -500, $0.20
No +300, $3.00
Paul comes in as the favorite, with Woodley offering a two-to-one return. The fight-calling props are difficult to commit to and considering their last bout and its narrow decision, I'm not comfortable calling a knockout or decision win.
I do believe Jake Paul will win the fight, but the prop bet looks better considering all surrounding circumstances.
Will the Fight Go the Distance?
This prop is useful because I do see a finish for this bout. The first fight was called boring, and Woodley wants more of these boxing checks.
I see Paul looking for the knockout with the power of unchecked performance enhancers at his side and Woodley looking to see if Paul will make good on a half a million-dollar bonus he's offered on a Woodley knockout.
I'll be betting the fight doesn't go the distance, a slightly riskier prop than a Jake Paul bet. The prop bet pays out $95 per $100 wagered.
Strange Prop Bets on Paul vs Woodley II
I do believe that Paul will wear red shorts after a photoshoot leaked some early weight in photos, and Paul changed shorts for the official weigh-ins. Bets like fighters touching gloves or losing mouthpieces feel a bit too random to pick.
We feel these bets are to get people who are concerned about fight fixing to take a position. While the fight may be fixed, you can risk nothing and bet on the coin flip of who wears a hood to the ring.
Fight Analysis and Fight Tape Review
Ironically, for this boxing match, a fight analysis will tell us little about the outcome. Something I've seen with celebrity boxing is that the hype drives the outcome. The mental elements of the game due matter, and things like steroid use, the incentives surrounding the fight, and the quality of the last fight all seem to play a bigger role in the bout than any fight analysis can produce. So we'll be skipping a deep dive into the boxing technique of Jake Paul.
Deron Williams vs Frank Gore
This bout between two professional athletes has opened with Williams as a favorite over Gore. However, no odds are currently available for either fighter on any site other than Sportsbetting.ag, so check them out to bet on your favorite athlete making their move to boxing.
Gore is a former NFL player and Williams is a former NBA star. Williams is a slight favorite at -150 on some betting sites, while Gore comes in at +120. No prop bets have been offered on this bout.
Final Betting Pick for Gore vs Williams
Gore turned down several NFL contracts to focus on boxing, and Williams has a significant height and reach advantage. It's difficult to call this bout, but we first considered the Frank Gore bet. He's put on some training footage that shows he's taking it seriously.
However, after a little digging, Deron Williams is part owner in Fortis MMA in texas. He's a lifelong wrestler and has six years of boxing experience.
I'll pick Deron Williams at -150, a payout of $0.67 per dollar wagered.
Liam Paro vs Yomar Alamo
These are the two best boxers on the card, and a fight worth analyzing. Two undefeated super lightweights are putting it all on the line. Paro is the #1 super lightweight from Australia and Alamo is the #4 boxers from Puerto Rico, each of them in the world's top 40 super lightweights.
Tale of the Tape
| Yomar Alamo | Fighter | Liam Paro |
| --- | --- | --- |
| 26 | Age | 25 |
| 5'8″ | Height | 5'8″ |
| N/A | Reach | 71″ |
| 21 | Total Fights | 21 |
| 20-0-1 | Record | 21-0-0 |
| 12, 57% | Knockouts | 13, 61% |
| Orthodox | Stance | Southpaw |
The fighters are very evenly matched, with nearly exact stats.
Betting Odds for Alamo vs Paro
| Bet | Odds and Payout per Dollar Wager |
| --- | --- |
| Paro Moneyline | -150, $0.67 |
| Alamo Moneyline | +120, $1.20 |
| Over 8½ Rounds | -210, $0.48 |
| Under 8½ Rounds | +170, $1.70 |
In this bout, it's difficult to get over. While both fighters knockout just over fifty percent of their opponents and have recently seen longer fights against tougher opponents, neither fighter has fought the kind of knockout power the other brings to the table.
Fight Analysis for Paro vs Alamo
Our favorite Alamo has seen his last six fights go to decision. When you take a look at his history of knockouts you'll see that he's never finished a boxer that has knockout power. Alamos' most recent finish was over the 18-9 Wilfrido Buelvas.
Many of Alamo's bouts show quality boxing and good hand speed, but Paro has more power, no question.
Paro has knocked out two of his last three opponents, including the undefeated 17-0 James Chereji. Earlier in his career, he finished 22-1 Robert Tlatlik, a fighter with 17 KOs and a 69% KO ratio. It's clear that while oddsmakers feel Alamo to be the better boxer, Paro has more proven power against other knockout artists.
Compubox Stats for Paro vs Alamo
In Paro's last bout, he outpunched Gago 140 to 62. This bout was scored 99-90 and 100-89 for a unanimous decision.
In Alamo's last bout vs Yung, he outlanded Yung 156 to 69, focusing on range finding and picking Yung apart with fifty-four jabs landed.
These fighters are narrowly matched, they fight similar fights!
Final Betting Pick
While Alamo is the favorite, I see Paro winning. I've thought about betting the Over due to the close match up, but the favorite Paro seems like the right choice given his knockouts over higher quality boxers.
Amanda Serrano vs Miriam Gutierrez
This ten-round bout pits two high-quality women's boxers in the lightweight division head to head. Serrano is the #1women's featherweight in the world coming off two of the toughest wins of her career in 2021.
Gutierrez is a rising star and the #1 featherweight female in Spain. She recently lossed to Katie Taylor. Serrano's drop to featherweight should set up a bout with Taylor in the future, assuming she can consistently make the weight.
Tale of the Tape
Serrano has been an active pro since 2009, and prior to that lead a 2-0 amateur career in Puerto Rico. Gutierrez ran a 9-11 amatuer carreer with no KOs. She turned pro after her rocky start in 2017.
| Amanda Serrano | Fighter | Miriam Gutierrez |
| --- | --- | --- |
| 33 | Age | 38 |
| 5'5″ | Height | 5'7″ |
| 65″ | Reach | N/A |
| 43 | Total Fights | 15 |
| 41-1-1 | Record | 14-1 |
| 30 | Knockouts | 5 |
| Southpaw | Stance | Orthodox |
Serrano is five years younger and a bit shorter than Miriam. Her knockout percentage is much higher, and over the last five fights, Gutierrez has seen one KO to Serrano's three.
Betting Odds for Alamo vs Paro
Serrano is a strong favorite in Saturday's bout.
| Bet | Odds |
| --- | --- |
| Serrano Moneyline | -4000 |
| Gutierrez Moneyline | +1400 |
| Over 4½ Rounds | -115 |
| Under 4½ Rounds | -115 |
The obvious choice is Serrano and I see no reason to deviate to Gutierrez. One concern is the lack of steroid testing on this card. Serrano may want a future career. She's 2-0 in MMA and has clear intentions to observe all avenues toward a future career. However, Gutierrez may just want to win this fight. If she's willing to show up juiced to the gills, it may even the playing field.
The Over/Under Prop Bets
Gutierrez's one loss to Katie Taylor came via Unanimous decision. Serrano has eleven knockouts over the last twenty bouts that fall into the 'under 4 ½ Rounds' prop. It's a tough fight to gauge, but my wager is that if Taylor couldn't finish Gutierrez, we'll see a similar fight with Serrano.
The majority of these Serrano knockouts came over fighters with multiple losses, like the 36-12 Dahiana Santana. A fighter that has only seen a loss to the world's best should survive nine minutes of fight time.
I pick the Over 4½ Rounds prop if you're looking for a higher paying bet on this fight.
Fight Analysis for Serrano vs Gutierrez
Serrano landed 160 punches to her opponent's 95 in her last bout. She faced the 18-2 Mercad for the WBC World Feather Title. Mercado is the #2 women's featherweights in the world. It's important to see how much better Serrano is than her next best competition.
Gutierrez has few available compubox stats, but her average landed strikes is 38 per fight. It would be a near miracle if she outboxed Serrano.
Final Betting Pick
If you're looking for a safe bet and possible parlay candidate, look at the Amanda Serrano moneyline. For a more lucrative prop, bet the Over 4½ Rounds at -115.
J'Leon Love vs Marcus Oliveira
J'Leon Love had a strong career that led up to two back-to-back losses this year. He's looking to get his career back on track against a veteran boxer making a strong return to the ring in Marcus Oliveira, a 42-year-old with a new ABF cruiserweight title.
Tale of the Tape
Serrano has been an active pro since 2009, and prior to that lead a 2-0 amateur career in Puerto Rico. Gutierrez ran a 9-11 amatuer carreer with no KOs. She turned pro after her rocky start in 2017.
| J'Leon Love | Fighter | Marcus Oliveira |
| --- | --- | --- |
| 34 | Age | 42 |
| 6'0″ | Height | 6'1″ |
| 75″ | Reach | N/A |
| 28 | Total Fights | 34 |
| 24-3-1 | Record | 28-5-1 |
| 13 | Knockouts | 22 |
| Southpaw | Stance | Orthodox |
Oliveira is the more experienced boxer, and he's eight years older than his opponent. Oliveira became a pro in 2006, four years earlier than his opponent.
Oliveira has more knockout power and a slightly better KO percentage, 64% to Love's 44%.
Betting Odds for Love vs Oliveira
Despite a recent losing streak, Love comes out as the favorite.
| Bet | Odds |
| --- | --- |
| Love Moneyline | -800 |
| Oliveira Moneyline | +500 |
| Over 6½ Rounds | -115 |
| Under 6½ Rounds | -115 |
Looking at the last two bouts from each fighter, it's difficult to see why Love is the favorite other than his age. But Marcus has lost five fights inside his last eight bouts, spanning back to 2013. Meanwhile, Love showed promise, racking up six wins over his past nine fights.
Neither fighter is exceptional enough that a large wager is a good idea.
The Over/Under Prop Bets
Betting the Over seems like the right pick for this bout despite aging fighters and early knockouts for Marcus. Both fighters have been knocked out in recent bouts, and both fighters come to win via knockout in every fight. Marcus especially. Of his last four wins, three have been knockouts. If Oliveira can pull it off, a knockout is in order.
Love likes to pump the jam, as he did in his 2014 win over Marco Periban.
Love should be the one dictating the pace, which is why a fight that goes past the 6 ½ Round mark feels right.
Final Betting Pick
This is a fight I wouldn't touch the money line on. Love isn't a strong enough favorite for his -800 rating. I could see something closer to -250 as the right spot for him.
I'll be betting the Over at -115, a payout of $0.87 per dollar wagered.
Fights with Unreleased or No Odds
Currently, these last-minute additions have no odds, but they may appear on the ticket the same day as the promotion. Let's pick a quick favorite in case you see them on your favorite sportsbook. These are likely to show up on SportsBetting.ag before the fight.
Jeovanny Estela vs Chris Rollins
The undefeated Estela should make quick work of the 5-2-1 Chris Rollins. Rollins has four KOs to his name but has struggled with any fighters who have wins on their record. This is Estala's toughest challenge to date, but the undefeated fighter should make easy work of Rollins. Expect the fight to go the distance and bet the over.
Anthony Taylor vs Chris Avila
These two have fought before as MMA fighters. Taylor won the first bout and now they'll be boxing. While it's uncertain who is the better striker, Taylor has more experience and won the first bout. He's an easy pick over Avila.
Paul vs Woodley II Wrap Up
With more and more celebrity boxing cards, look to see more strange props and fights only appearing on certain sportsbooks. It's tough for oddsmakers to make sense of these bouts, so you should consider it equally difficult to accurately predict winners.
Comment below for more betting tips and check out our boxing picks for main events through the weekend that doesn't involve YouTube celebrities.