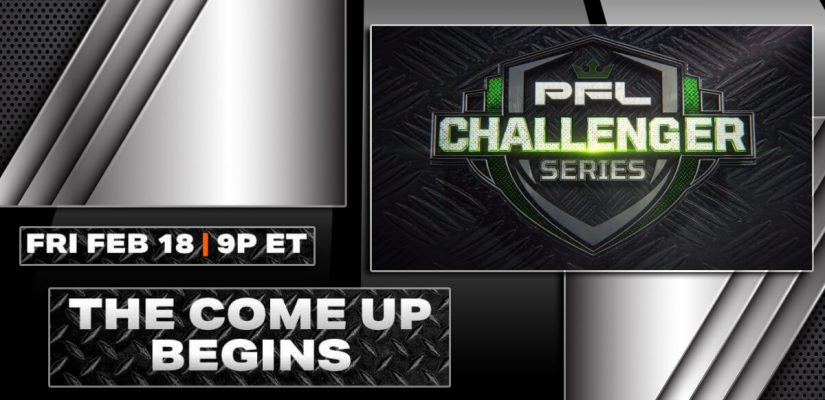 This PFL four fight event is a light heavyweight tournament that sets into motion an eight man tournament. Winners from each bout will continue to face off, developing the PFL 205 pound division into 2022. We've closely analyzed the fights, gathered the stats, and have built our top betting picks for the latest odds on PFL Challenger Series 1. 
Friday Fight Day ?

PFL Challenger Series starts tonight on @fuboTV #PFLonFuboTV | B2YB: @ColumbiaCare pic.twitter.com/gtk7MlhhS9

— PFL (@PFLMMA) February 18, 2022
PFL Main Event: Mohamed Juma vs Josh Silveira
Undefeated Middleweight Silveira is facing off against 8-2 Mohamed Juma. Silveira is a submission centered fighter who went 4-0 in the amateurs.
He's blasted through every opponent he's faced, finishing five in the first round.
Juma is dropping from heavyweight competition, and a knockout is likely his only path to victory. 
Tale of the Tape at PFL Challenger Series #1
| | | |
| --- | --- | --- |
| Fighter | Josh Silveira | Mohamed Juma |
| Age | 29 | 28 |
| Height | 6'1'' | 5'1'' |
| Reach | NA | NA |
| Record | 7-0 | 8-2 |
| Submissions/TKO  | 4/2 | 0/8 |
| Fighter Training Camp | American Top Team  | Black Bulls Team |
Silveira has the majority of advantages on paper. Juma's losses have come by way of submission in 2015 in his first ever professional fight, and his last fight by disqualification for fish-hooking. 
Watching these two fighters, the difference in grappling capability is staggering.
American Top Team is one of the best camps around, training multiple UFC level champions. Black Bulls Team is from Egypt, and currently they've produced no international stars. Silveira has the training camp advantage as well as the technical experience advantage. 
Betting Odds for Juma vs Silveira 
| Bet Available at Betonline.ag | Odds |
| --- | --- |
| Juma Money Line | +475 |
| Silveira Money Line | -650 |
| Over 1 ½ Rounds | +175 |
| Under 1 ½ Rounds  | -215 |
| Goes the Distance 'No' | +300 |
| Goes the Distance 'Yes' | -400 |
| Silveira by Submission | -115 |
| Mohamed Juma by KO/TKO or DQ  | +550 |
Silveira is a strong favorite, with Juma paying nearly a five times return on his money line. This doesn't surprise me. Silveira is a shoe-in for the final round of the tournament, which will likely put him in the sights of the UFC. 
Under 1 ½ Rounds looks like the right bet.
It protects us from a sudden knockout from Juma. However, Juma is big, and Silveira's last fight with Jared Revel saw a decision for that reason. Revel is a gamesman, who came in with good pummeling in the clench and even won rounds. 
Fight Tape Analysis
Silveira looks ready to take on knockout punchers, but Juma doesn't seem prepared for any level of BJJ. 
Silveira vs Rolling
The favorite has been doing BJJ since childhood and wrestled in college.
He chose to work on his stand up against Rolling, timing head kicks off the jab and keeping his hands in a defensive posture.
Silviera even uses distance management and head movement to defend strikes, which isn't common in lower levels of combat sports. 
Juma vs Rahet
This heavyweight UAE bout showed just how dirty Juma will get to win. He clearly eye gouged and head butted Rahet in willingness to stop the grappling exchange against the fence. It was intentional, and it worked. Juma rushed him, driving into a guillotine position double leg. Juma gets on top and delivers elbows to the still rocked Rahet. 
I don't think Juma can win against Silveira in a fair fight, but Juma gets away with these things and will take advantage of the outcome.
 
Our final betting pick is the prop 'Doesn't go the distance at -400, a safe bet for a $0.25 return per dollar wagered. Yes, Silveira should win with ease, but Juma has one of the best combinations in combat sports- raw power and a willingness to cheat up to the refs capacity to stop him. 
PFL Co-Main Event: Alexander Poppeck vs Taylor Johnson
Poppeck is the #4 Western European light heavy making his international debut. He faces the #166 world ranked middleweight Taylor Johnson. 
You may recognize Poppeck from the Contender Series where he was choked in round two by Dusko Tordorovic, and again defeated by Jamahal Hill in 2019. 
Johnson is an LFA regular and is now 2-2 for Bellator. 
Tale of the Tape at PFL Challenger Series #1
| | | |
| --- | --- | --- |
| Fighter | Alexander Poppeck  | Taylor Johnson |
| Age | 29 | 31 |
| Height | 6'3'' | 5'11'' |
| Reach | NA | 73'' |
| Record | 12-3 | 7-3 |
| Submissions/TKO  | 0/7 | 2/5 |
| Fighter Training Camp | Munich Top Team | ATT Portland |
Poppeck is a true light heavyweight, while Johnson is stepping up specifically for the tournament. This will be a true striker versus grappler battle. Poppock's submission game is suspect to say the least, but his four inch height advantage isn't going to do his takedown defense any favors. 
Poppeck has more experience but mostly these are local bouts that aren't at the level Taylor has been competing at his whole professional career.
Poppeck also has a number of decision victories, while Johnson has either finished his opponents or lost a decision. The exception is his RNC loss to Andre Muniz at the Contender Series in 2019. 
Betting Odds and Odds History for Poppeck vs Johnson
| Bet Available at Betonline.ag | Odds |
| --- | --- |
| Poppeck Money Line | +160 |
| Johnson Money Line | -200 |
| Over 1 ½ Rounds | +105 |
| Under 1 ½ Rounds  | -135 |
| Johnson Inside the Distance | -135 |
| Johnson by Submission  | +400 |
| Poppeck by KO or DQ | +400 |
Poppeck's main chance at victory is a knockout. It's unlikely he'll win a decision, stuffing Johnson's wrestling for three rounds.
He'll give up at least some control time in this match. Johnson via submission is much better than his inside the distance odds, and Poppeck has a clear weakness in submission defense and understanding.
The Under 1 ½ Rounds feel like the right bet given Poppeck should be swinging for the finish early and Johnson only has second and first round wins as a professional. 
Fight Tape Analysis for PFL Challenger Series #1 
Johnson has high levels of grappling aggression, but I'm concerned with Poppeck's size advantage. 
Johsnon vs Turner, LFA 36
Turner is a solid striker, and from the gate Johnson came in with a wrestling stance, pummeling the head and pushing Turner to the cage. Johnson is big at Middleweight and body locked turner directly to the floor.
If Poppeck's clinch game is in question, it's over.
Poppeck vs Hacz
Goodness, Poppeck is a big light heavyweight, and you see it in this fight. However, my fears are confirmed. Inside the clinch Poppeck is a grappling baby. His striking is good, but against the cage, he's doing so many things wrong on a fundamental level, including his base and hand placement.
Poppeck attempts some offensive wrestling here, but it's stuffed throughout.
He's so lanky that traditional double legs aren't the right focus for him, yet he ends up under sprawl several times in the fight. Even when Hacz is rocked he manages to defend the Poppeck takedowns. 
Poppeck's conditioning isn't in question, but Taylore carries the higher pace as well.
Final Betting Pick for PFL Challenger Series One
At first I was only concerned with Poppeck's submission skill, but I see that a TKO isn't unlikely. I'll be betting Taylor Johnson Inside the Distance at -135. Taylor has what it takes to finish with ground strikes or submission. Poppeck could be making changes that offer him some much needed grappling defense since 2020, so I'll be avoiding the Under 1 ½ Round props. 
Travis Davis vs Bruce Souto 
Recently losing his Bellator debut, professional boxer Travis Davis looks to regain some momentum. Souto is a Brazilian on an eight fight winning streak. He has been active in professional fighting since 2012, a ten year career of mostly submission and decision wins. 
Tale of the Tape at PFL Challenger Series #1
| | | |
| --- | --- | --- |
| Fighter | Travis Davis | Bruce Souto |
| Age | 34 | 32 |
| Height | 6'0'' | 5'10'' |
| Reach | 72'' | 70'' |
| Record | 10-5 | 14-3 |
| Submissions/TKO  | 6/3 | 3/3 |
| Fighter Training Camp | Ronin Training Center | Gordin Fight, Full House  |
These are two of the oldest fighters on the card. Davis is slightly larger, older and has more finishes overall, including several boxing knockouts. 
Souto's knockouts were early in his career, and has seen only submissions and decision wins in his last eight. 
Davis has been finished once, but has also lost a fight due to a cut. His last loss was a decision to undefeated Johnny Eblen. Souto's losses were primarily early in his career in local circuits. Sticking with the fight game for ten years, it's clear Souto has done some evolving.
Ronin is a training camp in Ohio that has produced some moderate level fighters including Dan Spohn and local success Kobe Woodall. 
Gordin Fight and Full House are Brazilian teams with several local champions but no real international level talent yet. 
Betting Odds and Odds History for Davis vs Souto 
| Bet Available at Betonline.ag | Odds |
| --- | --- |
| Davis Money Line | +165 |
| Souto Money Line | -205 |
| Over 2 ½ Rounds | -220 |
| Under 2 ½ Rounds  | +180 |
Davis was a +550 in his Bellator debut loss, so this is a step in the right direction. He's small at 185 pounds, so unless he's put on serious muscle, Souto will bully him around the ring. 
This is the first time Souto has had an odd history.
Travis has had two early finishes and two decisions over his last four, but it's clear he commonly goes the distance with higher quality fighters. 
His last submission came in the third round in 2017, and he's won only via decision since then. 
Fight Tape Analysis
Davis looks good at middleweight, but can his wrestling carry over to higher weights? Souto has been putting on size for a decade, slowly becoming a very strong athlete. 
Souto vs Cristhian Torres
Torres is driven to the fence early. Christian is a Sanford MMA fighter, but Souto towered over him.
Torres survived an early back take and submission attempt, but clearly lost the fight.
Davis will need to bring high level wrestling to the table, but he'll also need to be ready for an exhausting clinch fight with an opponent who will come in bigger than him. 
Travis Davis vs Robert Gidron, 2019
Many of Davis's fights aren't immediately available, especially in his local scene. Davis is a quality wrestler, and his ground striking is short and well thought. He keeps a higher pace than Souto, which matters more than you'd think. If Davis comes in the bigger man, he'll weigh on Souto. 
Final Betting Pick for PFL Challenge Series One
I see an upset with Travis Davis taking home the win at +165. He's the better striker, and inside the clinch I see him winning position. Souto is good, but moves slowly. His 5'10'' frame won't look as snappy and athletic two weight classes up. Souto fought at Welterweight in 2012, and I don't see the extra weight serving his speed and striking athletics. 
Miles Amos vs Karl Williams
These two fighters are the least tried and tested on the PFL Challenger Series. Amos is a local Florida pro who has a foundation in wrestling and knockout power. Karl has a similar fighter; talented and up and coming but has mostly faced only moderate fighters in the cage. 
Tale of the Tape at PFL Challenger Series #1
| | | |
| --- | --- | --- |
| Fighter | Miles Amos | Karl Williams |
| Age | 32 | 32 |
| Height | 6'2'' | 6'3'' |
| Reach | NA  | NA |
| Record | 5-2 | 3-1 |
| Submissions/TKO  | 1/1 | 0/2 |
| Fighter Training Camp | Jungle MMA  | ATT Atlanta |
Both fighters had undefeated amatuer careers. Karl turned pro last year, while Amos has been active since 2018. Neither fighter has a real finishing advantage or size advantages. Their evenly matched. 
Jungle MMA was started by Seth Petruzelli and has several Beletor level fighters. ATT Atlanta is home to Dhiego Lima and Juan Puerta.
Both fighters have good levels of sparring partners and no real training advantage. Miles has been choked and Knocked out, while Williams only loss came by way of Submission. 
Betting Odds for Amos vs Williams 
| Bet Available at Betonline.ag | Odds |
| --- | --- |
| Amos Money Line | -101 |
| Williams Money Line | -129 |
| Over 1 ½ Rounds | -165 |
| Under 1 ½ Rounds  | +135 |
Amos is a slight underdog to Williams, purely due to having less total losses. Both fighters have seen decisions. Five of Willimas seven fights have gone into the third round or better, while only one of Butcher's bouts saw a decision. 
Fight Tape Analysis
I want to see if these two will even each other out. I looked at a few of their decision bouts to look at the pacing and strategy each fighter brought to the ring. Unfortunately, most of the fight tape available was from the fighters' finishes. 
Williams vs Butcher
This is a back and forth grappling match from the word go. Williams ends up in top position for most of the first round, but struggles with Butcher's submission attempts, and gives up a triangle choke without doing any real damage. 
Karl Williams vs Philpot
Williams is clearly a wrestling centered fighter, but we know that the wrestling of Amos will be on the level. Karl gets away with tossing most of his opponents around, and it's clear after watching this bout that Amos has faced overall tougher competition. 
Amos vs Woodburn
Amos is winning this fight in the clinch. His plodding forward, grappling and landing knees and elbows throughout the first round.
It's clear to me Williams is the better wrestler, but not by much.
Woodburn nearly finishes him at the end of the first round. An early right handed haymaker sits Amos down for an early stoppage. 
I don't see this kind of brawling form Williams. 
Final Betting Pick
Given both fighters desire for a clench fight, and the general lack of competition Williams has faced, I'm betting the Over 1 ½ Rounds prop at -165. These fighters are evenly matched, and I think we'll see a grinding clinch battle with a mix of slow paced wrestling between two muscled 205 pound fighters. 
PLACE YOUR BETS NOW!
PFL Challenger Series 1 Wrap Up
If you're looking for more MMA action through the weekend, check out our UFC Vegas 48 Main Card Picks!