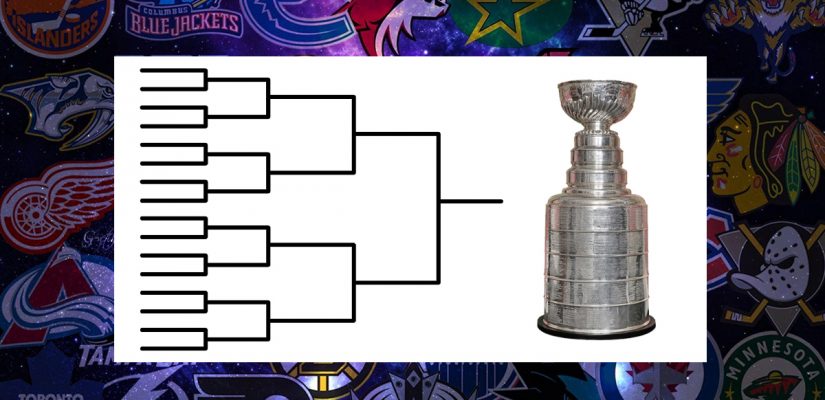 We're not sure how, if or when the NHL will return in 2020, but that's a story for a different day.
There are so many reports coming out about ideas for a return that it's probably best to let the decision makers do their thing and continue to be optimistic about a potential return to action.
It's also in our best interest to take a stab at some NHL futures when the opportunity presents itself.
Thanks to BetOnline, we can lay down some wagers on potential first-round NHL series matchups.
The matchups are laid out as per the current standings and as if the playoffs started today. These would be the matchups should the league decide to jump straight into a routine 16-team playoff format.
Now, let's take a look at the matchups, the odds and lay down a prediction for each of the eight series'.
Predicting NHL First-Round Playoff Matchups
Bruins vs. Blue Jackets
Bruins (-330)
Blue Jackets (+275)
Like a season ago, the Blue Jackets would take on the top seed in the Eastern Conference, and we all know what happened last year.
Columbus shocked the hockey world in a historic four-game sweep of the Tampa Bay Lightning, a team that won the Presidents' Trophy and finished a whopping 21 points clear of Boston and Calgary who tied for second in league standings with 107 points apiece.
After another deep playoff run – in fact the deepest possible into Game 7 of the Stanley Cup Final – the Bruins fell short in dropping that game 4-1 to the Cup-winning St. Louis Blues.
Once again, the team looks poised for another deep run on the back of a stout defense and fantastic goaltending.
We're not about to forget about one of the very best lines in hockey, either, and the fact that David Pastrnak sits tied for first with 48 goals this season.
While the Blue Jackets have defied all odds in sitting in a playoff spot despite a litany of injuries after losing franchise pillars Artemi Panarin and Sergei Bobrovsky in free agency, this is an uphill battle all the way.
Columbus has shown an ability to lock down on defense and have received excellent goaltending themselves, but their offense would fall well short in this series.
I wouldn't plan another first-round upset for the Jackets this time around.
Prediction: Bruins (-330)
Lightning vs. Maple Leafs
Lightning (-240)
Maple Leafs (+200)
The Lightning and Leafs met three times in the regular season and the Leafs won the final two matchups after an early-season embarrassment on their home turf.
That embarrassment came with Mike Babcock behind the bench while the Leafs have been one of the better teams in the league under new bench boss Sheldon Keefe.
Under Keefe, the Leafs rank eighth in points percentage (.628), first in goals per game (3.51) and second in power play efficiency (26.4%).
The problem remains on the back end, but they at least improved to 17th with 3.04 goals against per game and 13th with an 80.9% mark on the penalty kill – both figures superior to their word under Babcock in the first seven weeks of the season.
Of course, that doesn't mean they're the better team in this matchup.
Since December 1, the Lightning were by far the best team in the NHL with a .707 points percentage, substantially better than second-place Boston and their .670 mark.
They're the far superior defense and most would argue Andrei Vasilevskiy gets the advantage over Frederik Andersen in goal.
The pause in play also benefits the Lightning as they were likely to miss superstar Steven Stamkos for most, if not all of this series after he underwent core muscle surgery on March 1st, an injury interestingly sustained against the Leafs on February 25.
Taking on a Stamkos-less Lightning team would have been beneficial for the Maple Leafs, but I wouldn't rule out Toronto in this series regardless.
They defeated Tampa 4-3 without Morgan Rielly and Cody Ceci in the lineup for that Feb. 25 affair, and Jake Muzzin didn't play in the third after sustaining a broken hand late in the second.
Toronto can go toe-to-toe offensively with Tampa Bay and while the Lightning are the superior defense, a hot Andersen could mitigate that edge.
Tampa wins this series more often than not, but there's first-round upsets every season and here's one that provides some nice value.
Prediction: Maple Leafs (+200)
Capitals vs. Hurricanes
Capitals (-190)
Hurricanes (+165)
Revenge would be on the mind of the Capitals in this one after the rival Hurricanes dealt them a seven-game first-round exit last season, one year after Washington won the first Stanley Cup in franchise history.
The Caps currently hold a one-point advantage over the Flyers for top spot in a difficult Metro while the Hurricanes would enter the postseason as the top Wild Card team if the regular season ended today.
That said, the Hurricanes' +29 goal differential on the season is actually slightly superior to the Caps' +25 mark, so perhaps it's a closer matchup than we think.
Again, injuries play a part here as Hurricanes defenseman Dougie Hamilton declared himself ready to return when the season does after he sustained a gruesome fibula break on January 16.
Getting Hamilton back is a big boost to a blueline that added Brady Skjei at the trade deadline while Carolina also beefed up its forward group with the addition of Vincent Trocheck that same day.
It's difficult to place Carolina's offense ahead of Washington's, and while the 'Canes can defend with the best of em', Washington has firepower to spare and once again has a Rocket Richard candidate in Alex Ovechkin who is tied with Pastrnak for the league lead with 48 tallies at the moment.
There's goaltending decisions to be made on both sides of this matchup.
Carolina split time between James Reimer and Petr Mrazek this season while Washington did something similar with Braden Holtby and rookie Ilya Samsonov.
The problem in Washington's case is that it was the rookie Samsonov who greatly outplayed the veteran Holtby throughout the regular season.
| | | | |
| --- | --- | --- | --- |
| Goaltender | Record | GAA | Sv% |
| Holtby | 25-14-6 | 3.11 | .897 |
| Samsonov | 16-6-2 | 2.55 | .913 |
The question then becomes do the Capitals stay loyal to the guy who was stellar en route to a Stanley Cup just two seasons ago – and a pending unrestricted free agent – or go with the hot, yet unexperienced hand in Samsonov, the clear-cut goaltender of the future?
These two teams match up closer than it might seem on the surface, but I don't see a repeat of an upset here, either.
Prediction: Capitals (-190)
Flyers vs. Penguins
Flyers (-110)
Penguins (-110)
Right here is at least the most interesting Eastern Conference matchup that could happen.
The Flyers and Penguins have had some epic postseason clashes in recent memory and both were in competition for top spot in the Metro with the Flyers sitting in second place and three points ahead of their rivals.
Some offseason re-tooling and a new head coach in Alain Vigneault has Philly surging, recently rattling off 11 straight wins to surge from the postseason bubble into second place in a vicious Metro.
Don't sleep on the Penguins, either, as they've fought off multiple long-term injuries to their best players in the form of Sidney Crosby, Evgeni Malkin and Jake Guentzel, to name just a few.
In Guentzel's case, the break helps him get healthy as he was to miss for sure the remainder of the regular season and the first round of the playoffs after suffering a gruesome shoulder injury after scoring a goal on December 30th against the Senators.
Thanks in part to that injury, general manager Jim Rutherford went out and traded for fellow left winger Jason Zucker to replace Guentzel and pose a nice 1-2 punch on the left side for the future.
That future could come much earlier than expected as the Penguins would sport a pair of elite lines center by Crosby and Malkin, especially thanks to the breakout campaign from gritty winger Bryan Rust.
The key here would be home ice advantage, and the Flyers would be wise to at least hang on to second place in this division and therefore nab home ice for at least this series.
The dominated to the tune of a 25-6-4 record at home this season, but slipped all the way to a 16-15-3 mark on the road.
Their numbers are far superior at home across the board, and young netminder Cart Hart follows suit.
| | | | |
| --- | --- | --- | --- |
| | Record | GAA | Sv% |
| Home | 20-3-2 | 1.63 | .943 |
| Away | 4-10-1 | 3.81 | .857 |
It would appear the Flyers would be in some big-time danger if they weren't able to grab home ice advantage in this series, although the Penguins' 17-15-2 record on the road is nothing to write home about, either.
As per the odds, this one is anyone's guess as it would be two excellent Eastern Conference clubs going toe-to-toe, both knowing full well the rivalry and real hate for one another.
While I like what the Flyers have done to return to prominence, I am betting on No.87 in this one.
Prediction: Penguins (-110)
Predators vs. Blues
Blues (-170)
Predators (+150)
It's largely been a down season for the Preds after entering with such high expectations.
They dealt defenseman P.K. Subban along with his $9M annual cap hit to the New Jersey Devils on day two of the draft, a move that was designed to open up cap space to sign center Matt Duchene, a player they failed to acquire at last year's trade deadline.
Getting Duchene down the middle shored up their group up front, a talented group that scored plenty early on with the offense tailing off as the season moved forward, mostly at home.
Still, the biggest problem – and an uncharacteristic one at that – was at the other end of the ice where the Preds were as leaky as ever.
While Roman Josi is having a Norris-caliber season on the Preds' blueline, poor goaltending between Pekka Rinne and Juuse Saros has cost the team points in the standings.
Still, the Preds hung around long enough to give themselves a shot to make the playoffs and thanks to a 6-3-1 record and three-game win streak prior to the break, here they are.
The defending champs won't be an easy out, of course, as the Blues currently sit as the top seed in the west, albeit with the Avs hot on their trail.
St. Louis has done so with an 8-2-0 record heading into the hiatus but also managed to boast a high-octane offense without star winger Vladimir Tarasenko for nearly the entire season.
The club remains a solid defense even with a little bit of an uneven season from Jordan Binnington, mostly on the road, but Jake Allen's bounce-back season in goal has helped in a big way.
To me, this doesn't seem like your typic top vs. bottom seed matchup thanks to what the Predators could throw at you in a seven-game series, this despite a current 16-point separation in the standings.
I view this as an upset watch matchup with solid value on the Preds.
Prediction: Predators (+150)
Avalanche vs. Stars
Avalanche (-155)
Stars (+135)
Led by another MVP-caliber season from Nathan MacKinnon, the Avalanche are hot on the heels of the Blues for top spot in the west, sitting two points back with a game in hand.
If it ended in a tie, the top seed would belong to the Avs by virtue of their 37 regulation wins versus the 33 the Blues have. Of course, this is if the season ended today without any further regular season contests.
MacKinnon's beastly season that's included 93 points in 69 games is especially impressive given running mate Mikko Rantanen has played just 42 games while Gabriel Landeskog has skated in only 54 contests.
Without his linemates for long stretches, MacKinnon has been aided by the offseason forward depth GM Joe Sakic acquired last summer in name such as Andre Burakovsky and Joonas Donskoi, both of whom have enjoyed career-years while spending time with MacKinnon at one point or another.
The Avs still managed to sport a top-five offense without key members of that group, and keep in mind Nazem Kadri has been out since February 9 himself.
The Avs high-octane offense would be put to a stiff test against a stout Dallas defense and a dominant goaltending tandem between Ben Bishop and Anton Khudobin.
Only the Boston Bruins sport a better defense than Dallas while the Stars' .920 Sv% between Bishop and Khudobin is again second only to Boston's .921 mark split between Tuukka Rask and Jaroslav Halak.
The Stars, despite an improved crop of forwards, have successfully transitioned from a team that wanted to rely on offense to a team fully willing to sacrifice offense for an increased focus on keeping the puck out of their own net.
Believe me, for a player such as Tyler Seguin with all of the offensive skill in the world, it's not an easy thing to do.
It's also not difficult to maintain that structure through an unforeseen coaching change that saw Jim Montgomery fired for off-ice conduct and replaced by assistant Rick Bowness.
The Stars haven't skipped a beat through it all, however they'll once again enter the postseason as first-round underdogs.
That said, unlike last year when I had them picked to upset the Predators – something they accomplished in six games – this Avalanche team is a Stanley Cup contender in my mind and I don't see them bowing out in round one.
Prediction: Avalanche (-155)
Golden Knights vs. Jets
Golden Knights (-215)
Jets (+185)
A rematch of the 2018 Western Conference Final could be on tap with the Jets looking to avenge a 4-1 series loss that saw Vegas head to the Stanley Cup Final in their expansion season.
Much like the Blue Jackets, the Jets have done extremely well to be here.
Their blueline was gutted by an offseason deal that saw Jacob Trouba traded to the Rangers while Tyler Myers and Ben Chiarot were scooped up in free agency by the Canucks and Canadiens, respectively.
Then came the unforeseen blow that saw Dustin Byfuglien fail to show up for training camp and later cited an ankle injury sustained the prior season despite passing his exit physical.
Byfuglien proceeded to undergo unauthorized surgery on the ankle in Minnesota, leaving the Jets up and arms and a bunch of cap space that could have been used to retain Myers or Chiarot in free agency.
Their offense hasn't produced up to par, either, and combined with many league-minimum salaries on the blueline and a whack of injuries across the board, the Jets have no business being here.
In fact, the Jets and Blue Jackets have suffered the most man games lost to injury this season.
NHL injury visualization. Man games lost versus team wins. Bubble size represents cumulative quality of players lost (Lost-ps metric) https://t.co/cjkOOD5tgy pic.twitter.com/aALxCgyI1A

— Man-Games Lost NHL (@ManGamesLostNHL) March 12, 2020
But Connor Hellebuyck has bounced right back into the Vezina discussion with a 2.57 GAA and .922 Sv% on the season while ranking behind only Carey Price with 56 starts on the season and tying Price with 58 appearances.
With such a hefty burden on their netminder, it would seem the Jets are in trouble with the Knights.
With a real nice forward group up front and now complemented by a real nice tandem in Marc-Andre Fleury and Robin Lehner – the latter acquired at the deadline – the Knights will be a tough out.
In fact, that Lehner deal was the best of the deadline, in my humble and controversial opinion.
To me, Fleury didn't have what it takes this season to march this team through a deep postseason run.
His numbers have regressed to a 2.77 GAA and .905 Sv%, and at 35 years old with plenty of miles on his body and an unreliable backup in Malcolm Subban at the time, I was worried about Vegas' situation in goal.
So, they went out and grabbed Lehner, a Vezina finalist last season and a guy that posted an excellent .918 Sv% behind a brutal Chicago defensive team before coming to Vegas and posting a ho-hum 1.67 GAA and .940 Sv% in three starts.
While I believe Vegas would now win this series, I don't see the value in -215 odds. Rather, I would sprinkle the underdog Jets just incase their miracle regular season is a sign of things to come.
Prediction: Jets (+185)
Oilers vs. Flames
Oilers (-120)
Flames (+100)

I mentioned the Flyers and Penguins as the likely best matchup in the east, but I didn't say overall because that candle may rest with the Battle of Alberta.

It's a renewed battle as there hasn't been much spark in recent years, but Matthew Tkachuk and Zach Kassian managed to single-handedly renew the rivalry, one that could see major fireworks in the postseason.

The Flames took home the top seed in the west last season, but an inconsistent offense has cost them big-time this season while the Bill Peters situation was perhaps the biggest distraction of the NHL season.

David Rittich earned an All-Star nod as a replacement, but he's struggled mightily of late and former Oiler Cam Talbot doesn't inspire much confidence behind him.

The Flames wouldn't be the only team in the series without question marks in goal, however, as Mike Smith and Mikko Koskinen have endured their ups and downs and both have interestingly been worse on the road than at home.

In fact, the Oilers defense as a whole is far better on the road, so this could be an interesting case of home ice working against a team.

What the Oilers have that the Flames don't however, is Leon Draisaitl and Connor McDavid, ranked first and second respectively in NHL scoring at the moment.

The Oilers also own the best power play in the NHL and second-best penalty kill in the league, the latter of which would be the best in the playoffs as the non-contending Sharks own the league's top penalty kill.

Elite special teams come in handy in the postseason, and the fact that Draisaitl and McDavid have done so much damage despite skating on separate even-strength lines is a terrifying thought for opposing defenses.

The Flames got the better of the Oilers in the regular season, but to me, the Flames are the worst team sitting in a playoff spot in either conference at the moment.

I'll take the Oilers all day in this series.

Prediction: Oilers (-120)