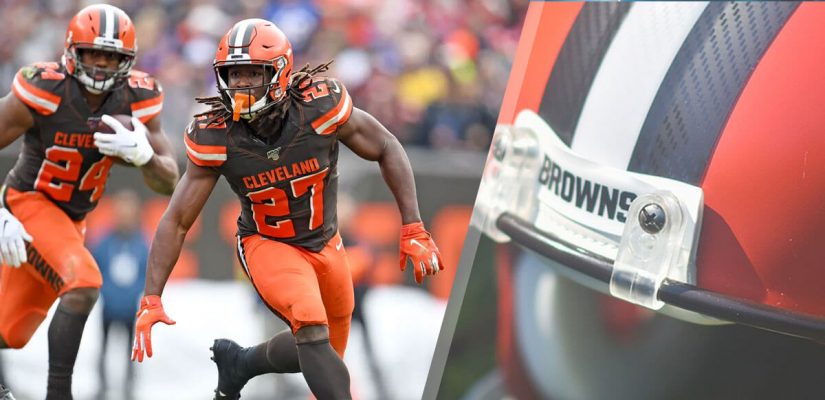 While the Cleveland Browns are often a dangerous team to bet in favor of, there are a couple of outliers you need to be aware of. They come in the form of running backs, Nick Chubb and Kareem Hunt.
And in 2019 the duo became one of just few bright spots on an overrated football team that stumbled to a 6-10 finish after blowing expectation after expectation. At least after Hunt served his 8-game suspension for an event that occurred in February 2018.
The backs have a history of success in the NFL in fantasy football, but they also make decent single-game player prop bets.
Even if the Browns fail to stack well against an opponent, you can count on Chubb and Hunt to continue leading the Browns' offense.
And when they perform well, the Browns overachieve. Here are 8 reasons the duo are hot player prop bets at the online sportsbooks.
1. Threatening the Rushing Title
Nick Chubb and Kareem Hunt are runners-up and past rushing title winners. Hunt won the title in 2017 as a rookie and may have won it in back to back seasons had the Kansas City Chiefs not cut him after he was found to be untruthful regarding an off-field altercation.
Chubb came within one game of winning the rushing title in 2019 had it not been for a poor performance in Week 17 and a heroic performance from eventual rushing champion Derrick Henry.
That said, the duo will guarantee you at least 75 rushing yards per game, barring anything unforeseen.
Hunt has proven to be a reliable pass catcher and the better goal-line back of the two. While Chubb is better in the open field than he is toward the goal line, where he struggles.
2. Hunt the Dual Threat
As mentioned, Hunt can score you a variety of fantasy points but he's also a decent bet in the player profile arena given his ability to catch the ball out of the backfield.
In 2019, Hunt caught the ball 37 times for 285 yards in just 8 games. During his rookie season in 2017 in which he started all 16 games, he recorded 53 receptions, 455 yards, and 3 touchdowns. He has shown that he can consistently catch the ball and pick up yards through the air.
While he didn't do much in terms of running the ball in 2019 because of Chubb's borderline monopoly as the workhorse back that season, he's experiencing a renaissance as of 2020.
One reason is that he's playing under a new coach in Kevin Stefanski and he's available for the entire season instead of for just 8 games as was the case in 2019.
Over 8 games in 2019, he had just 179 rushing yards and through the first 2 games of 2020, he's already up to 158 yards.
3. Chubb the Workhorse
The only time it's fringe to bet in Chubb's favor is regarding the number of touchdowns he scores. Chubb's a workhorse back until he hits the goal line and for some strange reason, he has a hard time breaking through for six points.
In the game against Cincinnati in Week 2 of 2020, it took him 4 tries (including a turnover on downs) before he punched the ball in for a touchdown. Had it not been for a Bengals turnover from rookie quarterback Joe Burrow deep in their own territory, Chubb doesn't get the chance.
However, Chubb is arguably the best running back in football any other time.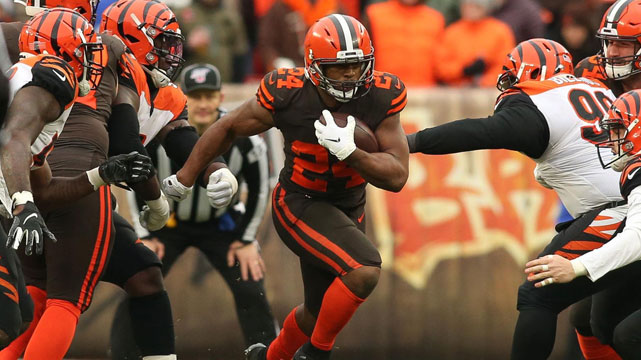 And more of his touchdown runs come at long distance. That said, Chubb almost always picks up between 4 to 5 yards every time he touches the ball. At minimum.
As with Hunt, if his over-under for yards per game rests at 75.5 or less, he's a safe bet for the over. The only time you won't see him reach the 75-yard mark is if the team under uses him for whatever reason.
4. It's in the System
Lucky for Chubb and Hunt, they will reach their rushing over-under often given the run-first system they're playing in under Stefanski.
While Stefanski made several questionable calls in Week 1 of 2020 versus the Ravens when he threw nearly twice as often as he ran, the system was on full display in Week 2 against the Bengals.
That said, it's likely the backs will reach their over-under marks in rushing yards and Hunt could easily earn the over in rushing slash receiving yards, given the system.
As the Browns mesh under Stefanski and hopefully keep the same players around to make a run they haven't made in a while, expect Chubb and Hunt to continue to ascend in the realm of player props given the system in place.
5. Hot, Hot Offensive Line
Some backs are productive runners regardless of how good or bad their offensive line is, but neither Chubb nor Hunt need to worry about this. Each of their offensive linemen are 30 and younger, with 3 of their 5 starters still in their 20s.
Two of the linemen are in their first seasons with the team, so there's still room for improvement on this front.
Better yet, the Browns also have enough depth on their offensive line that if one lineman goes down, they have options galore.
For Chubb and Hunt, it means regardless of who lines up in front of them, it's highly likely they're going to perform well.
Again, even if their rushing projection is as high as 75.5 yards per game, they can easily overcome this number not just from sheer talent, but because of the strength they have surrounding them on the offensive line.
6. Strength in Youth
The Browns are constantly searching for longevity and they have a pair of players that can give them what they want in Chubb and Hunt. Chubb is still 24 at the time of this writing and Hunt turned 25 just two months prior.
That said, barring catastrophe like a severe injury, expect the dynamic duo in the Cleveland backfield to remain there for years to come.
Since 28 is often the age a running back's production begins to slip, each has at least 4 seasons until they hit that.
Hunt may actually have until age 29 since he missed 11 games from November 2018 to November 2019 serving his suspension.
You shouldn't expect these backs to decline any time soon and it's highly likely neither are even in their primes yet. While their player props will rise, so will their overall production.
7. Climate Considerations
Cleveland is a city where spring confines itself to the final week in May and summer confines itself until to about 12 weeks. The rest of the time the city experiences swirling winds in the cold, gray fall slash wintery air from September to May.
If you don't believe me, just visit Northeast Ohio and the good old, lake-effect snow belt.
That said, the Browns not only have the right system in place, but the right climate for Chubb and Hunt to thrive in. Unless they're on the road all December long, which is highly unlikely, expect the climate to allow these two to perform to their maximum potential.
In cold-weather cities like Cleveland, Buffalo, Chicago, New York, Foxboro, etc., throwing the ball becomes a chore even for the best quarterbacks.
That said, Chubb and Hunt will get the rock more often when snow covers the ground and Lake Erie freezes over. And the more opportunities they get, the higher the likelihood they cover their projected player props week in and week out late in the season.
8. Defensive Coordinator Anxiety
It's something Washington Football Team head coach Ron Rivera stated before facing scrambling quarterback Kyler Murray. Well, Chubb and Hunt are in the same boat.
And as I write this, Rivera and the Football Team get to face off with Chubb and Hunt in their next contest.
So, why will defensive coordinator anxiety help with the player props?
Because most of the league's defensive coordinators like to overthink ways to stop the league's best players from doing what they do best: Pick up the yards and score at will.
Often against a dynamic running back duo like Chubb and Hunt, coordinators like to stack the box. But this opens up dump-off passes to Hunt. Misdirections, draw plays, and screens to Chubb.
To the point defensive coordinators are forced to back off and respect the pass.
When Dick Stockton and Brady Quinn discussed how to stop Cardinals' quarterback Kyler Murray, the answer was simple: You don't.
You basically hope your offense scores enough points.
The same is said about Chubb and Hunt. You don't stop them.
Either you hope the Browns beat themselves (no team better in the NFL at doing it) or your offense scores enough points to beat them. Because Chubb and Hunt are often controlling the game and winning you some money via player props.
Unless they have an uncharacteristically bad game, of course.
Conclusion
Nick Chubb and Kareem Hunt are just one of many examples around the league of players who are hot bets regarding player props at running back.
They play in a run-first offense that fits the Cleveland climate perfectly. They're also young enough that, barring a trade, surprise cut, or injury, they will play in Cleveland through at least 2022.
They're also just now entering the prime of their career and they are also playing behind one of the league's better run-blocking teams.
If the Browns use them properly as they did in Week 2 of 2020 against Cincinnati, they are hot bets week in and week out. They won't earn you money every time, but the probability exists.
Have you bet on Hunt or Chubb in your player props and if so, how did you fare at the NFL betting sites?