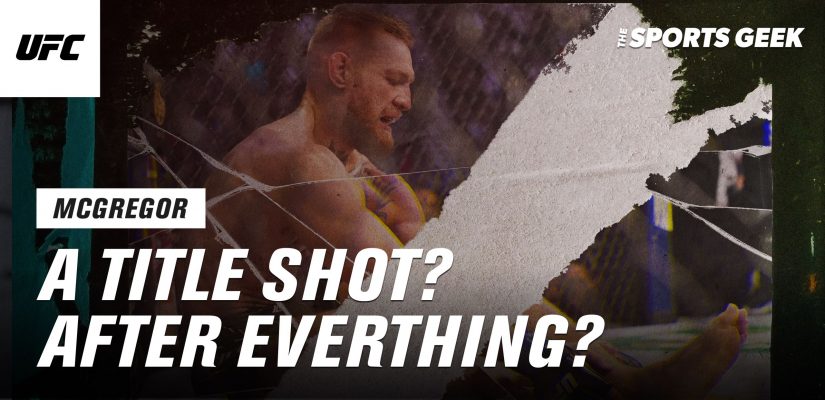 The return of Conor McGregor will be a truly special moment, one that will reportedly take place this coming summer — 2022 has thus far been packed with action and, by the looks of it, the best is yet to come!
Even though he endured two back-to-back losses to Dustin Poirier, "The Notorious" is still one of the biggest draws in combat sports. Wins and losses mean nothing for a man of his stature; he could lose ten more fights in a row and he'd still be able to sell out the biggest arenas in the world — his kind of popularity doesn't just fade away.
There is, however, talk of him getting a title shot immediately upon return and, well, we take issue with that.
Nowadays, the UFC is more of a popularity contest rather than anything else, but title shots still need to be given and awarded accordingly — it is a testament to one's strength and a hallmark of greatness in and of itself. You don't just get a title shot out of nowhere; it needs to be earned through sweat and, more often than not, blood.
A meritocratic system needs to exist, and while we do support a more lenient way of handing out these most prestigious opportunities, the fighters that are selected should still be somewhat deserving.
If there's no rational system in place, the matchmakers might as well give Diego Sanchez a shot at Kamaru Usman.
McGregor getting a title shot upon his return would be one of the most egregious decisions imaginable, and it would definitely set a "dangerous" precedent and paint 2022 in a very negative light. Now, make no mistake: we'd love to see Conor go up against Oliveira as much as the next person, but that fight needs to be earned rather than gifted.
If he's still as good as he thinks he is, then let him climb the ranks — it will only further increase the hype.
No Longer Relevant
The last time Conor beat anyone worthy of mentioning was all the way back in 2016. We're talking six years ago. The world looked a whole lot different back then. His last win came over the aged and waning Donald Cerrone — hardly anything worth writing home about.
The reality of it all is that Conor McGregor is no longer relevant, and his return in 2022 isn't going to change much in that regard. Now sure, "relevant" is a somewhat malleable term given his overall popularity, but the point stands nonetheless.
Giving him a title shot would delegitimize… well, everything. Why not pit him against Jorge Masvidal instead? If it's all about profit and pay-per-view buys and what have you, then why not pair him with a fighter most folks deem as the second biggest draw in MMA?
UFC FUTURES BETTING: Conor McGregor vs. Jorge Masvidal:
That way the UFC would get its cake and eat it, too! It is a match-up that makes tremendous sense. A trilogy with Nate Diaz would also generate an insane amount of interest, but it would by no means be as hype-inducing as a fight against "Gamebred."
Conor has many different options, and most (if not all) of them definitely make sense from a business standpoint. Going up against Charles Oliveira, however, simply doesn't. "Do Bronx" is by no means a high-profile pay-per-view star and, well, he's almost certainly the better fighter at the moment.
It'd be much wiser for Conor to take it easy and (slowly but surely) get back into the swing of things. A "tune-up" fight makes the most sense; perhaps even two or three. And then, if he really does end up being as good and competitive as he thinks he'll be, he can challenge whoever has the belt.
We wouldn't mind him going up against Oliveira had his fights with Poirier been a bit more competitive. He wasn't exactly blown out of the water but the results speak for themselves. Conor hadn't fought in quite a while and his performance left a lot to be desired.
And, well, it can only get even worse given the kind of injury he has sustained.
Pitting him against Charles Oliveira — who's currently making his case to be included on the lightweight Mount Rushmore — simply wouldn't make any sense. Would it generate record amounts of interest? Absolutely, but so would a fight with Masvidal or, say, Nate Diaz. Or anyone else for that matter.
People just want to see Conor fight, and it matters very little who's standing across the octagon on fight night.
UFC FUTURES BETTING: Conor McGregor vs. Nate Diaz:
A Move Up In Weight
There's also a very big chance that Conor will return as a welterweight. We, for one, are quite partial to that idea. That would be the absolute fastest way for him to secure a fresh start.
We're talking about a division ripe with interesting match-ups: Nate Diaz, Jorge Masvidal, Belal Muhammad, Leon Edwards, Stephen Thompson, and last but certainly not least Colby Covington. Some of these fights are more interesting than others, but the point stands nonetheless.
What he'll do and whom he'll challenge still remains to be seen, but one thing's for certain: the world will tune in to watch no matter what he decides.