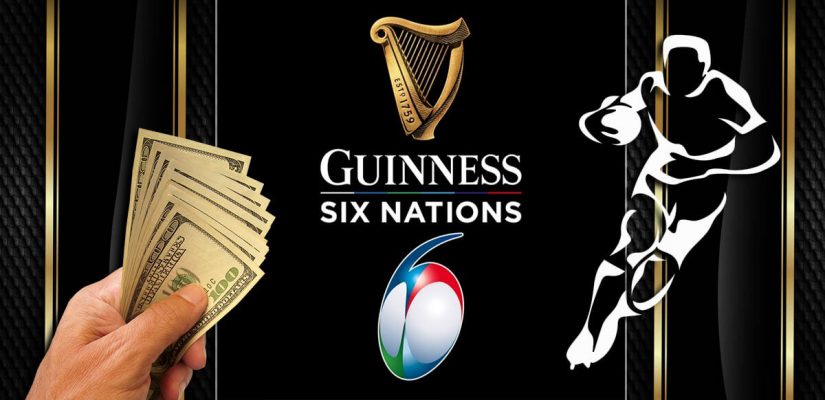 We're here in Round 4 of the Six Nations Rugby tournament, and we've assembled the stats to give you our top betting picks just one week away from the Championship. Last weekend, France smashed Scotland 36-17, England beat Wales 23-19 and Ireland destroyed Italy 57-6. 
Place your bets before the first game on March 11th, 2022 as the odds will change as table scoring affects who could win the whole tournament. Place your bets now for the best French Rugby Union action!
Definition of ??????????:

Worthy of being or likely to be noticed especially as being uncommon or extraordinary

Yup, think this qualifies. pic.twitter.com/047h7wMeeI

— Guinness Six Nations (@SixNationsRugby) March 10, 2022
Six Nations Betting on March 11th 
This first match of Round 4 will solidify France's run toward the Grand Slam. They've kept the winning bonus for the last three matches, and will need it against Wales for what will be a close match with England.  France has beaten Italy, Scotland and Ireland. Wales narrowly beat Scotland 20-17, then lost to both England and Ireland. 
| | | | |
| --- | --- | --- | --- |
| Country   | Spread  | Money Line  | Total  |
| France  | -8½, -115 | -325 | Over 44 ½, -115 |
| Wales | +8½ , -115 | +250 | Under 44 ½ -115 |
France has won their last three games 36-17, 30-24, and 37-10, each match outside of the -8 ½ point spread by a serious margin. Many analysts say Wales defense has been high quality, but against Ireland they gave up a 22 point spread. 
Wales is up against the offense of Antoine Dupont, who is now fully healed from an arm injury he received pre-season. This will only improve his blistering offense in the first three rounds.
Our betting pick is the France money line at -325. The Spread pays more, but is a little too risky against the unpredictably good Welsh defense this season. 
PLACE YOUR BETS NOW!
Six Nations Betting on March 12th
There are two games on Saturday, Scotland vs Italy and Ireland vs England. The first is set to be a blowout and a good Parlay option. 
Scotland vs Italy
| | | | |
| --- | --- | --- | --- |
| Country   | Spread  | Money Line  | Total  |
| Scotland | -20½, -110 | -2500 | NA |
| Italy | +20½ , -120 | +1000 | NA |
Scotland is currently 1-2 in the first three rounds and Italy is 0-3. Scotland's losses were by three and eleven points, but they defeated England in the first round by three points. Italy's closest game has been a 23 point loss to France. I don't see Scotland winning by over twenty points, so I'm skeptical of the spread. Their money line pays only $0.04 per dollar wagered, so it's a decent option to add to a parlay, but it's nothing spectacular. 
Italy scored six points in their last game with Ireland. They've made some improvements from their loss with Ireland. Two players were injured, so they've added Callum Braley and Giacomo Nicotera. They've called this game with Scotland an important one.  
Rugby fans are going to call me crazy but this is the game for Italy. I'm going to place a small bet on the Italy Spread, +20 ½ at -120. I think this will be their best game of the season and an opportunity to catch Scotland taking it easy before the final. 
PLACE YOUR BETS NOW!
Ireland vs England
| | | | |
| --- | --- | --- | --- |
| Country   | Spread  | Money Line  | Total  |
| England  | -1½, -110 | -125 | NA |
| Ireland | +1½ , -120 | +105 | NA |
Ireland has had the closest game to France of the Season (30-24) and beat Italy by an additional 24 points than England. They've been a consistently aggressive and high scoring team this season, but England is somehow the favorite, despite serious Irish gamesmanship. 
England's Eddie Jones has been vocal in saying the Irish teams aren't as big as England, citing the English win over South Africa last November as proof of the team's superiority. England's loss to Scotland was no fluke. It was the first time since 1984 that the Scots beat England. Marcus Smith produced all seventeen points against Wales, and Ireland's strategic approach won't stand for one athlete to carry a team. 
Our betting pick is the Ireland money line at +105. 
PLACE YOUR BETS NOW!
 Betting for March 11th -19th
You can still place new bets on the over all teams, with the tournament final taking place next weekend. France did as well as anyone would expect, with Wales and Scotland virtually out of the running. Ireland needs France to lose to Wales and then to beat Scotland next weekend in order to win the tournament. England needs France to lose to Wales and to win against France next weekend in Round 5. It's a rough bet for anyone but France or Ireland to take the Six Nations Tournament home. 
| | |
| --- | --- |
| Country | Odds to Win 2022 Six Nations Tournament |
| France  | -400 |
| England | +700 |
| Ireland | +450 |
| Wales | +200000 |
| Scotland | +250000 |
PLACE YOUR BETS NOW!
France has a 30% chance of taking the Grand Slam with two games left to play. They will most likely beat Wales and then face England as their last game next weekend. If they can win both and get the winning bonus against Wales (but lose it against England) they take home the Grand Slam. Our betting pick is France at -155! They've the momentum coming into this match with Wales, they're healthy (only one player is out with Covid-19) and they want this very badly, you can see it in their play styles and talks off the field. 
| | |
| --- | --- |
| Grand Slam | Odds |
| France | -155 |
| No Grand Slam | +125 |