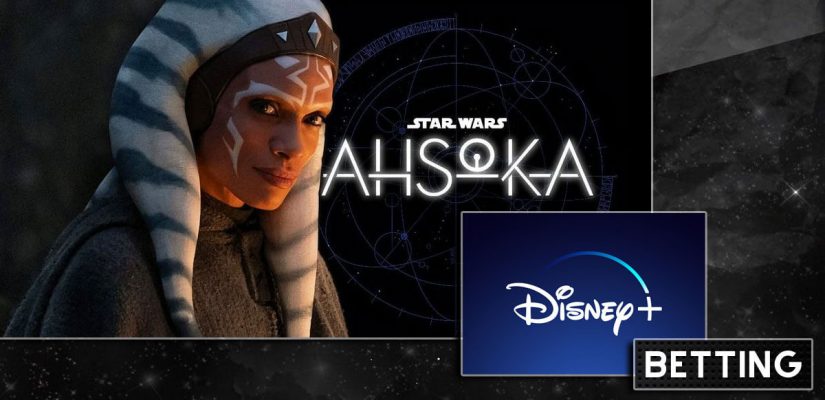 If you've been paying much attention to the world of entertainment, you probably are aware of Disney going all-in on two of their most valuable franchises: Star Wars and Marvel.
The massive media conglomerate has numerous projects in the works for both properties, many of which are television series in production for the Disney+ streaming platform.
Ahsoka is a spin-off of the highly-rated Disney+ series, The Mandalorian, a space western taking place shortly after the events of Episode VI: Return of the Jedi.
The Empire has fallen, and the galaxy is under the authority of the New Republic. However, The First Order, which we see in the third trilogy, is still in its infancy and mostly unknown.
Dave Filoni says that Ahsoka exists alongside The Mandalorian, The Book of Boba Fett, and Rangers of the New Republic as one massive, interconnected storyline that will culminate in a "climactic story event."
Ahsoka Tano Sightings
The new show's protagonist will be Ahsoka Tano, a former Jedi Padawan who once served under Jedi Knight Anakin Skywalker.
The force-sensitive Tano first appeared in Star Wars: The Clone Wars – an animated feature film released in 2008.
As a child/Padawan, she is a character in Star Wars: The Clone Wars (an animated series that aired from 2008 t0 2013).
Ahsoka's character was more fleshed out and given more screentime In Star Wars Rebels (an animated series that ran for four seasons between 2014 and 2018), now as an adult.
She's also been directly or indirectly mentioned or shown in flashbacks in several Star Wars properties, including video games and comic books.
Ahsoka Tano wasn't depicted in live-action until her cameo in Season Two of The Mandalorian, played by Rosario Dawson. The actress reprised her role in two episodes of the most recent Disney+ Star Wars show, The Book of Boba Fett – and will do so again as the lead in the new Disney+ series.
Here are the betting odds for various characters appearing in 'Ahsoka' on Disney+:
| | | | |
| --- | --- | --- | --- |
| Character | Odds | Character | Odds |
| Hera Syndulla | +190 | Princess Leia | +500 |
| R2D2 | +250 | Zeb Orrelios | +700 |
| Chopper | +300 | Chewbacca | +900 |
| Luke Skywalker | +500 | C3P0 | +1000 |
| Han Solo | +2200 | | |
If you're a Star Wars casual like myself, you probably need some background info on the star of the series at hand. I'm up to date on all the Disney+ shows, the nine major feature films, and Rogue One, but may have missed some of her story arcs on the animated properties, so be warned: this is an overview of Ahsoka Tano's background, not a deep dive into obscure Star Wars lore.
If you want to nerd out to the max, I suggest reading her entire Star Wars Fandom wiki entry. In addition to a detailed overview of the character, it lists all her appearances in the Lucasfilms universe. To handicap Bovada's Ahsoka betting markets with maximum accuracy, you can go back and watch her every on-screen moment over the years.
It never hurts to be thorough; these new Star Wars series are all about nostalgia and fan service. Dave Filoni and Jon Favreau love fitting as many characters and references as possible – the more obscure, the better – into their projects.
Casting News
It's interesting to note the changes in the betting lines since I last wrote about these markets in July 2021.
Sabine Wren was the favorite to appear at –150 odds back then. However, in November 2021, she was confirmed as a character on the show when Deadline Hollywood announced the casting of Natasha Lio Bordizzo for the role.
Ezra Bridger, formerly at +160, was also removed from the board. In my previous article, I shared a leaked logline that claimed that Ahsoka is "on the hunt for the evil Grand Admiral Thrawn in the hope it will help her locate the missing Ezra Bridger, the young Jedi that disappeared with Thrawn many years ago." This is consistent with what we've seen from Lady Tano in The Mandalorian, where she mentions her search for Thrawn. I also discussed tweets from Rahul Kohli, who appeared to spoil the fact that he's been cast as Ezra. The oddsmakers must now be convinced of his participation in the show.
Hayden Christensen is reprising his role as Anakin Skywalker/Darth Vader.
Last month, the Hollywood Reporter broke the news that Mary Elizabeth Winstead was cast in an undisclosed role. Some Star Wars fans believe the actress – who has performed in the action thrillers Kate and Birds of Prey recently – will play Hera Syndulla, the leader of the revolutionary group, the Spectres (of which Sabine Wren is also a member). The announcement could explain Syndulla's odds increasing from +750 seven months ago to +190 currently.
Ray Stevenson has also joined the cast. On February 11, 2022, the Hollywood Reporter announced his signing on and that "sources say [Stevenson] is a villain in the series and will play an admiral … although, not Thrawn."
Despite Disney being tight-lipped about the plot, we can expect odds to continue shifting as more casting and pre-production information is released. For that reason, it's best to get your picks in as early as possible.
If you'd placed bets for Sabine Wren and Ezra Bridger when I wrote about these odds last year, you'd have two winning cards in your pocket right now!
Not to mention Luke Skywalker and Princess Leia, whose lines have moved from +5000 to +500, respectively. We've since seen Luke and Ahsoka interact in The Book of Boba Fett, making another encounter far more likely moving forward.
Still, +500 is a decent payday – there's still plenty of time to find value betting on Ahsoka on Disney Plus.
The World Between Worlds
When handicapping the various possibilities for the Ahsoka series, it's essential to consider the existence of the "World Between Worlds" and how it may impact plot choices and the potential for cameos. The concept was introduced in Star Wars Rebels, when Ezra Bridger used a portal to save Ahsoka from the past, sending her to a plane that links all moments in time and space.
Anything can happen once a franchise introduces parallel planes of existence and time travel. Timelines and lore are eliminated as storytelling constraints. In other words: Ahsoka Tano could encounter anyone and everyone imaginable from at any period in the Star Wars universe.
Between the World Between Worlds and Filoni's love of fan service, bettors should expect to see Tano interacting with the most beloved characters of the past.
Hera Syndulla +190
Once a +750 long shot, Hera Syndulla now sits atop the board for characters who may appear in Ahsoka. If you're a fan of alien women with massive tendrils on their heads instead of hair, this will be the show for you!
However, while Ahsoka and Hera share this quality, they're not the same species.
The former is a Togruta with colorful montrals (cone-like horns protruding from the tops of their skulls) and head tails.
Syndulla is a Twi-lek, a race with long appendages jutting from the back of their heads. Their head tails match the rest of their skin.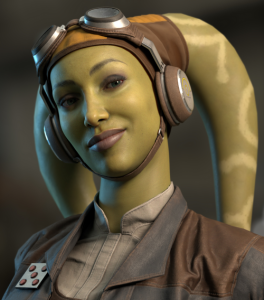 Hera is a revolutionary leader who rose to prominence during the early rebellions against the Galactic Empire. Her group, the Spectres, would eventually include Sabine Wren, Ezra Bridger, and Garazeb Orrelios.
The Spectres led an insurgency on Lothal that got the attention of influential figures across the galaxy, such as Senator Bail Organa and Grand Admiral Thrawn – the latter of whom the Empire chose to destroy the band of rebels.
At the time of The Mandalorian and its spin-off series, Hera Syndulla is probably serving as a general in the New Republic. However, in The Rebel Files, General Leia Organa made the following comment after reading a message about Hera from Ahsoka Tano to General Davits Draven:
"The Hera Syndulla? If only they had known where she'd end up."
That quote makes me think there's much more of Hera Syndulla's story to tell. Something of major significance happened between the fall of the Empire and Princess Leia's rise to general of the Resistance – the paramilitary force created to oppose the First Order.
If we're going to see a crucial "climactic story event" during this run of limited Disney+ series', it sounds like Hera Syndulla will have a role to play. With Admiral Thrawn, Sabine Wren, and Ezra Bridger all slated to appear in live-action for the first time, it's only fitting that their shipmate from the Ghost should be included as well.
As I mentioned previously, many Star Wars fans expect Mary Elizabeth Winstead to play Hera Syndulla after being cast as a mystery character. The actress has performed in several action roles in recent years, making her an excellent fit to portray the military badass.
Chopper +300
Assuming Hera Syndulla plays a role in Ahsoka on Disney+, you can bet her life-long companion Chopper won't be far behind. The astro-tech droid is a member of the Spectres and has been by Hera's side throughout the Twi-lek rebel's Star Wars story arc.
Plus, fans love seeing their favorite droids. And for show creators, the fan service is much easier to deliver for robots than living characters. Aliens who've previously only appeared in animated productions and characters from the original trilogy who have aged extensively or died require much more challenging CGI.
A droid like Chopper can be produced with ease and generate much of the same excitement amongst Clone Wars and Rebels fans. I love this bet at +300, since Chopper is so closely associated with the betting favorite, Hera Syndulla.
R2D2 +250
Once again, Lucasfilm's Dave Filoni and Jon Favreau love including Star Wars fans' favorite characters from the past in their new works. When it comes to renowned droids, they get no more prominent than R2-D2.
Also, when we last saw Ahsoka Tano in The Book of Boba Fett, she was with Luke Skywalker and R2-D2 on an unnamed forest planet, helping to oversee the construction of a new Jedi temple while Luke was training Grogu. The droid delivers Din Djarin to Ahsoka when the Mandalorian comes to check on Grogu's well-being and bring him a gift of beskar chainmail.
Assuming the episode serves as a jumping-off point for the new series, we may see Lady Tano interacting with R2-D2 and Skywalker again before setting off on her journey to find Admiral Thrawn.
On the other hand, we now know that Grogu left Luke to return to Djarin in The Book of Boba Fett finale. Ahsoka may have left the forest planet around the same time, allowing the new show to pick up wherever she's heading next.
Luke Skywalker +500
The last time we saw Ahsoka Tano on screen, she was with Luke Skywalker and R2-D2, helping to build a new jedi temple. At +500 odds, it's worth taking a chance on the new Disney+ series picking up where The Book of Boba Fett left off.
Zeb Orrelios +700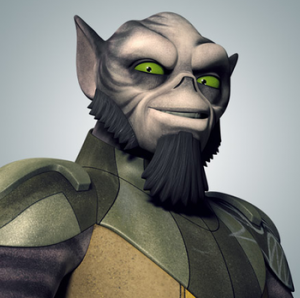 Zeb Orrelios offers tremendous value at +700. If you're betting on Ahsoka to continue the storylines started with Clone Wars and Rebels, it makes sense for Garazeb to appear. Like other confirmed characters in the upcoming show, the Lasat rebel served on the starship Ghost and fought alongside the Spectres.
However, after the fall of the Empire, Zeb may not be included in the hunt for Grand Admiral Thrawn and Ezra Bridger. He was last seen on Lira San, showing Agent Kallus that he hadn't exterminated the Lasat people, who were thriving on a new homeworld.
It's unclear whether he rejoined Sabine Wren and company or where he's located while Ahsoka Tano is busy on Corvus and the forest planet with Luke.
Still, at +700, Zeb Orrelios is worth a shot. If Lucasarts could recreate a live action Cad Bane, Zeb's orc-like appearance should be no problem.