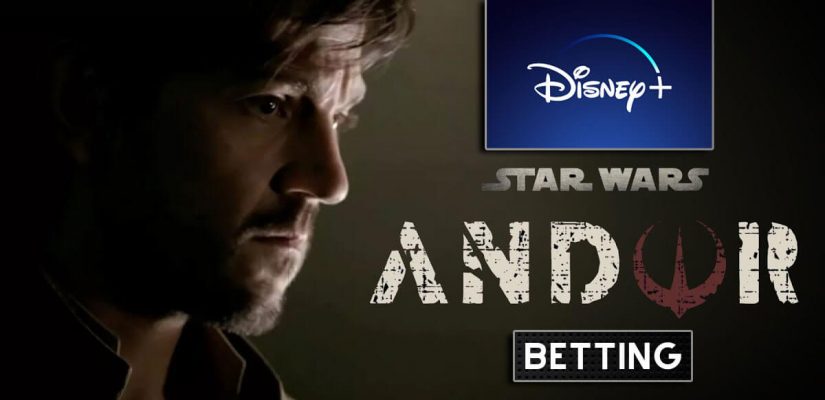 Disney – and its dynamic duo of IP: Marvel and Star Wars – is one of the best things to ever happen to the entertainment betting category. It wasn't long ago that online sportsbooks only covered special rare television events and cultural happenings: Sopranos characters' deaths; Royal Family children's names; winner of the Iron Throne – those kinds of things.
If it has a ravenous fan base of diehards, oddsmakers at top-tier sites like Bovada – the sportsbook responsible for the betting markets covered on this page – are handicapping it. That includes wagering on major plot points, outcomes, and who might appear.
On this page, we look at Bovada's betting odds for a list of characters and whether they'll show up in Andor, the upcoming Star Wars series streaming on Disney+.
Andor
Andor is scheduled to be released in late 2022 and will consist of 12 episodes. It will be available on the Disney+ streaming platform.
"One of the most exciting and ambitious new series we have coming to Disney+ in 2022 is Andor, a tense nail-biting spy thriller in the Star Wars universe created by Tony Gilroy."

―Kathleen Kennedy at Investor Day 2020
While most of the plot is still a secret, we know the series centers around Cassian Andor, a rebel spy. It takes place roughly five years before the events of Rogue One – which saw the show's protagonist lead a mission to steal Death Star schematics detailing the superweapon's vulnerability. The exploit was the thermal exhaust port used to destroy the first Death Star in Episode IV: A New Hope.
Cassian Andor is killed in Rogue One, so this series could only be a prequel.
It will focus on covert activities early in the conflict with the Empire, leading up to the mission to steal the Death Star plans.
The new Disney+ series has been described as a "spy thriller" with many "espionage-related missions."
Expect lots of shocking double-crosses in this one!
The following teaser trailer is the only footage of Andor released thus far:

The Cast
Whenever you're wagering on the appearance of characters in an upcoming film or series, the best place to start your research is the cast list.
Lucasfilms will keep some talent signings quiet to protect any potential "earth-shattering" cameos or plot twists, but there's still plenty to learn from what's released.
At the very least, early casting announcements can provide a vague idea of where the writers are going with the story – within which part of Star Wars lore will the series exist.
Diego Luna – Cassian Andor
Forest Whitaker – Saw Gerrera
Genevieve O'Reilly – Mon Mothma
Anton Valensi – Den
Alex Lawther – Rick
Stellan Skarsgård – Undisclosed
Adria Arjona – Undisclosed
Fiona Shaw – Undisclosed
Denise Gough – Undisclosed
Kyle Soller – Undisclosed
So far, the official Andor casting list is pretty meager. We know that Forest Whitaker is returning as Saw Gerrera, and Genevieve O'Reilly will reprise her role as Mon Mothma.
Most of the names connected to the project are playing undisclosed roles. Still, you can study the appearances of the actors listed and compare them to any characters they may resemble.
Betting Odds for Characters Appearing in Andor:
| | | | |
| --- | --- | --- | --- |
| Character | Odds | Character | Odds |
| Princess Leia | -125 | C-3PO | +500 |
| R2-D2 | +225 | Chewbacca | +1000 |
| Chirrut Imwe | +400 | Han Solo | +1000 |
| Jyn Erso | +400 | | |
K-2SO
We've also seen reports about characters not to expect in Andor. One example is K-2SO, the reprogrammed KX-series security droid featured in Rogue One. Once the property of the Galactic Empire's armed forces, K-2 became one of the Cassian group's most capable and entertaining members.
According to Alan Tudyk, who plays K-2SO, the droid initially had a role in Andor's first season, but he will no longer appear due to script changes.
Since Tudyk's comments, it's been reported that Disney+ and Lucasfilms are already working on season two; it is scheduled to begin filming in late 2022. The security droid's series debut will likely be delayed until then.
Stellan Skarsgård
We should also consider comments from Stellan Skarsgårdwhen handicapping Bovada's Andor betting markets.
In an interview with Screen Rant, the actor who played Dr. Erik Selvig in the Marvel Cinematic Universe gave the fans some insight into what they can expect from his still-undisclosed character.
"The writing is really good; it's the same writer that did Rogue One. And also, to work with Diego Luna, who's an old friend. So, I was excited by that. And then my character is… Well, you'll see. It's fun to play because he has a lot of different faces to show," Skarsgård said.
"A lot of different faces" matches what we've heard about the show's spy/espionage themes. Skarsgård's comments to The Daily Beast also paint the series as more mature and possibly darker, much like Rogue One.
"As you know, they'll shoot me if I say anything! I can't even get a proper script. It's printed on red paper so I can't make any copies of it, it's ridiculous!… But when I saw Rogue One, it had much more atmosphere and seemed a little more mature-and that was Tony Gilroy, who's the showrunner on this one. So, hopefully, this one will be a little more than little plastic people falling over."
Might that affect who we can expect to appear in season one of the Disney+ series? Does it lessen the odds of a comedic relief character like C-3PO showing up?
Star Wars Timeline:

This Star Wars blog is part of a series of betting overviews discussing the odds of various characters appearing in Disney+ shows. Lucasfilms has multiple projects scheduled for release in 2022 and 2023.
We recently analyzed the betting lines for the upcoming series Ahsoka, which takes place during the same period as The Mandalorian and The Book of Boba Fett. Speaking of which, season three of The Mandalorian is in production. Then there's Rangers of the New Republic, the new Obi-Wan Kenobi series, Lando, The Acolyte, and who knows else.
When analyzing Star Wars betting lines, the timelines can get confusing.
If you have an hour to burn – and plan on wagering on Andor and other Disney+ Lucasfilms projects – I suggest you watch the above video laying everything out in chronological order. I found it immensely helpful when researching these Star Wars entertainment betting blogs.
Princess Leia -125
The odds have shifted significantly since I first wrote about Bovada's Andor markets in July 2021. Before, Bail Organa had the best odds of appearing at +200. The next closest options were Jyn Erso and Chirrut Imwe at +800, respectively.
Today, Bail Organa is off the board, while his adopted daughter Princess Leia has jumped from +1000 to the top of the board at –125. Oddsmakers clearly have reason to believe that the secret Skywalker twin will play a role in Andor.
Raising the Dead
Lucasfilms will need to cast an actress who can approximate Leia's voice and appearance without the late Carrie Fisher alive to perform her lines.
We've already seen them use CGI to de-age Mark Hammill for Luke's cameos in The Mandalorian and The Book of Boba Fett, but this will be the first time a central character will return despite their actor being deceased.
After combing through the list of actresses playing undisclosed characters in the show, I found multiple brunette women who, with the help of CGI, could stand in as Princess Leia.
Splashy Cameos
On a more superficial level, we must acknowledge a significant part of the appeal for Star Wars fans is being shocked by unexpected cameos, particularly if the surprises play into the viewers' nostalgia. Watch any YouTube reaction video of Luke Skywalker's episodes of The Mandalorian and The Book of Boba Fett.
People lose their minds at the sight of their favorite heroes of yesteryear – especially when issues like actors' ages make their appearances seem impossible. With so many Star Wars series set for release on Disney+, Dave Filoni and Jon Favreau must keep raising the bar to deliver fan service.
What better way to one-up Luke's aforementioned cameos and Din Djarin's unexpected arrival in The Book of Boba Fett (and vice-versa) than to have Princess Leia, looking like a young Carrie Fisher, in the mix with Cassius Andor?
Han Solo +1000
Han Solo is another character from the original trilogy I can see making his return in Andor. Harrison Ford has said he'd never play the space smuggler again, but Disney has all the money in the world to change his mind. Once again, they may be willing to do whatever it takes to deliver exciting cameos and keep the Star Wars franchise hot.
It's also worth remembering that Ford is not the only actor ever to play Han Solo.
Alden Ehrenreich also portrayed the captain of the Millenium Falcon in Solo: A Star Wars Story. The film followed the young swashbuckler's life before the events of A New Hope. Andor also takes place before the original trilogy.
Ehrenreich is signed on to play Han Solo in two more films – might one of those commitments be satisfied by taking a role in a Disney+ series instead?
The entertainment blog, SlashFilm.com reported in 2017 that they "heard rumors that Alden Ehrenreich would be making a cameo as Han Solo in Rogue One, and that didn't pan out."
If the writers saw a way to fit Solo into the Rogue One plot, why would it be any different for Andor?
R2-D2 +225
R2-D2 always manages to play a central role in the various happenings taking place around the galaxy.
He served Queen Amidala and was the sole droid survivor on the Queen's royal starship during the invasion of Naboo, helping to bring the craft's shields back online, allowing it to escape to hyperspace.
On Tatooine, R2 met C-3PO at young Anakin Skywalker's family home. The two droids helped build the podracer Anakin used to win his freedom. Artoo would remain by Skywalker's side throughout the events of The Clone Wars and was one of the sole witnesses to Anakin and Padme's wedding.
After Anakin turned to the Darkside, R2-D2 went to work for Bail Organa, right as the Galactic Republic was collapsing.
Later, it was R2-D2 that delivered Princess Leia's distress signal to Obi-Wan Kenobi.
He also played a pivotal role in guiding Luke Skywalker's torpedoes that destroyed the Death Star.
And those are just a few highlights. Seriously, read this droid's wiki page!
Whoever is your favorite Star Wars character, R2-D2 has interacted with them. He's in all nine feature films in the three Skywalker trilogies, The Mandalorian, The Book of Boba Fett, and roughly 1,000 Star Wars books, videogames, and comics!
So, why wouldn't R2-D2 show up in Andor?
During the period in which this series exists, he's probably employed by Senator Bail Organa, who will probably play a central role in the show.