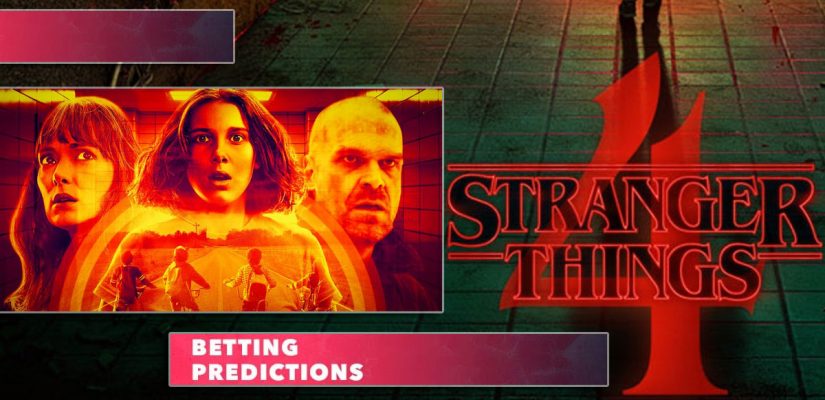 It's been quite a long time since new Stranger Things episodes graced our television sets. When we last saw the gang back in the summer of 2019, they were once again defeating the dreaded Mind Flayer and saving Hawkins, Indiana, from certain doom.
Considering nearly 3 full years have passed since we last saw Eleven, Mike, Steve, and the rest of our heroes, we can't blame you if you may have forgotten where things left off. Fortunately, we've got you covered with this handy-dandy Stranger Things season 4 viewer's guide. The new season of Stranger Things will appear on Netflix on Friday, May 27th. This will be the penultimate season of the hit series, and each of the season's nine episodes will be released as the summer progresses.
As always, entertainment betting sites have you covered if you're in search of Stranger Things season 4 odds. There are a host of prop bets out there ready for your perusal ahead of next week's premiere.
How should you bet Stranger Things' upcoming fourth season?
Which Characters Will Die in Season 4?
| | |
| --- | --- |
| Characters | Odds |
| Eleven | +150 |
| Steve | +500 |
| Jim Hopper | +500 |
| Joyce Byers | +500 |
| Jonathan | +500 |
| Mike | +1000 |
| Max | +1000 |
| Nancy | +1000 |
| Will | +1200 |
| Robin | +1200 |
| Lucas | +2000 |
| Dustin | +2000 |
Karim Benzema (-225)
While the good guys have emerged victorious in each of Stranger Things' first 3 seasons, not everyone has come out alive. Last season, we saw Max's brooding older brother, Billy, succumb to the Mind Flayer in the season finale. The quirky Russian scientist, Dr. Alexey, also failed to get out of season 3 alive.
However, none of the show's main cogs have met their demise. We did come close to losing the beloved Jim Hopper at the end of the last season, but he somehow survived the laboratory explosion. At the end of the season 3 finale, we see Hopper toiling away in some sort of Russian internment camp. Better than being dead, I guess!
Stranger Things season 4 odds list Hopper at +500 to die in season four, which ties him with Joyce, Steve, and Jonathan for the second-best odds of any character. Eleven is actually a very heavy favorite in this category at +150.
Eleven was sapped of her powers at the end of season 3. For all we know, she's just a normal kid at this point, now living with her adopted mother, Joyce, somewhere in California.
Eleven is now the closest thing Stranger Things has to the main character, which would make her death gut-wrenching for fans. She is the most developed character at this point, which is another factor that would make her prospective death more impactful than most others.
It's also worth remembering Eleven has sacrificed herself for the greater good in previous seasons. Her primary goal is to protect the community from the Mind Flayer, even if it costs her her own life. Now that her powers seem to be gone, it may be only a matter of time until the Mind Flayer ultimately gets the last laugh.
It'll be sad, but Eleven is by far and away the most likely character to die. The +150 Stranger Things season 4 betting odds on Eleven to die still offer some profit potential.
Will Any Dead Characters Appear in Season 4?
| | |
| --- | --- |
| Character | Odds |
| Billy Hargrove | +100 |
| Lonnie Byers | +150 |
| Barb Holland | +500 |
| Bob Newby | +500 |
The season 4 trailer gives us a glimpse of a grieving Max sitting next to Billy's grave. Later in the same trailer, we see Max levitating next to the same gravesite. Something weird is going on, which…shouldn't be a surprise at this point, I suppose.
Billy was the most recent major character to die, which makes him seem like the most likely dead person to make a cameo in season 4. We saw a few glimpses of Barb Holland after her death early in season 1, however, so dead characters returning isn't exactly unheard of in this show.
Bob Newby, Joyce's brief love interest, died back in season 2. We do see him briefly in the third season, however, when Joyce and Jim return to the scene of his untimely demise. Joyce envisions his death at the hands of the Demodog. The Stranger Things season 4 odds don't say any of these characters has to return to life. The bet will cash as long as we see them in some capacity.
Based on how recently his death occurred, the easy bet here is for Billy to show up at some point. Whether it's a flashback or some sort of vision is irrelevant. I'd bet on Billy to make a cameo in season 4 at even money.
When Will Eleven and Hopper Reunite?
| | |
| --- | --- |
| Episode | Odds |
| Episode 7 or 8 | -105 |
| Episode 9+ | +350 |
| Episode 5 or 6 | +500 |
| Episode 3 or 4 | +600 |
| Episode 1 or 2 | +800 |
At the beginning of season 4, we know where both Eleven and Jim Hopper will be. Eleven will be living in California with the Byers clan as their new adopted daughter. Hopper, Eleven's old adopted father, is stuck in what appears to be a rather miserable Russian prison. I guess just about any prison is at least somewhat miserable, though, so that goes without saying.
It seems rather unlikely that Jim will die in Russian captivity, so betting on an eventual escape is probably a smart wager. However, it also seems pretty unlikely that the show's writers would put Hopper in a Russian prison, only to let him get out within the first few episodes of the new season. I would imagine Hopper's escape plan will be a major storyline, at last early on. That's why the 2022 Stranger Things betting odds favor Jim and Eleven to reunite at some point later in the season. I suppose a reunion isn't at all guaranteed considering I'm not sure Eleven makes it out of season 4 alive, but I don't think the writers would be that cruel.
We'll see them get back together, and it'll be a tearjerker, to be sure. Betting on Stranger Things to delay our satisfaction is the way to go here. I think taking a shot on episodes 5 or 6 (+500) or 9+ (+350) offer more upside than 7 or 8 at the current -105 odds.
Best Bet:
Episode 5 or 6 OR Episode 9!
Will Eleven Get Her Powers Back?
We probably don't need to get too deep into the analysis here. Eleven is, essentially, the only reason Hawkins hasn't been overrun by the Mind Flayer and Demogorgons by now. She did lose her powers at the end of season 3, but that feels more temporary than permanent.
Is it a little too predictable that Eleven will ultimately rediscover her powers and come to the rescue once again? Maybe, but this is, generally, a feel-good show. If our heroes are to once again stave off certain doom, Eleven will play a major role.
Will Anyone Play Dungeons and Dragons?
Remember, Stranger Things takes place back in the 1980s. Without smartphones or Playstations in which to bury their heads, our heroes had to do other things in order to pass the time. The main group of characters is a dorky group of boys that liked to gather in the basement and play Dungeons and Dragons.
However, by the time season 3 rolls around, most of them have moved on to chasing girls. Poor Will Byers is the lone member of the clan that still seems to prefer D&D. This game has played a pretty big role in the show, but let's not forget these aren't children anymore. They're teenagers by now.
Frankly, I don't think the Stranger Things season 4 odds should be so heavily skewed in favor of "yes" at -5000. With the kids getting older, I wouldn't expect them to commit nearly as much time to playing their old favorite board game.
Bet against Dungeons and Dragons to make an appearance at the profitable +1000 odds.