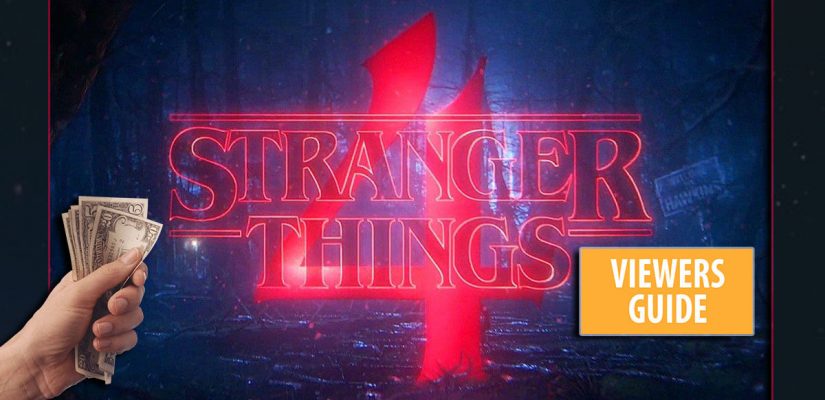 In just a couple of short weeks, Stranger Things will be back on our TVs. The 1980s-based horror/drama helped Netflix balloon into what it is today after its initial release back in 2016, and it has since gone on to become one of the most popular shows on TV.
In case you happen to be unfamiliar with Stranger Things, the series is based in the fictional town of Hawkins, Indiana, at some point in the '80s. The first season involves the investigation into the disappearance of a local boy and a series of supernatural events that follow.
Stranger Things is a fun mix of horror/thriller/comedy with quite a bit of nostalgia thrown in for good measure. After a hiatus that spanned several years, Stranger Things season 4 is set to hit the airwaves later this month.

When is Stranger Things Season 4 Coming Out?
The Stranger Things season 4 release date in the USA is set for Friday, May 27th, 2022. The fourth season will consist of two volumes, the second of which will be released on Friday, July 1st. The Stranger Things season 4 will consist of 9 episodes in all.
It's been a while since we've seen new episodes of Stranger Things. The entirety of season 3 was released on July 4th, 2019. The first and second seasons, for example, were released in consecutive years in 2016 and 2017, respectively.
The show's creators and writers, the Duffer Brothers, actually announced that production for season four began back in February of 2020. As we know, quite a bit has changed since then, and Covid certainly played no small role in the massive gap between the third and fourth seasons.
How Did Stranger Things Season 3 end?
Quite a bit of time has passed since the end of Stranger Things season 3, so we won't fault you if you may have forgotten where things left off.
We discover in the third season that Soviet-era Russians have infiltrated the sleepy 'burb of Hawkins in an attempt to free the dreaded Mind Flayer from the upside-down. Remember, season 2 ended with Eleven trapping said Mind Flayer in the other dimension, which kept the town safe from its attacks.
Our protagonists get wise to the Russians' scheme after Dustin intercepts their radio communications. They soon discover the brand-new Starcourt Mall, their preferred hangout, is actually a secret Soviet base.
Jim Hopper and Joyce Byers successfully thwart the Russians' plans:
Only for Hopper to be trapped on the wrong side of the portal. Joyce has to make the heartbreaking decision to sacrifice Jim in an attempt to save the kids, which ultimately saps the Mind Flayer of its power, too. In a post-credits scene, however, we see that Hopper wasn't actually killed in the blast.
Instead, he appears to be a prisoner in some sort of Russian camp, which means there is still hope for one of the show's many heroes entering the fourth season.
Stranger Things Season 4 Trailer
Just last month, Netflix gave us the first official look at Stranger Things season 4. It's only a 3-minute clip, but things look as spooky as ever:
Basing a show around a bunch of teenagers is inherently risky considering how quickly they grow up, and a 3-year gap between seasons 3 and 4 certainly won't help in that regard. However, there's a decent chance much of season 4 had already been filmed before Covid threw things out of wack.
Our heroes don't look like they've aged out of their characters just yet. Hopper is still stuck somewhere in Russia, though the trailer seems to indicate he may be in charge of some kind of escape plan.
Eleven still hasn't regained the supernatural powers she lost toward the end of season 3, and we see Dr. Sam Owens tell her they can't win the war without her. Something tells me she'll rediscover those powers at some point this season, and they won't return a minute too soon.
Stranger Things Season 4 Cast
We lost a couple of fan favorites in season 3. Billy, the local bad boy/heartthrob was killed when he sacrificed himself to the Mind Flayer in the Battle of Starcourt. We also saw Dr. Alexei, the quirky Russian scientist abducted by Hopper and Joyce, killed by a Russian hitman at the local fair.
Dr. Alexei didn't have a long run on the show, but his brief stay was a memorable one. Hopper appeared doomed at the end of season 3, as well, but we know he was somehow able to survive what looked like a surefire death.
Stranger Things isn't afraid to kill off characters every now and again, but the vast majority of the core cast will be back for Stranger Things season 4.
David Harbour Stranger Things Season 4
Stranger Things has plenty of protagonists, but what would the show be without Jim Hopper? The tough-yet-lovable local cop has been put through the wringer over the course of the first three seasons, and his apparent death at the end of the last season was legitimately heart-wrenching.
We know now that he didn't actually die in the lab incident, but his current predicament doesn't look much more favorable.
We see him slumming it through a brutal Russian winter working on a railroad with several other captives. The Stranger Things season 4 trailer indicates Hopper has some sort of plan for an escape, but we'll have to see how, exactly, he'll be able to navigate his rather unfortunate situation.
Season 4 Stranger Things Billy
Billy Hargrove became something of a villain back in season 2 as the older stepbrother of Max.
Billy had a nasty habit of lashing out at some of the other main characters, though we saw his acting out was a direct result of the abuse he endured at the hands of his own father. Billy was possessed by the Mind Flayer in season 3, as he kidnapped a few residents in order to help the celestial being build a new body of its own. Eleven helped Billy snap out of it shortly before he was killed in his aforementioned sacrifice in the season 3 finale.
We see Max visit Billy's grave in the Stranger Things season 4 trailer, but we don't yet know whether Billy himself will make some sort of a comeback.
Mike Season 4 Stranger Things
With Hopper apparently dead and Hawkins recovering from yet another supernatural disaster, Joyce decides to uproot her family at the end of season 3.
That includes her newly-adopted daughter, Eleven:
Who believes her adopted father, Jim, is dead. She leaves behind her boyfriend, Mike who is, by all accounts, the leader of the Party. The Byers moved all the way across the country to California, but it's safe to say they'll remain heavily involved with whatever takes place back in Hawkins, where the rest of the gang still lives.
Whether Mike and Eleven are able to make a long-distance relationship work obviously remains to be seen, but we did see Eleven profess her love for Mike in one of season 3's final scenes.
Stranger Things Eleven
Even with her family thousands of miles from Hawkins, it's fair to assume we haven't seen the last of Eleven as a central character in Stranger Things. Dr. Owens tells her she will be absolutely vital to their efforts to quell the newest threat, so don't be surprised if Eleven, Joyce, Jonathan, and Will find their way back to Indiana in order to lend a helping hand.
The battle with the Mind Flayer seemingly sapped Eleven of her powers.
Which means she's, essentially, a normal teenager at this point. We see her narrating a letter to Mike in the trailer posted above, which is an indication that their separation is proving to be a difficult one.
Stranger Things Season 4 Episode Guide
As mentioned, the upcoming Stranger Things season 4 will include 9 episodes. That's pretty much all we know.
We don't yet know how many episodes will be included in each volume, but we do know the new season will be quite a bit longer than any of the previous three. The Duffer Brothers said the season 4 runtime will be "nearly twice the length of any previous season."
We also have the titles of each of the nine episodes set to air in Netflix Stranger Things season 4:
Chapter One: The Hellfire Club:
(May 27th)
Chapter Two: Vecna's Curse:
(TBD)
Chapter Three: The Monster and the Superhero:
(TBD)
Chapter Four: Dear Billy:
(TBD)
Chapter Five: The Nina Project:
(TBD)
Chapter Six: The Dive:
(TBD)
Chapter Seven: The Massacre at Hawkins Lab:
(TBD)
Chapter Eight: Papa:
(TBD)
Chapter Nine: The Piggyback:
(July 1st)
How to Bet on Stranger Things
Thanks to the internet, you have no shortage of betting opportunities at your disposal. Entertainment betting sites know this, of course. Stranger Things is one of the most popular shows on TV these days, and its highly-anticipated return after such a long hiatus will generate plenty of buzz.
Yes, there are Stranger Things betting odds out there.
The show having so many major characters gives you all sorts of different wagering opportunities. Bovada, for example, recently posted a series of Stranger Things season 4 props, including whether certain fan favorites will survive long enough to see season 5.
Bovada also has Stranger Things betting odds on whether any of those that have perished in previous seasons will return at any point in season 4. Billy, Lonnie Byers, and Barb Holland are a few of the possibilities. This show deals with the supernatural, so who's to say people can't come back from the great beyond?
Potential Stranger Things Season 4 Spoilers
If you're a fan of the show and don't want to risk reading any Netflix Stranger Things season 4 spoilers, this is probably where you'll want to stop reading. We don't have many firm details about what may transpire in the series' penultimate season, but the aforementioned trailer does give us a glimpse into some of the possibilities.
If you're looking at Stranger Things betting odds and trying to make some educated guesses, you probably do want to try and find any spoilers you possibly can. We know every living member of the main cast is back, along with a handful of new characters. Jamie Campbell Bower is on board to play Peter Ballard, whom those in the know describe as "a caring man who works as an orderly at a psychiatric hospital. Robert Englund, whom you may remember from his days portraying Freddie Kreuger in "The Nightmare on Elm Street," is here to play a new recurring character named Victor Creel. Deadline says Creel is a patient at the psychiatric hospital that committed a murder back in the '50s.
Nikola Djuricko will play a Russian smuggler known as Yuri. Could Yuri play a part in helping Hopper escape his Russian prison camp? It doesn't take a rocket scientist to connect the dots there, I'd say. If, for example, you can wager on Hopper to escape the prison and survive Stranger Things season 4, this seems like a decent indicator of his chances.
More Stranger Things Topics
Will There Be Another Demogorgon in Stranger Things Season 4?
Based on the trailer, there will certainly be a Demogorgon sighting in Netflix Stranger Things season 4. The Russians seem to have captured one, as we see it flying through the air in attack mode. Does Hopper help free the Demogorgon to sic on his captors?
Will There Be a Stranger Things Season 5?
Yes. This has been confirmed, as well. Stranger Things season 5 will actually be the final season of the show, and it's safe to assume we won't have to endure another three-year gap between the next two seasons.
The Duffer Brothers said earlier this year they want to get as many episodes to their fans as possible after such a long time off.
Don't be surprised if the fifth and final season hits the Netflix airwaves at some point in 2023, but filming has yet to officially get underway.
Favorite Stranger Things Quotes
"There's more to life than stupid boys." -Max
"I am on a curiosity voyage and need my paddles to travel." -Dustin
"I may be a pretty s****ty boyfriend, but it turns out I'm a pretty good babysitter." -Steve
"But please, if you don't mind, for the sake of your poor old dad, keep the door open three inches." -Hopper
"Mornings are for coffee and contemplation." -Hopper
Top 5 Stranger Things Monsters
Hawkins, Indiana, has seen its fair share of monsters over the past couple of years.
It almost makes you wonder why anybody lives there, as it doesn't seem like most other towns are afflicted with the same nagging supernatural issue. Based on the Netflix Stranger Things season 4 trailer, we know some new monsters are on the way.
The show's creators have done an excellent job of making each monster unique and properly terrifying. Here are the 5 best monsters we've seen through the first three seasons.
#5 – Demodog
Dustin was the one to actually name the Demodog, which is the second-to-last stage the Demogorgons reach before reaching their final form. The Demodog isn't quite as menacing as its two-footed relative, which is why the Demodog ranks a bit lower on the list.
#4 – Demogorgon
The Demogorgon is essentially the original antagonist in Stranger Things. The Demogorgon first terrorized Hawkins back in season one, and they're still a vital part of the show entering the fourth season.
#3 – Hospital Monster
The Hospital Monster appeared in season 3 as a rather gruesome being comprised of human tissue and other parts. Local journalists Bruce Lowe and Tom Holloway helped form the hospital monster's body after they were killed by Nancy and Jonathan at the hospital. Luckily, Eleven showed up at the perfect time to help do away with the disgusting beast.
#2 – Spider Monster
We see the Spider Monster come to fruition at the Battle of Starcourt, where it is eventually killed. This is the Mind Flayer's most physically intimidating physical form to date, and it was the only piece of the Mind Flayer that wasn't killed when Eleven slammed the gate shut back in season 2.
#1 – Mind Flayer
Also called the "Shadow Monster" back in the show's early days, the Mind Flayer is the central villain behind everything that goes wrong in Hawkins. Our heroes have thwarted the Mind Flayer at every opportunity to this point, but it's fair to assume we haven't seen the last of it just yet.
Are There Any Other Shows Like Stranger Things?
What makes Stranger Things so endearing is its unique blend of nostalgia, humor, and abject terror. There's really a little something for everybody, which is probably why the show is still so popular to this day.
If you grew up on movies like The Goonies and ET, Stranger Things will be right up your alley.
As is usually the case, a few other shows have tried to replicate Stranger Things' impressive success in recent years. The following are a few shows you may like if you're also a fan of Stranger Things.
Outer Range
Fear Street (1994, 1978, 1666)
Dark
Black Spot