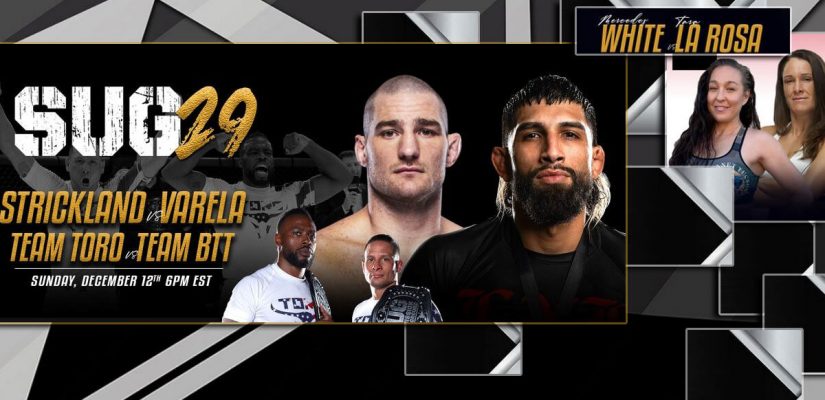 In this no-gi grappling tournament taking place on December 12th on UFC FIght Pass. SUG is a promotion that is very hard to track and follow. Oftentimes, the event's don't have a presence on the internet, as with SUG 29.
We're back baby!

Submission Underground ends the 2021 run on December 12th!

Grappler applications: https://t.co/F5n8fOAeRE

Watch us live on @UFCFightPass 12/12/21 at 6pm EST…sign up!#sug #ufcfightpass #jiujitsu #bjj #ebi #mma #martialarts #grappling pic.twitter.com/LoYg9WoTKH

— Submission Underground (@SUG_Grappling) November 2, 2021
However betting on SUG 29 is available at betonline.ag, and even if you don't have a Fight Pass subscription, you can place bets on all nine of the major grappling events and the overall team winner.
SUG 29 Rules
Submission underground is submission only. It's one five minute period followed by three possible overtime periods. Someone will lose by submission, or the fastest escape across all overtime periods will receive the win.
Hello @SUG_Grappling

We look forward to gang violence.@abirchakMMA #TOROTECHMMA pic.twitter.com/EHAaAcboD8

— D Clash (@Built2last_) December 6, 2021
This is great for betters, because SUG keeps it simple. You'll only have access to money line bets and you won't have to worry about weird judges' decisions or draws throwing off your bet.
SUG Main Event, UFC's Sean Strickland vs Andy Varela
| | |
| --- | --- |
| Bet | Odds, Winnings Per Dollar Wagered |
| Strickland | +350. $3.50 |
| Varela | -450, $0.22 |
Sean Strickland, UFC light heavyweight, is up against 10th Planet Las Vegas BJJ black belt Andy Varela.
There is no doubt that Andy Varela is single-handedly making a repeat case as to why he deserves a rematch against SUG Absolute Champion Mason Fowler!

Will Sean Strickland ruin Varela's run at the rematch?? Find out only on @UFCFightPass at 6pm EST 12/12/21!! pic.twitter.com/CFHUL8ZXcm

— Submission Underground (@SUG_Grappling) December 4, 2021
Andy Varela fights out of Las Vegas 10th Planet and is a regular on the Fight 2 Win and SUG circuit. Varela is 11-6 in his recorded grappling bouts in recent years, though he's competed extensively in other organizations with fewer recorded fights.
Andy Varela always head hunting at Submission Underground! Check him out on December 12th as he faces UFC's Sean Strickland in our SUG 29 main event on @UFCFightPass pic.twitter.com/73mjz5SgAq

— Submission Underground (@SUG_Grappling) December 1, 2021
Strickland is very physical, and very capable of bullying Varela. Many are of the opinion that Varela will win in the opening five minutes, or Strickland will take an overtime victory.
Strickland's UFC Grappling
Strickland has one submission win inside the UFC. in longer bouts, such as his decision win over Igor Araujo or Court McGee, he attempted multiple submissions that he was unable to complete.
Predictions of Strickland vs Varela on December 12th?

SUG 29 live only on @UFCFightPass pic.twitter.com/Nu34pCbcxh

— Submission Underground (@SUG_Grappling) November 23, 2021
It's clear that Strickland includes solid grappling in his MMA game, and his coaches at Syndicate are top tear BJJ artists. Sean is a brown belt.
Final Betting Pick
Varela has struggled with strong athletes in the past such as Hunter Colvin and Pedro Marinho.
Strickland is an underrated grappler. His athleticism and his varied skill may surprise many onlookers.
Mercedes White vs Tara Larosa
| | |
| --- | --- |
| Bet | Odds, Winnings Per Dollar Wagered |
| White | +200. $2.00 |
| Larosa | -260, $0.38 |
Larosa is a former TUF contestant who struggled in Invicta and other higher level women's organizations. After losing her first pro grappling match she's facing off against Mercedes white, a fighter who's lost three straight pro grappling matches.
The callout comes to fruition@m @ChaelSonnen

Mercedes White of 10th Planet Tucson tweeted about taking out Tara LaRosa…and she saw it and responded…and responded…and responded!

SUG 29 airs live on @UFCFightPass at 6pm EST Sunday, December 12th! @arielhelwani https://t.co/CdUhVcM48a pic.twitter.com/dftQXrz5Lc

— Mercedes 10th Planet (@Mercedes2269) December 9, 2021
Larosa should take home an easy win. After watching a bit of White's fight tape, it's clear Larosa has more grappling experience.
John Simon vs Phelan Carron
| | |
| --- | --- |
| Bet | Odds, Winnings Per Dollar Wagered |
| Simon | +135. $1.35 |
| Carron | -165, $0.61 |
John is 2-1 for SUG, defeating Gilpin and Gadley. He's shown some interesting leg lock attacks as well as overtime wins.
Carron is also 2-1, winning via escape and necktie.
Neither fighter is particularly decorated though they are both Black Belt level BJJ practitioners.
Carron has a more decorated MMA career, but Simon's leg lock game will be tough to match for someone that isn't ready for it.
Matt Ferraiolo vs Travis Moore
| | |
| --- | --- |
| Bet | Odds, Winnings Per Dollar Wagered |
| Ferraiolo | +185. $1.85 |
| Moore | -225, $0.44 |
Ferraiolo is 3-2 over his last five grappling matches, losing to relatively unknown grapplers including Ricky Semiglla, a Brown belt from Orlando.
Moore is 3-1 over his last three grappling bouts.
He's a footlocking specialist with two foot lock finishes at Who's #1 and Fight 2 Win.
Bet Travis Moore at -225.
Jesse Hardenbrook vs Mikey Gonzalez
| | |
| --- | --- |
| Bet | Odds, Winnings Per Dollar Wagered |
| Hardenbrook | +140. $1.40 |
| Gonzalez | -170, $0.59 |
Hardenbrook is a fighter from Warriorcamp MMA where he is also the BJJ coach alongside Zack Scheider.
Mikey Gonzalez is a talented Combat BJJ practitioner and DCWS contender where he lost to the undefeated Uros Medic.
Usually, it's a downside to be the coach at your gym, but Jesse is leagues above Gonzalez in grappling.
Terren Casson vs Kemoy Anderson
| | |
| --- | --- |
| Bet | Odds, Winnings Per Dollar Wagered |
| Casson | +225. $2.25 |
| Anderson | -285, $0.35 |
Casson is a brown belt from Bellingham BJJ, and Anderson is a brown belt from 10th Planet El Pase. Anderson is also a strong wrestler and will likely take top position.
Expect Anderson to impose his athleticism on Casson early in the match.
Casson has two losses on Smoothcomp in gi and no recorded pro grappling no-gi wins.
Zachary Minteer vs Colton Vaughn
| | |
| --- | --- |
| Bet | Odds, Winnings Per Dollar Wagered |
| Minteer | +200. $2.00 |
| Vaughn | -260, $0.38 |
Minteer is a new black belt who took third at the Pan Ams Master 2 division in 2021.
Vaughn is a younger grappler and professional MMA fighter. Vaughn is 1-1 at SUG and trains out of 10th Planet Seattle.
Though it's  tough to call, it looks like Vaughn is in better shape. While Minteer is more experienced, I think Vaughn will win due to athleticism.
Mark Hamel vs Jason Patterson
| | |
| --- | --- |
| Bet | Odds, Winnings Per Dollar Wagered |
| Hamel | +125. $1.25 |
| Patterson | -155, $0.65 |
Hamel is a Sug veteran and leg lock-centered fighter.
Patterson is a purple belt in BJJ and a college-level wrestler. He has 22 wins across various BJJ divisions, all while training at 10th Planet Las Vegas.
I see Patterson looking for the takedown early, but Hamel already beat a division one wrestler in Daniel Walsh. This isn't new territory for him.
Caleb Stecker vs Ian King
| | |
| --- | --- |
| Bet | Odds, Winnings Per Dollar Wagered |
| Stecker | -165. $0.61 |
| King | +135, $1.35 |
Stecker is a 10th Planet fighter who's 1-1 in professional bjj. He's currently a purple belt. Ian King is a Judo practitioner under Fabiano Schermer out of ATT Portland.
After reviewing a few matches, it looks like Stecker will take it.
He's younger, more dynamic, and more seasoned in this style of combat sports.
Team BTT vs Team TORO
| | |
| --- | --- |
| Bet | Odds, Winnings Per Dollar Wagered |
| BTT | +190. $1.90 |
| TORO | -240, $0.42 |
These Tag Team BJJ matches are a blast to watch if not a bit confusing. Truthfully, I don't know what to make of it. I'll be putting money on TORO to make the match a bit more exciting. It seems they have more experienced grapplers.
The Tag Team Champions are returning in a little over a week to our cage! In a long awaited, heavily anticipated face-off, Champions Team Toro will take on tag team OG's Team BTT!

…don't miss it all go down at SUG 29 on December 12th at @UFCFightPass pic.twitter.com/FR0zQ4maKA

— Submission Underground (@SUG_Grappling) December 3, 2021
However, last-minute replacements are an option so there's no telling who could show up on either team.
SUG 29 Full Card Betting Pick Wrap Up
If you're new to BJJ betting, check out our guide. Many MMA bettors are tentative to get into BJJ betting, and I think SUG is one of the best places to start. It's betting lines are simple and the rules aren't hard to follow.
Thanks again sports fans and leave a comment in the box below for more betting tips and articles.
The official lineup of SUG 29!

In just one week, Submission Underground 29 airs live Sunday, December 12th on @UFCFightPass headlined by UFC's Sean Strickland facing Andy Varela.

Watch live: @UFCFightPass
Watch local: https://t.co/F5n8fOAeRE pic.twitter.com/IYV6OHciPZ

— Submission Underground (@SUG_Grappling) December 5, 2021