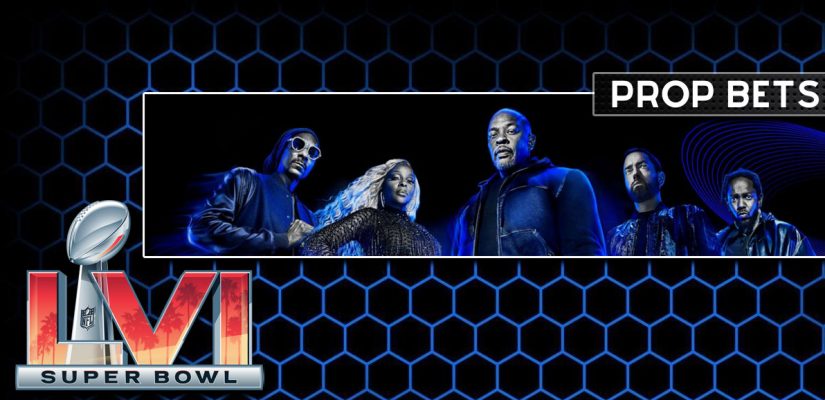 Depending on your musical preferences, the Super Bowl 56 Halftime Show is going to be unbearable or a refreshing change compared to previous half-time shows. There are Super Bowl Halftime prop bets for bettors, whether you are looking forward to this event or not.
They've tried to take the safe route since the Justin Timberlake and Janet Jackson incident in 2004. This certainly isn't a conservative approach for the NFL.
The most epic, star-studded Pepsi Super Bowl LVI Halftime Show trailer is OUT Film ??

Watch these five music titans get ready for the #PepsiHalftime Show on Feb 13th.

Watch on YouTube: https://t.co/aKVl3K7UtX pic.twitter.com/g6YtcTqJ8v

— Pepsi (@pepsi) January 20, 2022
When half-time prop bets are featuring how many times Snoop Dogg is going to mention marijuana or if he will smoke a blunt on stage, yeah, the NFL appears to be fine being a little edgier.
Jay-Z's Roc Nation was introduced as an executive producer for the Super Bowl Halftime Show beginning in 2020. Adding Roc Nation was a clear attempt for the NFL to connect with a wider audience.
Dr. Dre, Snoop Dogg, Eminem, and Mary J. Blige aren't exactly young, but they bring some life to the Super Bowl 56 Halftime Show. Kendrick Lamar is the youngin of the group. The main objective of the half-time show has primarily been to attract people that don't care about football.
THE BEST SUPER BOWL 56 BETTING APPS
TheSportsGeek has made it easy for you to find the best Super Bowl 56 betting apps online. Access our
Super Bowl betting apps page
to get involved with thousands of types of Super Bowl bets at the best betting apps.
With the Super Bowl in 2022, the NFL is looking to appeal to football fans and non-football fans alike. Whether the show is going to be good or not, I'm more concerned with having success on Super Bowl Halftime prop bets.
The crazy Super Bowl prop bets continue to push the envelope every year. Super Bowl Halftime show prop bets are some of the most popular wacky props offered. Head below for our best Super Bowl 56 Halftime show prop bets on February 13, 2022.
Who Will Be The First To Speak, Sing, Rap?
Dr. Dre feels like the wise elder of the bunch on the Super Bowl 56 Halftime Show stage. He was instrumental in giving Eminem a chance and played an enormous role in his success and is the oldest as a 56-year-old.
If it wasn't for Dr. Dre giving the kid from 8 Mile an opportunity to be successful, Eminem likely never becomes one of the most notable rap artists over the last two decades.
Super Bowl week. ? In my city. ???? ? U ready?? @nflnetwork @LAB__sports pic.twitter.com/AlnZM34wdf

— Snoop Dogg (@SnoopDogg) January 31, 2022
Would Eminem speak ahead of Dr. Dre? Doubtful. The one song they could open with that sees Eminem speaking first is Godzilla.
Forget About Dre has better odds of being the first song, but Eminem doesn't drop his verse well after Dr. Dre. I'm not high on Eminem being the first to utter a word, so I'm scratching him.
The way I see this half-time show prop bet, it's between Dr. Dre and Snoop Dogg. California Love and The Next Episode are high on my shortlist of first songs.
I'm dipping into my next half-time prop bet with this prediction. They coincide, so it's an all-or-nothing between these two, I believe.
While California Love makes sense in Los Angeles, the intro to The Next Episode is the perfect way to usher in the half-time show. The instrumental leading into Snoop Dogg rapping makes too much sense.
Snoop Dogg Halftime Show Prop Bet
What Will Be The First Halftime Show Song?
Building on my first prop bet, I'm leaning towards The Next Episode opening the Super Bowl 56 Halftime Show.
The slow build-up to The Next Episode with the instrumentals, a song that features Dr. Dre and Snoop Dogg, is the perfect hype song to open a show.
The Next Episode

Dr. Dre ft. Snoop Dogg, Kurupt & Nate Dogg ? (1999) pic.twitter.com/sOWBEXKo5C

— Hip Hop ?? (@_DITRHipHop) January 19, 2022
California Love has an instantly recognizable intro. However, it doesn't have the slow build-up like The Next Episode, making it the right choice to open the half-time show for Super Bowl 56.
California Love will have its spot in the half-time show, but that seems like something that may come towards the end of the production. The Next Episode beat can't be matched for an opener to get the crowd excited, though.
I won the first half-time song show prop bet last year with The Weeknd. Let's make it back-to-back wins on this crazy half-time show bet.
The Next Episode Halftime Show First Song Prop Bet
What Will Eminem Wear On His Head?
Early in Eminem's career during the late 1990s to early 2000s Eminem was synonymous with his blonde hair. The blonde hair was part of his image and look.
He occasionally performed with a hat or bandana, but it was typically either nothing or a visor. As Eminem matured in his career, you barely see him without a hat on his head.
JUST IN: Eminem nominated for the Rock and Roll Hall of Fame 2022 pic.twitter.com/8aUXhr6all

— XXL Magazine (@XXL) February 2, 2022
Over the last decade or more, Eminem has worn a black hat regularly. This includes performing on stage, interviews, or just images from his everyday life.
If Eminem doesn't have a hat on, there is a backup with this Super Bowl Halftime prop bet. It also includes him wearing a hoodie OR hat. There's a decent enough chance Eminem has a hat and hoodie on at some point.
Eminem Halftime Show Headgear or Not Prop Bet
How Many Times Will Eminem Curse?
The NFL is not going for a conservative half-time show when prop bets like these are offered at sportsbooks. At the same time, they want to avoid an F-bomb-laced half-time show that raps about marijuana for 30 minutes.
NBC is going to be paying close attention and ready to hit the censor button, but is it going to be that necessary for Eminem? If you've lived to Eminem at any time in your life, you are all well aware that his music includes profanities.
Producers have had to go through this with all of the performers for Super Bowl 56. They don't want a censor fest with blanks on the broadcast. May there be a slip of the tongue? I can see it, but twice from Eminem? This isn't his whole show.
Instead of blaring it out, he will intend to "blank" himself on the lyrics and go with the censored version. Maybe once, but Eminem likely doesn't curse twice.
Eminem Halftime Show Curse Prop Bet
Will Snoop Dogg Smoke A Blunt On Stage?
Snoop Dogg's character would be on par to light up a blunt on the stage and smoke marijuana. Marijuana is also legal in California.
Those are two big positives for Yes backers. However, let's be serious; what are the chances Snoop Dogg pulls out a joint and blazes one on the Super Bowl 56 Halftime Show stage? Probably worse than the odds suggest.
Peep game. pic.twitter.com/iw6DfkCxFB

— Snoop Dogg (@SnoopDogg) February 2, 2022
Remember that he can't imitate smoking marijuana for this bet to succeed. He must do the act with a joint during the half-time show. I know it would be on character for Snoop Dogg, but not during a primetime family show on NBC.
I've watched several shows featuring Snoop Dogg on television, and he behaves. He's a businessman first and then a performer at this point of his career.
You will have to pay a price at -350, but no, Snoop Dogg will not smoke a blunt. This Super Bowl Halftime Show prop bet looks like a winner.
Snoop Dogg Smoke A Blunt Halftime Show Prop Bet