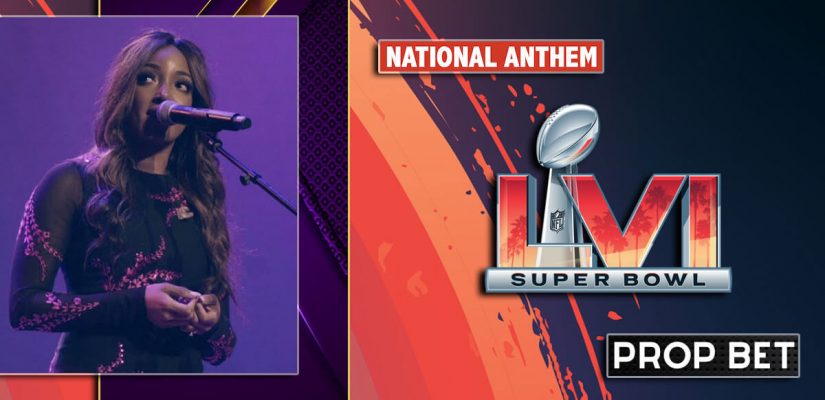 Betting on the national anthem length is one of the most popular non-football Super Bowl prop bets online sportsbooks offer. A national anthem prop bet is a terrific way to get involved in the Super Bowl without knowing much about football.
If you can bet on red and black on a roulette wheel, you can make a national anthem prop bet. Do I recommend betting a full unit on the Star-Spangled Banner? No. Well, if you have inside information, who am I to say not to take advantage of it.
??Look??at??God. I am shook, I am grateful, I am praise dancing…
So excited to be singing the national anthem at #SBLVI on February 13th! @nfl @nbcsports pic.twitter.com/bDdpyt1rCb

— Mickey Guyton (@MickeyGuyton) February 1, 2022
Bet on the national anthem length as a fun Super Bowl prop bet, but it shouldn't be the centerpiece of your betting for Super Bowl Sunday. Last season there was a leak of Jazmine Sullivan and Eric Church practicing the national anthem days before the Super Bowl.
The national anthem prop bet was quickly removed from online sportsbooks after a reporter leaked a recording from outside the stadium. If you have an angle on the national anthem prop, I wouldn't be quick to spread it all over social media.
For the record, I have no information on how long it will take Mickey Guyton to complete the national anthem at Super Bowl 56. It's not like you can bet with unlimited limits on the national anthem. At least it's more fun this way and more of a gamble.
This isn't the first time Guyton has performed the national anthem, so we don't have to go into this bet completely blind, though. Some fun Super Bowl prop bets are impossible to handicap, but a bet on the national anthem length can be done with some prep work.
You need an online betting site for Super Bowl prop bets before we get into a bet on the national anthem length. There are many online sportsbooks to bet on the Super Bowl, but TheSportsGeek only recommends the best. Check out below where to bet on the national anthem.
Where To Bet On The National Anthem
Our Favorite National Anthem Prop Bet Online Sportsbooks
It is important to opt for the best betting sites for your Super Bowl betting experience. Not every sportsbook is offering a bet on the national anthem length.
If you want to make a national anthem prop bet, it's important to sign-up at safe sportsbooks that offer the best Super Bowl props. All of the sportsbooks listed above will have the Over-Under on the national anthem.
The length of the national anthem is certainly the most popular prop bet for the Star-Spangled Banner, but there are other prop wagers on the board as well.
If you want a wide prop bet wagering menu, Bovada is going to be your best option. Bovada has just about any bet you can think of on the Super Bowl.
That includes making a bet on the national anthem length and other national anthem prop bets. Want to wager on the Super Bowl 56 Halftime Show? Bovada will have you covered.
Already have an account at Bovada? You can go through our Super Bowl betting guide to find your favorite online sportsbooks or by visiting the links above.
BET ON THE NATIONAL ANTHEM AT BOVADA
All new sports bettors at Bovada receive a 100% sign-up bonus for your initial deposit. You can double your initial deposit to bet on Super Bowl 56. Bitcoin users will receive an additional bonus for a cryptocurrency deposit.
National Anthem Prop Bet – National Anthem Length
There are multiple types of national anthem prop bets for Super Bowl 56. The best bet on the board has to be the length of the national anthem.
Betting the Over-Under on the national anthem is the one bet you can research. Of course, if you know what Mickey Guyton will wear for the national anthem, that's going to be an easy winner.
Guyton accepted the call to sing the national anthem in what she intends to be a big year for her career. She is nominated for three Grammys, which includes best country solo performance, best country song, and best country album.
Super Bowl National Anthem Prop Bet Tips
Research Mickey Guyton's previous performances, but be cognizant that producers may want a different rendition or speed.
Research previous renditions of the national anthem at the Super Bowl. The length of these could indicate what NBC and the NFL expects.
Do not leak any information to the public or social media if you have a leak or inside information. The national anthem prop bet will be pulled off the board.
Have fun: a bet on the national length isn't supposed to make you rich. The same goes for the other crazy Super Bowl prop bets.
Singing the Star-Spangled Banner at Super Bowl 56 is the beginning of her big year. This isn't her first time singing the anthem, and there are past performances online to research.
In her most recent national anthem attempt, she sang at the 2021 National Memorial Day Concert on May 30, 2021. She absolutely flew through the song and left no time to spare.
It almost felt sped up like she was trying to beat the shot clock. That might have been for time constraints with PBS.
Everything goes down to the second with some broadcasts, so that might have been a case of her having to go fast. She finished around the 1:24 mark, which would put her well UNDER.
Seven out of the last nine anthem singers have gone OVER 2 minutes. The national anthem average is 1:55. Nevertheless, we're getting 1:38 with Guyton's rendition of the Star-Spangled Banner.
Her sped-up previous renditions are pushing this number on the low side. It may close as the lowest total since sportsbooks have offered the prop bet. However, this is the Super Bowl and her time to shine, not get up and leave in a minute.
Super Bowl LV! Replay @jsullivanmusic & @ericchurch's performance of the National Anthem now: https://t.co/wb9yMSz3h7 #SBLV pic.twitter.com/ucc6snTMD8

— NFL (@NFL) February 8, 2021
Expect Guyton to hold notes, especially the final brave of the national anthem. PBS might have wanted a short version, but producers of the Super Bowl probably don't want her to go that slowly. Keep in mind that she must match up with the military flyover.
It's hard to see her going OVER 2 minutes, but 1:38 looks more than doable for her. I'm looking at 1:42 to 1:45 for her to just touch OVER the number.
National Anthem Length Prop Bet