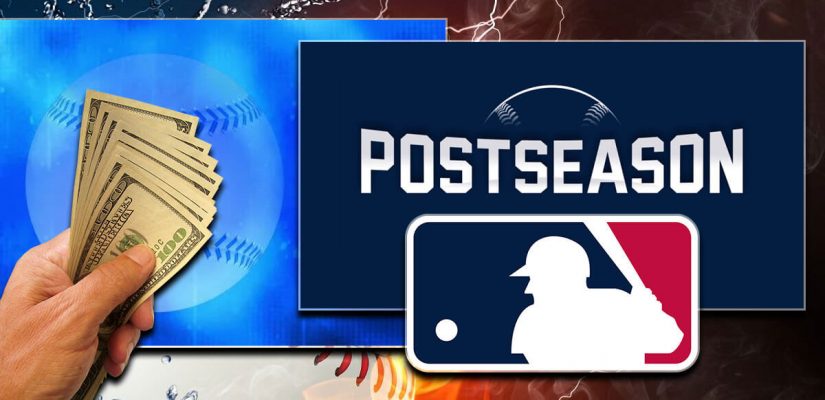 October is arguably the best month of the year for sports gamblers, especially if you love Major League Baseball.
The month marks the end of a drawn-out, 162-game season and the beginning of high-stakes baseball games.
Even the most casual sports fans who otherwise wouldn't watch the MLB should be able to appreciate the postseason play.
Betting on the MLB Playoffs is not any easier than betting on the regular season. In fact, it can be even more challenging for a variety of reasons. October brings the best out of baseball players and the teams they play for. Teams understand the importance of every single pitch, and each player wants to advance to the next round.
While you should have a decent idea of which teams are favored, there are no guarantees when it comes to baseball in the fall.
Those of you who keep up with and bet on the regular season are in a better position to succeed.
If you're hoping to bet on the postseason without much preparation, then it's time for a quick refresher. Here are the 7 types of bets you can make on the MLB Playoffs.
1. Moneyline Wagers
Gambling on baseball is tough for several important reasons.
Modern-day baseball is often misunderstood
Gamblers often focus on stats and analysis that isn't as significant as it once was
The MLB is often very unpredictable
Sustainable success is best achieved through volume betting
Casual sports fans might not want to invest the time it takes to watch games and analyze results
Despite these difficulties, it's still possible to win money on baseball in October. One of the most common bets placed on playoff baseball is what's known as a moneyline bet. Just like in other sports, betting on the moneyline simply means picking which team you think will win the game outright.
Betting the moneyline is superior to betting the run line (baseball version of the spread). There's more money to be made by betting on underdogs if you're sure they will win. Additionally, you can decrease your risk by betting favorites to win outright instead of covering one and a half runs. It all depends on what you're hoping to get out of your betting.
There are a few things you should consider about placing moneyline wagers during the postseason. There's more parity and competitiveness among the most playoff teams. Prepare to see a lot of tightly contested matchups that can come down to a run either way.
2. Betting the Run Line
Most serious sports bettors are likely familiar with betting on the spread. The spread is a way that the online sportsbooks even the matchup by giving or taking away points to either side. Instead of having to bet on the pure outcome, bettors can wager on which side they believe will cover the spread.
However, there's no such thing as a spread in baseball.
Instead, baseball gamblers bet on what's known as the run line. Unlike a spread, which can vary from half a point to dozens of points, the run line is set at a 1.5 for every contest.
It's up to bettors to determine which team they prefer to bet on. The decision comes down to whether or not you think an underdog can either lose by less than 2 runs or win the game outright. If you're not convinced, then it's wise to bet on the favorite. In the regular season, betting on the run line can be an exciting and simple way to make money (provided you have a good system in place).
However, it can be slightly more difficult in the postseason.
3. Playoff Over Unders
Betting on the over-under is one of the most exciting wagers in sports gambling.
While many detractors and baseball critics claim that baseball is too slow and not exciting, betting on the run total adds some entertainment. While betting on the over-under of a baseball game might not be as exhilarating as say, football, it's still worthwhile.
Not only does it add some spice to watching baseball, but it can be a good way to make money.
Betting on a playoff game's total requires a fair amount of research and contemplation.
Sure, you can blindly bet on either side, but sharp bettors should be able to feast off of playoff run totals. Before you put a few units on the run total of a particular game, there are a few things to consider.
Monitor the pitching matchup before all else
Try to wait until each team's lineup is posted
Don't bet on games featuring teams and players you aren't familiar with
Understand that elimination games will more than likely be tightly contested
4. Postseason Player Props
Next to betting on run totals, placing prop bets can turn any average playoff game into a fun viewing and betting experience. Prop bets allow gamblers to place wagers on things besides the final score and run differential.
Casual gamblers might be familiar with more popular types of prop bets like the length of the national anthem or whether the coin toss will be heads or tails. These types of bets, while mildly entertaining, require no skill and depend completely on luck.
Player props force gamblers to have an edge on the competition and make predictions about a particular player's performance.
A gambler can wager on outcomes like a pitcher's strikeout total, a position player's hit total, and whether or not someone will record a home run.
5. World Series Futures
Eventually, 2 teams will emerge as the best in the bigs and face off in the World Series. The history surrounding the final series of the postseason is truly second to none. But, sports gamblers can appreciate more about the World Series than its historical significance.
At any point throughout the season, gamblers can place bets on which team they believe will secure the championship. If you're able to
spot value
before the season, you can truly capitalize on it and make a decent chunk of change.
If you haven't placed any futures to this point, there's still plenty of time. The odds might not be as tantalizing as they were mere months ago…
But it's still possible to win some money.
Those gamblers who don't keep up with the regular season might want to steer clear of playoff futures. There's always a chance you can luck into some wins, but it's much harder than you'd imagine.
6. Wagering on the First 5 Innings
The old saying goes, "it's not how you start but how you finish." This might often be the case, but not if you enjoy betting on the results of the first 5 innings. This concept isn't exclusive to baseball, but it is slightly different than other sports.
Take an NFL game for example.
Bettors have the option to bet on the entire game, as well as the first and second half. But baseball doesn't have a "half time" or a true halfway point. Instead, baseball bettors who just want to bet on the first few innings must place a first five-inning bet. These bets are great opportunities to win bets, especially if you're tuned in to a particular team.
In the playoffs, if you believe that a team's ace will dominate the opposition in the early going, this type of bet is a great alternative to a moneyline or run line bet.
7. Live Betting on the Postseason
Live betting on playoff baseball can be exhilarating and heartbreaking.
But, is it worth getting into if you're not a baseball sharp?
The answer to this question depends on a few factors. Some people believe that live betting on a baseball game is easier than other sports.
That's due to the game's slower pace and ease at which viewers can keep up with a game. Still, if you aren't familiar with betting on baseball, it can be incredibly challenging. Baseball does move slower than say, the NFL or NBA, but that can also make it difficult to maximize value.
Consider starting slow, and don't live bet until you feel like you're in a good rhythm this postseason.
Conclusion
There are plenty of different types of wagers baseball gamblers can make on the MLB playoffs. Depending on how much risk you're willing to take, you have the option to bet on the moneyline or the run line.
If you want to increase the level of excitement as you watch baseball, consider placing a bet on the over-under. Following the run total can make for an exhilarating gambling experience.
For those of you who don't feel like betting on each playoff game, you can opt to place a future bet on the team you believe will bring home the World Series.