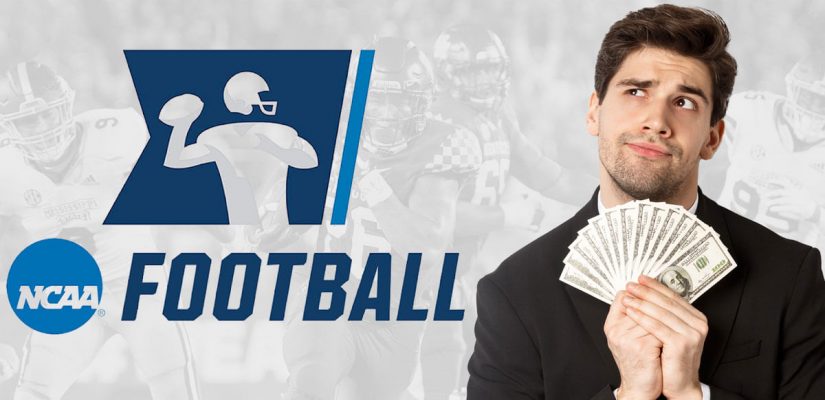 NCAA Football offers some of the most exciting action for sports gamblers. Not only is the sport incredibly entertaining, but it's possible to win money if you know how to bet on it.
Learning to successfully wager on college football isn't as challenging as other sports.
In fact, beginners and mid-level gamblers will likely find early success compared to sports like basketball and baseball.
Many new gamblers are prone to make several unnecessary mistakes that can cost them money. The only thing that's guaranteed when it comes to betting on sports is that you'll make a mistake or 2 eventually.
These errors are an important part of the learning process and can help mold you into a sharper bettor. However, if it's at all possible, you should try to limit the number of these mistakes.
Some of the mistakes beginner football gamblers make are more severe than others. For that reason, it's important to be aware of what you're getting into before you cost yourself money.
Here are 7 of the worst mistakes sports gamblers make when betting on NCAA football games.
1. Failing to Scout the Matchup
Most gamblers have their unique reason for getting into sports betting. Some want to win money, others are intrigued by advertising, and then some simply want some extra excitement.
But, a commonality among subpar beginners is that they fail to adequately scout a potential matchup. You see, gamblers often decide to bet on a particular game at random and don't put too much thought into it. They might be hanging out with a group of friends to watch a game find themselves sucked into a matchup.
Even those amateurs who deliberately bet on NCAA football can fail to analyze a matchup effectively. When you're scouting a football game there are several things you need to take into account.
Pivotal matchups like the coaching and quarterback battles
The strength of both defenses
The environment surrounding the game (time, location, weather)
Both teams performance in previous games
If extra factors are motivating,either team
Something as simple as recognizing that a particular team is playing its homecoming game can make all the difference in a game.
It might not seem all that pertinent to their performance, but any little factor can and will affect a college team's performance on Saturdays.
If you fail to research a particular game before you place your bets, don't be surprised if you fall flat on your face.
2. Gambling on Prime Time Games
There are an insane amount of college football games on any given weekend. But, there are only a select few games that can be considered marquee matchups or prime time games.
Understandably, these games typically attract the most amount of bets from the gambling public.
These games often get the most media coverage, for good reason, and can entice even the most casual sports fans.
But it can be very hard to make money on these games compared to some of the lesser matchups around the country. When beginners break into the gambling industry they'll likely feel more compelled to bet on the SEC than the Sun Belt.
The teams in the more powerful conferences have better players and offer a more watchable and exhilarating style of football. But, a better viewing experience doesn't equate to a better gambling experience.
Instead of gambling on powerhouses like Alabama, Oklahoma, Georgia, and Clemson, it's worthwhile to explore some of the secondary conferences. These games offer a lot
more value
and provide you with an opportunity to become an expert on a less scrutinized team.
If you can arm yourself with information about a team that often flies under the radar, you can get a leg up on the betting public and even some handicappers.
3. Making Bets Because of 1 Player
Every year avid college football fans follow one of the most exciting award races in all of sports: The Heisman.
The Heisman Trophy is awarded to the best all-around college football player in the country. This award often goes to the best quarterback in the game, but can occasionally be awarded to other skill players (running back, wide receivers). These Heisman Trophy finalists make the NCAA football season compelling and provide intrigue to any game they're involved in.
While it's impossible to deny these player's impact on a team, it's unwise to make an entire wager based on one of these players. Star quarterbacks may be the most important player on the football field, but football is a team game.
Unfortunately, this basic fact is often lost on beginners.
Many fail to realize that no player is bigger or more important than the team. Regardless of how exceptional one QB is, nobody can make up for a terrible defense or a porous offensive line.
4. Falling For the Hype Around Programs
Sometimes you bet because of the name on the front of the jersey and don't consider the player wearing said jersey.
Certain programs deserve respect based on name alone.
These programs (namely SEC powers) are often safe bets, many of which will likely be playing in the postseason. However, some new gamblers can get sucked into the media hype that surrounds certain programs that are past their primes.
These programs might have been powerful a decade ago, but the NCAA is cyclical. Coaches come and go, and once-powerful programs fade into obscurity.
That is unless your name is Nick Saban.
Unless you're gambling on the likes of The University of Alabama, don't fall into the trap of betting on historically great programs.
5. Gambling on Your College
Gambling on your alma mater is just like gambling on the team you grew up rooting for. It sounds great in your head and might seem to make more sense than betting on a team you know nothing about.
Hard-core fans are too emotionally invested to make sharp bets when their favorite teams are involved. Instead of wasting money on the college you attend, or once attended, consider spending your money elsewhere. Many beginners feel obligated to bet on their school, but it can ruin your watching experience.
Additionally, new sports bettors put too much stock into their gut instinct instead of focusing on things that can actually help them win bets.
6. Betting on Too Many Games
There are a few things new gamblers often do when they decide they want to bet on college football. The smart ones will engage in some research and try to understand how the industry works.
But it can create some issues if you're not careful. The internet is full of terrible tips and half-baked theories on sports gambling. Additionally, many personalities and sports gambling professionals are given a voice via social media. Some of these professionals are worth listening to.
But some make money off of the naivete of new gamblers. Many new players tend to model their sports betting off of these pros, many of them who win less than 50% of their wagers.
A commonality among many of these personalities is that they post their daily slate of wagers. The exact number varies but it can sometimes be upwards of 20 bets. Seeing this, new bettors might feel like they have to match this total.
However, it's crucial that those of you who are brand new to sports gambling start slow and only bet on a handful of games at most. If you do this, you can turn all of your energy on a few wagers and make sure you're making the sharpest bets possible.
7. Focusing on Past Rather Than Present
When you're considering which side of a wager to bet on, there are a few things that will likely cross your mind.
As sports fans, it's perfectly reasonable to think about past matchups and former players who once competed for certain programs. Additionally, several inner-division rivalries are played out each season, adding another element to football games. However, when you're evaluating 2 programs to make smart bets, it's crucial to focus on the present.
When I say that, I don't mean that you shouldn't look back on a team's recent games. Instead, I'm arguing that you shouldn't make your decision based on results from years and even decades ago.
Conclusion
New NCAA football bettors are going to make mistakes: it's a necessary part of the learning process that can't be prevented.
It's important to acknowledge this and make sure you don't commit catastrophic mistakes. When you're first starting to bet on college football, don't rush to decide who you'll bet on. Make sure to scout matchups to the best of your ability. Avoid betting on the games that will receive the most media coverage. Instead, focus on some of the less well-known teams and conferences.
Finally, make sure to weigh all of the factors that go into a football game. No player is more important than the name on his jersey.