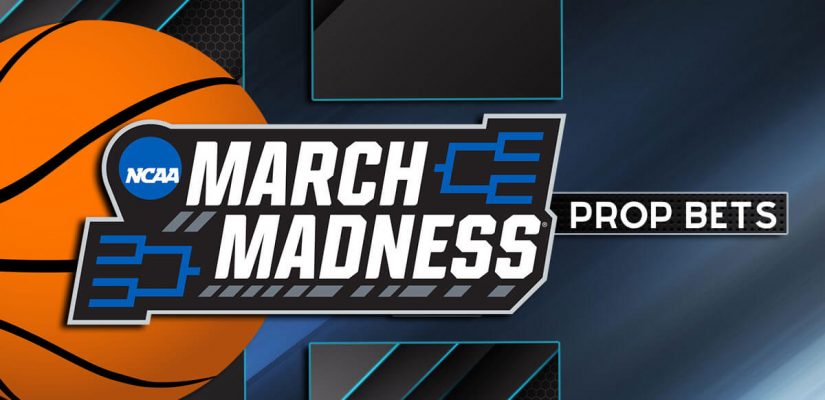 March Madness is finally upon us as we are just hours away from the opening round of the NCAA Men's Basketball Tournament! The action officially started last night with a pair of First Four games, but those games weren't particularly dramatic, and while I am hopeful that today's First Four games between Bryant and Wright State and Notre Dame and Rutgers are more exciting, we all know that the real madness starts in the morning.
Any surprise here?

Blue and red dominate the field of 68 ?? pic.twitter.com/tEHag5g1kg

— FOX College Hoops (@CBBonFOX) March 16, 2022
We here at TheSportsGeek have been covering every possible betting angle for this year's tournament, and now that you have all of your single game, parlay, and future's action in, the last area that we are going to touch on in the leadup to the greatest sporting event on Earth, are the prop bets! March Madness prop bets can be a great way to add some additional excitement to your weekend, and if you follow our high-value betting advice, you can make a boatload of cash betting on 2022 March Madness prop bets!
March Madness Prop Bets
I have been in the sport's betting industry for so long, that sometimes I forget that not everybody knows the difference between a straight bet, a parlay, a future's bet, a teaser, a prop bet, or any of the other various ways that we can bet on games. So, before we jump into the specific 2022 March Madness prop bets that I think show high value, first, I will break down what exactly a prop bet actually is.
The NCAA tournament brings a lot of casual bettors into the books, and I want to make sure that everyone is on the same page. Don't know what a prop bet is? Don't worry, we've got you covered!
To put it simply, a prop bet, short for proposition bet, is a general term used for any bet that you can make that isn't directly impacted the outcome of the game. When you bet a point spread, a money line, or a total, those are bets that are decided directly by the final outcome of the game. When you make a prop bet, you can bet on things like what color Gatorade the coaches will be splashed with when they win the Super Bowl, a specific player's over/under for points or rebounds, or in our current situation, how deep a team will go in the NCAA tournament.
The online sportsbooks really separate themselves from the brick-and-mortar books when it comes to props, as every year we see more and more creative ways to get in on all of the action! If you are looking to make some prop bet plays, I suggest you check out some of our online partners, as they are offering some smoking hot deals right now, including the chance to win up to $250K with as little as a $25 upfront investment! Now that everyone knows what props bets are, let's take a look at what I see as the best March Madness prop bets for the 2022 NCAA Men's Basketball Tournament!
Conference To Win The 2022 NCAA Championship
Let's get the big one out of the way right up front, by breaking down the odds on which conference is going to win the 2022 NCAA Men's Basketball National Championship. As you can see, the books have the West Coast Conference as the favorites to win the national title, a line heavily influenced by the number #1 overall seed Gonzaga Bulldogs. But it isn't just the Zags that call the WCC home, as the league boasts 3 teams in the field this season, with the 5th seeded St Mary's Gaels and the 10th seeded Dons of San Francisco joining the Zags in this year's Big Dance.
I can understand why the books have the WCC rated so highly.
But in my opinion, only Gonzaga has a realistic shot at winning the national title out of that group of teams, and we saw last year when the Bulldogs went into the national finals undefeated, only to lose to Baylor, that putting all of your eggs in one basket is a risky proposition, no matter how great that one team might be. For that reason, I will look further down the board for more value on this prop bet.
??? ???? ?? ??? ???????…
???? ??????? ??? ???. ?#SECMBB x #MarchMadness pic.twitter.com/3wU8kq6egz

— Southeastern Conference (@SEC) March 13, 2022
I won't have to go down too far to find a bet that I like, as I think the SEC is the highest value play for this particular bet. There isn't a single team in the SEC that is as good as Gonzaga, but I see the SEC as having 4 teams with legit chances of cutting down the nets in New Orleans this year. Kentucky, Tennessee, Auburn, and Arkansas are all very good teams, with each program spending time ranked inside of the top-15 nationally, and they could all go all of the way this year.
Will Mark Few and Gonzaga breakthrough with the program's first national title this season? They just might. But 4 teams are better than 1, and when you throw in the better price on top of it, a play on a team from the SEC winning the national title is a high value spot.
The Bet:
SEC To Win The National Title!
Number #2 Seed To Advance The Furthest
For our next prop bet, we are going to break down the odds on which number #2 seeded team will advance the furthest in this year's NCAA tournament. Any of these teams could win the national title, so to cash this bet, we are likely going to need the team we choose make it at least to the Final Four, and potentially win it all, to get paid.
So much about winning in March is about where you land and how your bracket lays out, and that has me liking a play on Villanova to be the final 2-seed standing. The Wildcats have everything you would want from a Final Four team, and with an easy path to the Sweet 16, with games against Delaware and then the winner of Loyola Chicago and Ohio State, you can bet that 'Nova will still be playing after the first weekend concludes.
Congratulations to CG on being named to the @NABC1927 All-America 3️⃣rd Team ✌️@Colling1021 | #ATTITUDE pic.twitter.com/4aOYaSPUfx

— Villanova MBB (@NovaMBB) March 16, 2022
I won't take too much time poking holes in these other teams, as they are all elite, but there are reasons as to why I see Villanova being the highest value bet on the board, and it's not just because of their price, which is the best of the group by a fairly wide margin. Kentucky has the defending national champion Baylor Bears in their bracket, and while they are extremely skilled, they are also young and inexperienced.
Auburn can't win away from home, and the Tigers look to be running out of gas down the stretch as they haven't played very well in the last month. And finally, I will stay away from Duke, as it's looking like the distraction of Coach K's final season is going to be too much for the Blue Devils to overcome, and they are very likely to be the first team out from this tier of teams. I will book my action on Collin Gilespie and his Villanova Wildcats to be the last number #2 seed still dancing!
Number #2 Seed To Advance The Furthest Bet:
Combined Total Seeds Of The Final Four Teams
Under 12.5 Combined Seeds:
-150
Over 12.5 Combined Seeds:
+110
This is a very interesting bet, and one that I think can be exploited for profit. This bet is the over/under on the combined total seeds of each of the Final Four teams. For example, if we have all 4 1-seeds make it to New Orleans, the combined total would be 4, and the under 12.5 would pay. A quick glance at the last several Final Fours tells me that this is a fairly sharp line, as we almost always see at least a couple 1 and 2 seeds make the 3rd weekend, keeping the total low.
But this year isn't like any other year, as I see this field as being wide open.
There may be only a dozen or so teams that could potentially win the national title, but you could make a compelling case that there are at least 20 teams that could win their bracket and make the Final Four. And all we need for this play on the over 12.5 to cash is to have one Cinderella make it through to the final weekend.
It's been 55 years, but Loyola Chicago did it!

THE RAMBLERS ARE GOING TO THE FINAL FOUR pic.twitter.com/xNr3Ppfjzf

— SB Nation (@SBNation) March 25, 2018
In my opinion, outside of Gonzaga, this is the weakest slate of 1-seeds that I can ever remember, as all of them have glaring flaws and picked up late-season losses, and as these top-seeded teams get eliminated, the combined total is only going to rise. You're telling me that a Final Four of Gonzaga, Iowa, UCLA, and Houston would shock you?
And that would be more than enough to send this total to the over. This tournament could be one of the wildest of all-time, and I will bank on that madness with a play on over 12.5 for the combined seeds to make the Final Four.
The Bet:
Over 12.5 Combined Seeds!
Game Winning Buzzer Beaters In The Round Of 64
What would the NCAA tournament be without some buzzer beaters? Last-second game-winning shots have become a fixture of March Madness, and I am very surprised to see that we can get dog money on 1 buzzer-beater occurring in the first round. We just saw several buzzer-beaters last week during conference tournament championship week, and with such a wide open field this year, we are going to see some hotly contested games.
VIRGINIA TECH BUZZER BEATER FOR THE WIN! ??

This. Is. March.

(via @accmbb)pic.twitter.com/wlK765JcB3

— Bleacher Report (@BleacherReport) March 10, 2022
If anything, this will be a really fun bet to sweat, as deep down, we are all rooting for as much madness as we can get. The sticking point to this bet that you need to consider, is that the shot has to go in and leave zero time on the clock. No last-second full-court heaves or .6 seconds left on the clock scenarios. These have to be true buzzer-beaters for us to get paid. I will put in some action on there being 1 buzzer-beater at a juicy price and while it will only take 1 to get me paid, I sure hope to see many more, even if it costs me a bet!
The Bet:
1 Game Winning Buzzer Beater!
What Will Be Higher?
Sister Jean's Age (102):
-135
Most Points By One Team Rd 64:
-105
Our final prop bet is a bet that goes to show you that the books can, and will, take action on any and everything when it comes to March Madness! In this bet, we have to pick which will be higher, the age of Sister Jean, the famous face of the loveable Loyola Chicago Ramblers, or the most points scored by any team in the round of 64. Sister Jean comes in at the ripe old age of 102 years young, setting the line for the points at a sky-high number.
There aren't very many teams in the country that are capable of passing the century mark. The Gonzaga Bulldogs lead the nation in scoring at just over 87 points per game, and GU has only broken into triple digits 5 times this season, with the last time coming way back on January 29th against Portland.
The reason that it is so hard for teams to score at least 100 points, is more about pace and tempo than scoring ability, as more shots equal more points. The Zags have a rare combination of a fast tempo and high shooting efficiency, which has led to them being the top-scoring team in the nation, and even then, they only score over 100 points 17% of the time.
"Sister Jean, how many teams are still standing in the Missouri Valley Conference?" pic.twitter.com/qFpZd6yB9Y

— Sister Jean (@SisterJean98) March 8, 2022
The highest total on the board for the opening round comes to us in the game between Richmond and Iowa. I am sure that Richmond isn't going to go over this total, as they didn't do it a single time in the regular season, and after playing 4 games in 4 days in the A-10 tournament just to get into the Big Dance, they are going to be running on fumes. That leaves me with Iowa, and when I see that the Hawkeyes have only scored triple digits on 5 different occasions this year, I know that it is highly unlikely that they do it in this game.
In the NCAA tournament, teams know that they have to play twice each weekend. This isn't like the regular season where you play a game and then get a couple of days off. This is tournament basketball, and these teams are going to be on the floor a lot, and unless both sides are scoring at a high level, and they actually need to score 100 points to win, they are going to pull back and save their legs.
With the highest total on the board sitting at 154 points, that just isn't going to happen. We will see a couple of teams hit the 90-point mark, and we might have to sweat this one out in the final minutes of games from Kentucky, Iowa, Gonzaga, or Arizona, but the under is the side to be on. And while I don't really believe in luck, when you get a chance to be on the side of a 102-year-old church chaplain, it feels like that is the side you are going to want to be on every time!
Wrap Up
With so many different ways to get in on the action, you have no excuse not to get your bets in on the NCAA tournament now!
All week long we here at TheSportsGeek have been covering the NCAA Men's Basketball Tournament, and you can add these 2022 March Madness prop bets to the rest of the high value betting advice we have given you since the brackets were posted on Sunday evening.
The madness starts in the morning, and you better buckle up, as it's going to be a wild ride!