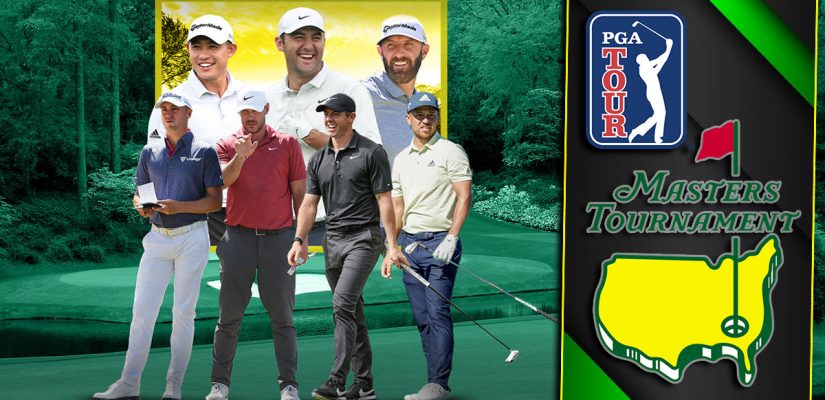 There are several different bet types for the biggest golf tournament of the year. The Masters is the biggest event in golf, and sportsbooks have sports bettors covered with a big menu. If you're not interested in predicting a tournament winner, which can be a crapshoot, Masters matchup bets offer more of a traditional bet.
"As for the beauty, the course stands far superior to anything I have ever played." — Byron Nelson, 1937#themasters pic.twitter.com/R0RUYxUBvz

— The Masters (@TheMasters) April 4, 2022
Masters matchup bets are simply a head-to-head bet where you pick which golfer is going to finish with a batter score. Most of the best online golf sportsbooks offer these bets. I'm scanning a long betting board looking for the best Masters matchup picks.
The Best Masters Online Betting Sites
Winning the tournament or even having a fantastic tournament isn't necessarily required. If your golfer finishes with a better score than the opponent listed on your ticket it's a win.
There is a long list of Masters matchup bets at BetOnline. If you are interested in Tiger Woods Masters' matchup bets, there is one listed at BetOnline. Woods is up against Patrick Reed as an underdog at +141.
TIGER UNLIKELY TO RUN RIGHT AWAY
I'm not sprinting to the window to bet Reed at -170, though I've already shared my thoughts on Woods in our predictions breakdown. Woods needs to shake the rust off before chasing another major tournament.
I'm circling other Masters matchup bets instead of Woods and Reed. Head below for our best Masters matchups picks for the 2022 Masters.
Best Masters Matchup Bets
Sam Burns vs. Joaquin Niemann
If you've been following along with Masters' prediction, Sam Burns is high on my shortlist of potential winners. Burns is in top form at the moment and is going to have a major win in his career before long.
Why not at the 2022 Masters this weekend? If you are arguing against Burns finding success, the one condition is that he doesn't have any experience at Augusta National.
This is true. Burns is a Masters rookie and making his debut here. This is typically a golf course for those that have experience at Augusta National.
Having said that, Burns is budding with confidence, and you wouldn't be getting these good odds otherwise. He has finished in the top-10 in eight of his previous 14 outings.
Burns went all the way to win two of those tournaments, including his most recent attempt in the Valspar Championship in a playoff. He has a clutch putter, which is imperative at Augusta National.
I'm putting Burns ahead of Joaquin Niemann in a battle between two young guns at the Masters.
Rory McIlroy vs. Collin Morikawa
As much as I'm not a fan of Rory McIlroy going the distance to finally crack Augusta National, he's always played this course well and been on the hunt.
He is certainly worthy of a Masters matchup bet over Collin Morikawa. There is better value available to put on the green jacket, but it doesn't mean McIlroy can't snap back into form this weekend at a familiar course.
The native of Northern Ireland has finished in the top-10 six times in 13 tournaments. His best Masters' finish was 4th in 2015.
McIlroy has averaged a score of 71.48 at Augusta National in his career. The 20-time PGA Tour winner should be lurking on the final day.
Morikawa has participated in two Masters, with an average score of 71.88. His best tournament was T18 last year.
Since finishing as a runner-up in the Genesis Invitational, Morikawa has been lost with bad form in The Players and Valspar Championship. He missed the cut and T68 in the Valspar.
I will side with McIlroy to at least finish better than Morikawa in the Masters.
Viktor Hovland vs. Jordan Spieth
Jordan Spieth has largely been the most disappointing player on the PGA Tour in the last year. He's obviously a talented golfer and can get involved, but Spieth isn't doing it enough.
OVERRATED FOR THE LAST YEAR?
Spieth has missed the top-15 in 15 of his last 17 tournaments. He finished runner-up at Pebble Beach, though it's his only solid result in a while. During these 17 tournaments, Spieth missed the cut in six tournaments, including the US Open.
He did have a big showing at the Masters last year, finishing T3 at Augusta National. Spieth also won the Masters in 2015 and knows his way around this course.
However, it could be time for a younger player like Viktor Hovland to emerge.
Hovland is the No. 4 ranked player on the PGA Tour. He finished in the top-10 in five of his last eight tourneys with two wins.
In two outings at Augusta National, Hovland averaged a final score of 71.63. Relying on Spieth showing up in his current form isn't the best Masters matchup pick.
Jon Rahm vs. Scottie Scheffler
Jon Rahm and Scottie Scheffler are two of the most liked players to win the Masters by the oddsmakers. They are the top-ranked golfers on the PGA Tour, with Scheffler jumping Rahm after winning the Dell Match Play Tournament.
Scheffler deserves the No. 1 spot after putting in the work recently. The 25-year-old has to be on your shortlist to win the Masters this year. Scheffler has won two of his last four outings, with a win in the Phoenix Open and Arnold Palmer Invitational.
Scheffler was consistent in two Masters appearances in 2020 and 2021, finishing T18 and T19, with final scores of 287 and 288. Rahm needs a productive weekend to work his way back into No. 1 in the world.
He has finished outside of the top-10 in three straight tournaments and hasn't been in the top-5 since T3 at the Farmers Insurance Open. Rahm has been good at Augusta National, with a scoring average of 70.30 and 4th in the 2018 Masters.
Nonetheless, I'm unwilling to lay -138 over the better value on Scheffler. Scheffer at +115 is a good value Masters matchup pick in 2022.