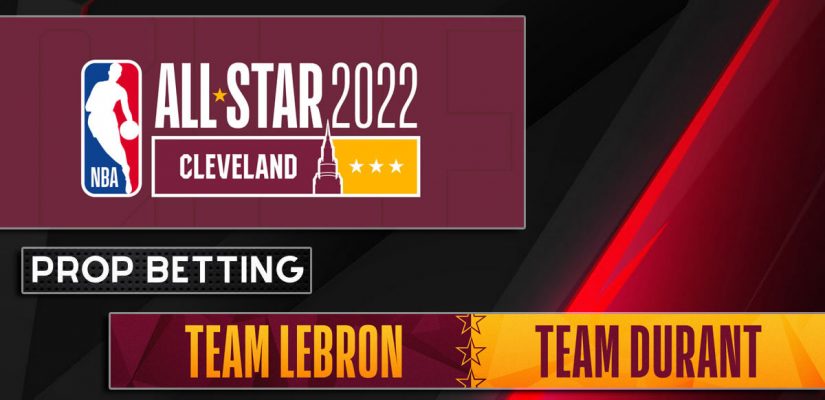 The 2022 NBA All-Star Game takes place on Sunday night and caps off a weekend's worth of action. In addition to betting on the actual game itself, bettors can wager on some enticing prop bets on the game and surrounding events.
Read on to find out about some of these NBA player prop bets and the direction you might want to take with them at top gambling sites. When it comes to basketball spectacles, the NBA All-Star Game definitely stands out as one of the most unforgettable each year.
The very best professionals take the floor in a game that's part exhibition and part grudge match. Even though there isn't a lot of defense played, that doesn't dampen the fans' enthusiasm for the action.
13 years ago today, Shaq & Kobe were named co-MVPs of the 2009 NBA All-Star Game.

Great video of Shaq thanking Kobe for letting him give the trophy to Shareef. pic.twitter.com/pH3mYCBSZ6

— Ballislife.com (@Ballislife) February 15, 2022
Over the course of the weekend, there are several preliminary events that will take place, including games and individual competitions. It all leads up to the All-Star Game itself, which takes place on Sunday night. Everything happens this year at the host site, which is Rocket Mortgage FieldHouse in Cleveland, Ohio.
Betting on the game can be as simple as picking which team is going to win or whether the points total will go over or under the line. But you can also take stabs at NBA prop bets on those pre-All-Star Game events. Or you can take a crack at the major prop bet on the game, which centers on guessing which player will win the Most Valuable Player Award.
We'll take you through all of those bets in the following article. First, we'll start with the preliminary events, including the Rising Stars Challenge, the Skills Competition, the 3-Point Contest and the Slam Dunk Contest. Finally, we'll look at the top candidates to win the MVP, so that you can make a well-informed wager on it at top basketball betting sites.
Rising Stars Challenge
In past years, the Rising Challenge centered on a single game featuring the best rookies and second-year players in the NBA. This year, those players (along with some select NBA G-League players) will be divided into four teams of seven, each coached by an NBA legend (Isaiah Thomas, Rick Barry, James Worthy and Gary Payton). They'll play a mini-tournament on Friday night to determine the overall winner.
It's understandable why the team coached by Isaiah Thomas is favored. They've got some of the top young players around (Tyrese Haliburton, Desmond Bane, Anthony Edwards) on their seven-man roster. Perhaps more important, they have excellent positional balance, which means they should be a solid matchup for any team they face.
If you're looking for a team that might provide a bit more value that could win, we'd suggest Team Worthy. They have a unique setup that features four point guard types and two wings among their six NBA players. While they could have a hard time matching up defensively, they also might run opponents ragged with their speed.
Skills Challenge
One of the best NBA player prop bets surrounding the All-Star Game in years past has centered on the Skills Challenge. You could always get excellent value by choosing some mid-priced players. But the format has changed this season, which could limit that value.
It has become a team competition, with groups of three battling it out in a series of challenges. That all leads up to a half-court shot challenge between the two teams that do the best in the preliminaries. The balance of power between the three teams is a bit skewed.
The rookie team is the heavy favorite due to the versatility of the three players who are competing. But Team Cavaliers will draw a huge edge from the hometown crowd, and they feature the best shooter among the 9 participants in Darius Garland. We can easily see them coming up with the victory here as the second choice.
3-Point Contest
Luke Kennard, Los Angeles Clippers:
+375
Trae Young, Atlanta:
+450
Desmond Bane, Memphis:
+550
Fred VanVleet, Toronto:
+600
Zach LaVine, Chicago:
+800
CJ McCollum, New Orleans:
+850
Karl-Anthony Towns, Minnesota:
+1000
There is an interesting mix to this year's 3-Point Contest, which follows the format of the last few years and includes those couple longer 3s that count for a little bit more. Kennard has been plummeting in the odds since they went live. People see his left-handed stroke and think he can repeat it over and over again.
But betting the favorite in a contest like this is never a wise move, especially when you consider that none of these guys has ever won this contest before. You should be looking to find value wherever you can get it with these NBA player prop bets. And we feel like the best source of that is Fred VanVleet.
VanVleet is in the middle of a career season (including his first appearance in the All-Star Game), so the timing is right. He shoots a high percentage, so he should be able to knock down balls from all the racks with accuracy. And he and Trae Young are the only two guys in here who might be feel comfortable shooting those extra-distance shots, as both pull up that deep with confidence in games.
Slam Dunk Contest
Jalen Green, Houston:
+140
Obi Toppin, New York:
+200
Cole Anthony, Orlando:
+350
Juan Toscano-Anderson:
+550
The Slam Dunk Contest is one that is hard to predict year in and year out, especially when the players involved haven't taken part in one before. In this case, only Toppin has participated, doing so last year and finishing a close second.
The other three guys are pretty much open books when it comes to what they bring to the table.
If you're going to try to throw somebody out of consideration, Anthony is probably that guy. Small guys have won it before, but Anthony is not known as a big dunker in games.
We also haven't seen him be quite the high flyer as the other three.
Green could easily win as a 19-year-old, but there isn't as much value there (although a 7 to 5 payback isn't bad.) Toscano-Anderson isn't as well-known as the others, which probably works against him. We think that the second time could be the charm for Toppin as the second choice.
All-Star Game MVP
Giannis Antetokounmpo, Milwaukee:
+375
LeBron James, Los Angeles Lakers:
+550
Joel Embiid, Philadelphia:
+600
Stephen Curry, Golden State:
+850
DeMar DeRozan, Chicago:
+900
Luke Doncic, Dallas:
+1200
Darius Garland, Cleveland:
+1800
Nikola Jokic, Denver:
+2000
Jayson Tatum, Boston:
+2000
Devin Booker, Phoenix:
+2000
Trae Young, Atlanta:
+2500
Donovan Mitchell, Utah:
+2800
Jimmy Butler, Miami:
+3300
Chris Paul, Phoenix:
+3300
LaMelo Ball, Charlotte:
+4000
Fred VanVleet, Toronto:
+4000
Zach LaVine, Chicago:
+5000
Jarrett Allen, Cleveland:
+6000
Andrew Wiggins, Golden State:
+6000
Karl-Anthony Towns, Minnesota:
+8000
Khris Middleton, Milwaukee:
+10000
Dejounte Murray, San Antonio:
+10000
Before you decide who you're going to be betting in terms of the Most Valuable Player for the 2022 NBA All-Star Game, it's important that you realize how the players have been broken off into teams.
Remember that it's no longer East versus West.
Instead, team captains LeBron James and Kevin Durant (who's injured and won't be playing) are responsible for the rosters, which look like this:
Team Durant
Jayson Tatum, Boston:
Starter
Andrew Wiggins, Golden State:
Starter
Joel Embiid, Philadelphia:
Starter
Trae Young, Atlanta:
Starter
Ja Morant, Memphis:
Starter
LaMelo Ball, Charlotte:
Reserve
Devin Booker, Phoenix:
Reserve
Rudy Gobert, Utah:
Reserve
Zach LaVine, Chicago:
Reserve
Khris Middleton, Milwaukee:
Reserve
Dejounte Murray, San Antonio:
Reserve
Karl-Anthony Towns, Minnesota:
Reserve
Team LeBron
Giannis Antetokounmpo, Milwaukee:
Starter
LeBron James, Los Angeles Lakers:
Starter
Nikola Jokic, Denver:
Starter
DeMar DeRozan, Chicago:
Starter
Stephen Curry, Golden State :
Starter
Jarrett Allen, Cleveland :
Reserve
Jimmy Butler, Miami:
Reserve
Luke Doncic, Dallas:
Reserve
Darius Garland, Cleveland:
Reserve
Donovan Mitchell, Utah:
Reserve
Chris Paul, Phoenix:
Reserve
Fred VanVleet, Toronto:
Reserve
Knowing all of that, let's break down some of the guys that we think have a legitimate chance of winning the MVP award on Sunday night:
The Greek Freak won this award a year ago and will try to be the third player in history to win two in a row (Bob Pettit and Russell Westbrook were the other two. He has a built-in advantage in a game like this because nobody wants to get in his way in a game that doesn't count for anything in the standings. Still, MVP voters will likely go another direction to spread the wealth if there is even a slight question.
if James could win another MVP, it would his fourth and would tie Pettit for the all-time record, which might motivate him. Last year, he hardly played in the All-Star Game, as he was banged up and thought his Lakers had a chance at the title. But with the team spiraling out of contention and Anthony Davis hurt again, the King might feel like an All-Star Game MVP might be his best-case scenario for the rest of the year.
Embiid is no doubt the centerpiece of Team Durant, which is the underdog at top betting sites. A losing team won't produce the MVP unless something unlikely occurs, so Embiid needs some help from his teammates. That said, with the year he is having as the overall MVP candidate, his momentum just might carry him forth here as well.
Morant is absolutely exploding this year and taking his Grizzlies up the standing with him. He has the ability to put on highlight-reel plays that could embellish whatever stats he puts up. If ever there was a guy who could win an All-Star Game MVP in his first appearance, it's him.
With Curry, you never know when he's going to have one of those nights where he throws in everything from beyond the arc. His percentage numbers are a bit lower than usual this season, so that might be a tougher ask than normal this time around. But you're getting excellent odds here for one of the true legends of the sport.
In a game like the All-Star Game, DeRozan's mid-range magic might get lost a bit amidst all the dunks and three-pointers that will likely prevail. But he is having a career year for a team in contention, so there is a momentum aspect to it. Still, the concern is that his contributions might get overwhelmed a bit with all the star power next to him in the starting lineup.
Normally, a player coming off the bench in an All-Star Game would have a tough time winning NBA All-Star Game MVP honors. But Doncic might actually get a break in that he'll be dominating the ball with the second unit. And triple doubles are always well within his reach, which will grab some voters for sure if he gets there and his team wins.
Speaking of triple doubles, Jokic is a major threat in that department as well. As a matter of fact, he's one of the best values on the board at 20 to 1. After all, it's easy to envision him following up a league MVP with one for the All-Star Game.
Again, this one is dependent on his team pulling off an upset. But if it's a close game and Team Durant needs somebody to create one-on-one for a hoop, Tatum is the best candidate to do that. Not to mention the fact that he could put up 30 in a heartbeat if his shooting stroke is on point.
The way Team LeBron is constructed, they are going to have a hard time keeping up with the ball handlers on the other side. Young should be able to get anywhere he wants while he's on the floor, throwing lobs and shooting runners and threes. Look for him to be in the mix for MVP at great odds if Team Durant wins.
Andrew Wiggins, Golden State:
if you really want to throw a bomber in there, Wiggins is the guy you should take. After all, he is in the starting lineup for Team Durant, which should give him enough playing time and get him on the floor during crunch time. Why not add to his career year with a big performance on this stage?
Conclusion
You should be ready now to make your chosen NBA prop bets for the NBA All-Star Game and its surrounding events. The top sports gambling sites should provide you with a nice menu of options. Good luck on the bets and prepare to enjoy the spectacle that is the NBA All-Star Game.