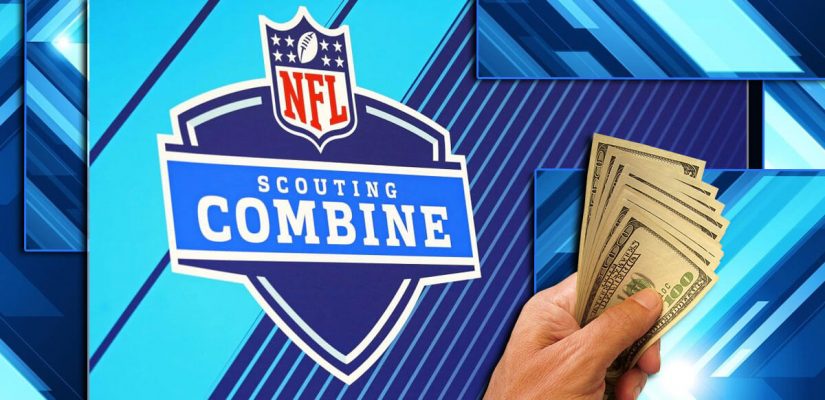 Did you think that you had to wait to the Hall of Fame Game in August to bet on NFL football? Or, did you think that you had to wait for the NFL Draft to bet on the NFL? Not when there are NFL Combine betting odds available.
Online sportsbooks are getting more creative every year. Why wouldn't they win the NFL is such a tremendous sports betting machine. Throw out NFL Combine odds and the public will take notice.
"Don't change who you are, everything will fall into place, keep working."@Juiceup__3 has some great advice for all the prospects out there.

?: #NFLCombine starting Thursday at 4pm ET on NFL Network pic.twitter.com/s0CoGDVXjt

— NFL (@NFL) March 2, 2022
The NFL Draft handle will dwarf some of the other sports and it is only prop betting on which players will be selected. Online betting sites know that we can't get enough of the NFL.
So much so that they are offering NFL Combine betting odds. There are NFL Combine prop bets currently available at BetOnline that you can make.
The 2022 NFL Combine is scheduled for March 1 to March 7. It is one final look for college football players to impress potential future employers.
A lot of future gains are lost and won during the NFL Scouting Combine. Performing well at the NFL Combine has the potential to elevate the draft stock of a player. However, the opposite can also be true.
This doesn't necessarily translate to the football field, though. Combine stats and football IQ are not equal, so it's a fine balancing act for scouts. What I'm concerned most with is hitting these NFL Combine betting odds and finding winners, though.
BetOnline has the best NFL Combine odds available in the industry. We are going to find our favorite NFL Combine prop bets and do our best to profit off the first NFL event after the Super Bowl.
Head below for our best 2022 Combine prop bets.
NFL Combine Odds And Betting Odds
Aidan Hutchinson Bench Press Reps
Drake London 40-Yard Dash Time
Fastest 20-Yard Shuttle
Fastest 40-Yard Dash
Fastest 60-Yard Shuttle
Highest Vertical Jump
Longest Broad Jump
Under 11 Feet 7 Inches
-130
Over 11 Feet 7 Inches
-110
Malik Willis's 40-Yard Dash Time
Most Repititions On Bench Press
Position Of The Player Of Fastest 40-Yard Dash
Rich Eisen 40-Yard Dash Time
Will 20-Yard Shuttle Record Be Broken?
Will Byron Jones Record Be Broken On Broad Jump?
Will John Ross's Record Be Broken On 40-Yard Dash?
Will JT Thomas's Record Be Broken On 3 Cone Drill?
Will Shelton Gibson's Record Be Broken On 60-Yard Shuttle?
Will Stephen Paea's Record Be Broken On Bench Press?
Will The Highest Vertical Jump Record Be Broken?
NFL Combine Prop Bets
Drake London 40-Yard Dash Time
USC wide receiver Drake London hopes to follow in the footsteps of recent Trojan receivers Michael Pittman and Amon-Ra St. Brown.
London has size and length, which will help him impress scouts. He uses his size to have a wide catch radius makes him an attractive Day 1 selection.
The one thing that may push teams away from London is a leg injury he suffered in late October after scoring a touchdown. The junior spent the rest of the year getting ready for the NFL Combine and Draft.
Before the injury, London was running a 4.48 40-yard dash. However, he is coming off the injury and has mentioned that he isn't at 100%.
London noted that he's around 85% going into Indianapolis. If he runs a 4.53, that'd be impressive for him considering his form right now.
More of a possession receiver with incredible range instead of top end speed, expect London to go OVER this time at 4.53 seconds.
Aidan Hutchinson Bench Press Repititions
Aidan Hutchinson could be the No. 1 overall selection in the 2022 NFL Draft. The Michigan Wolverine flew up draft boards after coming on hard in the late stages of the season.
His performance versus the Ohio State Buckeyes catapulted him to the top of some draft boards. His work ethic and determination is what stands out from the rest.
Whoever drafts Hutchinson is going to get a hard-working EDGE rusher that will look to make himself a better player.
Will he record more than 36 reps on the bench press, though? Hutchinson probably falls just short.
Despite likely putting up big numbers across the board during the combine, he probably records 34-36 reps.
His bench press number might be slightly inflated as a 265-pound EDGE rusher. In comparison, Myles Garrett completed 33 reps in 2018.
Most Repititions On Bench Press
There were two players to record 40 reps on the bench press last year. The next closest was nine players tied at 36 reps.
Since 2010, there have only been even players that have recorded 40 or more reps on the bench press. 2020 was a really weak year, with 30 the most reps.
Besides last year, in the last five NFL Combines, the year 2018 was the only other to have more than 40 reps. Vita Vea is the most notable on that list.
There are some heavy lifters in this draft, but having more than 40 reps is tough. I'm not willing to pay -130 on a lineman notching at least 41 reps.
Position Of The Player Of Fastest 40-Yard Dash
This should come down to wide receiver Danny Gray of SMU and cornerback Kalon Barnes. Tariq Woolen might have an outside chance against those two players as well.
Gray is getting attention as the fastest wide receiver. He's a burner that is expected to run in the 4.2s, but he's up against a track star in Barnes.
Barnes might have a good look at breaking Josh Ross's 40-time record. It won't be easy, but Barnes is a guy that could test below 4.24 seconds. He is currently the high school state record holder for the 100-meter dash in Texas with a time of 10.22 seconds.
Barnes also won a track meet at USC in 2019 as a two-sport athlete at Baylor.
His speed shows on film and it should translate on the 40 at the 2022 NFL Combine. I'm on a cornerback, Barnes, to finish with the fastest time in the NFL Combine this year.