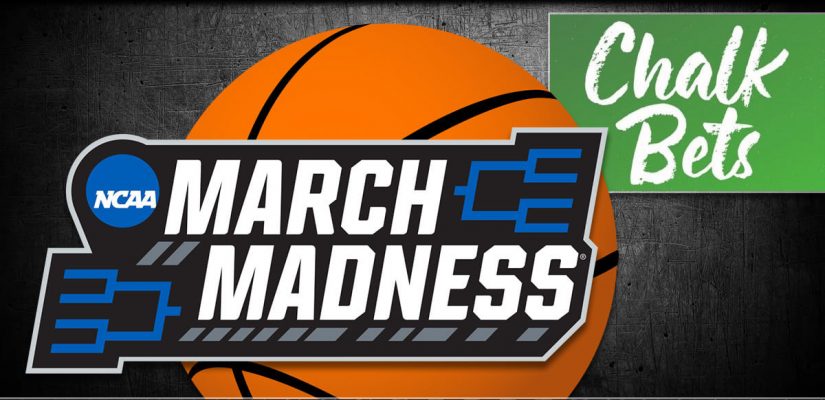 Yesterday, we here at TheSportsGeek kicked off our March Madness bracket coverage by taking a look at teams that could be this year's Cinderella. Upsets are what makes the NCAA tournament so great, and focusing on them first made a lot of sense, as they don't call this March Madness for nothing!
But now that we have taken a look at teams like South Dakota State, Vermont, San Francisco, Colgate, and Davidson that could shock the world, we are going to flip the script today, and take a look at the big boys, the top-seeded teams that are going to rampage their way through the bracket.
While picking upsets is certainly a lot more fun, when you look at the winning percentage of the top seeds in the early rounds of the tournament, these teams are seeded highly for a reason, and that is because they win a lot of games. It isn't overly sexy to take a 1-seed to demolish a 16-seed, but that is what happens more times than not, so as a sharp handicapper, these games and plays need to be on your radar.
The madness begins today ? pic.twitter.com/13AT8IVFH3

— FOX College Hoops (@CBBonFOX) March 15, 2022
We will call these first-round plays the anti-Madness plays, as these are the best chalk bets for NCAA March Madness in 2022. Nobody is going to pat you on the back and say how great you are when you lay the wood on Gonzaga and they cover against Georgia State in the 1st round, but at the end of the day, betting college basketball is about getting the money, and making these bets is how you are going to do it.
The Best Chalk Bets for NCAA March Madness
Before we dive into the specific plays, first, I want to set the stage for what a chalk bet actually is and what it isn't. Occasionally we see teams that are seeded higher but are actually the betting favorites in the games.
This happens quite a bit in the 8/9 and 7/10 matchups.
The NCAA Tournament Selection Committee might tell you that the 9 seed beating the 8 seed is an upset, but if they are the betting favorites in the game, that just isn't the case, at least in my opinion.
We have seen time and again that you should trust Vegas and the sportsbooks a heck of a lot more than you should trust the Selection Committee when it comes to ranking teams, so for the sake of this article, we are only going to focus on favorites that are both seeded higher and are the betting favorites.
Don't worry though, we are going to hit on those other plays later this week when we take a look at the top value plays for the NCAA tournament, but for right now, we are going to focus exclusively on the best chalk bets for March Madness. We will kick off this chalk strategy for March Madness by checking in on the 5/12 matchup in the Midwest Region between Richmond and Iowa!
Richmond Spiders at Iowa Hawkeyes (-10)
The Richmond Spiders are just happy to be here, as they were left for dead after a late season collapse that saw them lose 4 of their last 7 regular-season games. But an improbable run to the A-10 tournament title, where the Spiders won 4 games in 4 days with wins over Rhode Island, VCU, Dayton, and Davidson, was enough to get the Spiders their dancing shoes as the league's auto-bid and a 12th seed in the Midwest region. But after this emotional and unexpected run, you have to wonder if the Spiders have anything left in their gas tank for their opening round game with the Big 10 tournament champion Iowa Hawkeyes.
Iowa managed to fly under the radar for much of the regular season, as they played a pitifully weak non-conference schedule.
At the midway point of league play in the Big 10, they had a losing record at 4-6. But since that slow start, the Hawkeyes have gotten their act together, and they are now a sexy dark horse pick for a Final Four run, with a 12-2 record in their last 14 games, and a Big 10 tournament title to go with it. The Hawkeye's recent wins over Ohio State, Indiana, Purdue, Michigan State, Michigan, and Rutgers, all teams playing in the NCAA tournament, tells me that Iowa can compete with, and beat, the top teams in the nation.
BIG TEN CHAMPIONS! #Hawkeyes pic.twitter.com/SBkw5eNZlJ

— Iowa Men's Basketball (@IowaHoops) March 13, 2022
Why do I like the chalk to walk in this game between the Spiders and the Hawkeyes? Well, to put it gently, we have seen what Iowa looks like against subpar teams, and it hasn't been pretty for the opposition. Richmond spent much of the regular season ranked outside the top-80 nationally, and even with this recent surge to the A-10 title, they are ranked just 83rd on Kenpom. A quick glance at what Iowa has done to teams ranked similarly to Richmond in the last month has me smelling blowout.
Iowa has recent wins over Northwestern by 36, Northwestern by 21, Maryland by 23, Nebraska by 23, and Penn State by 18. Even games against teams that were ranked significantly higher than Richmond, wins over teams like Rutgers, Michigan, Michigan State, and Ohio State all came by double digits.
Iowa is 9th in the nation in average margin of victory, as they don't just beat teams, they run them off of the floor. The Spiders are going to be happy to be able to hang an NCAA tournament banner in their rafters after an up and down season, but their journey ends here, as they get beaten up by the far superior Hawkeyes in the round of 64.
Saint Peters Peacocks at Kentucky Wildcats (-17.5)
We just talked about how the Iowa Hawkeyes have one of the highest average margin of victories in the country this season, and the Kentucky Wildcats are even better when it comes up to running up the score, as Coach Cal's team is 6th in average margin of win at nearly 14 points per game. The Wildcats might be the most physically talented team in the country, as they have studs all over the floor that are matchup nightmares for opposing teams. That level of athleticism is going to make it very difficult for the Peacocks of Saint Peters to stay competitive in this 2/15 matchup in the East Region.
Saint Peters is another team that is just happy that they got to hear their name's called on Selection Sunday, as it was the Iona Gaels that were the top team from the Metro Atlantic Athletic Association all season long, not Saint Peters. But the Peacocks caught a huge break when Iona was knocked out early in the MAAC tournament, leaving the door wide open for the 2nd seeded Peacocks to win the league tournament and advance to the Big Dance.
But after the initial excitement of getting into the tournament has started to wear off, the reality of playing in the NCAA tournament has to be setting in for Saint Peters fans, as they face one of the true Blue Blood programs in the country in the Kentucky Wildcats. Saint Peters has only played 1 top-50 team this season, coming way back in November, and they got blown out in that game by the Providence Friars, and I don't see many scenarios where that isn't the case in this game as well, as the Peacocks are painfully outmanned in this matchup.
2️⃣ Kentucky vs. 1️⃣5️⃣ Saint Peter's#BlueGetsIn x #MarchMadness pic.twitter.com/0Qzpl5iQuK

— Kentucky Men's Basketball (@KentuckyMBB) March 13, 2022
Kentucky hasn't gotten to play many teams ranked outside the top-100 this year, as life in the SEC is tough, but when the Cats have gotten to play weak teams, they have obliterated them with regularity. The Wildcats are 12-0 against teams ranked outside of the top-100, and when you see that they have wins over Robert Morris by 40, Mount St. Mary's by 25, Ohio by 18, Albany by 25, Central Michigan by 28, Western Kentucky by 35, and Missouri by 27, you know that Kentucky has no problem winning games by huge margins.
The Peacocks have the 259th ranked offensive in terms of efficiency and that does not bode well for them against this stout Kentucky defensive unit.
The Wildcats crash the offensive boards as well as any team in the nation and I expect them to get a lot of 2nd chances and threaten the century mark in what could end up being the biggest blowout of the day over Saint Peters. The Peacock's average over 20 turnovers a game and that will be their undoing as they won't be able to handle the Kentucky pressure.
Akron Zips at UCLA Bruins (-13.5)
I am not sure why, but a lot of people are sleeping on the UCLA Bruins right now. I guess it is because they have somewhat underachieved this season after coming into the year ranked 2nd in the country in the preseason AP poll? Whatever the case may be, if you don't think that the Bruins can make it to the Final Four, you are crazy.
The Bruins made it to the 3rd weekend last year, losing to Gonzaga in an all-time classic game at the buzzer.
After returning their entire rotation of players from last year's squad, they have to be considered a legit threat to win it all this year, despite the somewhat underwhelming regular season that was marred with injuries. But if you are believer in the analytics, and you absolutely should be, the Bruins were closer to a 1-seed than the 4-seed they ended up with, as Kenpom has UCLA ranked as the 8th best team as we enter the madness.
??? ??????.

Catch up on the latest NCAA Tournament details as UCLA (25-7) prepares to face Akron (24-9) in Portland, Ore., on Thursday, March 17.

??: https://t.co/Wy1XKY8orW pic.twitter.com/lFdiU6X8eO

— UCLA Men's Basketball (@UCLAMBB) March 14, 2022
UCLA gets what I see as a very soft matchup in their opening game in a 4/13 matchup in the East Region with the Zips of Akron. Akron finished 4th in the regular season MAC standings behind mediocre teams Ohio, Toledo, and Kent State. You do have to give Akron some credit though, as they didn't catch any breaks in the MAC tournament, having to beat both Kent State and Toledo to snag the tournament title and advance to the NCAA tournament.
A quick glance at the Zips resume shows me that they played just 2 games against top-100 teams in the regular season, and they lost both games. The Zips are woefully underprepared for a game with an elite team, and this game is going to get out of hand early.
The Zips have losses on their record to 327th ranked Western Michigan, 294th ranked Northern Illinois, 177th ranked Fordham and 156th ranked Appalachian State. The losses to Fordham and App State both came by an average of 16 points per game, and now people think that the Zips can hang around with UCLA? Get out of here with all of that talk. UCLA wins and it won't be close. Lay the wood and back the chalk.
Montana State Bobcats at Texas Tech Red Raiders (-15)
In most years, there are maybe 6 or 7 teams that have an actual shot at winning the national title. This year, I see about a dozen teams that could win it all in what is a wide-open field, and the Red Raiders of Texas Tech are one of those teams.
Why am I so high on Texas Tech? They play elite defense.
The Red Raiders have the number 1 defense in the nation in terms of efficiency, per Kenpom, and their ability to lock down even great teams makes them a national title contender.
In this 3/14 matchup in the West Region with Montana State, I just don't see how the Bobcats are going to be able to score enough points to keep this game remotely close. Montana State played a painfully weak schedule, ranked 308th in the country, and they have no clue what is about to hit them in this game with Texas Tech.
The Bobcats are decent on offense, but they get the majority of their points from the free throw line as they rank 4th in free throw attempts per field goal attempt. While I love a team that can get to the line, the problem for the Bobcats in this specific matchup, is that Texas Tech just doesn't foul very often.
Texas Tech vs Montana State. Friday. It's on!#Ŧogether pic.twitter.com/dPZAGkCSfM

— Texas Tech Basketball (@TexasTechMBB) March 13, 2022
The Red Raiders play white on rice defense, and they are able to defend without fouling on most possessions. The only real blueprint for beating Texas Tech this season has been to hit a bunch of 3 pointers, and while the Bobcats actually shoot a fairly high percentage from beyond the arc, they aren't a high volume 3-point shooting team.
I guess Texas State could lean into that solid 3-point shooting percentage and jack up a lot more deep balls in this game, but I am sure that the reason the Bobcats have hit such a high percentage of their 3 balls this season is because they wait for good looks, and I am a firm believer that for a team to win in March, they have to stick with the style that got them there, not try to change their identity based on a tough matchup.
Stylistically, this is likely the worst possible opponent for Texas State, and when the Bobcats manage to barely break the 40-point mark in this game, and lose by 20+ points, remember that you heard it at TheSportsGeek first!
UAB Blazers at Houston Cougars (-8.5)
Our final chalk play for the opening round comes to us from the 5/12 matchup in the South Region between UAB and Houston. Interestingly enough, this has been a popular upset pick in the early NCAA tournament coverage, as casual fans love to pick 5/12 upsets in their brackets.
And while I am pretty sure that the Cougars are indeed frauds this season, and I don't at all believe that they can make it back to the Final Four again this year, after breaking through with a 3rd weekend appearances last year, to see them lose this game would be shocking. Houston played nobody all season long but rode their reputation to a top-10 ranking in the AP poll for much of the year.
The analytics love the Cougars too, as Kenpom has them ranked 4th right now. The Cougars coming in at a 5-seed was the ultimate battle between the eye test and the data, and it looks like the Selection Committee decided to rightfully punish the Cougars for playing such a soft slate of games and having so few quad 1 wins.
LET'S DANCE!@UHouston will play as #5 seed in South Region

Will face UAB on Friday in Pittsburgh#ForTheCity x #GoCoogs pic.twitter.com/8wbI0kZ9L0

— Houston Men's Hoops ? ? (@UHCougarMBK) March 13, 2022
But a closer look at the Cougars schedule tells me that they didn't actually schedule all that soft, as they had games against solid programs like Oregon, Virginia, Butler, and Oklahoma State in the non-conference, all teams that should have been better than they ended up being this season. Depending on how you rate teams, Houston might be the most mis-seeded team in this tournament, as the data says this team is worthy of sitting on the top line, not 5th.
I guess it is all of the high-level hate on Houston, which I do think is justified, that is driving all of the action to the Blazers. But all of those people out there picking against Houston probably haven't even watched UAB play a single game this season and I have. They certainly didn't catch the games where the Blazers lost to 223rd ranked Rice, or the loss to 238th ranked Marshall, or even the losing effort against 193rd ranked Old Dominion.
UAB doesn't have a single win over team that is playing meaningful games in March, and despite my own personal ample hate on Houston, this game won't be competitive, as the Cougars are going to maul the Blazers. There will be plenty of time to fade Houston later in the madness, but this game isn't the right time to take a stand against the Cougars.
Wrap Up
And there you have it folks, my picks for the best chalk bets for NCAA March Madness 2022! Taking big favorites to win is never all that exciting, but at the end of the day the name of the game is getting paid, and these are the plays to make if you want to get the money in the opening round of 64 later this week.
Make sure that you stay tuned to
TheSportsGeek
all March long where our team of expert handicappers bring you all of the high value advice that you need to make money betting on the NCAA Men's Basketball tournament!