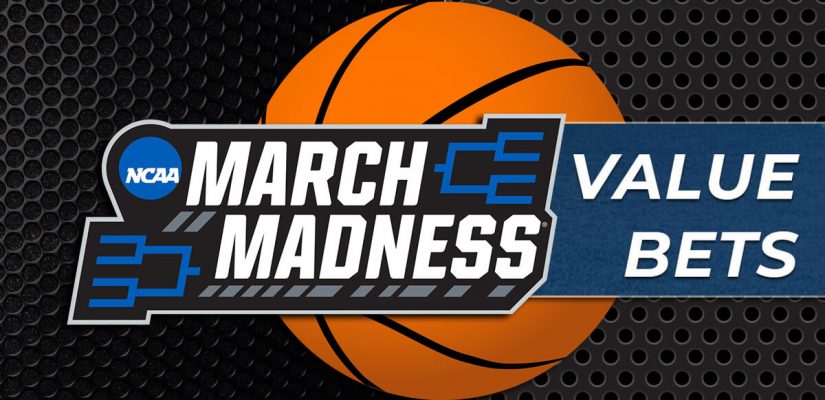 Technically the madness started last night, as we had First Four games between Indiana and Wyoming and TAMU Corpus Christi and Texas Southern, with the Hoosiers and Tigers advancing to the field of 64, but we all know that the real madness starts tomorrow morning on the opening day of the first round! There is no better sporting event in the world than the first weekend of the NCAA Men's Basketball Tournament, and we are just hours away from all of the action and excitement!
THE MIKE WOODSON ERA ?

(12) Indiana earns its first #MarchMadness W since 2016 with the 66-58 victory over Wyoming. #MarchMadness pic.twitter.com/oggYNfxEXh

— NCAA March Madness (@MarchMadnessMBB) March 16, 2022
We here at TheSportsGeek have been covering the NCAA tournament all week long, and now on the eve of the madness, we are going to give you what you need the most, the best March Madness value bets! These are the plays you are going to want to make on Thursday and Friday to get you paid and juiced up for even more action on Saturday and Sunday!
With so many games and bets available, you have to pace yourself, as it is going to be a long weekend! The key to having a successful opening weekend is making sure that you are focused on March Madness betting value.
After all, we don't bet just to bet. We bet to win, and finding the value is how you are going to make that happen! With that, let's get right to it, as we give you the best 2022 March Madness value bets! Let's get started!
March Madness Value Bets
Before we get too deep into breaking down our best high value plays for the opening weekend of the NCAA tournament, first let's take a look at what a value bet actually is. A lot of casual fans just bet their favorite team, or the team with the mascot that they like the most, or whatever other reason they come up with to justify their action. But when you are a true handicapper, someone that is betting to make a long-term profit, it is all about finding, and exploiting, value.
Let's look at a coin flip example to illustrate the concept of value. If I offered you an even money bet on heads or tails, no matter which side that you pick, your bet shows zero value. That is because, on a coin flip, the results are truly 50/50, and if the bet pays even money, you are going to win some, and you are going to lose some in the short term, but if you flip the coin enough times, eventually you will break dead even.
Now, let's make a small adjustment to that same coin flip bet. This time, you will still pick heads or tails, but if it comes up heads, I will pay you out 2-1 on your bet, and if it comes up tails, I will only pay you even money. Which side are you taking? Heads, right? I know this sounds like a silly proposition, but in a zero-sum game like a coin flip, or a bet on a basketball game, where there can be only one winner, adding value to one side of the bet, takes away value from the other side of the action. This is a concept that many casual sports bettors just don't fully understand.
THE 2022 BRACKET! #MarchMadness

Fill out yours:
? https://t.co/ZiCZiRyfFS pic.twitter.com/olRC9it6qG

— NCAA March Madness (@MarchMadnessMBB) March 13, 2022
We can argue back and forth all day on how to identify and exploit the value on a particular play, but just understanding the concept of value, and how to actually win consistently when betting sports, is very important, and often dismissed. Make sure that when you are evaluating games this weekend, that you are in search of value, not just action.
Betting on the NCAA tournament is fun, but winning your bets is even better, so you want to make sure you are the value side of as many plays as possible. Now that you understand what we are after, let's jump in and give you some 2022 March Madness value bets!
South Dakota Jackrabbits (+2.5) at Providence Friars
I have a buddy that is a diehard Providence Friars fan. It has been a dream season for the Friars, as they won their first-ever Big East regular season title, but when PC got blown out by Creighton in the Big East tournament, I texted him and made a joke saying, I hope the committee doesn't drop you down to a 5 seed and match you up with South Dakota State in the first round.
It was just a joke made in passing at the time.
Mostly to heckle him for his top-10 team getting obliterated by a bubble team, but when the brackets were announced on Selection Sunday, and the Friars did end up drawing the Jackrabbits in the round of 64, in a 4/13 matchup, it was no longer funny to my buddy. That is because of all of the teams in the field, there might not be a team that matches up better with Providence than South Dakota State.
?GAME TIME UPDATE?

Tip off is set for 11:40 a.m. CT on truTV. https://t.co/A3F7jiAZdi

— Jackrabbit Basketball (@GoJacksMBB) March 14, 2022
The Jackrabbits are an elite scoring team, ranked number 1 in the nation in both effective field goal shooting percentage and 3-point shooting percentage. They play fast, they rarely turn the ball over, and they make nearly all of their shots. That is a recipe for an upset if I have ever seen one, and no matter who the Jackrabbits were matched up with in the round of 64, I was going to take a hard look at backing them. But against the Friars, I smell upset.
Providence had a great year. The Friars have been controversial all season long though, as the analytics have hated on them, rating them out as a bubble team, where the major polls have had PC in the top-15 for much of the 2nd half of the season. It has been a battle between the data and the eye test, and while I normally side with the analytics, on this one, I just couldn't deny what my eyes were seeing when it came to the Friars.
The Friars ran up an elite record in the regular season at 24-4 and their wins over teams like Wisconsin, Texas Tech, UCONN, Vermont, Seton Hall, and Creighton, all teams dancing in the NCAA tournament, showed me that they can play with, and beat, some of the best teams in the country. But the Friars have this nasty habit of playing down to weak competition. PC managed to survive many of those close calls, with single-digit wins over Fairfield, Georgetown, Butler, and DePaul, but when you play with fire all of the time, you are eventually going to get burned.
No. 13 Men's Basketball NCAA First Round Game Notes Vs. South Dakota State https://t.co/SkQbOi6U5Y

— Providence MBB (@PCFriarsmbb) March 14, 2022
Unlike the Friars, who seem to always be playing in tightly contested games, the Jackrabbits finished their year with one of the highest average margin of victory in the game. Now, to be fair to PC, they played the 56th toughest schedule in the country this year and South Dakota State had an SOS of just 249th, so the competition was not the same, or even similar really, but if the Friars let the Jackrabbits hang around in this game, they are going to regret it.
When we see upsets in the early rounds of the NCAA tournament, they are almost always in spots like this one, where one team is a power conference juggernaut, and the other team is some small school that you have never heard of, that wins all of their games and can shoot the lights out. Being able to get a 30-win team, that leads the nation in shooting percentage, is too much value to pass up on.
The Friars will again play with fire, allowing the Jackrabbits to hang around, and in the final few possessions, if SD State can shoot like they have all year, they are going to pull off the massive upset. I am on South Dakota State with the points in what should be a thriller!
The Bet
South Dakota State (+2.5)
Marquette Golden Eagles at North Carolina Tar Heels (-3.5)
In mid-January, the North Carolina Tar Heels looked like a very talented team that just couldn't get their act together. Hubert Davis knew that following in the footsteps of Hall of Fame head coach Roy Williams wouldn't be easy, but he inherited a great roster of players and had more than enough talent to compete at the top of the ACC this season.
The Heels played a fairly soft non-conference schedule, and the good teams that they did play, they lost to, with losses to Purdue, Tennessee, and Kentucky. ACC play wasn't much better, as North Carolina was just 4-3 through their first 7 games of league play, and it looked like this once-promising season was going to end in heartbreak.
Lucas: How They Got Here

?: https://t.co/2bRmUn4Mtd pic.twitter.com/rtCgOkPEuI

— Carolina Basketball (@UNC_Basketball) March 16, 2022
But then things started to click for North Carolina, and in the 2nd half of the season, they started to play up to their potential. In the final game of the regular season, North Carolina blew out Duke at Cameron Indoor Stadium, in Coach K's final regular season game, in a contest that the Blue Devils badly wanted to win, and for me, that made them a threat for a deep run in March.
The Heels get what I see as an attractive draw in the first round, in a game with a slumping Marquette squad.
Shaka Smart never could get things going in Austin, so he bolted UT in the offseason to the greener pastures of Marquette, and prior to a late-season collapse, the Golden Eagles were feeling like a team that could win the Big East regular season title. But the 2nd half of the season was rough on Marquette, as they lost 6 of their last 10 games.
Touched down in Texas, ready to get to work ?#MUBB | #WeAreMarquette pic.twitter.com/yEJMJpppPg

— Marquette Basketball (@MarquetteMBB) March 15, 2022
Momentum is huge when it comes to winning in March, and the Golden Eagles just don't have it, and the Tar Heels do. Had these teams played 2 months ago, I likely would have backed Marquette, but the Tar Heels have been a completely different team as of late, and with Armando Bacot looking like a national player of the year candidate, North Carolina could surprise a lot of people in this tournament.
This line opened up at North Carolina laying -4-points and the early action has mostly come in on Marquette, shifting the line a half of a point towards the Golden Eagles. I will take advantage of that line move and take North Carolina, and to be completely honest, I am not even sure this game is going to be all that competitive, and I doubt we are going to have to sweat it too hard.
Marquette had late-season losses to DePaul and Butler, and they don't strike me as a team that is going to be able to handle the athleticism of this North Carolina team that has dudes all over the floor. The Tar Heels finished the regular season winning 11 of their last 13 games, and their last couple of wins over Virginia and Duke, were both runaways, as the Heels are clearly gearing up for the madness and playing their best basketball of the season at just the right time.
Loyola Chicago Ramblers (+1.5) at Ohio State Buckeyes
The Ramblers of Loyola Chicago have quickly gone from a loveable Cinderella to a legit program, as they have made the Big Dance in 3 of the last 5 seasons, and in their last 2 trips to the tournament, they survived the opening weekend both times. It is becoming a very tough task to beat the Ramblers in March, and I am quite surprised at how this line has moved since it opened.
Given that recent history of success.
The Ramblers didn't have a great season, at least to their recent lofty standards, but the analytics loved them, and they took care of business in the Missouri Valley Conference tournament to earn their trip to the tournament. The Valley was as good as I have ever seen it this year, and that run in the MVC tournament featured wins over Bradley, Northern Iowa, and Drake, all teams ranked inside of the top-100 nationally.
Despite playing what is seen by most as a lower-tiered league, the Ramblers managed to win 9 games against the top-100, and none of their losses were bad ones, so no matter what you think about Loyola Chicago this year, they are deservedly a tournament team.
The Ramblers opened up as -2-point favorites in this game, which felt like a sharp line, but the public hasn't seen it that way, as they have been all over Ohio State, completely flipping this line to where it stands now, with the Buckeyes as the favorites. I am not sure what everyone is seeing in Ohio State that I am not, but Loyola Chicago is going to win this game.
Our @MarchMadnessMBB First Round game vs. Ohio State on Friday will tip at 11:15 am CT and air on CBS.

?️➡️ https://t.co/A6fH0syVLg#OnwardLU #MVCHoops #CommittedToTheCulture pic.twitter.com/cWKnz9nEfW

— Loyola Men's Basketball (@RamblersMBB) March 14, 2022
The Buckeye's resume screams mediocrity, as they posted a 19-11 record, giving the Bucks one of the highest loss totals of any team in the field, and late-season losses to Maryland, Nebraska, and Penn State have the Buckeyes on my radar as a team poised for an early exit.
Ohio State played a tough schedule, and they do have a couple of nice wins, but when I look at the full body of work for the Buckeyes, I am just not that impressed. 12 of Ohio State's 19 wins came against teams that aren't playing in the NCAA tournament, and they have lost 4 of their last 5 games as they stumbled to the finish line of the season.
? We're Dancing!!

We take on Loyola Chicago in the first round of the NCAA Tournament as a 7 seed in Pittsburgh, PA.#Team123 #GoBucks pic.twitter.com/2Hm9vSHm91

— Ohio State Hoops (@OhioStateHoops) March 13, 2022
I guess this is just mid-major conference hate that has caused this line to flip? Many casual bettors just can't contemplate that a small conference team like Loyola Chicago can compete with a team from the mighty Big 10, despite seeing upsets just like this one every single year. The talking heads on ESPN are going to tell you this is an upset when the Ramblers win, but it's not. This will be the better team winning in this matchup, and that team is Loyola Chicago.
Miami Hurricanes at USC Trojans (-1.5)
From a super high level, I am way down on the ACC and high on the PAC-12. Last year we saw the conference of champions dominate the NCAA tournament after hearing all season how the league was weak, and this year, while the top teams like Arizona and UCLA are getting some love, most people are still sleeping on the PAC-12. The USC Trojans are a quality basketball team with NBA players on their roster, and I almost can't believe that so many people think Miami is going to win this game.
USC couldn't beat UCLA or Arizona, but not many teams could this year, so I won't bang them up too bad for those losses. And against the rest of the teams that they played, the Trojans performed well, and I see USC as a team that will win at least 1 game in this tournament and they could win 2 or more, as they might have caught Auburn at the perfect time for an upset if they can win and advance over Miami.
LET'S DANCE! ? pic.twitter.com/0ADkG4Tyrl

— USC Men's Basketball (@USC_Hoops) March 13, 2022
I guess you can't really blame Miami for the ACC being so bad this year, but you can blame them for the weak non-conference schedule, and when I take a look at the Hurricanes resume, I am underwhelmed, to say the least.
Miami has 23 wins this season. Can you guess how many of those wins have come against teams that are playing meaningful games in March? 3! That's it, and none of those wins have come since January when Miami beat Duke, North Carolina, and Virginia Tech.
Wins over teams like Pittsburgh, Boston College, Louisville, and Georgia Tech do absolutely nothing for me, especially when you consider that the Panthers and the Yellow Jackets were amongst the worst power conference teams in the nation this year.
It has been months since Miami has beaten a decent team and USC certainly meets the criteria of being at least a decent team.
The Hurricanes have losses to Florida State (twice), Virginia, Dayton, and UCF and none of those teams are as good as this USC team is right now. Give me the Trojans as they win and cover against an overrated Miami.
Virginia Tech Hokies at Texas Longhorns (-1)
I hate to pick on the ACC too much, but I view Virginia Tech very similarly as I view Miami, a team that has talent, but just hasn't done very much this season. It wasn't all that long ago that the Hokies were sitting at 10-10 and looking like a team that had no shot at all at playing in the NCAA tournament. You do have to tip your cap to Virginia Tech as they did turn things around in a big way, winning 9 of their last 11 regular season games, and then taking down the ACC tournament for the first time in program history.
Let's go! ?#HookEm pic.twitter.com/fsh7EQ3V04

— #25 Texas Men's Basketball (@TexasMBB) March 13, 2022
But a closer look at that run shows me that this might have been more a case of soft scheduling than anything else for Virginia Tech. That great run to finish the regular season? It consisted of wins over Florida State, Georgia Tech (twice), Pittsburgh (twice), Syracuse, Virginia, Louisville, and Miami. Only Miami made the tournament from that group of teams, and if you think that the Hokies beating up on awful power conference teams is more impressive than say Loyola Chicago beating top-100 teams in the Missouri Valley, you are exactly what is wrong about college basketball.
The Hokies do get a winnable matchup in this game with Texas though, as the Longhorns aren't playing great right now either.
The analytics like the Longhorns more than I do, as Kenpom has UT ranked 15th in the country, but their wins over Tennessee and Kansas shows me that if Texas plays at their best, they can beat really good teams. The end of the year wasn't great for Texas, as they went 5-6 in their last 11 games, but losses to Baylor (twice), Texas Tech (twice), Kansas, and TCU certainly aren't ones to be ashamed of.
Even after playing a joke of a non-conference schedule, Texas was able to rack up 11 wins over the national top-100, with 8 of those coming over the top-50. When you compare that to Virginia Tech's record where they didn't have a single win over the top-50 in the regular season, the Longhorns are the much more accomplished team.
A lot of people out there are picking Virginia Tech in this game, because look, they are so hot right now! But had Texas gotten to play scrubs like Virginia Tech has, and the Hokies had to play all of their games against Baylor, Kansas, and Texas Tech, these records would look very different right now. You're telling me that I can take the 4th place team from the Big 12 against the 7th place team from the ACC and I only have to lay a single point to do it? Yeah, sign me up for ALL of that!
Wrap Up
You wanted value, well here it is! The NCAA tournament is one of the best times of the year to make money betting on college hoops and here we have given you our top March Madness value bets for the 2022 NCAA Men's Basketball Tournament!
But this isn't the end, as the madness is just getting started, so make sure that you swing by TheSportsGeek's March Madness betting page where our team of expert handicappers bring you all of the high value betting advice that you need to make money this March.
Also, make sure that you check out some of our partnership offers, where you can enter to win up to 250K by entering into some March Madness bracket contests that are absolutely high value with big money on the line!