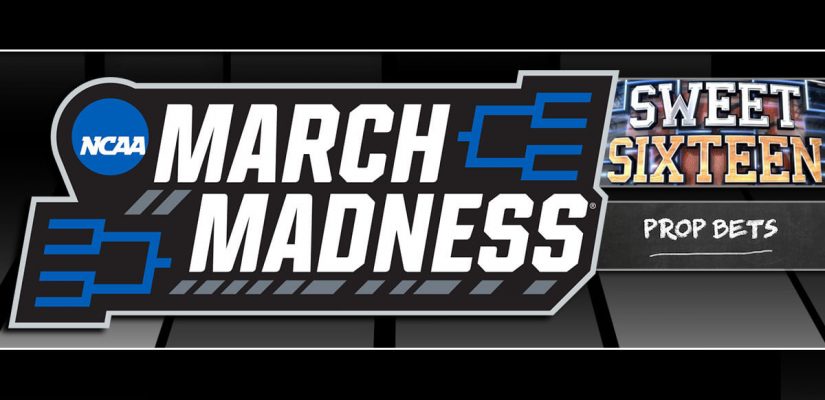 The next couple of days will give us a much-needed chance to catch our breath after a dizzying start to the 2022 NCAA Men's Basketball Tournament. The first four days of the competition were jam-packed with hard-fought games and unexpected upsets.
The defending champions didn't even make it out of the first weekend, while another No. 1 seed narrowly escaped an early exit with a comeback overtime victory. So, it's probably safe to assume your bracket is looking pretty busted at this point. Fortunately, winning your bracket pool isn't the only way to make a little money on March Madness. March Madness betting sites know all of these upsets probably have you feeling down about your bracket.
That's why they're giving you the opportunity to make some of that cash back ahead of the next rounds. BetOnline, for example, is offering Sweet 16 and Elite 8 prop bets before the games begin again on Thursday.
Which props are worthy of your attention? Let's take a gander.
Largest Margin of Victory in Sweet 16
While the NCAA Tournament has a well-earned reputation as one of the most exciting sporting events in the United States, not every game is a dandy. In a 68-team competition, you're bound to see some stinkers along the way.
Texas Tech drubbed Montana State by 35 points in the first round. Tennessee smoked something called Longwood by 32 points. The aforementioned Tar Heels did the same thing to poor Marquette. No game was more lopsided than Baylor's 37-point drubbing of Norfolk State in the round-of-64.
Every team that qualifies for the NCAA Tournament is good, but there are different levels of "good." Of course, the talent gaps between the teams narrow as the competition proceeds. Of the eight Sweet 16 games on the schedule for Thursday and Friday, five feature point spreads of six points or less.
FINAL: Tennessee basketball beats Longwood in the first round of the NCAA Tournament #MarchMadness ?

The Vols advance to the round of 32. #Volshttps://t.co/rYGL3Y0V7v pic.twitter.com/0pKvaCqkbX

— GoVolsXtra (@GoVolsXtra) March 17, 2022
If we take a look at BetOnline's Sweet 16 betting odds, the game with the biggest spread in this round is Purdue's clash against St. Peter's. The 15th-seeded Peacocks, fresh off of back-to-back upset wins over No. 2 Kentucky and No. 7 Murray State, are hefty 12.5-point underdogs against the third-seeded Boilermakers.
The only other semi-lopsided spread is Gonzaga-Arkansas, with the Bulldogs listed as 9.5-point favorites over the Razorbacks. Purdue posted an average margin of victory of 11.3 points during the season. That's quite impressive considering the quality of the Big Ten, which put nine teams in the NCAA Tournament. Gonzaga, meanwhile, led the nation with an average margin of victory of 21.8 points. The Zags are the best team in the nation, but they also play in the fairly weak West Coast Conference. Purdue is arguably the best offensive team in the nation, led by future NBA lottery pick Jalen Ivey.
On the flip side, the Boilermakers' defense is abysmal. This team finished just 171st in the nation in defensive rating. I have questions about the St. Peter's offense, but the Peacocks can defend. St. Pete's finished 11th in the country in defensive efficiency.
While both games with big point spreads do have some blowout potential, I like the under on 17.5 points with this Sweet 16 prop bet.
Total Seeded Upsets in Sweet 16
Upsets are what put the "madness" in March Madness. Nobody, not even the most faithful St. Peter's fan, could have reasonably expected the Peacocks to upset mighty Kentucky in the first round.
While that was the most stunning upset of the first two rounds, it was hardly the only one.
Based on seeds, there were 10 upsets in the first round of the tourney alone. We witnessed six more in the second round. 16 seeded upsets from the first 48 games is a lot. That's one-third of the games!
St. Peter's didn't have the money to send their Cheerleading squad to the NCAA tournament.

So, NBC and Peacock sent them a bus to get them from Jersey City to Indianapolis in time for the Round of 32 ? pic.twitter.com/pRA7GxU1Iy

— Front Office Sports (@FOS) March 21, 2022
Looking ahead at the Sweet 16 betting odds, there is only one expected "upset." Third-seeded Texas Tech is a slight one-point favorite over second-seeded Duke. That's not the only narrow margin, of course. No. 5 Houston is only a 1.5-point 'dog to top-seeded Arizona.
No. 8 North Carolina is a two-point underdog to No. 4 UCLA, while No. 10 Miami is a 2.5-point favorite over No. 11 Iowa State in an all-Cinderella matchup. Houston may not be quite as decorated or talented as Arizona, but the Coogs are clearly under-seeded as a No. 5. With that game set to take place in San Antonio on Thursday, the Cougars should have some sort of home-court advantage. Would anybody be surprised if Houston won that game? Absolutely not.
Texas Tech is legitimately good, so calling a potential win over No. 2 Duke an "upset" is a little misleading. We have already seen North Carolina and Iowa State pull off seeded upsets in this very tournament. Who's to say they can't do so again in the next round?
I'll take the over on three seeded upsets in the Sweet 16 at the favorable +125 odds.
Highest Team Point Total in Sweet 16
College basketball isn't the NBA. For one thing, the games are only 40 minutes long, so the totals are naturally lower than you'll see with NBA games. These also aren't professional basketball players, either. You'll see a lot more badly-missed shots in a college game than you'll see in a standard NBA contest.
Through the first two rounds, we saw just six teams top 87.5 points in a game. North Carolina was the only team to do it twice, though they needed overtime to get there in their round-of-32 win over Baylor. Gonzaga, Purdue, Duke, Arizona, and Houston are all top-nine in offensive efficiency so far this season. The Sweet 16 odds say the Zags' game with Arkansas has the highest over/under of the round at 155 points. No other game has a higher total than the Houston/Arizona matchup at over/under 145 points.
Arkansas is a quality defensive side, but I'm not sure they have the size to deal with Gonzaga's Chet Holmgren/Drew Timme frontcourt. The Bulldogs averaged 91 points per game during the regular season. The competition is certainly stronger at this advanced stage of the campaign, but if anyone cracks 88 points in the Sweet 16, it'll be the Zags.
So, side with the over on 87.5 points.
Highest Player Point Total in Sweet 16
We have already seen a number of electrifying individual performances through the first two rounds of the NCAA Tournament. As a result, the race to win the tournament's Most Outstanding Player should be a fascinating one. More on that later.
Through the first two rounds, we saw six players score at least 30 points in a game. No player scored more than New Mexico State's Teddy Allen, who put 37 points on the board in a losing effort for the Aggies against Arkansas on Thursday. Gonzaga star Drew Timme and Arizona standout Ben Mathurin have each posted 30-point games, as well.
Given the quality of the talent still left, I do think we'll see at least one player crack the 30.5-point barrier in the next round. In fact, the Sweet 16 odds favor it, with the over checking in at -130. It doesn't matter who does it. All that matters is that it gets done.
How Many No. 1 Seeds Reach the Final Four?
As mentioned, just three top seeds remain after Baylor's upset loss to UNC in the last round. Gonzaga is still a +225 favorite to win the national title for the first time, but history isn't on the Zags' side.
This program has never won a national championship, of course. The Bulldogs also haven't been particularly convincing in their first two victories over Georgia State and Memphis.
Kansas has the next-best odds at +525, followed by Arizona (+600). Houston, which will face Arizona in what should be a thrilling clash in the Sweet 16, is next at +800.
I ranked all 16 teams still in contention for a national title: https://t.co/hoqTHVQXnQ

— Kevin Sweeney (@CBB_Central) March 21, 2022
No. 1 seeds have appeared a total of 68 times in the Final Four over the years, good for 40.5 percent of all appearances. Two top seeds, Baylor and Gonzaga, advanced that far a season ago. Back in 2019, however, Virginia was the only No. 1 to make the semifinal round.
At least one top seed has made the Final Four every year since 2012.
While the 2022 No. 1 seeds haven't necessarily looked invincible, all three still alive have favorable Elite 8 odds as odds-on moneyline favorites. The least-convincing top seed thus far has been Arizona. Even if the Wildcats fail, I have faith in Gonzaga and Kansas to advance to the Final Four in New Orleans.
Bet the over on 1.5 top seeds to advance past the Elite 8 and into the Final Four.
Which Seed Will Win the NCAA Championship?
As you may expect, the odds still heavily favor a No. 1 seed to win it all this year. While Baylor was dethroned early on, we still have three top seeds remaining in Gonzaga, Kansas, and Arizona. BetOnline's latest odds say Arizona is a +160 favorite to win their region.
Gonzaga is at -160 to win the West Regional, while Kansas is the heaviest regional favorite at -200 in the Midwest. Purdue, a No. 3 seed, is the -115 favorite in the upset-heavy East.
The Sweet 16 moneylines tell you all you need to know about Elite 8 odds. The Zags are -470 favorites to get past Arkansas into the quarterfinal round. Kansas is at -330 to win and advance into the Elite 8 with a win over Providence this weekend, while Arizona is a slight -130 moneyline favorite over Houston.
Poster dunks, clutch pull-up 3s, winning plays on the offensive glass, heady pick-and-roll reads. We saw a little bit of everything from Ben Mathurin during his 30-point, 8-rebound, 4-assist performance in an OT win over TCU. Breaking down Mathurin's performance. pic.twitter.com/jj8PtdUzo0

— Mike Schmitz (@Mike_Schmitz) March 21, 2022
There are only two No. 2 seeds (Duke and Villanova) and two No. 3 seeds (Texas Tech and Purdue) left in the field. Three No. 4s remain (UCLA, Arkansas, Providence), but none of them have even favorable Elite 8 odds, let alone NCAA title odds.
If you're betting on a No. 8, 10, or 11 seed to win it all, you're pinning all of your hopes on North Carolina, Miami, or Iowa State as massive long shots. Obviously, the smart money is on a top seed to win the national title.
After all, a No. 1 team has won it all 23 times overall, good for 64 percent of all tournament winners all-time. Top seeds have also won each of the last four national titles. If you want a little more upside, I don't mind taking a stab at a No. 3 seed given the current +400 odds. Purdue, for example, has a rather easy-looking path to the Final Four.
Sweet 16/Elite 8 Prop Bet:
Who Will Win Most Outstanding Player?
As mentioned, there is a ton of high-quality talent still left in the tourney. Gonzaga's aforementioned frontcourt tandem of Drew Timme (+350) and Chet Holmgren (+900) are among the Most Outstanding Player frontrunners. Gonzaga is still favored to win it all. The Most Outstanding Player almost always comes from the champion. However, non-champions have won MOP 12 times in the tournament's history. The last player to do so was Hakeem (nee Akeem) Olajuwon for Houston back in 1983.
Timme is the favorite and with good reason.
While Holmgren may become the first Gonzaga player ever selected No. 1 in an NBA draft later this year, Timme is the key to Gonzaga's high-octane offense. The big man's throwback post moves have proven impossible for college-level defenders to guard over the past two years. Through two games in this tournament, the Texas native is averaging 28.5 points and 13.5 rebounds per game on better than 61 percent shooting from the field.
Drew Timme is built for March Madness ?⁰⁰25 PTS
14 REB⁰4 AST

No. 1 Gonzaga on to the Sweet 16 pic.twitter.com/PMhDZ37d36

— Bleacher Report (@BleacherReport) March 20, 2022
Timme likely would've won the award last year had Gonzaga not lost to Baylor in the championship game. So, at +350, the Zags' veteran forward is a tremendous value to reach the mountaintop this time around.
If not, Arizona's Bennedict Mathurin (+800) looks like a nice value. The Wildcats will have their work cut out for them against Houston in the Sweet 16, but Mathurin showed in the round-of-32 why he's likely to be a top-five pick in this year's draft. The explosive swingman led Arizona with 30 points, eight rebounds, and four assists in the OT win over TCU, including a clutch step-back three-pointer to effectively send the game into overtime. If you're looking for an even better value, look no further than Purdue's Jalen Ivey at +1400. Another future NBA star, Ivey is one of many high-octane weapons in the Boilermakers' attack.
Ivey had a down game in the round-of-32 win over Texas, yet still came up with 18 points and a few clutch buckets down the stretch. Given Purdue's favorable path moving forward, Ivey has a real shot at earning MOP honors if the Boilermakers can seal their first-ever basketball national title.
Timme is the best bet. Mathurin and Ivey are the long-shot options worthy of consideration.