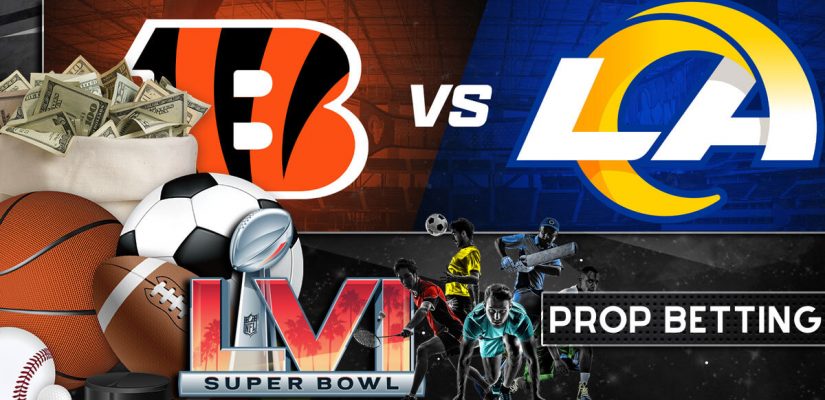 The Los Angeles Rams take on the Cincinnati Bengals on Sunday night in Super Bowl 56 from the Rams home field of SoFi Stadium in Inglewood, California. Bettors will be focused on unique angles to wager on the game at top sports betting websites. Read all about the best Super Bowl 56 cross sports bets that are available to you.
The Super Bowl will definitely dominate the sports world for the next few days as the anticipation reaches a fever pitch. Football bettors have definitely been pointing to this date since pretty much the day after last year's game concluded. And the surprising matchup between the Bengals and Rams only adds to the excitement surrounding the wagering on the game.
The wait is almost over. ?#SuperBowl | #RuleItAll pic.twitter.com/E8DCBjkKgW

— Cincinnati Bengals (@Bengals) February 10, 2022
But the sports world as a whole still goes on, even during Super Bowl week. After all, the NBA and NHL are smack in the middle of their seasons, golf tournaments are taking place, and soccer rages on overseas. On top of all that, Super Bowl LVI takes place smack in the middle of the Winter Olympics in Beijing, China (on the same television network as a matter of fact.)
Oddsmakers at top sports gambling sites have taken advantage of the confluence of the sports surrounding the Super Bowl by including so-called "cross sport" bets in their offerings. These bets usually involve the individual statistics of one of the players in the game with the stats of someone in another sport. If you do some quick analysis and use common sense, you can usually come away with a bargain or two.
With that in mind, we're going to take a look at the best Super Bowl 56 cross sport prop bets on offer at the top betting sites. First, we'll go into depth and how they work and give some tips to you. And then we'll look through these bets and give you ones that we believe that you might be able to exploit.
How Do Super Bowl 56 Cross Sport Player Prop Bets Work?
To understand how these wagers work, you first have to be familiar with the concept of individual player props in the NFL. These bets have become very popular over the last few decades. Perhaps it has to do with the interest in Fantasy Football.
Which also focuses on the statistical exploits of NFL players.
A standard NFL player prop basically focuses on the exploits of a single player and gives them a benchmark for their performance. You then have to decide if you think that player will exceed or fall short of that benchmark. As an example from Super Bowl 56 from BetOnline:
Joe Burrow – Over 277.5 passing yards (-114), Under 277.5 passing yards (-114)
The (-114) is the moneyline for both sides. In this case, if you were to bet $114 on Burrow either way, you would earn $100 profit. If there were a plus-sign before the moneyline, you would bet $100 to win that amount.
This concept is the basis then for cross sport Super Bowl prop bets, only a player from another sport is also brought into the picture. In many cases, the player from the other sports is playing in a game or match on Super Bowl Sunday. If that's not the case, the outcome from them will be very near the conclusion of the Super Bowl so you won't have to wait too long to have the bet settled.
These bets can also take place with whole teams involved. The idea is that the oddsmaker is trying to find two statistical benchmarks from the different sports that are similar to make it an even bet. Let's take a look at one of these Super Bowl 56 cross sport player prop bets just to see how it works:
Rams total touchdowns in Super Bowl LVI::
-125
Trae Young total 3-Point FG made against Celtics:
On Super Bowl Sunday, the Atlanta Hawks will face the Boston Celtics in a 2 PM Eastern Time NBA game. You have to decide what total will be higher: the 3-pointers he makes in that afternoon game or the total touchdowns scored by the Rams later that night in the Super Bowl.
Of course, understanding how the bet works is one thing. Deciding on which bets to make and who to pick is another. Read on for some key tips to help you out with your Super Bowl 56 cross sports prop bets.
Tips for Winning Super Bowl Cross Sport Prop Bets
When we move on to the specific bets that you can make between sports in Super Bowl 56, we'll give you our opinions on which way we think that you should go. But for now, here are some good baseline tips if you are going to make these bets. Keep these in mind no matter which specific ones you finally decide on to bet.
Choose What You Know
It can be tempting to bet on every one of these cross sport wagers that come down the pike. After all, they're a lot of fun and a bit off the beaten path from what the traditional Super Bowl bets tend to be. You might see the menu at your top gambling sites and be excited to take on every one of them.
But you're better off being selective and sticking with sports that you follow often, in terms of which cross sports bets you take.
As you'll see when we go through the specific bets, there are many sports covered, and that's just from one website. If you find your betting on things about which you know little, you should probably take a step back.
Do the Math
One of the keys to making these bets successfully is looking at the big statistical picture. It's a matter of trying to make your own estimates of what these players or teams are going to do in the games or events involved. If you see a discrepancy between one side and another of a specific cross sport wager, it can be time to pounce.
You can find stats for all major sports pretty quickly with just a quick internet search.
And it's better to trust the stats than to rely on what you think a player of team has been doing, especially if you don't follow a sport every single day. Also take into account the matchups on both sides, as these players and teams don't perform in a vacuum but have to overcome their opponents to put up numbers.
Find Value Where You Can
In most of the cross sport bets that you'll find, the oddsmakers has tried to make the statistical baselines as even as possible between the two athletes, teams or sports.
Most of the bets have moneylines in place that are pretty even. You'll be making roughly even money in most cases. But there are certain bets where there is a little value to be had by going with one side.
Finding these little pockets where you can make more here and there can make a big difference in your profit margin. This is especially the case if you're planning on making a lot of these wagers.
Picking the Best Cross Sport Bets for Super Bowl Sunday
Now that you know how they work, you can start to choose your Super Bowl cross sport player props and who you're going to bet in each. We're here to help you with our own choices. These bets can all be found at BetOnline, but you can certainly find more at other top gambling websites.
In each of these bets, you'll be choosing what will be higher of the two options.
Shortest Touchdown in Super Bowl LVI::
-115
Total Rounds in Tuivasa vs. Lewis::
-115
Derrick Lewis meets Tai Tuivasa in a UFC heavyweight bout the night before the Super Bowl. These two guys are both pretty efficient in terms of finishing their fights before they go the distance. Lewis has scored knockouts or submissions in 22 of his 26 victories, while Tuivasa has 13 knockouts out of his 14 wins.
You would think that their total rounds are going to be a pretty low number in terms of this bet. Meanwhile, the shortest touchdown is often a matter of luck in a football game. A team that gets big chunk plays all game long can have a runner or receiver tacked at the 1 at any time, setting up the shortest possible touchdown.
That said, Super Bowl 56 feels like it's going to be a game of big plays. And we expect most of these will get to the "house," leaving no room for short touchdowns. It seems the shortest touchdown will still be longer than the amount of time that those two brawlers last.
The Pick:
Shortest Touchdown in Super Bowl LVI!
Total Goals in NHL February 13:
-140
1st Half total points in Super Bowl LVI:
+110
There are four games on the NHL schedule on Super Bowl Sunday. The matchups are as follows:
You could conceivably go through each of those matchups, decide which teams are high-scoring or not, and come up with rough goal projections for each game. Or you can simply look at average league numbers. So far in the season, teams are averaging 3.05 goals per game.
When you factor in two teams in each game, that comes to 6.1 total goals by both teams. Then multiply that by the four games being played and you have a tough estimate of 24.4 goals in the NHL if it is an average day. Can the two teams in the Super Bowl get to that? Well, the oddsmakers are giving you good value to go in that direction, as the odds are better than even money to go with the Super Bowl teams.
It would certainly be a high-scoring half, but the over/under of 48.5 for the whole game makes it seem much more doable. We think that you should grab that value in a wager that seems far more even-handed than you the odds would lead you to believe.
The Pick:
1st Half Total Points in Super Bowl LVI !
Rams total touchdowns in Super Bowl LVI:
-130
Jayson Tatum Total 3 Point FG Made against Hawks:
+100
Tatum will be heavily involved in the Hawks-Celtics game that we talked about above in reference to Trae Young. The superstar forward certainly knows his way outside the three-point arc. Tatum is hitting 2.8 three-pointers per game, which is right in line with the 2.9 per contest he put up in each of the last two seasons.
He's also playing against a Hawks team that plays with a lot of tempo, which should give him ample opportunities to jack it up. This feels like a game where Tatum rolls up four or even five hits from beyond the arc. And if he gets to that level, that's a big burden on the Rams touchdown-wise.
Consider how well that the Bengals defense played against Kansas City in the AFC Championship Game in the second half and overtime. They kept Pat Mahomes and company completely out of the end zone. Look for Tatum to put up big numbers and be on the winning side of this wager at nice-paying odds:
The Pick:
Jayson Tatum Total 3 Point FG Made against Hawks!
Total First Downs in Super Bowl LVI:
-115
Trae Young Total Combined Points/Assists/Rebounds/Steals/Blocks against Boston:
-115
Here is a fun one that really lets you dive deep into Trae Young's statistical profile. The star point guard is once again having a massive season for the Hawks, even with offseason rules changes in the NBA seeing to work against him. When you talk about "usage" in the league, he is one of the exemplars, as everything runs through him.
So far this season, here are Young's averages in the stats that count for this particular wager:
Add that all up and you end up with a total for all those stats of 42.1. Now let's compare that with the first downs these teams have been rolling up:
Cincinnati:
19.7 per game (18th in NFL)
Los Angeles:
21.0 per game (10th in NFL)
Put those numbers together and you get 40.7. At first glance, it would seem like Young would have the edge. But as we said when we were giving tips for Super Bowl cross sport prop bets, you always have to consider the matchups.
It would appear that the offenses have the edge on both sides of the ball in the Super Bowl, which would suggest more than usual first downs for the two teams.
And you also have to consider that Young will be going up against a Celtic team which can put Marcus Smart, a great defensive guard, against him. For those reasons, we think that the first downs have an edge here.
The Pick:
Total First Downs in Super Bowl LVI!
Completed minutes by first score in Super Bowl LVI:
-115
Jaylen Brown total rebounds vs. Atlanta Hawks:
-115
Let's go with one more basketball pick here before we move on to other sports. Jaylen Brown is known more as a scorer for the Celtics, but he does indeed contribute in the rebounding department from his wing position. He's averaging 6.5 boards per game this year, which is a career-best but pretty much in line with what he's done the last two years (6.4, 6.0.)
Let's assume that he goes a little higher than that in this game.
Boston just completed a trade for San Antonio's Derrick White, who is a solid rebounding guard, but who knows how much he'll play Sunday having just been traded? Add on the fact that the Hawks will be getting up a lot of shots, and we could see Brown nabbing 8 or 9 rebounds before all is said and done.
And we have a feeling that will be a little bit of a higher number than when the first score of the Super Bowl comes. We don't see either defense coming out and dominating, because they can't take too many chances with all the big-play guys on offense. That should allow for the teams to move the ball early, with one of the two standout kickers nailing a field goal in the first few minutes.
The Pick:
Jaylen Brown total rebounds vs. Atlanta Hawks!
Daytona 500 Average Speed in Miles Per Hour:
-130
Matthew Stafford 1st half passing yards in Super Bowl LVI:
+100
Recent average speeds in the Daytona 500, which takes place next weekend, have been a bit lower than in past years. Over the past three years, it has ranged in pretty small span from 137 to 144 miles per hour. A lot depends on race conditions, but a safe assumption would be somewhere from 140 to 150 being the number on that side of the wager.
When you look at Stafford versus the Bengals in the first half, a lot will depend on game flow. If the Rams are able to control the ball and keep Joe Burrow and company off the field, that should mean that Stafford is hitting for up around that total. But there isn't much margin for error in there.
Obviously, one big pass can allow Stafford to get near that total in a hurry. But we can see doing more of his damage in the second half of the game, as is usually the case in NFL games. We're going to go with the auto racers in this case to keep their top speeds just a bit ahead of Stafford's aerial attack, which means you've got to deal with the overlay to be on the winning side.
Daytona 500 Average Speed in Miles Per Hour:
-130
Joe Burrow total passing yards in Super Bowl LVI:
-130
Winning score in 2022 Masters in Augusta:
+100
If you make this wager, you'll have to be a little bit more patient. This year's Masters Tournament takes place at famous Augusta National in Georgia from April 7 to April 10. It's obviously impossible to say what conditions will be like at that point and whether or not they'll have any effect on the scores one way or the other.
Players have been having their way with the course. No matter how they try to lengthen the course, the players just keep bombing away and have no problems with holes that used to cause fits. The average winning score over the past five years is approximately 275, which is 13-under-par. When you look at Burrow, the two most likely game scripts both play into him putting up big yardage.
Either the Bengals are having success all game long passing, or they fall behind early and Burrow has to heave it. The combined talent of the golfers and Burrow make this one an easy winner, even if the odds don't give you much value.
Joe Burrow total passing yards in Super Bowl LVI:
-130
Cam Akers and Joe Mixon combined total rushing yards:
-140
Winning time (in seconds) at the 2022 Kentucky Derby:
+110
Keep in mind that the Kentucky Derby doesn't take place until May, so here is another cross sport wager where you're going to have to hold on to your virtual betting ticket for a bit. This is an example of an oddsmaker finding a clever way of bringing together the Kentucky Derby and the Super Bowl, two of the biggest betting events of all. And it's another bet where crunching the numbers should help you out.
The Derby has been remarkably consistent over the years in terms of the winning time. It's an event held at a 1 ½ miles, and, since 1959, the winning time has been between 1 minute and 59 seconds or 2 minutes and 4 seconds. Convert than into seconds and you're looking at a baseline of between 119 and 124 seconds.
In the playoffs to this point, Akers, who has made an amazing comeback from injury, has averaged a little over 50 yards per game rushing, while Mixon is at 63 per game. That adds up to just 113 yards per game between the two when the going has become tougher in the postseason. Add that to the fact that Akers is still banged up (he started Super Bow 56 week limited in practice) and the Derby is the way to go at good value.
Winning time (in seconds) at the 2022 Kentucky Derby:
+110
Total seconds for the National Anthem:
-145
Total regular season points for the Calgary Flames:
+115
Again, you'll have to play the waiting game here, as the regular season isn't complete until April 29. As of this writing, the Calgary Flames had earned 54 points, putting them in fourth place in the Western Conference Pacific Division. They had played 43 games, meaning that there are still 39 on their schedule.
The Flames would come up with somewhere in the neighborhood of 103 points for the season. Granted, they have been on a hot streak, winning seven of their last ten games. But even the most optimistic assessment would put them only around 110 points at the most.
That leaves the National Anthem, which, this year, will be sung by country singer Mickey Guyton. We've seen the over/under number at most sites at around 104 seconds in terms of how long it will take her to complete the song. As you can see, that puts it right in line with the Flames' point projection and, when everything else is equal, go with the value.
The Pick:
Total regular season points for the Calgary Flames!
Tyler Boyd receiving yards in Super Bowl LVI:
-120
Biden's approval rating on March 1, 2022:
-110
It hasn't been an easy stretch for President Biden, and his approval rating has started to show that strain. Lately, it has been hovering the neighborhood of 40 percent. And since these things tend to take their time moving one way or the other in anything besides the smallest increments, it's hard to see it changing too much between now and then.
That doesn't leave much of a hurdle for Boyd, the Bengals slot receiver supreme, too much of a bar to clear. And yet there have been 11 games out of the 19 that Boyd has played this season in which he didn't get there. With Ja'Marr Chase and Tee Higgins dominating, the Bengals haven't needed him as much.
One key to watch for this bet will be the status of Bengals tight end C.J. Uzomah, who was injured in the AFC Championship Game but will be trying for a return. If he does come back, as he is expected to do, it will take away from Boyd's targets. We think that the President could get a rare win in this one at a better price than Boyd.
The Pick:
Biden's approval rating on March 1, 2022!
Total Combined Yardage of all touchdowns in Super Bowl:
-130
Highest single round score at the 2022 Masters:
+100
Kudos to whoever thought up this last bet that we're going to profile, as it truly is something a little off the beaten path. One of the traditions of the Masters is that ex-champions essentially get a lifetime pass to play in the tourney. That means that some are still out there winging it long after their competitive tour days are complete, which could lead to high scores.
Larry Mize, who won the tournament all the way back in 1987 and is now 63 years old, put up an 84 in the first round last year for a tournament-high. We would expect the high to be somewhere in that range this year as well. But it is much tougher to project the total yardage on all touchdowns in Super Bowl 56.
You have to estimate how many touchdowns will be scored and what you think their length will be. We feel like six touchdowns is a good guess for the total scored on Super Bowl Sunday, which means you would need the average to be only around 14 per pop. All it takes is one long one to propel that total in a hurry, which is probably why there is less payback on the touchdown side of the bet.
The Pick:
Total Combined Yardage of all Touchdowns in Super Bowl!
Conclusion
You now have everything you need to make the best cross sport Super Bowl prop bets. Look through the list of Super Bowl prop bets at your favorite betting site and you're likely to find even more creative ones than we've shown you here. We could really go on and on, but this is a pretty good starting point.
If you stretch too far and use an inferior site, any gain that you get making these wagers could easily be outweighed by the negative experience that you have while you're gambling with them. Use the best sites, starting with the ones listed below, and you should be able to enjoy your cross sport prop bets even if they're not all winners.