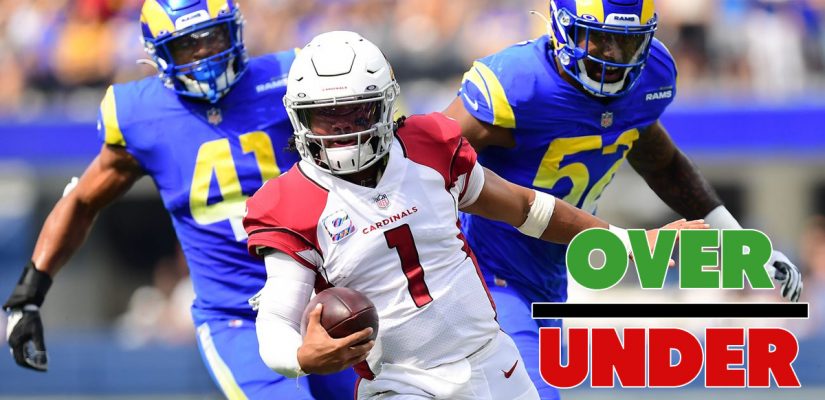 Titans-Jaguars look like a matchup devoid of points
Do you want offense? Don't look in the direction of Saints-Jets
Numbers should be plentiful in 49ers-Bengals Battle
Bills face old nemesis in "Tampa Tom"
Cardinals-Rams fashion top matchup of the week
Check out the sportsbooks reviews page for you to find our favorite online sports betting sites in 2021.
Jacksonville Jaguars (2-10) at Tennessee Titans (8-4)
Time: 10:00AM PST – 12:00PM CST – 1:00PM EST
Place: Nissan Stadium, Nashville, TN
TV: CBS
The Series:
Tennessee has won four in a row in the series and the Titans hold a 33-21 all-time lead in the series. Tennessee leads the series in Nashville, 17-5. Tennessee holds a two-game lead in the loss column on Indianapolis in the AFC South with five games to play plus the tie-breaker.
The Titans blasted the Jaguars, 37-19, on Oct. 10 as Derrick Henry rushed for three touchdowns, and then safety Kevin Byard returned an interception for a touchdown.
Last Time Out:
The Jaguars lost their fourth game in a row, 37-7 to the Rams at Sofi Stadium in Los Angeles. Matt Stafford regained his confidence with three second-half touchdown passes that buried Jacksonville, who hasn't won since its 9-6 win over Buffalo five weeks ago. Trevor Lawrence threw for 145 yards as the Jags totaled only 106 total yards.
New England had a 16-13 lead at halftime over the Tennessee Titans and then broke the game open in the third quarter when Kendrick Bourne caught a 41-yard touchdown pass from Mac Jones and the Patriots routed the Titans, 36-13. Jones threw for 289 yards while Nick Folk served up five field goals. The Titans turned the ball over four times although they rushed for 265 yards.
Kendrick did THAT. @BournePoly11 | #ForeverNE

?: @NFLonCBS / Patriots app pic.twitter.com/1ykMFOfI4T

— New England Patriots (@Patriots) November 28, 2021
| Teams | Spread | Money Line | Total Points |
| --- | --- | --- | --- |
| Jacksonville Jaguars | +10 (-125) | +350 | O 43.5 (-110) |
| Tennessee Titans | -10 (+105) | -450 | U 43.5 (-110) |
When the Jaguars Have the Ball:

It's been a tough opening act for Trevor Lawrence as the Jaguars only average 201 passing yards per game, 26th in the NFL. He has one touchdown pass and one interception over his last five games and only has three pick after throwing seven in his first three games.
Wide receiver Marvin Jones had 10 catches for 112 yards in 2019 in his only game at Tennessee. Titans safety Kevin Byard had a huge game in the loss to New England as he had 12 tackles and his fourth sack of the season.
When the Titans have the Ball:

Dontrell Hilliard rushed for 130 yards and D'Onta Foreman ran for 109 as the Titans tallied 263 yards on the ground at New England. They see a Jaguars defense that gave up over 100 yards on the ground to Rams running back Sony Michel last Sunday, so the idea that Tennessee can run the ball is there. Jacksonville has given up 144.25 yards rushing on average to its last four opponents. Linebacker Josh Allen led Jacksonville with seven tackles in Week 5.
Why Bet the UNDER 43.5:
Betting on the Jaguars to score is not something you do and the Titans are not going to be in a charitable mood as they are playing for playoff positioning as well as they are tied in the loss column with four losses with the Patriots, Chiefs, and Ravens. The lack of offense in Jacksonville as the Titans are sixth against the run at 97.8 yards per game makes this one go under … Say, Titans, 27-10.
New Orleans Saints (5-7) at New York Jets (3-9)
Time: 10:00AM PST – 12:00PM CST – 1:00PM EST
Place: MetLife Stadium, New York, NY
TV: CBS
The Series:
New Orleans has won three of the past four games in this series and has a 7-6 advantage all-time. The Saints took a 31-19 victory in the last meeting in 2017 which was at the Louisiana Superdome. New York won the first four meetings in this series as New Orleans has a 7-2 advantage since 1989 as eight of the last 13 meetings in this series have been decided by seven points or less.
Last Week:
New Orleans lost its fifth game in a row to the Dallas Cowboys, 27-17. The Saints are 0-5 since quarterback Jameis Winston went down in their last win which was against the Buccaneers. Quarterback Taysom Hill threw four interceptions as the quarterback position is in a flux with Winston had 14 touchdown passes and three interceptions in 161 attempts.
The Jets led Philadelphia, 12-7, at the end of the first quarter and then the Eagles outscored the Jets, 26-6, the rest of the way behind 264 yards from backup QB Gardiner Minshew. Zach Wilson passed for 226 yards and two touchdowns for New York and he also scored on a 1-yard run to give the Jets that 12-7 lead.
Teams
Spread
Money Line
Total Points
New Orleans Saints
-5.5 (-110)
-240
O 43 (-110)
New York Jets
+5.5 (-110)
U 43 (-110)
When the Saints have the Ball:

The Saints' offense has struggled since Winston went down and now the opportunity await vs. the Jets, who have the NFL's last defense as it gives up 396.8 yards per game. A passing game would be a key to victory as New York is 29th in the NFL vs. the pass (263.4 ypg) and the run (133.4 ypg). Alvin Kamara had a full practice on Thursday as he is trying to return from a four-week absence due to injury.
When the Jets have the Ball:

New York found a running game vs. Houston two weeks ago as Tevin Coleman ran for 67 yards as NYJ had a season-high 157 yards. Coleman had a season-high 77 yards from scrimmage in last week's loss to the Eagles.
Zach Wilson is getting his feet back under himself in coming back from injury. He sees a Saints defense that is 21st in the NFL (250.1 ypg); however, Wilson and Coleman peer at a Saints rush defense that has given up 401 total yards (133.6 ypg) on the ground in its last three games.
Why Bet the UNDER 43:
This game feels like whoever establishes the ground game will win, especially if Alvin Kamara is back for the Saints. Wide receiver Elijah Cole has been hot for the Jets as he had 77 receiving yards last week and he has a receiving touchdown in four of his last five games. Two teams playing out the string as New Orleans just doesn't have the power this season to get into the playoffs. Two struggling offenses, but take the UNDER 42.5 and the Jets at home, 20-17.
San Francisco 49ers (6-6) at Cincinnati Bengals (7-5)
Time: 1:25PM PST – 3:25PM CST – 4:25PM EST
Place: Mile High Stadium, Denver, CO
TV: CBS
The Series:
San Francisco posts a 12-4 lead in the series and has won three of the last four games between the two. It is the only matchup for the two teams against each division as it was necessitated because of the 17th game which has been added to the schedules. The Niners took a 41-17 win in Cincinnati in 2019. This is the Bengals' third consecutive game at home while the 49ers' second straight week on the road.
Last Time Out:
A bounce-back is in order for both teams as they come off of losses. San Francisco fought an uphill battle all afternoon in the 49ers' 30-23 loss in Seattle last week. Niners' tight end George Kittle was finally healthy as he caught nine passes for 181 yards and two touchdowns. This featured Kittle's first game of his career where he had two or more receiving TDs. Elijah Mitchell carried the ball 22 times for 66 yards and a score for San Francisco.
Your daily reminder that @gkittle46 is a wild man.#ProBowlVote #SFvsCIN on CBS pic.twitter.com/gLPgv3kvKp

— San Francisco 49ers (@49ers) December 9, 2021
Cincinnati fell behind the LA Chargers, 24-0, but rallied and cut the score to 24-22 when Joe Burrow hit Tee Higgins with a 29-yard touchdown pass as he ran for one. Joe Mixon scored from seven yards out as Cincy got to within two points after three, but could not finish off a two-point conversion as they trailed by two points after three quarters. Burrow threw for an even 300 yards while Higgins caught nine balls for 138 yards.
| Teams | Spread | Money Line | Total Points |
| --- | --- | --- | --- |
| San Francisco 49ers | -1 (-120) | -125 | O 49 (-110) |
| Cincinnati Bengals | +1 (EV) | +105 | U 49 (-110) |
When the 49ers Have the Ball:

The Bengals' defense is fourth against the run in allowing only 92.5 yards on the ground per game. This will be a test for the Niners' resurgent rushing attack, especially if Deebo Samuel is out as he missed practice again on Thursday with his injury.
Elijah Mitchell was still in concussion protocol yesterday as well. The Niners will have to rely on the passing game more than they want as Jimmy Garoppolo has three touchdowns and three interceptions in the last two weeks. Cincinnati defensive end Trey Hendrickson is looking for a sack in his ninth straight games, the longest active streak in the NFL.
When the Bengals have the Ball:

San Francisco has the fifth-best pass defense in the NFL (205.1 ypg) which will challenge quarterback Joe Burrow and his wide receiving group, which has see a surge by Tee Higgins. Cincy is looking to get Ja'Marr Chase back into rhythm as he has averaged only four catches for 40.8 yards in his last five games. Joe Mixon has two 100-plus yards games in his last three and has eight rushing touchdowns in his last five games. He is second in the NFL in rushing yards with 978.
Why Bet the OVER 49:
The offensive prowess of both of these teams makes this an interesting watch if the 49ers can have Samuel and Mitchell back as focal points in their offense. George Kittle and Brandon Ayiuk could be in for big days in the passing game as Cincy is 27th in the NFL (256.9 ypg). This is one of the more intriguing games in Week 14 as both squads clearly need to win… I like the Bengals, 31-27, which takes care of the OVER.
Buffalo Bills (7-5) at Tampa Bay Buccaneers (9-3)
Time: 1:25PM PST – 3:25PM CST – 4:25PM EST
Place: Raymond James Stadium, Tampa, FL
TV: CBS
The Series:
Tampa Bay posts a 7-4 advantage in the series, but Buffalo has won two of the last three games. The Bills won the last game in the series, 30-27 in 2017. Buffalo has lost four out of its last seven games as the Bills as the top seven teams in the AFC are all within one game of first place. The Bucs and Packers are both 9-3 and are one game off of the 10-2 Cardinals in the NFC. The turnover game could come into play as the Bills are tied for fourth in the NFL with a (+9) while Tampa Bay is sixth at (+8).
Last Time Out:
Buffalo lost hold on the AFC East on Monday night in a 14-10 home loss to the New England. Quarterback Josh Allen had a tough evening as he completed only 15-of-30 passes for 145 yards. New England threw only three passes as they unleashed a heavy running game that produced 222 yards on 46 carries on a windy night in Buffalo.
Tampa Bay has won three games in a row after a 30-17 win over the Atlanta Falcons behind 368 yards and four touchdown passes from quarterback Tom Brady. He found Rob Gronkowski with touchdown passes of 27 and 11 yards as Tampa Bay took the upper hand at 20-10 on the first TD pass to Gronkowski in the second quarter.
| Teams | Spread | Money Line | Total Points |
| --- | --- | --- | --- |
| Buffalo Bills | +3.5 (-120) | +150 | O 54 (-110) |
| Tampa Bay Buccaneers | -3.5 (EV) | -170 | U 54 (-110) |
When the Bills Have the Ball:

Josh Allen has struggled as he has thrown seven interceptions in his last five games while throwing for just 228.8 yards on average in those five games. Stefan Diggs and Emmanuel Sanders matched up with the Tampa Bay secondary is a matchup to watch as the Buccaneers' defensive backfield is filtering back in from injuries.
The Bucs will stop the Bills running game as Tampa Bay is tied for No. 1 vs. the run with the Ravens as they both allow only 84.3 yards on the ground per game.
When the Buccaneers have the Ball:

It's Tom Brady vs. the No. 2 pass defense in the NFL as Brady ran up a 32-3 record vs. Buffalo with 68 touchdown passes and 21 interceptions in his tenure with the Patriots. Chris Godwin caught a career-high 15 passes for 143 yards last week. Buffalo owns the No. 1 pass defense in the NFL as the Bills allow only 165.3 yards per game. Bucs running back Leonard Fournette will be a big piece of the game plan as he has 1,067 yards from scrimmage this season.
Why Bet the UNDER 54:
With Buffalo owning the No. 1 defense in the NFL (272.3 ypg) and then the Bucs with that top-rated run-stop, this doesn't feel like a shootout as much as it does a chess match. Brady's mastery over the Bills is a major dynamic, but he has thrown seven interceptions in his last five games while tossing 13 TD passes.
Buffalo safety Jordan Poyer looks for his third consecutive game with an interception….I have to stay UNDER the number, but the Bucs grab that fourth straight win, 27-20.
Los Angeles Rams (8-4) at Arizona Cardinals (3-5)
Time: 5:15PM PST – 7:15PM CST – 8:15PM EST
Place: State Farm Stadium, Glendale, AZ
TV: ESPN
The Series:
This is the 86th meeting between the Rams and Cardinals as Los Angeles has won eight of the last nine games. However, Arizona took a 37-20 win in Week 4 and the Cardinals announced themselves as a Super Bowl contender. In that game, Kyler Murray threw for 268 yards and two touchdowns while Chase Edmonds had a 120-yard night on the ground.
Rams quarterback Matt Stafford gave LA the lead on a 14-yard TD pass to Van Jefferson as Los Angeles led, 10-7, at the end of the first quarter, but turned the Rams over twice and won the ground game with 216 yards on 40 carries.
Last Week:
Los Angeles ended a three-game losing streak when the Rams beat down Jacksonville, 37-7, a week ago. Matt Stafford threw three second-half touchdown passes in the second half as Cooper Kupp, Van Jefferson, and Odell Beckham, Jr., all were recipients of the scoring passes.
The Arizona Cardinals went into frigid Soldier Field last week and wrestled a 33-22 win from the Bears. Kyler Murray threw touchdown passes of 20 yards to DeAndre Hopkins and one yard to 23 yards to James Conner in the win. He also ran for a pair of scores as the Cardinals grabbed a 14-0 lead at the end of the first quarter and never were never seriously threatened.
All eyes on us. pic.twitter.com/BsLlvAxVuN

— Arizona Cardinals (@AZCardinals) December 10, 2021
| Teams | Spread | Money Line | Total Points |
| --- | --- | --- | --- |
| Los Angeles Rams | +2.5 (-110) | +115 | O 51.5 (-110) |
| Arizona Cardinals | -2.5 (-110) | -135 | U 51.5 (-110) |
When the Rams Have the Ball:

Los Angeles needed to see a team like the Jaguars to get a big win to reboot their confidence as players and renew faith in their teammates. Stafford has struggled of late as his quarterback ratings were a collective 78.7 in the three losses where he had five interceptions to go with five touchdown passes.
Cooper Kupp is on a serious roll as he could become the first player in the Super Bowl era to gave 90 or more yards in nine straight games. He has an even 100 receptions for 1,366 yards and his 1,361 yards from scrimmage leads the NFL.
The Rams face an active Cardinals defense that has given up only 318.8 yards (5th/NFL). Cardinals defensive end Chandler Jones is looking for 1.5 sacks to compile his seventh care 10-sack. season. Arizona has 23 takeaways and a (+12) turnover margin, good for second in the league.
When the Cardinals have the Ball:

Having Kyler Murray and DeAndre Hopkins back with the touchdown machine that is running back James Conner makes Arizona potentially the toughest team in the NFL to defend this side of the Tampa Bay Buccaneers. Conner leads the NFL with 14 touchdowns as he has 12 rushing and two receiving.
Los Angeles is seventh in the NFL against the run (100.4 ypg), so working in Conner to the passing game will work in favor of getting him into the ground attack. Murray has a 123.1 QB rating in the fourth quarter with nine touchdown passes and two interceptions, therein.
Why Bet the OVER 51.5:
This game has the potential to be a shootout as both teams feature skill people who can put up numbers against any defense. I look at offensive weaponry as the key in this game. The Cardinals will get after Matt Stafford, who could lapse back into his erratic play during the three-game losing streak if he would have an early turnover.
The Cardinals' game plan will be to get Murray going early in the passing game. He had only 123 passing yards bs. The Bears last week, but he was fighting the elements and still engineered an offense that put up 33 points in cold, windy weather….Cardinals get the Dub here, 34-29.