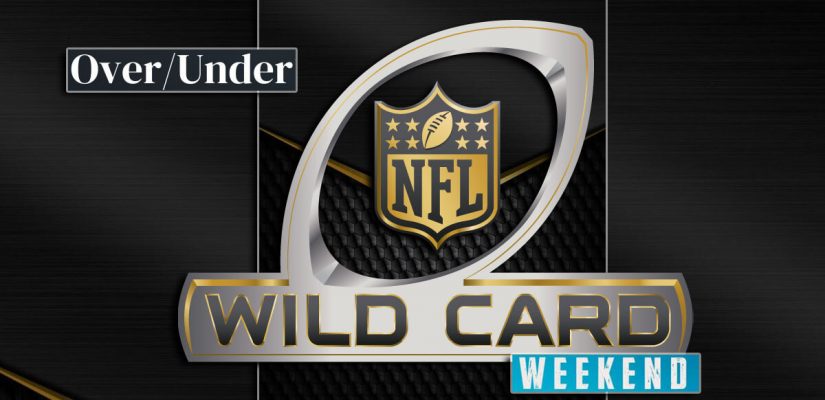 Carr, Burrow Stand tall in Raiders-Bengals matchup
Weather could once again be in play for Bills-Patriots
Brady readies Bucs for Super Bowl repeat
Mahomes readies for rematch with the 'Burgh
Cardinals-Rams poised for third OVER of season
Check out our top NFL sportsbooks to find all of the lines for this NFL Wildcard Weekend offerings.
(5) Las Vegas Raiders (10-7) at (4) Cincinnati Bengals (10-7)
Place: Paul Brown Stadium, Cincinnati, Ohio
Time: 1:30 PST, 3:30 CST, 4:30 EST
TV: NBC
The Series:
The Cincinnati Bengals have won four of the last five games in this series as the Raiders hold a 19-12 advantage overall. This is the Raiders' first playoff appearance since 2016 and they look for their first playoff win since the Super Bowl season of 2002. The Bengals clinched the AFC North for the first time since 2015 and they look for their first playoff win since 1990. Cincinnati won, 32-13, in Las Vegas
Last Time Out:
Daniel Carlson kicked a 47-yard field goal with no time on the clock in overtime and the Las Vegas Raiders dismissed the LA Chargers, 35-32. The Raiders used Josh Jacobs on the ground as he ran for 132 yards on 26 carries and scored a touchdown. The Chargers rallied from 15 points down to tie the game at 29-29 to force the extra 10 minutes.
?⏱️#LVvsCIN | #RaiderNation pic.twitter.com/EQ9Jd3ASqk

— Las Vegas Raiders (@Raiders) January 14, 2022
Cincinnati rested several starters, including QB Joe Burrow, as the Bengals fell to Cleveland, 21-16. Wide receiver Tee Higgins also sat as with an injury as did running back Joe Mixon, who tested positive for COVID-19 last week. Wide Receiver Ja'Marr Chase played one series and caught two passes for 26 yards.
| Teams | Spread | Money Line | Total Points |
| --- | --- | --- | --- |
| Las Vegas Raiders | +5½ (-105) | +185 | O 49 (-110) |
| Cincinnati Bengals | -5½ (-115) | -235 | U 49 (-110) |
When the Raiders Have the Ball:

Derek Carr passed for a franchise-record 4,804 yards as he makes his first career postseason start. Running back Josh Jacobs is in the best health of the season although he put up 1,200 yards from scrimmage and nine touchdowns. This has been a team that saw the rise of wide receivers Hunter Renfrow (103-1038-9) and Zay Jones.
They have caught 25 passes for 264 yards and in Las Vegas' four-game winning streak. Having a healthy Darren Waller finally back at tight end for the Raiders could be a big factor in the game. Cincinnati defensive end Trey Hendrickson was fifth in the NFL in sacks with 14. The Bengals had a solid run-stop this season, but they have given up 248 yards per game through the air (25th/NFL).
When the Bengals Have the Ball:

Quarterback Joe Burrow has catapulted the slumbering Bengals franchise into the playoffs as, like Carr, he set the franchise record for passing yards as he threw for 4,611 yards and a Bengals record 34 touchdowns. He will face a Raiders' pass rush that recorded 35 sacks while Burrow was dropped 51 times.
Las Vegas defensive end Yannick Ngakoue and linebacker Denzel Perryman will be key in how well the Raiders can contain Burrow. Ja'Marr Chase will lead the Bengals' receiving corp vs. a Raiders secondary that posted only six interceptions all season. Joe Mixon finished with 1,519 yards rushing and 16 TDs.
Why Bet OVER 48.5:
These two quarterbacks should see plenty of opportunities to put points on the board although the pass rushes and the push upfront on each defense can control the game. The passing games are going to dictate the game and can give way to talented rushers in Mixon and Jacobs once the passing games establish. Raiders (+5) 26, Bengals 24 … There's enough offense to push this total OVER.
(6) New England Patriots (10-7) at (3) Buffalo Bills (11-6)
Place: Ralph Wilson Stadium, Orchard Park, NY
Time: 5:15 PST, 7:15 CST, 8:15 EST
TV: NBC
The Series:
The Bills have won three of the past four in the series. The two teams split this season into two different scenarios as the Patriots took a 14-10 win over the Bills in 40 mph wind conditions in Buffalo. It slowed Josh Allen and Mac Jones only attempted three passes as the Patriots rallied around their defense and running back Damien Harris to win this game. Allen came back and passed for 314 yards and three touchdowns in Week 16 in a 33-21 win.
Last Time Out:
Miami handed New England its third loss in four weeks in taking a 33-24 decision over the Patriots. Mac Jones threw a pick-six on the Patriots' first drive of the game as Xavien Howard took a 37-yard interception and set the tone for the afternoon. Interestingly, Miami's Sam Eguavoen recovered a fumble on the last play of the game in the end zone.
Ready for battle with our season on the line.

? @OneManGang97@Windows | #NEvsBUF pic.twitter.com/FFRlEY4SnW

— Buffalo Bills (@BuffaloBills) January 14, 2022
Buffalo had to go out and win the AFC East in Week 18 as the Bills rolled to a 27-10 win over the Jets as they held New York's offense to only 135 total yards. Devin Singletary scored two fourth-quarter touchdowns as Buffalo broke open the game as it held only a 13-10 lead after one quarter.
| Teams | Spread | Money Line | Total Points |
| --- | --- | --- | --- |
| New England Patriots | +4 (-110) | +165 | O 44 (-110) |
| Buffalo Bills | -4 (-110) | -195 | U 44 (-110) |
When the Patriots Have the Ball:

There is a winter storm warning set for Buffalo for Friday and then Saturday a high of 12 degrees is expected. This plays into the Patriots' hands once again although winds are only supposed to be at eight miles per hour. Jones has struggled in his past four games as he has completed only 60 percent of his passes with six TD tosses vs. five picks.
The Bills have the No. 1 pass defense in the NFL (163 ypg), so Damien Harris and the Patriots rushing attack are going to need a carbon copy of the earlier win in Orchard Park when they rushed for a team total of 222 yards.
When the Bills Have the Ball:

If it is just cold with no immense wind, Allen should be able to be more consistent with his passes than he was in the first meeting in Buffalo. The Bills' offense is fifth in the NFL in posting 381.9 yards per game and then 28.4 points (3rd/NFL). Devin Singletary will be a major factor in how the Bills can roll as he had a career-high 1298 yards from scrimmage.
Allen has completed only 55.2 percent of his passes in the Bills' four-game win streak. The Patriots had the league's fourth-best defense as it allowed only 310.8 yards.
Why Bet UNDER 43:
Buffalo at night in January is a good place to start as we chronicled in the weather conditions earlier. This will turn into a defensive game where the runs will set up the pass. In the end, Josh Allen's experience at home in the NFL Playoffs will be too much for Mac Jones to duplicate….Bills (-4) 20, Patriots 15.
(7) Philadelphia Eagles (9-8) at (2) Tampa Bay Buccaneers (13-4)
Place: Raymond James Stadium, Tampa, Fla.
Time: 10 am PST, 12 noon CST, 1 pm EST
TV: CBS
The Series:
The all-time series sits at 8-8, but the Buccaneers have won't the past three games. Tampa Bay took a 28-22 win as Philadelphia rallied from a 28-7 deficit midway through the third quarter on a pair of Jalen Hurts touchdown runs. Tom Brady passed for 297 yards as he completed 34-of-42 passes with two touchdowns.
Last Time Out:
The Eagles were already set in the seventh seed in the NFC and rested a plethora of players including Jalen Hurts, Miles Sanders and Dallas Godert in a 51-26 loss to Dallas.
The road to a championship begins where last season ended.

So if you're with us… #RaiseTheFlags pic.twitter.com/tfwx943MOR

— Tampa Bay Buccaneers (@Buccaneers) January 13, 2022
Tampa Bay trailed Carolina, 7-3, before Tom Brady hit Mike Evans on a 37-yard pass from his own 8-yard line. That opened the flood gates as Le'Veon Bell caught an 8-yard TD toss from Brady with 15 seconds remaining as the flood gates opened and the Bucs defeated the Panthers, 41-17. Brady hit Evans for a pair of TD passes and Scotty Miller scored on a 33-yard end-around in the second half.
| Teams | Spread | Money Line | Total Points |
| --- | --- | --- | --- |
| Philadelphia Eagles | +8½ (-110) | +290 | O 46 (-110) |
| Tampa Bay Buccaneers | -8½ (-110) | -390 | U 46 (-110) |
When the Eagles Have the Ball:

Eagles quarterback Jalen Hurts leads Philadelphia into the playoffs in just his second year in the league. He piled up 3,144 rushing yards and 16 TD passes while leading NFL quarterbacks with 784 rushing yards and 10 rushing touchdowns. Hurts faces a Tampa Bay rush defense that was third in the NFL in allowing 92.5 yards on the ground per game.
Linebackers Lavonte David and Shaq Barrett should be back on Sunday as they will be a huge part of how Tampa Bay can limit Hurts.
When the Buccaneers Have the Ball:

Leonard Fournette returns at running back, but we all know that this offense is going to streamline through Brady, who had the second 5,000-plus yards passing season of his career which was the third most in NFL history with 5,316 yards with 43 TD passes. The Eagles' pass defense was 11th in the NFL in allowing 220.9 yards per game.
Philly had a streak where opposing QBs threw for 218 yards or less in seven consecutive games. That ended last week in the throwaway game vs. Dallas.
Why Bet OVER 46:
Brady is likely going to be able to operate against Philadelphia's secondary although Darius Slay was the only player in the NFL with three defensive TDs this season. The game should pick up momentum as it goes forward which is in the Buccaneers' favor at home….Tampa Bay 31, Philadelphia (+9.5) 24.
(7) Pittsburgh Steelers (9-7-1) at (2) Kansas City Chiefs (12-5)
Place: Arrowhead Stadium, Kansas City, Mo.
Time: 1:30 PST, 3:30 CST, 4:30 EST
TV: CBS
The Series:
Kansas City has won the past two games in the series, but Pittsburgh is 22-12, all-time. Kansas City destroyed the Steelers, 36-10, in Week 16 as the Chiefs defense generally stymied Ben Roethlisberger as e threw for only 159 yards while counterpart Patrick Mahomes passed 258 yards and three TDs. The Chiefs rolled up a 30-0 lead on a 16-yard TD pass from Mahomes to Byron Pringle midway through the third quarter.
Last Time Out:
Pittsburgh defeated Baltimore, 16-13, and after Indianapolis lost, 26-11, in Jacksonville, the Steelers had to wait on the outcome of the Raiders-Chargers game and hope there was not a tie. As fate would have it, the game went into overtime and the Raiders won on a walk-off field goal by Daniel Carlson.
There's been a lot of noise this season… it's time to make some of our own.

We can't do this alone, Chiefs Kingdom. Together, we are #OneTeamOneVision ? pic.twitter.com/btLEYeojnt

— Kansas City Chiefs (@Chiefs) January 12, 2022
Kansas City nailed down the second seed as the Chiefs won, 28-24, in Denver. Mahomes passed for 270 yards and two TDs while Nick Bolton took a fumble 86 yards to give the Chiefs a 28-21 lead midway through the fourth quarter.
| Teams | Spread | Money Line | Total Points |
| --- | --- | --- | --- |
| Pittsburgh Steelers | +12 (-110) | +455 | O 46½ (-110) |
| Kansas City Chiefs | -12 (-110) | -755 | U 46½ (-110) |
When the Steelers Have the Ball:

Roethlisberger's next game is his last, but his arms is a shell of itself and the Chiefs will likely have to rely on Najee Harris in the running game. Harris led all the NFL rookies with 1,667 yards from scrimmage which is the most ever by a Pittsburgh rookie. Wide receivers Diontae Harris (107-1,161-8) and Chase Claypool (59-860-2) are a pair of nice young pass-catchers.
They supplement Harris perfectly. Kansas City's defense improved immensely over the second half of the season, but they may have taken a step back the last two weeks in allowing 475 yards to the Bengals and 364 yards to Denver.
When the Chiefs Have the Ball:

Mahomes has been quite the game manager in getting Kansas City to hit it's stride again in winning nine out of ten games. He has lots of games in the mid-200s for passing yards instead of the 300s of the past years. Then, the run game has been on fire between Darrel Williams and Clyde Edwards-Hellaire. It bears noting that while they are the two leading KC rushers, Mahomes has 66 rushes for 381 yards while Derrick Gore has posted 256 yards on 51 carries. Pittsburgh had 55 sacks on the season behind 22.5 from TJ Watts. It marked the fifth season in a row that the Steelers had 50 or more sacks, an NFL record.
Why Bet UNDER 46:
The Chiefs have a more balanced and dynamic offense as was proven in Week 16, but the question will be how effective the Kansas City defense will be. The Steelers do not have the offensive firepower to win this game and will not unless the Chiefs supply turnovers and short fields…Chiefs 27, Steelers (+12.5) 16.
(5) Arizona Cardinals (11-6) at (4) Los Angeles Rams (12-5)
Place: Sofi Stadium, Los Angeles, Ca.
Time: 5:15 PST, 7:15 CST, 8:15 EST
TV: ESPN
The Series:
The Rams have won nine of the last ten games in the series, but the two teams split this season with each winning on the other's home turf. Arizona took out the Rams, 37-20, in Week 4 behind Kyler Murray's 268 yards and two TD passes. Chase Edmonds was a major part of this win as he rushed 12 times for 120 yards. Arizona trailed 10-7 after the first quarter before the Cards outscored the Rams, 17-3, in the second quarter to take a 24-13 lead at the break.
The Rams won in the desert in Week 14 although Murray threw for 383 yards. Stafford passed for 287 yards and three TDs. The Rams broke the game open in the third quarter as Stafford hit Van Jefferson on a 52-yard TD pass and Cooper Kupp on a 4-yard scoring toss.
Last Time Out:
The Cardinals lost their four-game in five to close out the season as Seattle's newly found running game baffled Arizona in Seattle's 38-30 upset. Rashaad Penny rushed for 190 yards and a TD while Russell Wilson hit three TD passes and threw for 238 yards. The Cardinals were led by a 240-yard passing day from Kyler Murray, who hit James Conner with a 20-yard touchdown pass to tie the game at 17-17 early in the third quarter.
Jumping into #SuperWildCardWeekend like… pic.twitter.com/rLt2V8toDg

— Arizona Cardinals (@AZCardinals) January 14, 2022
San Francisco ended the Rams' five-game winning streak as the 49ers pulled out a 27-24 overtime win which led them into the playoffs and pegged the Rams for the third-seed in the NFC. Los Angeles blew out to a 17-0 lead when tight end Tyler Higbee caught a pair of TD passes from Matt Stafford in the second quarter. LA seemingly had the win in hand when Stafford hit Cooper Kupp on a 4-yard touchdown pass with 2:29 remaining. That was before the 49ers countered on a 5-play, 88-yard drive which ended in a Jimmy Garopollo pass to Jauan Jennings for 14 yards to tie the score with 26 seconds remaining.
| Teams | Spread | Money Line | Total Points |
| --- | --- | --- | --- |
| Arizona Cardinals | +4 (-110) | +165 | O 49½ (-110) |
| Los Angeles Rams | -4 (-110) | -195 | U 49½ (-110) |
When the Cardinals Have the Ball:

Kyler Murray has rebounded well from a foot injury although the Cardinals have struggled down the stretch. The mindset of Arizona will be a key here. The Cardinals need success early in this game and vs, the Rams pass defense may be the place to go with Christian Kirk (77-982-5), AJ Green (54-848-3) and Zach Ertz (56-574-3).
The Rams' pass defense has given up about 258 yards passing per game in the last three. One of those is a 162-yard effort to the Ravens, without Lamar Jackson.
When the Rams Have the Ball:

Cooper Kupp has been a phenomenal presence this season as he was the first receiver since Carolina's Steve Smith in 2005 to lead the NFL in both receptions (145) and passing yards (1,947). He also has 16 receiving touchdowns. The question is, "can You trust Matt Stafford?"
He is 0-3 in playoff games and his production tailed off as the season has gone forward. Stafford has 41 TD passes and 4,886 passing yards, but he has thrown 17 interceptions with eight of those comping in the last four weeks. Chandler Jones has his seventh straight season with 10-plus sacks as he nets 10.5. Arizona was third in the league in turnover margin at (+12) so the penchant for Stafford to have multiple interceptions in this game has a high ceiling.
Why Bet OVER 49.5:
Two offenses with lots of firepower totaled 57 and 52 points in earlier meetings, so this one should follow suit. Murray could have a big day in the passing game even with the loss of Deandre Hopkins to injury for the season. The offensive presence of both of these squads makes for potentially the most exciting and entertaining matchup of Wild Card Weekend …. Rams 34, Cardinals (+4) 32.