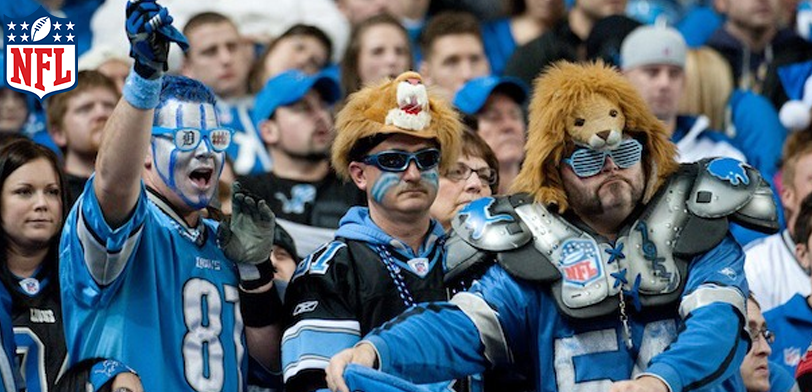 Sports fandom is an interesting thing. While it's typically fun to follow your favorite team, there's also plenty of anguish and pain along the way. Take being a fan of the Chicago Cubs, for example. The Cubs went over a century without a World Series title before finally winning one in 2016. That's an awful lot of futility.
The NFL is still the most popular sport in the United States, as indicated by television ratings and massive attendance statistics. That said, some teams have more dedicated fanbases than others. While most teams still sell out their home games, we've seen a number of teams relocate in recent years. The Rams left St. Louis, the Chargers left San Diego, and the Raiders are set to leave Oakland. That's not necessarily an indictment on the fans, but it's not the greatest look, either.
So, who are the most loyal and dedicated fans in the NFL? Let's break down the top 10.
10. Seattle Seahawks
The Seahawks may be a relatively new entrant here, but the 12th Man has quickly emerged as one of the premier fanbases in football. One could argue that no team sees as massive a home-field advantage as the Seahawks do, which is certainly a testament to the loyalty of the fans in the Pacific Northwest.
The Seahawks have won just a single Super Bowl, but no opponent wants to have to go play a road game at CenturyLink Field. A few years ago, the stadium was so loud that the New York Giants received a record 11 false-start penalties in one game. They're loud up there.
If the Seahawks are able to stay relevant for the next decade or so, you can expect this team to keep rising on the list.
9. Denver Broncos
Denver may be a city of transplants, but an awful lot of those transplants seem to wind up hopping on that Broncos bandwagon. The team was marred by repeated big-game failures until they finally broke through with a Super Bowl title in Super Bowl 32 in 1997. Since then, the team has won 2 more.
If the Broncos are playing a road game in your city, you're certain to see hundreds of their orange-clad fans milling about your town in the days leading up to kickoff. They pack their home stadium on a weekly basis, but they also travel about as well as any fanbase in American pro sports.
When the team won Super Bowl 50, about one million locals came to the championship parade in downtown Denver. That's an awful lot of Broncos fans.
8. Cleveland Browns
Those poor, poor Browns fans. There may not be a more downtrodden fanbase in all of professional sports than the Dawg Pound. If LeBron James hadn't helped bring a championship to Cleveland a couple of years ago, there's no telling how Cleveland sports fans would feel these days.
In spite of the Cavaliers' success, the Browns remain the dregs of the league. They just became the second team in NFL history to finish a season with an 0-16 record. While things may be looking up in the future, things are not looking so well in the present.
In spite of it all, fans remain loyal to the Browns. Average attendance at Browns home games was better than 63,000 this past season when they went winless. This is a franchise that has had just one winning season since 2003. Since the franchise came back into existence in 1999, the team has started 28 different quarterbacks, and they appear likely to draft a 29th later this year.
The Browns do have a rich history with 8 NFL championships in the past, but there aren't many fans that were alive to see them. Here's hoping better days are ahead, Browns fans.
7. Philadelphia Eagles
Philadelphia sports fans in general have gotten a bad rap, and it isn't necessarily unfounded. Eagles fans notoriously booed Santa Claus, and they also cheered when Cowboys wide receiver Michael Irvin lay motionless on the field after a scary hit during a game in 1999. Phillies fans also famously threw batteries at Boston Red Sox outfielder J.D. Drew after Drew decided against signing with the Phillies several years prior.
While you may not like them, you also can't deny the passion. They pack Lincoln Financial Field on a weekly basis, and some of them are even willing to dress up like birds. They've been willing to stick with the team through the various ups and downs to this point. This guy was so hyped after the Eagles advanced to Super Bowl 52 that he ran into a pole at a subway station.
Yes, Eagles fans have earned their reputation, for better or for worse. Now that they've won their first Super Bowl, I can only imagine how much more that enthusiasm will grow.
6. Oakland/Las Vegas Raiders
The Raiders may be leaving Oakland for Las Vegas in a couple of years, but most fans will stick around. This is a fanbase that has dealt with the team moving before. The Raiders moved from Oakland to Los Angeles in 1980, only to return to the Bay Area from L.A. in 1995.
In spite of the shuffling, Raiders fans have stood by their beloved team. Despite the fact that the Raiders have been gone from L.A. for over 2 decades, and that Los Angeles currently has 2 other teams in the Rams and Chargers, most NFL fans that call L.A. home are still loyal to the Silver and Black.
Some fans in Oakland may feel jilted when the franchise moves to Las Vegas, but one would imagine most of them will stick around. Just look at the characters that populate Raiders home games. Can you really question their passion? Everyone looks like Darth Vader, a crazy wrestler, or a pirate. That wild scene should translate nicely to Sin City.
5. New England Patriots
Much like Philadelphia fans, Boston sports fans have earned a reputation as annoying, loud blowhards. Unlike Philly fans, however, Boston sports fans have actually been able to enjoy a slew of championships in recent years. Since the Patriots won their first Super Bowl in 2002, Boston's 4 major teams (Patriots, Celtics, Bruins, and Red Sox) have combined to win 10 championships.
The Patriots lead the way among the group with an incredible 5 Super Bowl titles, all with Tom Brady at quarterback and Bill Belichick coaching. The Pats would have tied the Steelers with their 6th championship if they had beaten the Eagles in Super Bowl 52. Patriots fans can certainly be grating, but it's hard to argue with the team they have been supporting.
The Patriots have also sold out every single home game since 1994 (including preseason), so it's not like a ton of their fanbase hopped on board when they started winning titles.
4. Pittsburgh Steelers
The Steelers are one of the most decorated franchises in the NFL, so it's no surprise that they possess a rabid fanbase. Pittsburgh sports fans are fiercely loyal, and they have reaped the benefits with championships in football, baseball, and hockey within the last 30 years.
The Steelers are clearly the crown jewel of Pittsburgh sports. They still own most Super Bowl titles in NFL history, with 6, one better than the Patriots, 49ers, and Cowboys. They've appeared in 8 Super Bowls in all, which is second-most of all time behind New England.
The Steelers have sold out every home game for the last 19 seasons and counting. Pittsburgh may have come up short in recent playoff runs, but the franchise has logged enough titles in the past that fans shouldn't fret a few lean years.
3. Buffalo Bills
The Bills just ended a playoff drought of nearly 20 years, much to the delight of Buffalo fans everywhere. While the product on the field hasn't been great in a long time, #BillsMafia has made quite a name for itself thanks in large part to social media. There isn't a fanbase in all of professional sports willing to match the crazy, drunken antics in which Bills fans engage on a week-in, week-out basis.
The trendy tailgating activity among Bills fans these days seems to be jumping through a table that happens to be on fire. Or failing to actually jump through the table.
last Bills home game of the season pic.twitter.com/R3d0XnLMx6

— Mike Tunison (@xmasape) December 17, 2017
Just take a few minutes to enjoy what various Bills fans have been willing to do on camera over the last few years. It's truly an enlightening experience.
Considering the relative futility of the Bills themselves, you have to credit the fans for continuing to find ways to stay engaged. Cheers to you, #BillsMafia.
2. Dallas Cowboys
If you've ever stepped foot in the state of Texas, you've probably met a Cowboys fan. Sure, they now have to share the state with the relatively new Houston Texans, but the vast majority of Texan football fans are loyal to the 5-time Super Bowl champion Cowboys.
It's been a while since the Cowboys have actually won anything of substance, but the fanbase remains strong. Owner Jerry Jones opened his sparkling new stadium that seats well over 100,000 less than a decade ago, and the place still fills to capacity on a weekly basis.
Thanks in some part to the hugeness of the stadium, the Cowboys lead the NFL in attendance every year. Cowboys home games drew an average of 92,721 fans per game, which led the league by about 14,000 people. This team also travels well. Cowboys road games drew an average of 70,929 fans per game, which ranked fourth in the league in 2017.
Despite the fact that they haven't won a title since the mid-1990s, the Cowboys are still America's Team.
1. Green Bay Packers
Green Bay is the smallest market in the US that's home to a professional sports team, but the Packer fanbase extends far beyond the tiny city limits of Green Bay. The Packers ranked second behind the Cowboys in average home attendance, yet the waiting list for season tickets at Lambeau Field is incredibly long. There are well over 100,000 names already on the waiting list, so you'd better hurry if you plan to get Packer season tickets at some point during your lifetime.
The Packers have won more titles than any team in the NFL with 13, though that includes the pre-Super Bowl era. Green Bay has gone 4-1 in Super Bowls all-time, with their most recent victory coming in Super Bowl 45 at the expense of the Pittsburgh Steelers.
These people are willing to sit in sub-zero temperatures just to get a glimpse of their beloved team. The Packers are also the only publicly-owned major sports franchise in this country. Even you can buy a tiny part of the team if you wanted to.
Conclusion:
While these may be the 10 most rabid fanbases in the NFL today, it's easy to argue that each of the league's 32 franchises has no shortage of die-hards. Teams like the Texans, Jaguars, and Panthers haven't been around as long as some of the league's older franchises, but that doesn't make their respective groups of fans any less passionate.
The list is largely subjective, and it's always subject to change. If your team's fanbase didn't make the cut, there's always next year.