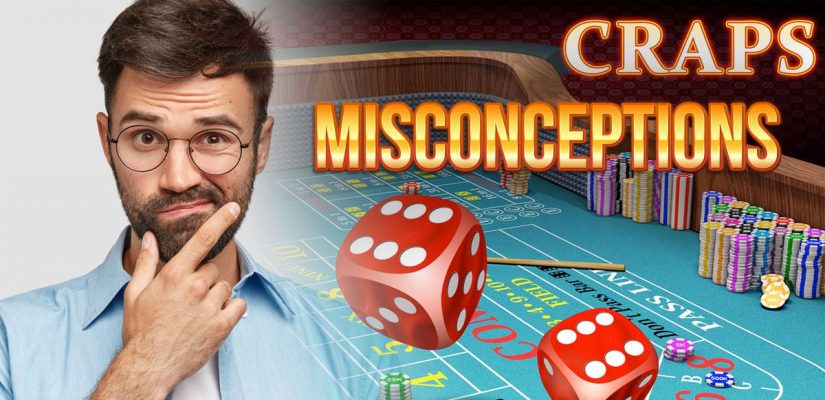 Playing online craps is a fantastic way for enthusiasts to engage their favorite game when a trip to the casino isn't feasible.
The game is laid out online precisely as you'll find in land-based casinos, and the software developers do their best to replicate the atmosphere of a land-based casino table. Unfortunately, there's a ton of misinformation scattered throughout online gambling forums and hotel bars. These lies either scare players away from the game or lead them to tables with greatly exaggerated goals.
Today, we'll cover the top 7 misconceptions online craps players suffer and separate craps fact from fiction.
1. You'll Win More Playing Craps Online
Many online casino games give players a better chance of winning by diminishing the house edge. Online slot machines, roulette, and blackjack will often have better rules than brick-and-mortar casinos. These better rules make it easier to win because the casino has a lower advantage.
However, you can't change the odds for craps bets so easily.
Land-based casinos will give players better odds bets than online casinos, which will do more to lower the house edge. Casinos with a $5 minimum and higher than average odds bets are an excellent way for players to reduce the house edge.
So, from a theoretical standpoint:
You stand to win more in the best brick-and-mortar games. Still, don't write off the online games yet. There are several benefits to playing online craps. For starters, you'll never have to tip the dealer.
That may seem trivial to some gamblers. But for low stakes players, the savings will significantly impact the bottom line.
Another incredible feature of online craps is the low table minimums. Most Las Vegas casinos will have a minimum $10 wager for craps, but there are plenty of $5 tables. However, online craps tables start at only $1. That immediately increases your bankroll potential by 5-10x.
You won't necessarily win more playing craps online, but you can lose less and play for longer by taking advantage of the low minimum bets.
2. Higher Risk Equates to Higher Rewards
One of the pitfalls of many online craps players is that taking higher risks will equal more significant returns.
That is patently false.

Regardless of whether you're playing craps online or in a land-based casino, taking more significant risks almost immediately puts you in greater danger of losing.
The same smart bets that are in play at your favorite Vegas casino should be the wagers you make in online casinos. Most players will bet on the pass line in brick-and-mortar casinos because they want to bet with the shooter.
Yet, it's the don't pass bet that has a lower house edge.
Since there's anonymity involved with online casinos, players may lose that sense of community and feel more comfortable betting against the shooter.
You won't sustain a long-term profit playing craps by making the riskier side bets. Playing online is relatively close to the same experience you get in casinos; take a conservative approach and mitigate your losses.
3. You Won't Learn by Playing Online
I'm not sure where the notion that you can't learn craps by playing online came from, but it needs to be dispelled. Playing online is one of the most rewarding ways to learn any game in the casino.
The amazing thing about playing online craps is that the software works as an in-game guide to where and how to bet. The games won't let you make a bet that's not allowed, so you can't shoot yourself in the foot like live casino games.
Furthermore, the game will highlight all available bets. That makes knowing where to look incredibly straightforward.
In addition to the games making the betting process simple:
They will provide descriptions of each bet on the board. Many novice players are forced to merely guess as to what many bets are in land-based craps games. If that doesn't sell you on the simplicity of learning craps online, consider the help menu. This menu will provide detailed instructions and explanations of every wager in the game.
Playing online craps isn't only an excellent way to learn the game; it's possibly the best. Many online casinos will even have free versions that you can play without leveraging your bankroll.
4. Online Craps Isn't Entertaining
The almost chaotic social scene at casino craps tables is a central selling point for many casino gamblers. The large crowds are full of colorful characters, and there's no disputing the entertainment points generated.
The team atmosphere creates a spark that you can't replicate online. However, dismissing the online version of the game as lacking any entertainment value is relatively short-sighted. You'll get plenty of exciting features from the online version of craps. In most instances, online craps will make you the shooter. You might not get the same feel as letting a beautiful stranger blow on the dice, but in the current climate, that's a no-no anyway.
You'll still get the sensation of seeing the dice fly across the table and bounce to a conclusion.
Are online craps as exciting as live craps games?
Probably not, but it's plenty entertaining, nonetheless.
5. Playing Online Craps Puts You at Risk of Being Cheated
It seems odd that we're still having the conversation on whether online casinos can be trusted. Still, I hear from many players who refuse to play online for fear of being cheated.
The casinos don't need to cheat because they've already won the minute players sit down to play. The house advantage ensures that the casinos can't lose, so cheating doesn't make sense.
The legitimate casinos stand to lose far more than they could ever gain from cheating. Imagine having a license to print more money than you'd ever need, but if you printed one dollar more, you lose your right.
Would you push the envelope and risk losing it all?
That's essentially the position online casinos are in regarding cheating.
Online craps games use random number generators to churn out the results. These RNGs are programmed to mimic the odds of live craps games down to the exact numbers.
That creates a life-like feel to the games and ensures everything is kept on the level. There are plenty of legit gambling sites on the web that offer the latest security software and proper operating licenses.
If you're concerned about finding a trustworthy site, a minimal amount of research will point you in the proper direction.
6. Bonus Money Will Slide the Edge in the Players' Favor
Online casinos are well known for offering generous deposit bonuses to new and returning customers. These bonuses can significantly increase the life of a gambler's bankroll but aren't a guaranteed path to profitability.
Many of the deposit bonuses are matching bonuses to a specific limit. So, a player may make a $300 deposit, and the casino is nice enough to match the player's money. That effectively raises the player's bankroll to a total of $600. It's not unthinkable to assume a player could get on a hot streak and quickly turn their $600 bankroll into $800.
Unfortunately, don't start spending that $500 profit yet. Online deposit bonuses come with wagering requirements that players must meet before withdrawing any deposit.
Any attempts to withdraw your funds before all terms are met could negate your wins entirely. It's vital that you read and understand all terms and conditions of the offer before making a deposit.
Online bonuses will give you a better chance to leave the casino with a net profit. But it won't in any way slide the house edge back in the players' favor.
7. Online Players Earn Better Comps Than Brick and Mortar Players
One of the misconceptions I recently encountered regarding online craps is that players are earning better comp rates in online casinos. The opposite is often the case with brick-and-mortar casinos nearly doubling the comp rate for craps players.
It's important to correctly distinguish between fact and fiction because many players can fall into the trap of extending sessions to earn more comps. Even under the best circumstances (land-based casinos), craps players are only making approximately $1 in comps for every $1,000 wagered.
Many online casinos will award half of that number or 0.05%. You're not going to gain anything by spending an extra hour at the tables.
In the worst cases, online casinos won't offer comps to craps players at all.
That's not a huge deterrent for most online craps players. But if you're hunting for comps, you should either stick to land-based casinos or find another game.
Conclusion
You can also apply many of the top 7 misconceptions online craps players suffer to other casino table games.
You don't need to only stick to playing your favorite game when you've got the time and budget for a casino trip.
Online craps
can be a fantastic way to spend a few hours relaxing and being entertained.
If you miss the game's social side, consider finding an online casino with a live dealer version.