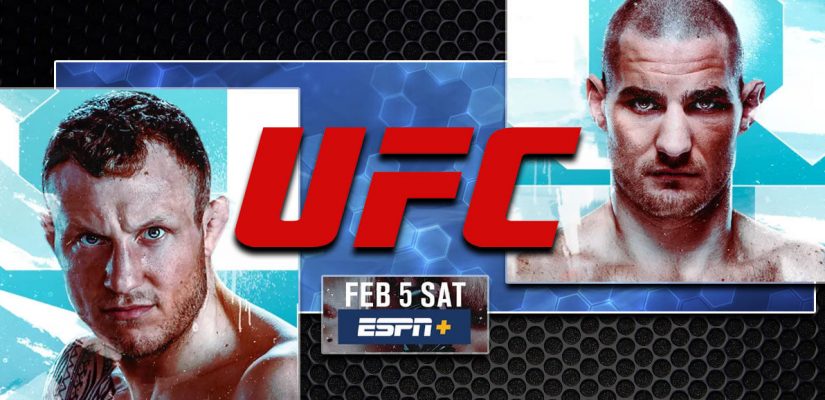 On Saturday, February 5th, the UFC will run live from their Apex Center in Las Vegas with UFC Vegas 47: Hermansson vs Strickland.
The main event features two Top 10 ranked middleweights in Jack Hermansson and Sean Strickland looking to move into title contention with a win. However, most of the undercard is loaded with rising talent, but mostly fighters that the casual fan might not know really well.
When a lineup like this happens, it can be hard to determine where the best betting value is for the average UFC bettor. If that's you, or this could even be for those more experienced bettors, check out our list of the best value bets for UFC Vegas 47 and hopefully we can all make some money.
Jason Witt joined @Jason_Floyd to discuss his fight on Saturday at #UFCVegas47 and explained what he believe his key to victory is against Philip Rowe

? https://t.co/HuOCvQkg1e pic.twitter.com/Qj3lm71DMq

— The MMA Report (@TheMMAReport) January 31, 2022
Rowe Beats Witt Inside the Distance (+110)
With close betting odds, neither man is a clear cut favorite. But, UFC betting sites do favor this contest to end Under 2.5 rounds at -140 to -165 odds and to end inside the distance at -180 to -240. So, we're looking at the chances of a stoppage being pretty good.
Now, it's about who you think will win.
For me, I like Rowe in this contest as he has a 10 inch reach advantage. I believe he gets through the choppy waters in the beginning and then pieces up Witt before scoring the TKO/KO victory. Five of Witt's seven pro losses have come via TKO/KO.
Almeida Beats Marques Inside the Distance (-145)
Jailton Almeida is the large betting favorite with odds listed at a range of -400 to -500. He's an excellent practitioner of jiu-jitsu as is his opponent Danilo Marques who's an underdog at +300 to +370 odds.
Where they differ is that Almeida is a better striker and I expect that advantage to be used in this contest. The bout is heavily favored to end inside the distance at -275 to -320 odds. It's also favored to finish Under 2.5 rounds at -190 to -250. With each man's pension for stoppages, we're looking at a good chance of that happening in this bout as well.
I like Almeida in this matchup. I believe he's the better overall fighter and that he will find the stoppage victory whether it's via TKO/KO or submission.
Davis or Stoliarenko Wins via Unanimous Decision (-120)
Not all fights have the option of picking one of two competitors to win via unanimous decision, but this one did and I really like the value.
Oddsmakers are bullish on this bout going Over 2.5 rounds at -260 to -290 and go the full 15 minutes (-215 to -250). The fight starting round 3 is listed at -360.
So, we have plenty of wagers pointing towards the belief of a decision outcome.
Stoliarenko doesn't have many decision outcomes, but Davis has gone the distance in 17 of her 31 fights including the last seven in a row.
Davis is going to be too much for Stoliarenko to handle as she's too tough to tap out and too good on the feet to be stopped. Ultimately, I see Davis cruising to a unanimous decision win as she stuffs takedowns and wins prolonged striking exchanges.
?? Hakeem Dawodu talks to @aaronbronsteter about the injury that hampered him in his previous fight and healing naturally without surgery. #UFCVegas47

WATCH: https://t.co/MyubulU6G9 pic.twitter.com/RsLeZnRoXc

— UFC on TSN (@TSNUFC) February 3, 2022
Dawodu defeats Trizano via Decision (+115)
This bout is favored to go Over 2.5 rounds (-240 to -275) and the full 15 minutes (-185 to -225). I agree with these sentiments as these two will push this contest the distance.
Neither man is a strong grappler:
Which means Dawodu doesn't have to worry about being taken down to the mat. That will allow him to stand and strike, which is his forte.
Trizano is not as good of a striker as Hakeem is, but Michael has never been stopped via TKO/KO before. So, I see him lasting the full 15 minutes, but with Dawodu getting his hand raised after winning via unanimous decision.
Johns Wins Beats Castaneda via Decision (+140)
This contest is scheduled to be the main bout for the UFC Vegas 47 preliminary card. It's favored to go Over 2.5 rounds (-175 to -210) and the full distance at -150 to -165. Miles Johns comes in as the sizable favorite with odds as high as -250, whereas John Castaneda has odds as high as +200.
Both men are very durable, which typically means neither will get stopped. For Johns, he's gone the distance in nearly half of his pro bouts. Castaneda has gone to a decision in four of his last six fights.
Castaneda will have some success in the standup department, but Johns has a huge advantage on the mat. I believe we'll see this fight go to the ground for chunks of time. Ultimately, it will push this contest the full distance.
I'm taking Johns to win via decision due to his wrestling advantage.
Rakhmonov Beats Harris Inside the Distance (+110)
Shavkat Rakhmonov comes into this fight as the favorite with odds ranging from -220 to -250. Carlston Harris is a big underdog at +175 to +200. Additionally, both men are 2-0 inside the octagon.
Oddsmakers heavily favor this bout to finish inside the distance at -220 to -280 odds. They also like for the contest to end Under 2.5 rounds (-190). Further proving their sentiment, is the wager for this matchup to not start round 3 being listed at -150 to -190 odds.
Shavkat Rakhmonov has won all 14 of his pro fights via stoppage with seven apiece for submission and TKO/KO. Harris only has one stoppage defeat, but it did come via TKO/KO.
And that's exactly how I see this bout ending.
Rakhmonov has the potential to become a true contender in this division and I expect him to show that on Saturday when he finishes off Harris via TKO.