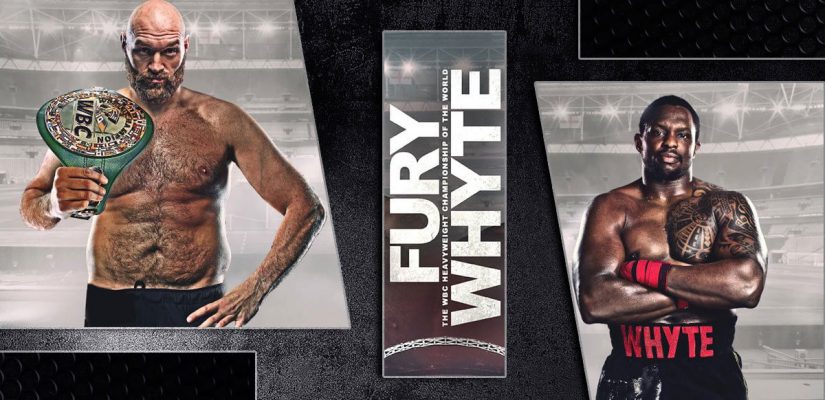 Boxing's heaviest title fight of the year is going down April 23rd, 2021 and we've assembled Tyson Fury vs Dillian Whyte fight odds, including boxing commentary on your betting picks, how to bet on the Tyson Fury fight, and more. Scroll for boxing betting tables, odds for both fighters and a breakdown of the most lucrative and likely prop bets. We'll connect you with our top Boxing betting sites to optimize your ticket for this weekend's heavyweight championship. 
Fury (-650) vs Whyte (+415)
Fury is the favorite, holding the WBC title. He's ranked the #1 heavyweight and the #4 pound for pound boxer.
Whyte held the WBO title but lost it for not rematching Anthony Joshua. He currently holds the WBC interim title, making him a mandatory cantideate for Fury's title defense.
Bettors should see Whyte not as the toughest possible match for Fury, but the fighter that contractually makes the most sense for Fury to face. 
PLACE YOUR BETS NOW!
Tyson Fury vs Dillian Whyte Fight Odds
It's no surprise that Tyson Fury fight odds have him as the favorite. Whyte has been the favorite since his +125 run in with Joseph Parker, a fight he won by unanimous decision. Whyte's last loss was to Alexander Povetkin, a fight he avenged last March, coming in at -400 in both fights.
? REDEMPTION FOR WHYTE ?@DillianWhyte stops Alexander Povetkin in the fourth round to gain revenge ? #RumbleOnTheRock #PovetkinWhyte2 pic.twitter.com/5TUBq0MfTz

— Sky Sports Boxing (@SkySportsBoxing) March 27, 2021

Whyte's only ther loss is to Anthony Joshua at +600, and it's surprising to me that he's a stronger underdog in this bout. Fury was an underdog in the draw with Wilder back in 2018 at +165, though he hovered around -150 after opening bets. He's been the favorite in all other showings, ranging from -225 to -800 over his last eight fights. 
Dillian whyte stumbling thread: pic.twitter.com/hET8XgolXn

— watches fate series for the plot (@verynewmansa) October 16, 2021
Whyte's known for missing agaisnt taller fighter. Fury is four inches taller than both of the fighters who beat him.
Has Tyson Fury Fought Dillian Whyte Before?
No, Fury has never fought Whyte as a professional or amatuer. However they did train together.
Whyte is realistic about that experience and told The Independent, "He was a really top amateur when I had no fights; I was learning, I was improving."
These two are familiar with each other's style, but they share few opponent's in common and have never matched up in the ring. 
How to Bet on Tyson Fury Fight
You can bet on Fury vs Whyte with any of our top rated Boxing betting sites. In this article, all betting odds are supplied by Bovada, and our place bet now buttons will go to their sites. Whyte vs Tyson Fury betting is secure on our top rated betting sites, so you'll simply sign into Bovada or another recommended site.

Click the bet you want to add it to your bet slip, and then you'll type in the amount you'd like to bet and click 'place bets.' If you're looking for how to bet on Tyson Fury fights from a strategy perspective, read this article and our
boxing guide
. 
Tyson Fury Recent Fight Stats 
Fury is 4-0-1 over his last five fights. He went to a split draw with Deontay Wilder, subsequently beating him twice in 2021 and 2020. These are Wilder's only two losses, bringing him to 42-2-1 with 41 knockouts. 
Fury is 31-0-1, and six of his last ten fights he finished via knockout.
He's also bigger than he's ever been, cutting to make the 265 pound weight limit on his 6'9'' frame.
Over his last five fights, Compubox stats show Fury landing an average of 40% more punches than his opponent. His last decision with Otto Wallin showed Fury landing 127 power punches to Wallin's 84, 50% more power punches overall. 
? @Tyson_Fury gutted out the win in his dogfight against Otto Wallin.#FuryWhyte | APR 23 | PPV pic.twitter.com/6aXcrCcgdz

— Top Rank Boxing (@trboxing) April 1, 2022
Clips from the fight show off Otto's longevity and self preserving style.
Dillian Whyte Recent Fight Stats 
White has gone 4-1 over his last five fights, with a 28-2 record overall. He's defeated both top ten fighters Derek Chisora and Alexander Povetkin via knockouts.
Whyte is less experienced than Fury, but has defeated a greater number of top ten opponents overall. Over his last five fights he's shown increasing aggression.
Compubox stats show Wyte blowing out Povetkin landing 57 to 8 for a fourth round TKO, compared to 63 to 34 in their first fight. Whyte was winning until a knockout uppercut from Povetkin set him down in round four.
The Povetkin vs. Whyte rematch is set for March 6th.

??????? ?? ??????? ? pic.twitter.com/PjXimdo6dx

— DAZN Boxing (@DAZNBoxing) January 15, 2021
He landed 198 punches in his win over Wach, a fight that started slower than expected, with Whyte giving the last two rounds to Wach definitively. 
Fury vs Whyte Over/Under Bets
| | | |
| --- | --- | --- |
| Round | Over | Under  |
| 7.5 | -155 | +110 |
| 8.5 | -120 | -120 |
| 9.5 | EVEN | -140 |
| 10.5 | +110 | -155 |
| 11.5 | +120 | -170 |
Betting under Round 7.5 is risky, but both of Whyte's losses fell in round 4 by Polovekin and round 7 by Anthony Joshua. Tyson Fury made three of his last four knockouts before or during round 7. 
Whyte is 6'4'', and the last four opponent's to go to decision with Fury were 6'5'' or taller. Whyte would be the shortest fighter to go beyond round ten with Fury in his whole career. 
Our top pick for Tyson Fury vs Dillian Whyte fight odds for Over/Under bets is the Under 10.5 at -155, simply because the payout is fantastic and we see a knockout for this fight. 
PLACE YOUR BETS NOW!
Fury vs Whyte Round Betting 
| | | |
| --- | --- | --- |
| Round | Tyson Fury Bet | Dillian Whyte Bet  |
| Points (Decision win) | +275 | +2200 |
| Round 1 | +4000 | +15000 |
| Round 2 | +3300 | +10000 |
| Round 3 | +2200 | +8000 |
| Round 4 | +1800 | +6600 |
| Round 5 | +1400 | +5000 |
| Round 6 | +1200 | +4000 |
| Round 7 | +1100 | +4000 |
| Round 8 | +1100 | +4000 |
| Round 9 | +1100 | +4000 |
| Round 10 | +1200 | +4000 |
| Round 11 | +1400 | +6600 |
| Round 12  | +1800 | +2200 |
Whyte has a very low chance of knocking out Fury. After surviving against Wilder, it feels like no ones going to be able to put Fury away. Fury's chance of knockout goes up after round 7 and drops off toward the end of the fight. This isn't because Fury's chance of a finish goes down, but because he's likely to knock out Whyte before that happens. Our top pick for round betting is Round 6 at +1200, and the Tyson Fury odds for round betting support this as one of the better picks. 
PLACE YOUR BETS NOW!
Fury vs Whyte Round Betting Groups 
| | | |
| --- | --- | --- |
| Round Group (TKO Finish) | Tyson Fury Group Bet | Dillian Whyte Group Bet  |
| Rounds 1-2 | +1800 | +6600 |
| Rounds 3-4 | +1000 | +4000 |
| Rounds 5-6 | +650 | +2500 |
| Rounds 7-8 | +550 | +2000 |
| Rounds 9-10 | +550 | +2000 |
| Rounds 11-12 | +750 | +2800 |
| Rounds 1-3 | +1100 | +4000 |
| Rounds 4-6 | +450 | +1800 |
| Rounds 7-9 | +330 | +1400 |
| Rounds 10-12 | +450 | +1800 |
Fury's chances of a knockout are about four times Whyte's at any given time. Our top pick for round betting is Tyson Fury, Rounds 4-6 at +450. It aligns with the majority of his recent knockout wins and Whyte's TKO losses. If you're a Dillian Whyte fan, I would consider Rounds 10-12 at best, though analysts seem to agree Whyte's only way to win is a gritty decision victory. Tyson Fury vs Dillian Whyte fight odds are rewarding fans of Whyte with big returns, but I'd warn Dillian Whyte's fan base that his style doesn't seem built for a fighter that out sizes him by five inches of height and seven inches of reach.  
PLACE YOUR BETS NOW!
Fury vs Whyte Fight Props and Fight Outcome Props 
| | | |
| --- | --- | --- |
| Bet  | Tyson Fury  | Dillian Whyte  |
| KO  | -170 | +450 |
| Decision | +275 | +2200 |
| Draw  | +2500 | |
| Will the Fight Go the Distance? | Yes +175 | No -255 |
The betting lines show the Tyson Fury vs Dillian Whyte fight odds are leaning toward a finish, with Whyte unable to make it with Fury. Fury's last few decisions include Otto Wallin and Wladimir Klitschko. Wallin took his only loss to Fury with a better overall knockout percentage than Whyte. The 'Fight won't go the distance' prop covers you from an upset Whyte knockout. If you're a fan of Whyte, this could be a top bet, given that a knockout may be his only chance at success. Our top pick for fight props is Tyson Fury by knockout at -170, a $59 payout for $100 wager. Here's Fury's last knockout.
The king is back! Let's rewind @Tyson_Fury's last time out ?#FuryWhyte | APR 23 | https://t.co/gfnjwBsX7Y pic.twitter.com/lypb4qCQgt

— Top Rank Boxing (@trboxing) April 18, 2022
Fury's using his size better than ever, with dirty clinch tactics, leaning on smaller fighters to exaust them. It'll be rare to see another Fury decision.
PLACE YOUR BETS NOW!
Whyte vs Fury Fight Prediction
Tyson Fury is at the peak of his game, and I think Whyte is going to be yet another showcase of his top tier skill set. Our betting pick is the Fury money line, a $15 payout per $100 wagered, and a fight I'm willing to parlay with another high confidence pick. 
Whyte and Fury having trained together gives each fighter special knowledge that I believe could bring about a decision finish, though my second pick would be the Fury knockout prop at -170. Tyson Fury betting props point to a finish before round nine, but with Whyte's aggressive style, we could see Fury picking at Whyte and moving for the first few rounds in hopes of capitalizing on his size in the clinch the way he did in the Wilder bout. 
Tell us what you think! Will Fury vs Whyte go the distance? Drop a comment below for updates on our top betting opportunities.