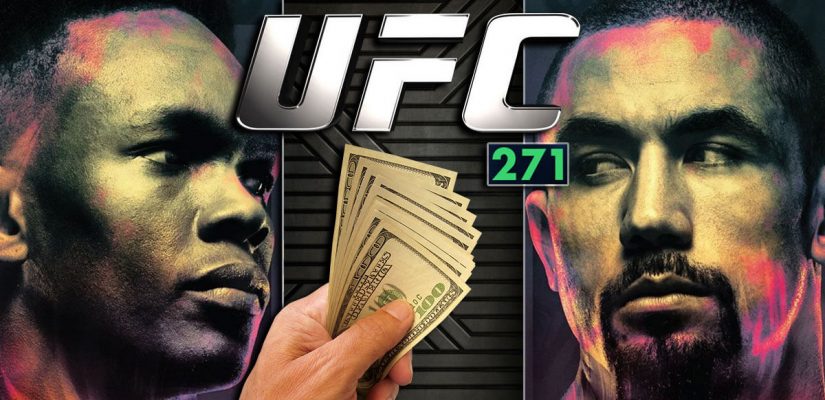 For our UFC 271 betting analysis and full card preview, we cover the Main Card for UFC 271 including a betting pick and the latest odds for Whittaker vs Adesanya 2. UFC 271 can be seen on ESPN+ and PPV this Saturday, February 12th, 2022. 
We called UFC Vegas 47 at 61.5%, correctly predicting 8 of 13 fights. We're more confident in our UFC 271 card, expecting closer to 70% prediction accuracy. 
Robert Whittaker vs Israel Adesanya 2
This is Israel's seventh title fight, and fifth defense of his middleweight belt.
#OTD in 2019, the @StyleBender was passed the baton from the Spider ?

[ Watch this fight now on @UFCFightPass ? ] pic.twitter.com/WPfhcczRiF

— UFC (@ufc) February 10, 2022
He knocked out Whittaker in their first match up in 2019.Whittaker has since gone 3-0, putting away three carefully fought decisions against top ten contenders.  
For their first bout, Israel was a slight -111 favorite to Whittaker's +110. The gap has widened to -250 and +240 for the rematch. Many analysts want to know, can Whittaker take advantage of the holes in Izzy's grappling revealed by Jan Blanchowicz?  
Tale of the Tape for Whittaker vs Adesanya 
| | | |
| --- | --- | --- |
| Fighter | Robert 'The Reaper' Whittaker  | Israel 'The Last Stylebender' Adesanya (Champion)  |
| Age | 31 | 32 |
| Height | 6'0'' | 6'4'' |
| Reach/Stance | 73'' Orthodox  | 80'' Switch  |
| Record | 24-5 | 21-1 |
| Submissions/TKO in UFC | 0/5 | 0/3 |
| Fighter Training Camp | Gracie Team BJJ, Stand Strong Boxing, PMA  | City Kickboxing, Atos BJJ |
| Losses via Knockout/Submission | 2/0 | 0/0 |
Adesanya's reach and height advantage played a serious role in fight one. His seven inch reach advantage netted him eight less total strikes in the two round fight, on three of which came after knockdowns. This meant Whittaker managed the distance quite well, and it simply came down to the quality of each strike and the quality of each fighter's chin. 
Israel has been knocked out in his kickboxing career a total of one time out of five total losses, going 75-5 for his professional career. 
Whittaker's two knockout losses in the UFC are by Izzy and Stephen Thompson. 
Comparing Fighter Camps
City Kickboxing has produced several UFC athletes, including Dan Hooker and Kai Kara-France. The gym as a whole seems to have the same issue with quality BJJ and ground fighting in general. Israel has taken to Atos BJJ in California to work on his jiu jitsu game, and now has a full time wrestling coach at City. 
Gracie BJJ, Stand Strong Boxing, in addition to a fully self assembled coaching staff for Robert Whittaker is producing a special kind of camp. Whittaker is making it no secret that he's developing a high level BJJ game, posting images of his training that correspond with major developments in his submission grappling game. 
I've long said that Israel's BJJ is going to get exploited at some point, and I've predicted that eventually he'll lose his belt to the right grappler. 
I give Whittaker the advantage in training camp, and I believe a grappling centered camp and strategy is exactly what Whittaker should do to dethrone the champ. 
Betting Odds and Odds History for Whittaker vs Adesanya 
| | |
| --- | --- |
| Bet Available at Betonline.ag | Odds and Payout per Dollar Wager  |
| Whittaker Money Line | +220, $2.20 |
| Adesanya Money Line | -240, $0.42 |
| Over 4 ½ Rounds | -140, $0.71 |
| Under 4 ½ Rounds  | +110, $1.10 |
Whittaker was the underdog against Jared Connonier, winning at +101. He also upset Souza at +230 and Brunson at +110. Whittaker has upset Uriah Hall, Brad Tavares and Clint Hester, with oddsmakers misidentifying some seven fights out of seventeen in his UFC run. 
Adesanya has been a strong favorite in every bout in the UFC, including his loss to Jan. Izzy ranges from -111, like in his fight with Whittaker or Brad Tavares, up to -350 in his debut against Rob Wilkinson. 
Over/Under Prop Analysis
While all three of Whittaker's last fights have been decisions, israel does have one knockout finish over a hung-over Paulo Costa. The Over 4 ½ Rounds prop looks right, despite Israel's knockout in fight one, and a promise of a fight two knockout. 
Adesanya admits he "got bored" during his fight with Vettori ? #UFC271

(via @bokamotoESPN) pic.twitter.com/kxYIvzU0v6

— ESPN MMA (@espnmma) February 9, 2022
Whittaker's focus on grappling could give us a repeat of the Jan fight. If Whittaker can get Israel to the ground, can he stand back up? Watching some of Whittaker's training footage, I'd not be surprised if Whittaker managed a submission victory. His grappling has advanced light years in a very short time, and Israel's submission game is lacking as ever.
It's tough to imagine that Whittaker can out wrestle Vettori, but I do beleive that his shootboxing can outperform the strict wrestling Izzy faced in that bout.
UFC 271 Main Event Prediction and Fight Breakdown
Take a look at some of Whittaker's grappling for this bout, and compare it to released footage of Israel. 
TWEETS/FOOTAGE 
Israel was taken down three times against Jan and four times against Vettori with a career 80% takedown defense.  The difference is in control time. Jan took home seven minutes of control over 25 minutes, and the threat of being on bottom stifled Israel's standing offense. 
Vettori controlled 6:55 of 25 minutes, landing 91 shots. Though Israel was the clear winner, this Vettori bout was his closest fight at middleweight. 
Whittaker can neutralize the stand up of Adesanya, and win on the inside with takedowns and submission threats. 
Whittaker's plan to reinvent himself showed up in his last bout against Gastelum, scoring four takedowns and four minutes of control. 
This comes as a shock even to me, but after reviewing the tape I'm predicting an upset victory. My UFC 271 betting pick goes to Robert Whittaker at +220. I believe his grappling revealed serious holes in the Vettori fight, and Whittaker has the right blend of striking and grappling to eak out a decision win, or even land a submission on the lanky neck of long time champion Israel Adesanya. 
Derrick Lewis vs Tai Tuivasa
In an effort to keep Lewis active, one of the only fighters to beat the champion Ngannou, Lewis fights a rising knockout artist in Tuivasa. 
The KO that cemented @TheBeast_UFC's place atop the record books ?

[ #UFC271 | Saturday | Live on ESPN+ PPV: https://t.co/K6X32sFKyB ] pic.twitter.com/EorycuOHOP

— UFC (@ufc) February 9, 2022
Tuivasa is on a four fight winning streak and loses his six fight favorite status as he comes in the underdog for the first time since his Junior Dos Santos fight in 2018. 
This is a bout between knockout artists, both of which have seen knockouts only for four fights running. 
Tale of the Tape for Lewis vs Tuivasa
| | | |
| --- | --- | --- |
| Fighter | Derrick 'The Black Beast' Lewis #3 | Tai 'Bam Bam' Tuivasa #11 |
| Age | 36 | 28 |
| Height | 6'3'' | 6'2'' |
| Reach/Stance | 79'' Orthodox  | 75'' Southpaw |
| Record | 26-8, 1 NC | 14-3 |
| Submissions/TKO in UFC | 0/13 | 0/6 |
| Fighter Training Camp | Silverback Fight Club, Main Street Boxing   | American Kickboxing Academy  |
Tai is the younger fighter by eight years, with a slight height and reach disadvantage. Lewis has more total knockouts overall, but inside the UFC, Tai has a slightly better KO percentage at 60%, with Lewis sitting at 56%. 
Comparing Fighter Training Camps
In one of the most important factors for this bout, Derrick's training camp seems to have dissolved entirely, while Tai has switched to one of the best camps on the planet. 
Silverback Fight Club doesn't exist anymore, and Lewis hasn't released training footage at a new gym other than footage at Main Street boxing gym taken for a promotional event. As a fighter ages, he needs more coaching and specificity of training, not far less. 
AKA is one of the best MMA academies for developing a solid sprawl and brawl style striking game. Tai will also be training directly against one of the only fighters to beat Lewis, Daniel Cormier. DC beat Lewis in 2018 as a title defense. 
Tai has a strong youth advantage and a strong training camp advantage. 
Betting Odds and Odds History for Lewis vs Tuivasa
| | |
| --- | --- |
| Bet Available at Betonline.ag | Odds and Payout per Dollar Wager  |
| Lewis Money Line | -180, $0.56 |
| Tuivasa Money Line | +150, $1.50 |
| Over 1 ½ Rounds | +150 |
| Under 1 ½ Rounds  | -180, $0.56 |
| Tuivasa by TKO | +250 |
| Lewis by TKO  | -135,  $0.74 |
| Tuivasa by Points  | +500 |
| Tuivasa +3.5 Points | +135 |
| Lewis +3.5 Points  | -165, $0.61 |
Lewis was the underdog in his last three bouts, going 2-1, losing to title challenger Ciryl Gane. As the favorite, he's in the same odds range as his win over Oleinik at -194 and his win over Guto Inocente at -185 in 2014. 
Tai has been the favorite in his last three knockouts, ranging from -108 to -200. His last time as underdog was his loss to Junior Dos Santos, and this is only his second time as underdog in his UFC run. 
Prop Betting Analysis
With both fighters boasting knockout power, it's no wonder we're seeing such a strong Under. In fact, Betonline.ag doesn't even have 'Fight Doesn't go to Decision' as a prop betting option. 
Lewis is known for late TKO losses and wins. He lost to Gane and Mark Hunt in late fight TKOs, while defeating Volkov, Marcin Tybura, and Shamil Abdurakhimov in third or fourth round TKOs. 
Tai has a series of first round TKO's, knocking out his last four opponent's with under 90 strikes. 
Fight Prediction and Breakdown for Lewis vs Tuivasa
There are two factors that will decide this bout. First, the quality of each striker's chin, and second the conditioning of either fighter. If Tai's conditioning is quality, his game plan should be to use takedowns mixed in with striking to exhaust Lewis, who's prone to late round knockouts after he's spent his energy defending as he did versus both Gane, Hunt and DC. However, Tai has yet to use a takedown in the UFC, and I'm not certain he can win a strict boxing match with Lewis. 
Lewis significant strikes landed and absorbed per minute is close to even, landing 2.5 and absorbing 2.4. This means that Tai will do well to trade, implementing many of his normal counter punching tactics. 
ufc: Tai ???? ??? ???? off T-Mobile Arena ?

[ @BamBamTuivasa | #UFC271 | Saturday | Live on ESPN+ PPV: https://t.co/dGRPfz37Zi ] pic.twitter.com/rVeZ0zp4Kl

— Team savage (@teamsavage) February 9, 2022
Tuivasa is a showman first and foremost. His fights are never boring.
Tai lands at 4.6 for every 3.5 landed. He keeps a higher pace than lewis, and while his defensive striking is technically similar to Lewis's in outcome, I believe his high guard forces many more 'significant strikes' to glance off part of the forearm or glove. 
My UFC 271 betting pick is Tai Tuivasa at +150. He's younger and gets hit less often. Having a team is indispensable at the highest level. It's tough to be the under, because Lewis doesn't often get finished until late in round two or three. Tuivasa could get knocked out against Lewis, anyone can, but his winning momentum and new camp give him all the right tools to face Lewis. 
It's difficult not to bet the Over/Under, but I believe Tai could put Lewis down in the first round, and we'll get a better return betting on the New Zealand native. 
Jared Cannonier vs Derek Brunson
This bout for middleweight title contention comes as the new and improved Brunson makes his way through five opponent's with three finishes after losing to Israel in a non-title bout in 2018. 
Cannonier has also been reborn, dropping from light heavyweight to middleweight in 2018. He's since seen a 4-1 middleweight record. With both men in the top ten, this could easily be the primer for the next shot at the belt. 
Tale of the Tape for Cannonier vs Brunson
| | | |
| --- | --- | --- |
| Fighter | Jared 'The Killa Gorilla' Cannonier  | Derek 'Blonde' Brunson |
| Age | 37 | 37 |
| Height | 5'11'' | 6'1'' |
| Reach/Stance | 77'' Switch | 77'' Southpaw |
| Record | 14-5 | 23-7 |
| Submissions/TKO in UFC | 0/5 | 3/7 |
| Fighter Training Camp | MMA Lab | Sanford MMA, Jacksons, Renzo Gracie  |
These fighters are very evenly matched on paper. As a middleweight, Cannonier has finished three of five fights, though his overall finishing percentage is 41%. Brunson's finishing percentage is 43% overall. 
Brunson does have a stronger submission game. Jared is a purple belt in BJJ, but rarely goes for takedowns and hasn't completed a takedown since 2017.  
Who are Cannonier and Brunson's Coaches and Training Camp 
Cannonier is currently at the Lab with coaches like John Crouch and Adam Gillespey. Fighters at the lab had a better than average 2021, with Benson Henderson, Steven Siler taking loses, while Caceres, Barberena, O'Malley and Cannonier all went undefeated. 
Brunson is at Sanford MMA, and it looks like Greg Jones has reinvented his timing. Lawler, Sang, Rumble, Brunson, Luque, Burns, Michael Johsnon, Fialho, and many others took wins in 2021, most going undefeated. 
While both schools are at the peak of MMA performance, it's my belief that Burnson has the better training environment. 
Betting Odds and Odds History for Cannonier vs Brunson
| | |
| --- | --- |
| Bet Available at Betonline.ag | Odds and Payout per Dollar Wager  |
| Cannonier Money Line | -175 |
| Brunson Money Line | +150 |
| Over 2 ½ Rounds | -110, $0.91 |
| Under 2 ½ Rounds  | -120, $0.83 |
| Brunson Inside the Distance   | +450 |
| Cannonier Inside the Distance  | +110 |
Brunson is the underdog yet again, ranging from +140 to +300 in his last three wins. He spent time earlier in his career as the favorite in almost every bout until his loss to Yoel Romero in 2014. Brunson has been active since 2011 in the UFC, and has upset four of his seven underdog appearances. 
Cannonier has been the underdog twice at middle, upsetting Hermansson and Branch. As the favorite, he's been upset twice, by Jan Blachowicz in 2017 and Whittaker in 2020. Cannonier was a -120 favorite against Whittaker, and suffered a close decision, landing 53 strikes to Whittaker's 69. 
Prop Betting Predictions
The Under is a slight favorite, with both fighters finding recent finishing success as Middleweights. 
Brunson hasn't been finished in four years, and Cannonier hasn't been finished as a Middleeight. However, Cannonier has been knocked out twice in the UFC. His Middleweight opponents to date haven't been as scrappy as Brunson, who always pushes the pace of a fight. 
I expect the under to be one of the more lucrative props, but we're counting on a big upset victory in this bout. 
Fight Prediction and Breakdown for Cannonier vs Brunson
Cannonier has an overall takedown defense of 62%, while Brunson has scored three takedowns on average off a 34% takedown accuracy. It holds that Brunson should complete one of every three attempts total, though in his last three bouts Brunson has been on a tear of improving that accuracy. 
Brunson scored a 50% accuracy against Shahbazyan, Holland and Till, with an average control time of half the fight. 
Cannonier has been tough on grapplers for the majority of his middleweight career, finishing Hermansson and Branch despite losing significant amounts of the fight and grappling exchanges. 
Is Brunson's Chin in Question?
If Cannonier can knock out Brunson early, then we shouldn't be concerned about grappling. However, at some point, Brunson stopped running into punches full force, in a frantic hunt for grappling control. 
Brunson's losses have all come by way of knockout. He will either wear you down with his breakneck pace or die trying. After the Adesanya loss, Brunson found a new, more meteered methodology. He switched to Sanford MMA around this time, and began developing a shoot boxing style that was antithetical to his all out offensive from 2011 to 2018. The last four years, Brunson has been hit less often and been able to control the pace of the fight. He hasn't been knocked down or even clipped by anything significant while fighting knockout strikers Shahbazyan, Till and Holland. 
UFC 271 Betting Pick for Brunson vs Cannonier
I see another upset for this bout, with Brunson finishing Cannonier via decision or submission. Brunson's grappling is evolving quickly. He's an athlete that's been able to make significant style changes in a short period of time. The Lab isn't the best gym for defending against top grapplers, and Brunson looked his best in the past four fights, while Cannonier is experiencing a noticeable slowness against both Whittaker and Gastelum. 
I'll be betting Derek Brunson Inside the Distance at +450. It's a serious return on a fighter that's looked unstoppable in his past few bouts. 
Cannonier is difficult to takedown, but once on his back, struggles to regain the fight. 
Kyler Phillips vs Marcelo Rojo
In this bantamweight match up, both Phillips and Rojo are coming off of their first loss. I'm unsure how this fight made it to the main card, other than that it should be fight of the night. Neither fighter is in title contention, but both fighters are willing to sling leather and keep a high strike per minute pace. 
This is Rojo's first fight at bantamweight after a career at 145 pounds. While he could show up far bigger than Phillips, we don't know how the weight cut will affect his performance. 
Tale of the Tape for Phillips vs Rojo
| | | |
| --- | --- | --- |
| Fighter | Kyler 'The Matrix' Phillips | Marcelo 'Pitbull' Rojo |
| Age | 26 | 33 |
| Height | 5'8'' | 5'8'' |
| Reach/Stance | 72'' Orthodox  | 71'' Orthodox  |
| Record | 9-2 | 16-8 |
| Submissions/TKO in UFC | 0/2 | 0/0 |
| Fighter Training Camp | MMA Lab | Entram BJJ, various camps |
These fighters are closely matched, with Marcelo being more experienced and seven years older. While Entram has been putting out title contenders and champions like the recently dethroned Branon Moreno, MMA Lab has a longer running track record of high level fighters. Marcelo has been cross training across multiple gyms and taking advantage of the UFC Performance Institute in Las Vegas. 
Kyler has had more opportunities to finish, showing a 40% knockout ratio inside the UFC. Marcelo lost his first UFC bout, but outside of the UFC he's finished 14 opponent's, eight by TKO in the very first round. 
Betting Odds and Odds History for Phillips vs Rojo 
| | |
| --- | --- |
| Bet Available at Betonline.ag | Odds and Payout per Dollar Wager  |
| Phillips Money Line | -350 $0.29 |
| Rojo Money Line | +285, $2.85 |
| Over 2 ½ Rounds | +150, $1.50 |
| Under 2 ½ Rounds  | -180, $0.56 |
Kyler Phillips has been the favorite in nearly all of his LFA and UFC performances. His two underdog performances include a win at +190 over Song Yadong and his second win at +110 over Gabriel Silva. His most recent win over Raulian Paiva, Kyler was a heavy favorite ranging from -335 to -278 at closing. 
Rojo has some odds history from Combate, a Central American organization. He was favored both times, and won via finish. In the UFC, he was the underdog against Jourdain at +250. 
Fight Prediction and Breakdown for Phillips vs Rojo
We know that both fighters have knockout power. Given Rojo's new weight class, we can wager that he'll either overpower Phillips, or have trouble with the new weight cut and gas out early. 
Both of these scenarios point to the Under 2 ½ Rounds being the right wager. Kyler Phillips has never been finished, so that's a difficult prop to bet on. Rojo is a quality fighter, but Phillips has more skill against high level talent. 
Phillips vs Paiva
I rewatched this bout to study Kyler's weaknesses. It's a tough fight to call. Kyler scores a first round knockdown, outstrikes Paiva in the first round, then goes on two keep a narrow fight in the next two rounds. Phillips wins control time in the second but loses in total strikes, and Paiva wins the third round definitively.
I see Kyler winning the bout, and I don't see any immediate areas where Rojo will be more effective than Paiva. 
UFC 271 Betting Pick
Our betting pick is Under 2 ½ Rounds at -180. The oddsmakers see a strong Kyler Phillips performance, but we're open to a Rojo upset victory. He has knockout and submission skills not yet highlighted by his octagon performances. Either man could lose the bout in an instance, and the Phillips return imply isn't strong enough. 
Bobby Green vs Nasrat Haqparast
Both lightweights are 2-2 over their last four fights. Green is a UFC veteran who joined the promotion in 2013, while Nasrat has racked up eight fights since late 2017. 
Expect Bobby to have a grappling advantage, while Nasrate is the more active striker. 
Tale of the Tape for Green vs Haqparast 
| | | |
| --- | --- | --- |
| Fighter | Bobby 'King' Green  | Nasrat Haqparast  |
| Age | 35 | 26 |
| Height | 5'10'' | 5'10'' |
| Reach/Stance | 71'' Orthodox  | 72'' Southpaw |
| Record | 28-12-1 | 13-4 |
| Submissions/TKO in UFC | 3/2 | 0/1 |
| Fighter Training Camp | Pinnacle MMA  | Tristar Gym  |
Green is nearly a decade older than Nasrat. Green finished his last opponent, Al Iaquita, via first round knockout. This is after a string of decisions and a loss to Poirier via knockout. In fact, Bobby's last finish was in 2013 over James Krause. 
Nasrat has amassed only one finish and one knockout loss. His other six UFC fights have gone to decision. 
Comparing Fighter Camps
Pinnacle is home to several Bellator level athletes and UFC fighters like Jamall Emmers who is 1-2 for the promotion. Haqparast trains at Tristar, famed home of GSP and other Canadian greats. Tristar has a new group of fighters, including UFC newcomers like Zach Makovsky and contenders like Kevin Lee. Tristar should be the overall better and more experienced training environment, though neither gym has had a great run in 2020-2021 inside the UFC. 
Betting Odds and Odds History for Green vs Haqparast
| | |
| --- | --- |
| Bet Available at Betonline.ag | Odds and Payout per Dollar Wager  |
| Green Money Line | -140, $0.71 |
| Haqparast Money Line | +120, $1.20 |
| Over 2 ½ Rounds | -225, $0.44 |
| Under 2 ½ Rounds  | +185, $1.85 |
Bobby is the favorite, as he was in his win over Iaquinta. Recently, Green has been upset by Thiago Moises at -280. Outside of the fight with Moises, Bobby's three most recent losses have been as the underdog, ranging from +135 to +240. 
Haqparast was the underdog in his loss to Hooker at +137 but the favorite in his loss to Dober at -333. The German born fighter upset Marc Diaklese at +150 in his second octagon appearance via decision. 
Over/Under Prop Betting for Green vs Haqparast
Haqparast is a decision fighter to the core. He has knockout power, but against crafty competition like Green, a decision win seems like his best option. 
Green has finishing power as well, but as he ages, you have to believe he'll give up more and more fights to the judges. 
Green's last finish was Iaquinta, a fighter who has lost three fights straight at 34 years old. Fighting a young gun like Haqparast, we just can't rely on the finish, especially given the paltry +185 payout for two fighters with an 80% decision rate over their last five bouts. 
Fight Prediction and Breakdown for Green vs Haqparast
Green has a hands down striking style that leaves many bettors anxious. He's kept his speed and timing, and the fight with Fiziev in 2021 looked remarkable for a 35 year old lightweight. 
Green's main weapon is the pull counter. You don't see many mma fighters capable of doing it correctly for three rounds, and Green's has improved with age. 
Haqparast leads with kicks and wide looping shots, a style that can do well against a fighter that uses more than average head movement. Bobby Green will need to work to stay off the cage, but Greens boxing is noticeably more technical. There will either be clench exchanges center cage, or Green will end up backing into the fence. 
Nasrat's takedowns are an abysmal 14% accuracy. This is where I see Green capitalizing. He'll take top position in the first few rounds, and I suspect we'll see more holes in Haqparast's striking. 
Our final betting pick is Bobby Green at -140. This man hasn't seen his last great performance, and may be yet another UFC star competing close to 40. 
UFC 271 Main Card Wrap Up
Check out our UFC 271 Prelim Betting Preview for another ten bouts and details on replacement fighters. UFC 271 is easily one of the more exciting cards of the year, teeing up plenty of exciting finishers and striker versus grappler match ups. Steer clear of the Over more often than you otherwise might. Many fighters will be looking to outshine their competition for knockout, submission, and fight of the night bonuses.