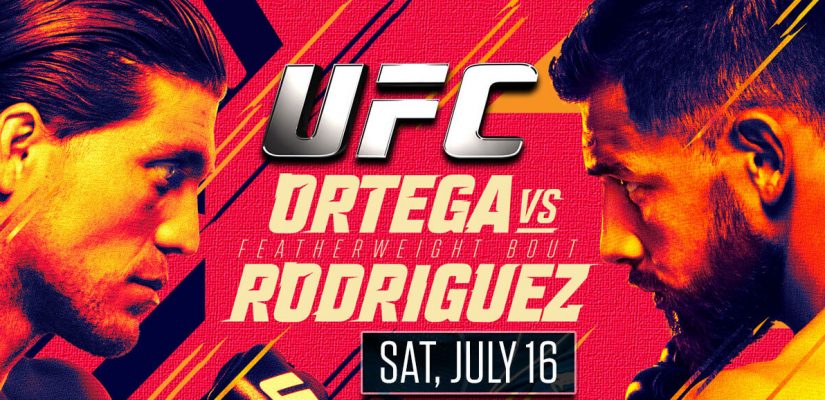 UFC returns to ABC with a twelve fight card packed with finishers. Our UFC on ABC 3 odds and predictions cover each fight and take a look at the most lucrative and likely bets from each bout. 
How to Watch and Bet on UFC on ABC 3  
Tune into ESPN at 11:15 AM ET on Saturday July 16th, 2022 to catch the early prelims. Main Card fights start at 3:15 PM ET on ABC. Click any of our place bet buttons to check out one of the top UFC betting sites, and add our expert picks to your ticket. 
UFC on ABC 3 Predictions 
Here are our predictions for all twelve fights, starting with the main event. UFC on ABC 3 predictions are focused on the most likely outcome, but we offer some more lucrative prop bets under each fight. 
Ortega Money Line -175
Lemos Money Line -325
Salikhov Money Line -165
Schnell vs Mudaerji Under 2.5 -145
Burgos vs Jourdain Fight Goes to Decision, No -135
Tate Money Line -220
Soriano Money Line -240
Shore Money Line -165
Bill Algeo Money Line -210
Jung Money Line -125
Grant Money Line -120
Ducote Money Line -159
UFC on ABC 3 Odds
Each fight has the money line odds next to the fighter names. While Bovada has fifteen betting markets for each of the twelve fights, we pick and choose a few of our favorite bets from each category. 
Brian Ortega -174 vs Yair Rodriguez +141
Ortega is fresh off a +170 loss to Volkanovski after winning as the underdog against Jung, Edgar and Moicano +110 to +170. Ortega is a clearly #3 in the division, with losses to the champ and Max Holloway only. Of the top ten current Featherweights, Ortega has only beaten one of them. 
Rodriguez Underdog Odds History
Rodriguez is coming off a loss to Holloway at +500 after a two fight winning streak as the favorite. Yair lost to Edgar by TKO in 2017, and Ortega knocked Frankie out just a year later. Of underdog showings in the UFC, Yair is 1-2. 
Tale of the Tape and UFC Stats Ortega vs Rodriguez 
| Fighter | Brian 'T-City' Ortega  | Yair 'El Panter' Rodriguez  |
| --- | --- | --- |
| Age | 31 | 29 |
| Height | 5'8'' | 5'11'' |
| Reach/Stance | 69'' Switch  | 71'' Orthodox  |
| Record | 15-2-0, 1NC  | 14-3, 1 NC |
| Submissions, TKO in UFC | 3, 3 | 0, 3 |
| Sig. Strikes Landed, Absorbed | 4.15, 6.69 | 4.65, 4.09 |
| Takedown Accuracy, Defense | 24%, 56% | 28%, 60% |
| Strikes Absorbed in Last 3 | 566 | 406 |
| Takedowns in Last 3 | 7 | 1 |
Ortega's strike absorption has been skewed by his fights with Holloway and Volk. Prior to that he won't hit as often. Yair's lack of submission work could be an issue for him, considering Ortega's rate of takedowns is massively improving and Rodriguez has no official BJJ rank. After looking at the stats, what UFC on ABC 3 odds should you bet on?
The bout we've been patiently waiting for 🍿@BrianTCity faces @PanteraUFC in the Octagon tomorrow night!

[ #UFCLongIsland | Tomorrow | Main Card LIVE on @ABCNetwork ] pic.twitter.com/77agInqClJ

— UFC (@ufc) July 15, 2022
Brian T City Ortega Money Line -175
Ortega's the superior grappler and his striking isn't far behind. Expect Rodriguez to land more, but for Ortega to have more finishing power on average. The rate of takedowns at the highest level shows Ortega's commitment to finishing fights.
Yair Fan Bet: Under 4.5 at -130
Given Ortega's grappling focused style, and their performances against Holloway, Rodriguez fans should go under. Both men have quality finishing power, and Ortega has been knocked out before against Holloway. Yair can win via knockout, but will lose due to control time in the distance. 
Ortega via Submission
This Method of Victory bet offers +195, a payout greater than the Rodrigue money line and ⅓ of the Ortega knockout prop payout. Ortega's submission skill is tough to train for, and he'll even pull guard to make submissions happen. Expect Yair to come up short in the BJJ department. 
Michelle Waterson +250 vs Amanda Lemos -325
Waterson has been the underdog in her last eight UFC appearances, going 4-4 in an eight decision streak. Her upsets of Hill, Herrig and others have ranged from =115 to +145 at closing odds. 
Lemos Favorite Odds History
After a loss to Andrade in her last fight, Lemos ended her five fight winning streak that included three finishes, with odds ranging from +185 to -500. Her loss to Andrade and Leslie Smith in the UFC were at +175 and +230. This is her strongest odds showing since Montserrat Ruiz whom she knocked out in thirty five seconds. 
Lemos Money Line -325
Betting the Lemos money line looks right. Waterson hasn't been competitive for years. She's an atom weight fighting two weight classes two heavy. Lemos is a rising star with better striking and grappling stats overall. 
Fight Goes to Decision, No +151
Both fighters have multiple UFC finishes. Expect this fight to be a banger, with Lemos finding takedowns that very well could end the fight at any point. The biggest chance of a Waterson upset is a head kick finish. 
Don't sleep on @KarateHottieMMA's submission skills 💤

[ #UFCLongIsland | Saturday | Main Card 2pm ET LIVE on @ABCNetwork ] pic.twitter.com/bwC3GFk5Tj

— UFC (@ufc) July 12, 2022
Lemos by Submission or Decision -135
Lemos could go the distance against Waterson and win based on control time in the clinch and her chances of submission are high considering Waterson's smaller frame and low takedown defense. 
Li Jingliang +140 vs Muslim Salikhov -170
Salikov was the underdog in his bout against Taleb at +111, but his only loss was to Alex Garcia at -220. It's clear Muslim has some BJJ issues, but his striking has carried him in five UFC wins from +111 to -225. His Sanda career has no odds history, but he was 185-13-1 in his career. 
Jingliang Odds History
Out of the frying pan and into the fire, Li is fresh off a +400 loss to Chimaev. He won as the underdog against Ponzinibbio, Elizeu Dos Santos and Michaud. He lost to Taleb in 2014 as a +113.
Salikhov Money Line -170
Muslim is a better striker, and his strike absorption rate is so low that Li is going to struggle to do any damage at all. Look for Li to get frustrated and grapple in the third, offering Salikhov 2 rounds to 1 for a UD. 
Over 1.5 Rounds -275
Because of both fighters' high rate of TKO, you'd expect lower Over odds. This favorite takes into account Muslim's style. He likes to force fighters into long bouts, like his third round finish of Taleb. 
Li Jingliang by TKO +305
Fans of Li will be looking for the big overhand right all night long. If Muslim gets clipped even once, he could get slept.
However in nearly 70 professional fighting outings, he's been put out only once.
Not a likely outcome, but Li fans will look at it regardless of what the UFC on ABC 3 odds say. 
PLACE YOUR BETS NOW! 
Matt Schnell +220 vs Sumadaerji -290
Madaerji is 3-1 in the UFC. His only loss is to Smolka as a +200. He beat Andre Soukhamthath as a +145. His UFC odds have ranged from +200 to -450 over four bouts. 
Schnell Odds History 
Shnell out grappled Smolka in 2019, winning by submission as a +118 underdog. IN his last two losses he was a +220 and -165. As an underdog, Schnell is 4-3, showing up as an underdog in 70% of bouts on record. 
Schnell Money Line +210
Schnell is consistently underrated. He's beaten a number of fighters that couldn't grapple and Sumadaerji is no exception. He was exposed in his last fight, and it's clear his submission defense isn't up to par. 
Under 2.5 Rounds -145
This fight is headed toward a finish no matter what. Sumadaerji has mostly knockouts among wins, and expects Schnell to seek the submission or TKO from ground strikes. Both fighters have a majority finish over their last four. 
Schnell by Submission or Decision +240
This double chance prop covers a slow, grinding clinch fighting win or an early submission for Schnell. Both are moderate outcomes, which is why we are looking to the prop bet first. 
PLACE YOUR BETS NOW! 
Shane Burgos -175 vs Charles Jourdain +144
Burgos is #14 in the division, going 1-2 in his last three. His losses include a -142 loss to Barboza and -175 loss to Emmett, and -230 to Kattar. Burgos is a talented fighter, but tends to get knocked down by quality strikers. 
Jourdain Odds History 
Jourdain is 3-3-1 in the UFC. As an underdog, he lost to Fili and Desmond Green, +191 and +600. He upset Dooho Choi as a +335 by knockout win. Jourdain stands a chance to finish Burgos, but must avoid the ground game first. 
Fight Goes to Decision, No -135
Both fighters are knockout artists with recent knockout losses. There is no such thing as a guaranteed banger, but this is as close as it comes. Burgos has improved, landing more significant strikes per minute in each bout, even in losses. Jourdain struggles with grapplers, and Burgos may break out some rarely seen but always deadly jiu jitsu. 
What happens when two guys allergic to boring fights throw down?

Find out when @HurricaneShaneB & @JourdainAir square off Saturday 🤜🤛

[ #UFCLongIsland | Main Card 2pm ET LIVE on @ABCNetwork ] pic.twitter.com/O29ZjDTeU9

— UFC (@ufc) July 14, 2022
Burgos TKO or Submission +165
Burgos will be looking for the finish across multiple disciplines. He's dedicated to being the most exciting fighter of the night and delivers. Jourdain still has underdeveloped ground work, and his flying attacks could put him on his back. 
PLACE YOUR BETS NOW! 
Lauren Murphy +175 vs Miesha Tate -220
Murphey lost to Shevchenko in 2021, and is now making her comeback against former champion Tate. She lost as a +980 underdog, but has upset Joanne Wood, Andrea Lee, and Barb Honchak from +175 to 210. 
Miesha Tate Odds History
After losing to Viera in November, Tate is 1-2 as the favorite in her last three fights. She's 1-1 since her return in 2021. Tate has been upset by underdogs only twice since 2008. 
Tate Money Line -22
The former champion is good enough to manage most fighters. Viera is now a #1 contender and they were neck and neck with Tate out pointing her. Murphy has taken nearly a year off, and as a 39 year old athlete, that's usually not a good thing. Murphy had a life threatening C.Diff infection and wasn't training with her time away. 
Punahele Soriano -240 vs Daicha Lungiambula +190
Daicha is the underdog after his guillotine loss to Cody Brundage, a fighter he was the -125 favorite over. He lost to Barriault at +150 and Ankalaev at +300, putting him at 2-3 for the promotion. 
Soriano's Betting Odds History
Soriano was the favorite in his loss to Allen at -110 and Nick Maximov at -175. He's 3-2 for the promotion with two first round TKO wins. His first three UFC and DWCS wins include a +150 upset of Dusko Todorovic. 
Soriano Money Line -240
Both men are talented fighters, but Soriano has proven himself against much higher caliber competition. Expect Soriano to win the decision or late finish. 
Over 1.5 Rounds -175
Soriano has seen two decisions in a row, and all of Daicha's finishes are late in the game. If you think Soriano could get dropped, the over prop bet is better paying than his money line. If there is going to be a first round finish, it will be Soriano's. 
Ricky Simon +135 vs Jack Shore -165
Simion is the underdog despite his 8-2 UFC record and a four fight winning streak. Simon has been the favorite in his last four wins, and hasn't been the underdog since his loss to Font at +130. 
Jack Shore Undefeated Odds History
Shore is 5-0 in the UFC and 16-0 overall, with an odds history ranging from -145 to -900. This is considered one of the toughest tests of his career, though he's up from -111 against Timur Valley. 
Shore Money Line -165
The UFC on ABC 3 odds point to the Shore money line as one of the best parlay bets. Shore is a force and Simons's fight history shows weaknesses to the patient Shore style. 
Bill Algeo -210 vs Herbert Burns +170
Algeo upset Brito at +145, and Spike Carlyle at +175. He lost as the underdog in his first two showings, and this is Algeo's second time as the favorite. Burns is 3-1 in the UFC, coming off a knockout loss to Pineda as a -260. He's been the favorite in all other bouts except his win over Nate Landwehr. 
Bill Algeo Money Line -210
Algeo is the superior fighter in all categories but submission, including grappling and control time. Algeo's submission defense is improving with time, while Burns struggled to step up in competition. 
Fight Completes 1 Full Round -350
The first round is up for grabs. Both fighters have first round finishes, but neither man has first round losses in their career. Expect Algeo's five fight decision streak to continue. 
PLACE YOUR BETS NOW! 
Dustin Jacoby +100 vs Da-un Jung -124
Jacoby is 6-2-1 in the UFC. He's been the favorite over three wins since his draw to Cutelaba as a +120. The majority of his underdog losses were doing his time at Bellator. His losses to Camozzi and Starks were as a +135 and -120. 
Jung's Betting Odds History
At 4-0-1 in the UFC, Jung has upset both Ibragimov and Mike Rodriguez. He was Sam Alvey's last quality performance in a fight to draw at -310. 
Jung Money Line -124
Jung has shown he's a danger to anyone looking to stand with him in the UFC, and that shooting takedowns against him is promptly punished. Jacoby has never been knocked out, but his decision losses include fighters that can mix striking and grappling with ease, as Jung did against Knight. 
Fight Goes to Decision, No -115
These fighters are knockout artists and they'll look to finish. The UFC has a history of making matches end quickly. Remember that this is UFC on ABC 3, and our predictions reflect their early stoppages. 
PLACE YOUR BETS NOW!
Dwight Grant -140 vs Dustin Stoltzfus +115
Dustin has been the underdog for five appearances in a row, ranging from +195 to +205. He's currently 0-3 in the UFC after a DWCS TKO in round 1. Grant is 4-4 in the UFC, with wins as the favorite over fighters like Alan Jouban and Tyler Hill. 
Dwight Grant Money line -140
The UFC on ABC odds for Grant payout $71.43 per $100 wagered. Of the two fighters, he's the only one that has defeated UFC level opponents. 
PLACE YOUR BETS NOW!
Jessica Penne +127 vs Emily Ducote -159
Emily Ducote is making her UFC debut after years at Bellator and Invicta MMA.
She's been the favorite in the majority of Invicta wins, and has shown as the underdog three times in her career against top talent.
Penne is 6-4 in the UFC, winning her last two as a +134 underdog and -110 favorite. She's 1-3 as an underdog in the UFC. 
Ducote Money Line -159
This opening bout is a 'Welcoming party" for Ducote. She's a high quality fighter and has always been inside the top ten strawweights in the world. It's good to see her demonstrating that in front of a public audience. 
PLACE YOUR BETS NOW!