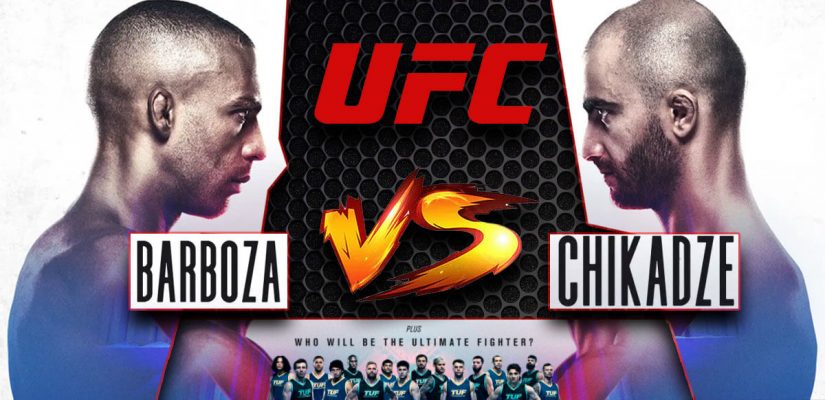 Another stacked night of twelve UFC fights is underway! This Saturday, UFC FIGHT NIGHT is back on ESPN with fan favorites like Sam Alvey and Kevin Lee. I'm looking forward to the odds on the main event, but first, lets break into the prelims and see what big wins are in store for sports betters.
? 10 featherweights collide SATURDAY!

Who ya got? ?

[ #UFCVegas35 | Aug 28 | Main Card 10pmET | Live on @ESPN & @ESPNPlus ] pic.twitter.com/dioACtt1Or

— UFC (@ufc) August 26, 2021
These fighters seem amped to get in the cage together! We're jumping right in! Let's go and see what the UFC betting sites odds say!
| | | |
| --- | --- | --- |
| Jamall Emmers | -149 | Over 1 ½ rounds -380 |
| Pat Stabatini | +129 | Under 1 ½ rounds +290 |
Jamall comes into this bout with a 25% TKO ratio, and for a featherweight with twenty-three bouts, that's what we like to see. His last loss was a split decision against main event fighter Giga Chikadze, where he was a -165 underdog. Jamall is a complete mixed martial artist. His takedown defense in the UFC is 100%, and his takedown accuracy is 53%.
Pat has some power, but his focus has been submission wrestling, with a 55% submission finish rate across all fights. He's 1-0 inside the UFC and has never been knocked out. His takedown accuracy was 20% from his last bout.
I don't see Pat winning the takedown, meaning he will have to strike with Jamall Emmers, which will make for a long night. I'm betting on Jamall Emmers, winning by decision, and so are the odds makers. Note the -380 Over; they recognize these two fighters skill sets most likely neutralize one another.
PLACE YOUR BETS NOW!
| | | |
| --- | --- | --- |
| Guido Cannetti | +340 | Over 1 ½ rounds -115 |
| Mana Martinez | -280 | Under 1 ½ rounds -115 |
Guido is 2-4 in the UFC, and that's doubly more grace than most fighters have received. He comes out quickly and often desperately. His last bout he was a +110 underdog and was knocked out in at the three minute mark, appearing to gas out in the first round. He's old at 41, especially for a bantamweight.
Mana Martinez lost via triangle choke in the Contender Series, since going 2-0 outside the UFC. He's won every fight by knockout in his 8-2, ten fight career. Guido has only been knocked out once in his last bout, his other loses have been by submission.
The only question in my mind in regards to who can win is whether or not Mana has developed an improved ground game. With a takedown accuracy of 50%, Cannetti can and will force this fight to the canvas at some point. Despite the numbers, I see Guido offering Mana a rude awakening. His grappling faltered against a mid level wrestler who has since gone 0-2 inside the UFC.
Guido Cannetti by submission victory.
| | | |
| --- | --- | --- |
| Jj Aldrich | -425 | Over 1 ½ rounds -549 |
| Vanessa Demopoulus | +325 | Under 1 ½ rounds +395 |
Jj is 5-3 inside the UFC, and it hasn't gotten any easier for her. Eeking out two split decisions of her last three victories, and winning all five of her UFC bouts by decision only. Vanessa has had a similar road, losing 2 of her last three. JJ is long for a Flyweight with a 67'' reach.
Vanessa was on the contender series, lost, and then went back to the LFA where she is 5-2. Her weight class is usually strawweight at 115. The move up to Flyweight isn't an easy one, but Vanessa has fought at Flyweight before. Nadine Mandiau dwarfed Vanessa and was still finished by armbar.
Vanessa has a bright future with the promotion, but I see Jj Aldrich offering her a rude awakening.
I see Jj Aldrich winning via decision.
| | | |
| --- | --- | --- |
| Darren Stewart | +160 | Over 1 ½ rounds -325 |
| Dustin Jacoby | -185 | Under 1 ½ rounds +250 |
Dustin is a light heavyweight that recently had a decision draw end a four fight winning streak. That streak included two UFC victories and a Contender Series win. Dustin was a +120 underdog against Ion Cutelaba and took it to him.
With a 48% striking accuracy and 50% takedown accuracy in the UFC, its no surprise Dustin has nine TKOs and one submission victory, finishing 60% of his bouts. Darren Steart is on a skid, winning only one of his last five. He was evenly matched against Eryk Anders at -110 each, but was outstruck 112 to 63 for a punishing defeat.
Stewart is less accurate across the board, and usually fights middleweight.
I see Dustin Jacoby taking this bout by TKO or decision victory.
| | | |
| --- | --- | --- |
| Sam Alvey | +105 | Over 1 ½ rounds -175 |
| Wellington Turman | -125 | Under 1 ½ rounds +145 |
UFC veteran Sam Alvey is on a six fight skid, with five losses and one draw. He is hoping the cut to Middleweight will offer his career a new lease on life. His takedown accuracy is 16% and his strike accuracy is 43% in the UFC, maring what was once some of the best combination striking-shooting work in the light heavyweight division.
Wellington is still a new comer, going 1-3 in the UFC. He's been knocked out twice and both his decisions were tough on him. He was the favorite in his last two fights at -160 and -170, but was TKO finished both times.
I think the UFC wants to see Sam Alvey reignite his career, which tends to influence the judges like it or not.
I see Sam Alvey winning by decision victory.

| | | |
| --- | --- | --- |
| Abdul Razak Alhassan | +200 | Over 1 ½ rounds -190 |
| Alessio Di Chirico | -125 | Under 1 ½ rounds +158 |
Abdul is a 10-4 knockout artist with all TKO victories. He is now 4-4 in the UFC. He was a strong favorite against his last two opponents, Khoas Williams and Jacob Malkoun, but was beaten badly by both.
His Takedown defense is only 55%, a number that will have to rise if he's to climb the UFC rankings. Alessio is in a similar situation, going 3-5 in the UFC. He's well-rounded but has had trouble landing the takedown.
He's dangerous, knocking out two of his UFC opponents, and hasn't been knockout out in the UFC yet. I for this reason, I could see Alessio walking away with a TKO/Decision victory.
Alessio has a 83% takedown accuracy and has fought more significant opponents than Abdul. It's going to be a firework matchup, and I think the Under might by a more lucrative bet, considering both of these men have.
PLACE YOUR BETS NOW!
| | | |
| --- | --- | --- |
| Gerald Meerschaert | +450 | Over 1 ½ rounds -120 |
| Makhmud Muradov | -700 | Under 1 ½ rounds +110 |
While the +450 Hail Mary bet is enticing, this middleweight bout shows a clear winner in sight. Makhmud is on the rise to be the Middleweight divisions Khabib, and there doesn't appear to be many fighters jumping at the opportunity to lose to him.
Gerald was recently finished in seventeen seconds by Khamzat Chimaev. Makhmud appears to be a similar fighter, landing 5.3 power punches per minute on average.
His frantic pace and third round knockout power appear to be too much for most middleweights.
I bet Makhum Muradov by TKO victory prop bet at -155.
| | | |
| --- | --- | --- |
| Andre Petroski | -600 | Over 1 ½ rounds +140 |
| Michael Gilmore | +400 | Under 1 ½ rounds -170 |
This bout between two UFC newcomers is an interesting one. Petroski is such a strong favorite, but its tough to tell a fighters real performance until he is facing competition that's on UFC caliber.
Petroski's most recent fight was a loss in the LFA, his only step up in competition. I'd say there is a real possibility that the big lights could take their toll on him.
I'm betting Gilmore, just for that $4 per dollar wagered return. I don't see a strong reason to put so much faith in Petroski, especially considering he's from a gym where he is the only professional fighter.
| | | |
| --- | --- | --- |
| Daniel Rodriguez | +123 | Over 1 ½ rounds -240 |
| Kevin Lee | -143 | Under 1 ½ rounds +180 |
Rodriguez has been the favorite for three fights running, going 2-1. He has TKO power, finishing half of his opponents for a career sixteen bouts, and two of his UFC bouts with good boxing. This welterweight has an average of 8 significant strikes per minute, though he through only 84 strikes for his last bout.
A fiery clash we have our eyes on ?

? @MotownPhenom takes on Daniel Rodriguez TOMORROW!

[ #UFCVegas35 | Tomorrow | Live on @ESPN & @ESPNPlus ] pic.twitter.com/F09rQbHGNZ

— UFC (@ufc) August 27, 2021
Kevin Lee is moving up to welterweight after mixed success at lightweight. He's 5'9'', not exactly the optimal height for the 170lbs division. He won two of his last five at lightweight, and with such a rocky career, the move may be an opportunity to start from the bottom of the division and work up to another title run.
I see Rodrigues +123 upsetting Kevin Lee.
| | | |
| --- | --- | --- |
| Brady Hiestand | +130 | Over 1 ½ rounds -335 |
| Ricky Turcios | -150 | Under 1 ½ rounds +255 |
Two new bantamweights are going at it for the first time in the UFC. Ricky Turcios primarily fought for the FURY promotion and is 2-2 of his last four. He's not a strong finisher, only a third of his bouts against unranked opponents resulted in TKO or submission.
TUF finalists looking to make a statement ?

? @RickyHadouken vs @BradyHiestand1

[ #UFCVegas35 | Tomorrow | Live on @ESPN & @ESPNPlus ] pic.twitter.com/6FbF0a6eVx

— UFC (@ufc) August 27, 2021
Brady Hiestand los this first bout against Boston Salmon in the Contender Series where he was a -210 favorite. His five wins have come by way of two submission and two TKOs. I see Brady bringing it home here. With young Bantamweights, the finisher brings it home.
Ricky is untested, so we'll see if he can manage a finisher like Hiestand.
| | | |
| --- | --- | --- |
| Bryan Battle | -175 | Over 1 ½ rounds -255 |
| Gilbert Urbina | +150 | Under 1 ½ rounds +195 |
Bryan Battle is a 5-1 middleweight with five fights for Hard Rock MMA. His North Carolina school Hayastan has produced no other fighters.
Battle has had three submission victories and one TKO, finishing four of his five wins before the third round.
This #ReturnOfTUF middleweight clash is CAN'T MISS ?@BryanBattle10 goes head-to-head with @GUrbinaMMA tomorrow night.

[ #UFCVegas35 | Tomorrow | Live on @ESPN & @ESPNPlus ] pic.twitter.com/bWhYPspBk6

— UFC (@ufc) August 27, 2021
Gilbert is from the BMF Ranch, Cowboy Cerrone's training facility. There must be Jackson's cross pollination happening there, though no other fighters claim the school.
Gilbert's six wins come from three promotions including PFL. Gilbert's at the right camp for a young fighter to get better quickly. If Cerrone is claiming him as a project, expect big things.
I see Gilbert +150 winning by Unanimous Decision.
| | | |
| --- | --- | --- |
| Edson Barboza | -117 | Over 1 ½ rounds -375 |
| Giga Chikadze | +103 | Under 1 ½ rounds +285 |
This strikers dream fight is going to stun. The safe bet is the under at +285, as if these two aren't going to come to the main event with every intension of finishing one another at all costs.
Giga has over fifty kickboxing bouts. When it comes to longer, twenty five minute fights, he is more prepared to strike for long periods of time.
Top featherweights looking to keep climbing the ranks ?

?? @EdsonBarbozaJr vs ?? @Giga_Chikadze headlines #UFCVegas35!

[ Tomorrow | Main Card 10pmET | Live on @ESPN & @ESPNPlus ] pic.twitter.com/aIyQrfBqUP

— UFC (@ufc) August 27, 2021
Edson takes 4.4 significant strikes per minute. Giga only absorbs 2.6, nearly half as many. On paper, Giga is more experienced, more defensive, and if Edson wants this kickboxing match, it won't be his night.
It could be that Edson is bluffing. He has a BJJ brown belt and could use it. Though this is a big doubt.
I pick Giga by TKO or unanimous decision.