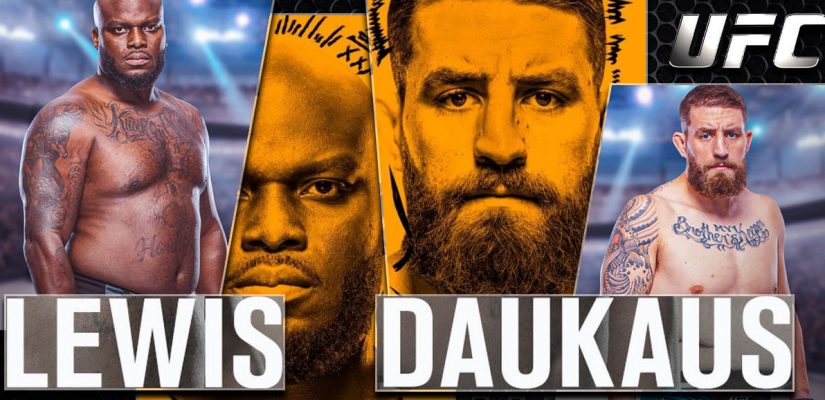 Saturday's fourteen fight card is stacked with title contenders across four weight classes and fight finishers in the main card and undercard alike. In this UFC betting pick, we breakdown each of the fourteen bouts, looking closely at the stats and betting options to produce our best picks.
UFC Vegas 45 is set to take place at the UFC Apex Arena in Las Vegas on December 18th, 2021.  We're kicking it off with the main event and working our way down to the early prelims.
The fighters of #UFCVegas45 are about to hit the scale!

Follow along on https://t.co/fdV4RnsUPw or @UFCNews for all official weigh-in results ⤵️:https://t.co/FuLqmWBXgx

— UFC News (@UFCNews) December 17, 2021
Derrick Lewis vs Chris Daukaus
In our main event, two heavyweights face off for title contention. Rumors are that the winner will face the winner of Ngannou vs Gane at UFC 270. Lewis lost to Gane earlier this year, and now Daukaus stands in his way of another shot at UFC gold.
Tale of the Tape of Lewis vs Daukaus
| | | |
| --- | --- | --- |
| Fighter | Derrick Lewis | Chris Daukaus |
| Age | 36 | 32 |
| Height | 6'3'' | 6'3'' |
| Reach/Stance | 79'', Orthodox | 76'', Orthodox |
| Record | 25-8-1 | 12-3 |
| Submissions/TKO in UFC | 0/12 | 0/4 |
| Fighter Training Camp | In between camps | Martinez BJJ |
Lewis has clear advantages in UFC experience and reach. Daukaus is yet to be knocked out in the UFC.
This one won't go all 5 rounds ?

? @TheBeast_UFC vs @ChrisDaukausMMA closes out 2021 tomorrow night!

[ #UFCVegas45 | Tomorrow LIVE on @ESPNPlus ] pic.twitter.com/7LjNjqGD8P

— UFC (@ufc) December 17, 2021
Outside of the UFC, his losses came by way of TKOs as recent as 2019. It's clear both fighters can be finished via strikes. Daukaus has an advantage in grappling, and is a BJJ black belt. However, Lewis has shown extraordinary power in grappling positions in the past, pressing his way out of bottom position against massive heavyweights like Olienik.
Betting Odds for Lewis vs Daukaus
Lewis comes in as the underdog for the third fight in a row.
Lewis won in underdog performances against Blaydes and Volkov, but lost against DC, Gane and Dos Santos. Lewis is currently 4-3 in underdog appearances at the UFC.
Daukaus was the underdog versus Nascimento, a fight he won with thirteen strikes in round one.
Over/Under Props for Lewis vs Daukaus
Daukaus has finished all four of his bouts inside the 1 ½ Rounds prop. In addition, he's never seen a fight go the distance. In his entire career, only one fight went past the 2:30 mark of round two, a TKO loss to Azunna Anyawu. That stat alone makes me feel the Under 1 ½ Rounds prop is the right choice.
Lewis has slowed down over the last six fights, seeing only three that fall into the under 1 ½ Rounds category. Still, the net average of their two careers points to an early night.
Fight Analysis and Final Betting Pick
With Lewis knocked out twice over his last six fights, it's difficult not to see  Daukaus win. Lewis is in between camps, and that plays a big role in a fighter's performance. The last camp switch we saw Lewis go through included his two fight skid against DC and Santos.
Fighter's UFC Stats
Lewis lands and absorbs strikes at 2.5 per minute on average. He's never attempted a UFC submission and his takedown defense is nearing the 50% mark.
Daukaus is aggressive, landing strikes 3:1 per minute and defending all incoming takedowns. On paper, Duakaus has taken a major lead over Lewis and has absorbed significantly less career damage.
Final Betting Pick
I picked Duakaus at -140, a $71 per $100 wager payout. He's younger, on a serious winning streak, and has proven his striking is ready for a challenge. Lewis has no currently sparring partners and his gymless camp can't be a good sign for his overall performance.
Stephen Thompson vs Belal Muhammad
Thompson is 1-1 over his last two, losing to esteemed grappler Gilbert Burns in his last bout after a two fight winning streak. Belal had an unfortunate eye poke stoppage by Leon Edwards followed by a solid win over Damian Maia.
Tale of the Tape of Thompson vs Muhammad
| | | |
| --- | --- | --- |
| Fighter | Stephen Thompson | Belal Muhammad |
| Age | 38 | 33 |
| Height | 6'0'' | 5'11'' |
| Reach/Stance | 75'', Orthodox | 72'', Orthodox |
| Record | 16-5-1 | 19-3-0, 1 NC |
| Submissions/TKO in UFC | 0/5 | 1/1 |
| Fighter Training Camp | Serra-Longo | Roufusport |
Thompson is aging quickly, but brings the height, reach, and UFC experience advantages to the fight with Belal.
A co-main that will have us on the edge of our seats ?

? @WonderboyMMA takes on @BullyB170 TOMORROW!

[ #UFCVegas45 | Tomorrow LIVE on @ESPNPlus ] pic.twitter.com/byBdhHvGg4

— UFC (@ufc) December 17, 2021
Belal is a decision fighter, and hasn't lost a fight since Geoff Neal in 2019.
Both fighters' training camps are of moderate quality, with neither producing high profile UFC champions, but both boasting high quality training and a stable of professional athletes.
Betting Odds for Thompson vs Muhammad
Thompson is a slight favorite, with a likely decision in order. The over under points to Belel and Thompson both being difficult to finish. Even in his loss to Burns, Thompson didn't seem to be in immediate threat of submission.
Belel would need to bring a spectacular submission game to finish Thompson.
Betting Odds History
Belal hasn't been the underdog since his loss to Geoff Neal in 2019. He's 2-3 in fights where he is the underdog for the UFC, beating Tim Means and Randy Brown.
Thompson is nearly always a favorite. His last fight as the underdog was 2016 versus Johny Hendricks. He was a strong favorite in his loss to Pettis, and a weaker favorite than he is against Belal in his losses to Burns and Till.
Fight Analysis for Thompson vs Muhammad
Thompson has lost four of his last seven fights, but he's faced higher profile fighters than Belal. Belal is on a five fight winning streak over mid level UFC opponents.He's lost three times in his UFC career to Luque, Jouban and Geoff Neal. Neal was Thompson's last win.
UFC Fight Stats
Belal has a high takedown defense but low takedown accuracy, averaging two takedowns per bout with a high rate of attempts. Thompson has a slightly better landing to absorbing ratio of strikes. His takedown defense is 73%, which should keep him off his back for the majority of the fight. I feel Belal will focus on takedowns, but Thompson should get the better of the standing exchanges.
Final Betting Pick
Thompson should win the decision narrowly, with Belal struggling for the takedown the majority of the bout. However, I see the most obvious choice to be the Over 2 ½ Rounds prop at -275. It's a small payout, but the fight is a nearly guaranteed decision. Thompson doesn't have the snap he showed five years ago, his last UFC knockout. Meanwhile, Belal can't finish anyone outside of the top fifteen, it would be a wonder if he could close on Thompson.
Amanda Lemos vs Angela Hill
Hill has struggled over her last four bouts, losing three to big names like Torres and Waterson. She has an opportunity to get it back on track versus a rising star in Amanda Lemos. Lemos has finished three of her last four opponents, going 4-1 for the UFC to date.
Tale of the Tape of Lemos vs Hill
| | | |
| --- | --- | --- |
| Fighter | Amanda Lemos | Angela Hill |
| Age | 34 | 36 |
| Height | 5'4'' | 5'3'' |
| Reach/Stance | 65'' Southpaw | 64" Orthodox |
| Record | 10-1-1 | 13-10-0 |
| Submissions/TKO in UFC | 1/2 | 0/2 |
Despite having nearly three times as many UFC appearances, Lemos has more finishes than Hill. Lemos has every advantage other than experience, boasting height, reach, age, and finishing percentage.
Betting Odds for Lemos vs Hill
Lemos is a strong favorite. Her finishes have been in the first round, so If she is to finish Hill it would fall into the Under prop.
Hill hasn't been finished in her last five fights. In the UFC only two fighters have finished her at all, champion Rose Namajunas and Randa Markos. Both fighters won via submission.
Betting Odds History
Lemos was the underdog in her win over Inoue in 2020 and her loss to Leslie Smith in 2017. Hill is a bit tougher to pin down. She was the favorite in her losses to Waterson and to Markos. She's been the underdog winner on two occasions in the UFC, and continues to stifle oddsmakers.
The last time she was a +240 underdog was the loss to Rose Namajunas in 2015.
Fight Analysis and UFC Stats
Lemos gets into some real brawls. On average, she lands 6.3 strikes per minute, absorbing 5.3. She's never missed a takedown and never been taken down.
Hill lands and absorbs at five strikes per minute, with a 77% takedown defense. This is the concern for any Hill bets, that she'll be out wrestled yet again. It doesn't appear her wrestling has improved over the last five years and Lemos should be able to take advantage of that.
Even Michelle Waterson got a takedown on Hill that decided the fight and Waterson is small for the division.
Final Betting Pick
I'm steering clear of the prop bets. It's difficult to say if either fighter has a chance of a finish. However, Lemos is on the way up and Hill is on the way out. I suspect she'll have trouble regaining her footing at 36 after losing so many fights to high profile fighters. This is Hill's third fight of the year, and I can't imagine that's been indicative of her improval over time.
Bet Lemos, and stay cautious of the props.
Raphael Assuncao vs Ricky Simon
Assuncao is on a three fight losing streak and a year off. He's lost to the who's who of the bantamweight division after a four fight winning streak where he beat Aljamain Sterling and Rob Font. Simon is on a three fight winning streak, after losing fights in the UFC to Font and Faber.
Tale of the Tape of Assuncao vs Simon
| | | |
| --- | --- | --- |
| Fighter | Raphael Assuncao | Ricky Simon |
| Age | 38 | 29 |
| Height | 5'5'' | 5'6'' |
| Reach/Stance | 66'', Orthodox | 69'', Orthodox |
| Record | 27-8 | 18-3 |
| Submissions/TKO in UFC | 1/2 | 1/1 |
Neither fighter has many UFC finishes, but Assuncao has a serious experience advantage. SImon has all physical advantages, coming in nine years younger than Assuncao. This shouldn't be overlooked. Assuncao's last win was 2018 when he was 35. It's going to be tougher and tougher for him to take wins.
Betting Odds for Simon vs Assuncao
Simon is the favorite, with the fight likely seeing a decision. While I feel the over is a good choice, I'd be tentative if only because of Assuncao's age. He took a year off before coming back, presumably to recover from his knockout loss to the now fading Cody Garbrandt. Many of yesterday's champions are still clinging onto the fight game and we'll continuously see them fall to the new guard of young prospects.
Betting Odds History
Assuncao has been the underdog for his last three, each of them losses. The last time he won as the underdog was 2017 in his first bout versus Marlon Maraes. The oddsmakers have been fairly accurate, miscalling only one of Assuncao performances inside the octagon.
Simon was the favorite against Urijah Fabor, a fight he lost definitively. However, in the majority of other fights, oddsmakers have been accurate when it comes to Simon. His last upset win was over Montel Jackson in 2018. All other calls on Simon by major sportsbooks have been correct.
Fighting Analysis and Final Betting Pick
Simon has produced solid victories over his last three, out striking each by a factor of two. Meanwhile, Assuncao's last three have shown him finished quickly twice, and losing 63 to 45 to Cody Sandhagen.
Final Betting Pick
I see Simon winning a narrow decision. He's not at the level of many of Assuncao's contemporaries, but he can outshine the aging fighter. Steer clear of the props on this one. It should be a decision but could end early if Assuncao's chin is still in question after the brutal knockout from his last bout.
Mateusz Gamrot vs Diego Ferreira
Gamrot is coming off the biggest win of his career over Jeremy Stphens, a first round Kimura that happened just one minute into the bout. Now he faces a seasoned submission artist and knockout striker on a losing streak, Diego Ferreira. Ferreira lost his last two bouts, both in 2021.
Tale of the Tape of Gamrot vs Ferreira
| | | |
| --- | --- | --- |
| Fighter | Mateusz Gamrot | Diego Ferreira |
| Age | 31 | 36 |
| Height | 5'10'' | 5'9'' |
| Reach/Stance | 70'' Southpaw | 74'' Orthodox |
| Record | 19-1, 1 NC | 17-4 |
| Submissions/TKO in UFC | 1/1 | 2/3 |
Gamrot lost his UFC debut, the only loss he's had in his 21 fight career, then finished back to back fights in 2021. Ferreira has lost his last two, and his last finish was over Anthony Pettis in 2020.
Gamrot has the height and youth advantage, giving up four inches of reach to Diego. Though Diego has more UFC experience, his percentage of UFC finishes is much lower.
Betting Odds for Gamrot vs Ferreira
Gamrot is the favorite and has been for all three UFC appearances including his loss. He was a regular in KSW, a Russian/Northern European Organization where he racked up the majority of his sixteen fight professional winning streak.
Diego was the favorite in both of his last two losses. As an underdog, he hasn't upset anyone in the UFC other than Jared Gordon in 2018.
Fight Analysis for Gamrot vs Ferreira
It's difficult to use UFC stats considering that Gamrot's first few UFC appearances were so quick. His loss to Guram was tough to call, as Mateusz dominated the fight outside of the one knockdown Guram scored.
Ferreira has a 66% takedown defense, so I'm positive we'll see his wrestling tested in this bout. As with Beneil Dariush, if Diego hasn't developed a better method of working the stand up or whipping out some submission attempts to scare off Gamrot, we'll see another grueling decision with Diego on the floor.
Final Betting Pick
I see Mateusz Gamrot taking home the win at a -180 moneyline. I wouldn't bet the props, because I do believe Gamrot has the power to finish with strikes or a submission.
Diego's only hope is to swing for the fences like he did versus Jared Gordon. It worked once, it could work again, but I have the feeling he sees himself as the better grappler and will take his time against this UFC newcomer.
Cub Swanson vs Darren Elkins
Two UFC veterans face off in this first fight on the Main Card. Swanson is coming off a TKO loss to Giga Chikadze and Elkins is on a two fight winning streak after a four fight losing streak from 2018 to 2020.
Tale of the Tape of Swanson vs Elkins
| | | |
| --- | --- | --- |
| Fighter | Cub Swanson | Darren Elkins |
| Age | 38 | 36 |
| Height | 5'8'' | 5'10'' |
| Reach/Stance | 70'', Orthodox | 71'' Orthodox |
| Record | 27-12 | 27-9 |
| Submissions/TKO in UFC | 2/5 | 2/4 |
Elkins has all natural advantages, but Swanson has one more UFC finish.
Betting Odds for Swanson vs Elkins
Elkins was the underdog in his last win over Darrick Minner. Swanson was a similar underdog versus Giga, but lost via knockout. Swanson has a number of career upsets, including his 2013 win over Dusitin Poirier and a 2019 win over Kron Gracie via a fight of the night decision.
Elkins was the favorite in two of his last four losses. He's called correctly by the oddsmakers about half the time. The last time he was a +160 was his loss to Ricardo Lamas in 2018.
Fight Analysis and Betting Pick
Swanson has advantages in the average number of strikes landed per minute, in takedown accuracy and in defense. Elkins has advantages in takedown frequency and submission attempts.
I see a narrow win for Elkins. I worry about Swanson's last knockout loss and its effects on his chin. He's 38, and as fighters age they need more time to recover from knockouts. Elkins has the momentum, and oddsmakers can't seem to get a beed on the fighter. The props are iffy in either direction, with Elkins racking up a number of career third round finishes.
Preliminary Betting Odds and Fight Picks
For the remaining eight fights on the card, you'll see the betting odds, a quick breakdown of the fight, and our top picks.
Betting Odds for Meerschaert vs Stoltzfus
Meerschaert Moneyline:
-230
Stoltzfus Moneyline:
+195
Meerschaert has lasted far more fights than Dustin, but has faced tougher opponents, carries greater physical advantages and has won his last two fights via quick finishes. While on average, both fighters have longer bouts, I think they're feeding Meerschaert a quick finish. I suspect an under 1 ½ Rounds bout and a Meerschaert win. I'll be betting the Under 1 ½ prop for the odds boost.
Betting Odds for Barcelos vs Henry
Barcelos is 5-1 in the UFC coming off his second ever career loss in a fight of the night performance. Henry is making his UFC debut.
I found some footage of Henry's bouts outside of major promotions and this looks like a fight to feed Barcelos a win so he doesn't lose two straight. UFC needs to build up bantamweight stars, and Barcelos is on the right track. I see an easy Barcelos win and I'm avoiding the over/under.
Betting Odds for Tafa vs Hunsucker
Hunsucker Moneyline:
+265
Tafa is a crowd favorite who's lost his last two fights via decision. They've set him up with the very sleepy Hunsucker. This man's been knocked out twice in the first round, expect Tafa to give him a similar treatment. Betting the under 1 ½ Rounds prop pays out a little more, but I don't think it's worth it.
Betting Odds for Gatto vs Eubanks
Eubanks is a favorite after going 1-2 over her last three. Gatto is a new-comer who knocked out her first opponent with vicious second round strikes.
While Eubanks is the veteran, I see an upset. Gatto looks like the kind of striker that we've seen beat Eubanks before. This will look similar to the Pannie Kianzad fight.
Sjara's chin is solid, so be scared of the under prop.
Betting Odds for Jourdain vs Ewell
Jourdain has lost four fights inside the UFC, going 2-4 for the promotion. Ewell is in a similar bout, going 3-4 overall. These fighters are evenly matched, and it's unclear who will win, but my money is on Jourdain. Ewell doesn't have much of a chin, and both fighters are striking focused.
Betting Odds for Pennington vs Chiasson
Pennington Moneyline:
-175
Pennington is on a two fight winning streak after losing to former champion Holm. Her only three UFC losses are the #2,3 and 4 contenders in the UFC.
Chiasson lost a decision to Lansberg in 2019 and has failed to beat many high level fighters outside of Marion Reneau.
My money is on the Over Prop. I see this fight going to decision, and I feel Chiasson could have an upset victory.
Betting Odds for Mayes vs Parisian
Both of these heavyweights have had mixed results in the UFC. This is one of the tougher fights on the card to bet on. Parisian hasn't been finished in the UFC and is coming in as the underdog. I'm picking the Parisian money line for a couple of reasons. Namely, that Mayes kept losing in dramatic fashion and Parisian's one loss was a close fight.
I'm staying away from the props. Mayas has the tendency to give up in the third round, so the over looks like the right bet. Then again Parsian has a number of first round finishes in his career.
Betting Odds for Sayles vs Leavitt
Both fighters are coming off of losses, but Leavitt has far better wrestling and is still quite young.  I see him making big improvements between fights and Sayles last performance was very lackluster.
I pick Leavitt, and it's one of the bets I may parlay with another confident pick through the weekend.
UFC Vegas 45 Betting Pick Wrap Up
When approaching a card with fighters with similar stats facing off, don't go too hard on one fighter. Spread your bets out even if you're feeling confident to cover ground across a majority of outcomes.
One. More. Sleep. ???#UFCVegas45 goes down TOMORROW NIGHT!

[ #UFCVegas45 | TOMORROW | Prelims 4???? | Main Card 7???? | LIVE on @ESPNPlus ] pic.twitter.com/GuR6SQn6Fj

— UFC (@ufc) December 18, 2021
Many bettors bet only on their most confident picks, but you'll find better outcomes, especially on cards like this one, if you look at multiple bets spread across all fourteen fights.