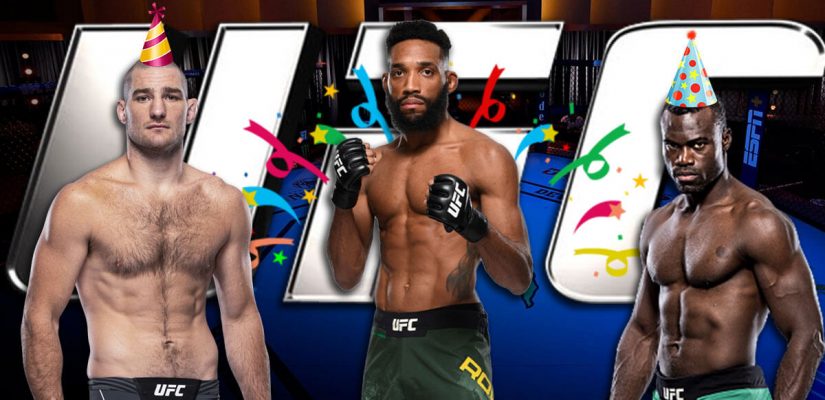 Last week's UFC event from Vegas was a really really fun one and it really made me miss being a fan. I guess I am still a fan but I eat, sleep, breathe, hit, sit, etc.
Getting the best predictions out to you guys that I can every week is something I savor.
You officially have a psycho working for you. I may not be a Sean Strickland level or type of psycho but I'm nuts, man, and we are locked into building this thing, and trust me, I may have goals but there are no limits. Sean and Uriah's fight should be a great one at that!
But yeah, I barely slept after one of the most exciting fight cards I had seen in a long time. It was Fight of the Night one after the other with them becoming more exciting every round and every fight.
I think it was the Miranda Maverick decision that did it for me.
I have a lot of the same lineage as the 23-year-old prospect and also a lot of belief in her as an athlete as well as a fighter. When I first heard from Brucey that this was a split decision, I knew something was up.
The future is still bright for @MayceeBarber ⭐️

[ #UFCVegas32 | LIVE on @ESPN & @ESPNPlus ] pic.twitter.com/gTUV9hi4pE

— UFC (@ufc) July 25, 2021
I thought, nobody in their right mind, ignorant of the sport, the rules, etc, could have given that fight to Maycee Barber. I think why it hurt so much is because my trust in the process was broken and maybe I sound foolish for saying I trust this process but we are playing the game. It is necessary to be aware but for the most part, we have to trust the judges' to make the right call.
If they don't, we are just screwed and we move onto the next one.
It had seemed to me and I even wrote about it was that the judging was finally starting to come around and score damage higher than control. And that isn't because that is what I want them to do.
It makes my job even easier if they score control higher than damage. I will bet the better grappler w cardio all night long and it will pay probably 2 out of 3 times.
As a fan, I always wanted them to score the fight how the rules suggest and how a fight should be scored anyway, in my opinion, and that damage is worth more than control because it is important that the sport of mixed martial arts is more of a fight than it is a competition.
GSP was a heck of a competitor:
So much so that he always avoided the fight within the fight. What kind of fighter does that make him? Georges was great and still is but he didn't finish a fight for 5 years of his prime. And these were 5 round fights against not the best competition ever.
Dan Hardy, Thiago Alves, Carlos Condit, Nick Diaz, Jake Shields, Josh Koscheck, and Johnny Hendricks all went the distance, a full 25 minute distance with Georges. The man did what he had to do. He made a lot of money and didn't take that much damage, at least in his fights.
You have to give it to him but at the end of the day, he was more of a competitor than a fighter and that is a big reason he was so successful.
If damage were scored more than control, GSP would have surely lost to Johnny Hendricks. Well, maybe the judges would have still given it to the popular champ but you get the point. It is impossible to know how the judges are going to score a fight.
So, how do we have confidence?
Well, we can't predict it so we might as well just go with the flow. That is all we can do. I have seen Ol Sal D'Amato score control higher, damage higher, punching air higher, etc.
We don't know either way so all we can do is shut up about it and party!
Let's look at a few lines that may have value but they are still out of our price range. From there, we can set anchor and turn up the music.
Parlay #1 – Bryan Barbarena + Rafa Garcia: -120
Here, we have two fighters who are probably never going to be staples in the top ten of their respective divisions but they are both skilled and solid. I think Bryan and Rafa will be in the UFC until they are probably 37+ years old.
They are both durable and aggressive.
I like that in the small Octagon as both men will likely be fighting on the front foot.
Their respective opponents, though, are a big reason why I am including Rafa and Bryan in the parlay. I don't like to throw together two fighters and still not get plus money for it unless we are talking Kamaru Usman or Amanda Nunes.
These two are obviously not those living legends but their opponents are not exactly UFC level either. There is a reason two fighters ranked outside of the top 10 have close to 3 to 1 odds each to get the win on Saturday night.
I feel pretty good about both guys getting their hands raised. They have age and durability on their side for sure. Bryan Barberana has the strength of schedule of a top ten fighter.
He just hasn't been able to get over the hump and prove he is quite that level and maybe he never does.
I like his chances Saturday night, though, to put hands on the slower and potentially chinny Jason Witt. Witt is a slow lumbering guy who seems to get caught cold early on in fights. Maybe his corner and coaches have realized this and the man gets a little bit more intense during his warmup.
I think he is a big lumbering guy who got away with using his size for a while until he made the big show and here in the UFC, fighters are just as big if not bigger, and a lot better technically. Oh, and faster too.
Bryan Barberena may not be larger than Jason Witt on Saturday night but as long as he can defend the takedown, the volume puncher fighting out of the MMA Lab in Glendale, Arizona should have his way.
I am just not impressed at all with Jason Witt and the UFC loves Bryan.
He is a fighter who forces his opponents to fight as well. If they don't, they eventually get overwhelmed with punches as Bam Bam is known to throw a lot of strikes.
He lands about 5.5 significant strikes per minute while still maintaining a solid 48% landing percentage. So, every 5 seconds or so, Bryan is throwing a shot. Let's check the defensive stats on Jason Witt.
This explains why he has been put away with strikes in two of his three fights inside of the UFC Octagon. I am seeing a 50% takedown accuracy from Jason which is a good number compared to the 60% defense from the favorite.
This statistic is just from one fight, though:
When Jason was able to get Cole Williams out of there. Cole is not UFC level so take that for what it is. As I was saying, the UFC loves Bryan and he has been away from action for a while now.
So, I think that is why they have given him Witt here. Bryan fought last September and defeated Anthony Ivy by unanimous decision so it has been close to a year since we have seen Bam Bam do his thing.
With fights against Vicente Luque and Leon Edwards, Bryan has a lot of experience at the highest level of the division but make no mistake, he isn't on that level. If he were, I think he would have been able to defeat Randy Brown but that 8 inch reach disadvantage proved to be too much for him.
Bryan isn't that big for the weight class but he will have 2 inches of height and also 2 inches of reach over Witt on Saturday. Bryan is used to having the smaller frame in there at least in the shoulders, he has some wide hips on him that help with punching power.
I think he is one of those guys who looks smaller on TV and larger in person because look at this photo of him alongside a Featherweight fighter on Saturday's card as well, Danny Chavez. I did note that Garcia is small as former Lightweight Jared Gordon looked a weight class larger in their fight.
But still, you can see that Barbarena is not a little guy and he will even have the size advantage against Jason Witt on Saturday.
I think Barbarena will thrive with both the size and speed advantage. The only way to shut that down is with some stellar timing and I just don't think Jason is that kind of fighter. He does want to take you down, though, and we can't ignore the 5 takedowns Bryan gave up in his most recent fight with Ivy.
He did defend 19 other takedown attempts from his opponent that night so I wouldn't read too much into it. Ivy is huge and also faster than Witt as well so that really isn't the same. Jason is tough dude and Bryan is mostly a volume guy so I don't know if he will get him out of there like the others have recently but he should put the volume together nonetheless.
We just have to avoid the takedown and if a couple do happen, work our way up and continue to pressure the opponent.
As for the other half of the parlay, Rafa Garcia is a slightly larger betting favorite than Bryan sitting up at (-302) over at BetOnline.AG. Rafa is a 12-1 fighter who will turn just 27 years old next week.
The young man fighting out of Baja, California, Mexico is sharp and the UFC would love for him to show out here. I think they are behind Barbarena also. The company definitely is setting these two up for success.
Rafa is fighting an aging vet who in his last few fights, in particular, has looked like his preparation and abilities to fight inside the Octagon have drastically diminished.
Chris Gruetzemacher has fought once in the past 2+ years and has lost 3 of his previous 4. Chas Skelly and legendary grappler Davi Ramos were both able to get him out of there via rear naked choke.
They are both great grapplers but it still isn't a good look for Gruetz who is pretty freaking slow on the feet and I think that is where we will see the largest discrepancy in skill or should I say attributes.
You can just look at Rafa Garcia and see how fast he is.
The only thing I am worried about in this matchup is that Rafa is still fairly unproven and Gruetz does hold a massive experience advantage even though he only has 18 career professional fights.
I've known about the 35 year old Gruetz for a while. He was on The Ultimate Fighter and was the elder statesman with better skill than a lot of the house. Chris won his first two fights but lost in the semi finals to the GOAT, Artem Lobov.
Who, in fact, actually retired from competition today. Respect to that guy. He went into the boxing ring bare knuckle with a former world champion, took the fight to him, and won!
I didn't mind either that it was against such a big mouth like Paulie Malignaggi although the more Conor McGregor reveals his own character, crazy bug-eyed Paulie doesn't seem like such a mad man anymore.
Gruetz is very smart.
He hasn't lost that, and he trains at American Top Team so I know the early calk kicks will be coming.
Let's hope our guy is well schooled in that area and ready for whatever his opponent throws his way. Rafa is more of a grappler than a striker, though, and you know Chris has some tricky subs ready for that neck.
The UFC likes this kid, though, and Mexico is a rich country that loves fighting as much as any other in the world.
They are setting him up to win but will he?
He stepped in on just a few days notice to fight Nasrat Haqparast, a high level prospect out of Germany who is knocking out someone every other fight. So, we know the Mexican fighter is game but we already knew that because he is a Mexican fighter.
If he can go 3 rounds with Nas, barring the calf kick or him leaving his neck out there for a guillotine, I believe that Rafa has the sauce to outlast Gruetz. 8 years younger but unproven.
Maybe his guillotine defense sucks. Maybe his calves are weak and he gets them taken out from under him in the first few minutes. There are paths to victory for for the dog here but he is an old dog and he looked uninspired and very flat on the scale.
Give me Rafa and Bam Bam for our first parlay of the week. Invite these two men out for a night on The Strip to celebrate their wins!
Parlay Bet #1
Rafa Garcia + Bryan Barbarena
Parlay #2 Rafa Garcia + Bryan Barbarena + Orion Cosce vs Phil Rowe Over 1.5 Rounds: +190
Throwing on the over 1.5 rounds in what looks to be a bit of a stalemate matchup seems like a strong move here as we are increasing our payout almost an entire point or dollar.
But both Orion Cosce and Philip Rowe
are finishers so why is this a stalemate? Well, I say this because one has strength and a strong base while the other man has the length. Phil Rowe is a good grappler but he prefers top position.
I don't think he is going to be able to impose that will on his opponent, though, not Saturday. I was very impressed with Orion Cosce's first performance inside of the Octagon when he dominated the betting favorite and fellow undefeated fighter at the time, Matt Dixon.
He even finished him off with a nice crucifix beatdown position action that left fans and bettors in awe. When I close my eyes and see this one playing out, I see Orion pressuring Phil early but with little success as the man with the 80 inch reach is able to use his long legs and arms to stab his opponent as he moves forward.
I think it will take Orion a few minutes to track down Rowe and then he can get to work on the ground. From there, even though he is aggressive with strong ground and pound, Orion will probably be tied up by the potentially higher level BJJ guy on bottom.
It is hard to get to work in the guard of someone who has such long legs. We aren't sure if Rowe is going to try and get back to his feet immediately or possibly attempt a submission or sweep while he is down there.
I think there is a chance he gets the sub but I just see these two men's skills kind of tying each other up and making for an interesting fight but maybe not so action packed for the naked eye.
We have affordable betting odds of (-170) here and I like that line a lot better than I do Orion's moneyline which isn't that bad either at (-150) but both men are durable and game. I see this one going the distance or late into the 3rd.
Parlay Bet #2
Barbarena + Garcia + Over 1.5 rounds for Cosce vs Rowe
In Conclusion
We didn't throw a party last week so I felt like we were due. I don't want you guys investing too much into this week's invitee list, though.
I like it but I am not crazy about it and if you want to switch up the over for the Garcia pick, I am not mad at that either. Gruetz is still a wily veteran and Rafa has just one fight inside of the Octagon.
I love what he has been able to do with his time over at Combate Americas. I have had the pleasure of working a lot of their fights as a corner and they are the most professional organization outside of the UFC that I know.
There is a lot of money behind it which doesn't hurt but they have always been class. Rafa Garcia hasn't just been picking up regional wins here and there in his home country of Mexico. This guy has been dominating at a fairly high level for a while and the UFC is gifting him Chris Gruetzamacher for stepping up on a few days notice to likely take his first L against one of the division's hottest prospects.
He doesn't fight very often but I like his style against the slower, smaller Jason Witt.