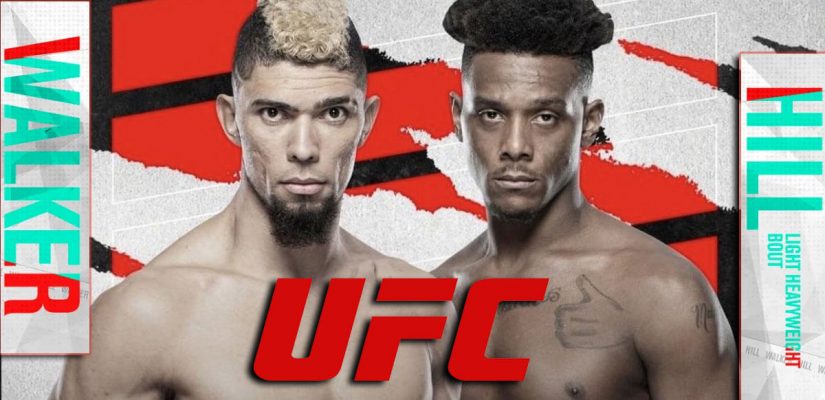 Vegas 48 hosts twelve fights on February 19th, 2022 and we've gathered betting coverage on each fight. You'll see our expert fight breakdown, top betting picks, and fight week's UFC odds on money lines and prop bets. 
Johnny Walker vs Jamahal Hill at UFC Vegas 48
Both fighters are 1-1 in their last two, and both fighters are exciting knockout artists that do poorly versus grapplers. This evenly matched main event features two fighters who can land knockouts and have been knocked out, making it tough to bet the Over props. This fight is in the light-heavyweight division between #10 Walker and #12 Hill, setting the winner up for a return fight against Reyes or Oezdemir. 
Tale of the Tape for Walker vs Hill 
| | | |
| --- | --- | --- |
| Fighter | Johnny Walker | Jamahal 'Sweet Dreams' Hill  |
| Age | 29 | 30 |
| Height | 6'6'' | 6'4'' |
| Reach/Stance | 82'' Orthodox  | 79'' Southpaw  |
| Record | 18-6 | 9-1, 1 NC  |
| Submissions/TKO in UFC | 0/4 | 0/4 |
| Fighter Training Camp | SBG Ireland, various | UFC Training Facility, Black Lion BJJ, others  |
| Sub/TKO Losses in UFC  | 0/1 | 0/1 |
Walker is the younger, larger fighter. He's been in the fight game longer and has seven fights to Jamahal's six.
Don't be fooled by the added UFC losses of Walker, he's only lost to top ten ranked fighters, including #5, #9, and the now Bellator champion, Corey Anderson. 
Jamahal lost to #11 ranked Paul Craig, whose BJJ game overwhelmed Hill's strengths, finding him with a broken arm and knocked unconscious. 
Comparing Fighter Training Camps
SBG has been Walker's most recent training facility, though it looks like he's cross-training with several unheard-of gyms inside Ireland. Since arriving in Las Vegas, he's worked boxing at Golden Boy Gym. It's exciting to see Walker prepare his striking defense with quality boxers against a fighter like HIll. 
Hill has been training in Michigan primarily with coaches he doesn't often talk about.
Our sources tell us he's at Black Lion BJJ as well as several Chicago MMA gyms. He trains at UFC Apex in Las Vegas. SBG is a tough gym to quantify. They've been blamed for the losses of several high-profile fighters, and there are many rumors of severe overtraining. Since the move to SBG from Tristar, Walker has taken a serious step up in competition, going 1-3 over his last four fights. 
Betting Odds and Odds History for Walker vs Hill 
| Bet Available at Betonline.ag | Odds and Payout per Dollar Wager  |
| --- | --- |
| Walker Money Line | +210 |
| Hill Money Line | -250 |
| Over 2 ½ Rounds | |
| Under 2 ½ Rounds  | |
Not surprising given his string of losses, Walker is the underdog. Walker has been the underdog in two other UFC fights; his last loss to Santos at +132 and his KO win over Rountree in 2018 at +150.
He's been a slight favorite in two losses to Krylov and Anderson.
Hill was the underdog for the first time in his career against Crute at +170, winning by knockout in the first round. He was a strong favorite in his loss to Paul Craig at -235. Craig opened at +250 and fell to +225 by the time of the fight, beating Hill at two minutes of the first round. 
Prop Betting Analysis
Hill has had only one decision in the UFC, and it was a win over Darko Stosic. Stosic won six takedowns but gave up seventy strikes to Hill. 
Walker has fought to three decisions in his eight UFC bouts, losing two of them. Krylov and Santos both fought smart fights, refusing to exchange with Walker, and using the groundwork  and body strikes to slow Walker down. 
Walker will occasionally fight smart, looking for the win and not the KO, but Hill consistently pushes the pace. He has so much confidence in his hands ability to put people out, he sees to reason not to move forward and test them. 
I want to buy the Under 2 ½ Rounds prop.
But there is a chance we see a more metered Walker, using conditioning and defensive boxing to exploit some of Hill's more obvious weaknesses. 
Fight Prediction and Breakdown for
Johnny tested positive for Covid for the second time on January 2nd, though it's unclear how it affected his training.
He's been spending lots of time at ABS Powerlifting in Ireland, focusing on strength and conditioning. 
We're breaking down some past UFC bouts to see if we can spot any style matchups the fighters will exploit. 
Hill vs Paul Craig
Hill switches stance twice before throwing any strikes at all. He only lands one strike throughout the bout, a leg kick. It's possible he lands one ground strike as well in the chaos. Craig pulls guard and works a submission clinic on Hill, it's not something We're going to see from Walker, who is good at BJJ but historically hasn't centered his fights around it. 
Walker vs Thiago Santos, Corey Anderson
Santos is tentative against Walker, and for good reason. He lands only 44 strikes total, four less than Walker. Looking at the round stats, it's clear that Walker won the fight overall, but Santos wins three rounds of the five-round fight. 
When Walker was finished by Corey Anderson, it was because of ground work.
Corey wins an early takedown, landing 76% of his strikes on the ground and in the clench against the cage. Hill rarely shows this kind of striking from various ranges. In fact, it's Walker who's thrown more significant strikes from the clench. 
UFC Vegas 48 Betting Pick
If Walker is insisting on a stand-up battle with Jamahal, it's going to be a tough night. Hill has strong striking, and a willingness to go for broke. He's never had a fight go to decision in his career, and Walker's chin is suspect. He's been stunned a number of times. I'm expecting the Under Prop to payout, with Hill as a likely victor. 
Jamie Pickett vs Kyle Daukaus
Both of these middleweights are just outside the top fifteen. Daukaus' last bout was ruled an NC after an early headbutt and is now 2-2, 1 NC in the UFC from his debut in 2019 until now, a lackluster three-year span. 
The Night Wolf is on a two fight decision winning streak after a knockout loss to Jordan Wright last May. It was the first time in Pickett's career that he'd been knocked out, but he has lost via submission twice. 
Tale of the Tape for Pickett vs Daukaus 
| | | |
| --- | --- | --- |
| Fighter | Jamie 'The Night Wolf' Pickett | Kyle Daukaus  |
| Age | 33 | 28 |
| Height | 6'2'' | 6'3'' |
| Reach/Stance | 80'' Orthodox  | 76'' Southpaw |
| Record | 13-6 | 10-2, 1 NC |
| Submissions/TKO in UFC | 0/1 | 0/0 |
| Fighter Training Camp | Hit Pit MMA, Port City Performance | Martinez BJJ  |
Daukaus has more fights outside of the UFC, racking up a quick pool of eight first round submissions. This submission work hasn't gone unseen by the UFC, with an average of 1.9 attempts per fight. Pickett is a brown belt in BJJ, but he has been submitted outside the UFC and in it by Charles Byrd at DWCS. Byrd submitted two more DWCS and UFC fighters, then went on a three fight TKO losing streak. 
Daukaus is a massive southpaw, but has mostly been unable to utilize that reach.
Even in his wins, he's landing less than 50% of his strikes at a distance, and prefers to clinch and ground strike. Against Pickett's 80'' reach, I don't blame him. Pickett will be looking to play the outside and take a page out of Sean Strickland's book; looking to spend the whole fight with a jab and counter wrestling combination. 
Comparing Fighter Camps
I'm still skeptical of Martinez BJJ. they've brought us the Daukaus brothers, and not much else. The Daukaus brothers have no UFC level sparring partners, no striking coach separate from their BJJ coach, and no world class recovery coaches on staff. 
However, Picket isn't much better. He's training at gyms that have failed to produce high level sparring for him. He works occasionally with John Salter, and hopefully that should remove the risk of submission in this bout. 
This is a very short notice fight for Pickett, who's recent training footage has been filled with weightlifting posts. I worry about Pickett's cardio conditioning. 
Betting Odds and Odds History for Pickett vs Daukaus 
| Bet Available at Betonline.ag | Odds and Payout per Dollar Wager  |
| --- | --- |
| Pickett Money Line | +220 |
| Daukaus Money Line | -260 |
| Over 2 ½ Rounds | -175 |
| Under 2 ½ Rounds  | +145 |
| Daukaus Inside the Distance  | +200 |
| Fight Doesn't go the Distance  | +115 |
| Fight Goes the Distance  | -145 |
Pickett has been the underdog even in his last two winning decisions at +162 over Holmes and +187 over Staropoli. This isn't new territory for Pickett, he's been the favorite only twice in the UFC, losing both times. 
In Daukaus' last two he was the favorite at -165 and the underdog at +155, losing one fight definitively, and the Kevin Holland match ending via NC headbutt. In both Daukaus UFC wins he was a -250 and -260 favorite.
Pickett is a long shot here. His wrestling defense is 68%, and Daukaus is 85%. He will seek takedown exchanges and he will win them. Daukaus also gets hit less often at 2.6 absorbed per minute. Compare that to Pickett's 4.17, a stat slightly offset by his 120 strike beating from Tafon Nchukwi. 
Prop Bet Analysis
Daukaus has only seen decisions in the UFC, while Pickett has only won decisions. The concern against the Over 2 ½ Rounds bet is that Daukaus will finally see his submission skill work come into play. 
Pickett's submission losses seemed closely related to his conditioning. With this fight coming in on short notice, it's likely that Pickett could crumble in the second round or beyond, offering an early finish. 
I like the bet Daukaus inside the distance, but I'm not convinced a money line on Daukaus isn't the better bet. 
Fight Prediction and Breakdown for Daukaus vs Pickett
Daukaus presented good shootboxing against Allen, driving him to the cage with ease. Allen landed a knee early in the fight that offered Allen mount, and Daukaus was still able to escape and finish the fight competitively, even winning rounds and taking Allen's back late in the fight. 
I'm looking for that kind of perseverance from Pickett. 
Pickett has displayed much faster hands.
His knockout win over Jhonoven Pati showed us that Daukaus can not simply wait for the exchange, he has to stay defensive especially when attempting the takedown. 
No one has attempted a takedown heavy game plan against Pickett since his loss to Punahele Soriano, giving up three takedowns. Daukaus will win the wrestling with ease and I think it will offer him the fight. 
Our betting pick is Kyle Daukaus at -260.
He's the better takedown artist and his full training camp should offer him several opportunities to win. 
Parker Porter vs Alan Baudot 
Porter is 2-1 in the UFC after winning back to back decisions over Sherman and Parisian. He faces Baudot, who experienced his first two career losses via knockout in his UFC debut and follow-up fight. Baudot was a knockout machine outside of the UFC, finishing seven of eight opponents. 
It's tough to get a handle on Baudot.
One of his submission losses at TKO 47 was overturned for an absurd 100 nanograms of THC, essentially nit-picking the victory to save Baudot's undefeated status. Baudot's last loss to Nascimento is also contested, but not yet technically overturned since Nascimento tested positive for the diuretic derivative ritalinic acid. This is a common supplement taint, especially in pre-workouts made overseas. Basically, Baudot has been propped up significantly, and the hype is hitting the fan. 
Tale of the Tape for Porter vs Baudot 
| | | |
| --- | --- | --- |
| Fighter | Parker Porter  | Alan 'The Black Samourai' Baudot  |
| Age | 36 | 33 |
| Height | 6'0'' | 6'3'' |
| Reach/Stance | 75'' Orthodox  | 79'' Orthodox  |
| Record | 12-6 | 8-2, 1 NC  |
| Submissions/TKO in UFC | 0/0 | 0/0 |
| Fighter Training Camp | Thorton's MMA | MMA Factory Paris  |
Baudot is the younger, bigger fighter. Porter has more MMA experience, but clearly, more losses outside of the UFC. 
Porter is small for a heavyweight, and at 6'0'' it is a concern. He'll need to fight his way to the inside against a knockout striker. 
Comparing FIghter Camps
MMA Factory is the former home of Francis Ngannou and the current home of Gane. Baudot has plenty of top tier sparring partners at the heavyweight level to work with. MMA Factory's BJJ has been improving.
Justin Thorton has produced UFC fighters like William Knight, but is struggling to keep up with Porter and it's highest level fighters.
Thornton is a black belt, and Porter is a brown belt in BJJ under Thorton. I give Baudot the training advantage overall, but Thorton is still a developing gym and we could see more from them in the future. 
Betting Odds and Odds History for Porter vs Baudot 
| Bet Available at Betonline.ag | Odds and Payout per Dollar Wager  |
| --- | --- |
| Porter Money Line | -260 |
| Baudot Money Line | +220 |
| Over 1 ½ Rounds | -165 |
| Under 1 ½ Rounds  | +135 |
| Goes the Distance  | +175 |
| Doesn't Go the Distance  | -215 |
Baudot has been the underdog twice running coming into UFC Vegas 48, losing at +500 and +355.
Oddsmakers feel the Porter fight is closer.
Porter has been the underdog in three UFC appearances ranging +110 to +200, winning two bouts as the underdog.
He had mixed success in CES and Bellator as both favorite and underdogs from 2012 to 2019. 
Prop Bet Analysis
Porter is an obvious favorite with his two fight winning streak, and he's won twice via decision.
I don't think Baudot has a glass jaw, he's just had the misfortune of fighting back to back killers. Aspinall won with ground strikes and strikes landed off the stand up, Rodrigo won in the second round, inside the Under 1 ½ Rounds prop.
 
I'm not unconvinced Baudot doesn't have a lucky punch in him. Porter has been knocked out before, at Bellator 98 and to Jon Jones back in 2008. 
Fight Prediction and Breakdown for Porter vs Baudot
Porter's performance against Sherman showed a fighter that was at times looping, but a patient fighter who was able to win top position several times.
Porter was measured and unafraid in his last few bouts, showing a kind of high-level striking experience that's rare at heavyweight. Baudot looked to land jabs early against Nascimento, including winning strikes against the various takedowns of Nascimento.
Once Nascimento began to land, Badot's face looked different and his body language changed. This is clearly a fighter that has issues under pressure. 
Our betting pick is the safe choice, Parker Porter at -260.
I like the 'Fight Doesn't go the Distance' prop bet as an alternative at -215, but I believe Porter to be the better fighter with more skill in the exchange. 
Jim Miller vs Nikolas Motta
Miller, one of the most prolific UFC fighters, returns after going 2-2 over his last four. He faces Motta in his second UFC debut after a successful decision win at DWCS in 2020, then he was invited onto The Ultimate Fighter Brazil Season 4.  Some fifteen months later Motta will get the opportunity to fight in the UFC against an aging submission specialist. 
Tale of the Tape for Miller vs Motta 
| | | |
| --- | --- | --- |
| Fighter | Jim 'A-10' Miller | Nikolas 'Iron' Motta  |
| Age | 38 | 27 |
| Height | 5'8'' | 5'9'' |
| Reach/Stance | 71'' Southpaw  | 70'' Orthodox  |
| Record | 33-16, 1 NC  | 12-3 |
| Submissions/TKO in UFC | 10/5 | 0/0 |
| Fighter Training Camp | Miller Brothers MMA, Sussex MMA  | Relson Gracie, Damian Maia, Various teams |
Miller is eleven years older than his opponent, and carries with him a huge number of UFC finishes. Miller has as many UFC finishes as Motta has fights total. 
The Motta reach shouldn't play much of a role. Miller fights to the inside constantly, and will be looking for grappling top position throughout.
JIM MILLER! @JimMiller_155 gets it DONE!#UFCFtLauderdale pic.twitter.com/WhCQ6pw9Ja

— UFC (@ufc) April 27, 2019
Comparing Fighter Camps
Miller Brothers has been Jim's camp for seven years, amassing a 7-6 record since making the switch to running his own camps. Motta has been on the move, training at multiple world class BJJ and MMA schools across Brazil and the US, most recently UFC Apex Training Center, offering a home field advantage for UFC Vegas 48. I'm a big fan of fighters taking on the nomad role early in their fight careers, and find that those who can maintain this role longest show the best outcome. 
I give a slight training advantage to Motta. 
Betting Odds and Odds History for Miller vs Motta 
| Bet Available at Betonline.ag | Odds and Payout per Dollar Wager  |
| --- | --- |
| Miller Money Line | +155 |
| Motta Money Line | -180 |
| Over 2 ½ Rounds | +100 |
| Under 2 ½ Rounds  | -130 |
| Miller by Submission | +350 |
| Motta by KO, TKO  | +210 |
| Miller inside the Distance  | +265 |
Miller is the underdog despite recent -250 win over Gonzalez. He lost against Pichel and Solecki as the underdog at +110 and +220, but defeated Roosevelt Roberts at +225 via first round armbar.
Even after nearly thirty UFC bouts, oddsmakers struggle with Miller.
Motta was the underdog at +100 when originally scheduled to fight Miller in 2021, and defeated his DWCS opponent Joe Lowry at -190 in 2020. 
Prop Betting Analysis
Many of Motta's wins outside of the UFC are via TKO, but so are several of his losses. He went 1-1 on TUF, losing via choke to Glaico Franca, which isn't on his official record, he's also lost via guillotine choke.
I'm betting the Under 2 ½ Rounds as one of the better props, but Miller inside the distance looks good. Not only does it pay far more, Miller hasn't been finished since he fought the champ, Charles Oliviera in 2018.
Miller's ringcraft and submission work make his victory a better bet than the newcomer, despite their eleven year age gap. 
Fight Prediction and Breakdown for Miller vs Motta 
Miller's striking was highlighted in his last bout against Erick Gonzalez where after two rounds, Miller finished Gonzalez with a knockdown and subsequent TKO. 
Motta's striking is powerful, but still looping and unrefined.
After observing his reaction to good defensive boxing tactics, I find that this is a really bad fight for Motta. 
In a rare moment of confidence:
I'm going with a long shot prop bet, Jim Miller inside the distance at +265.
He's the more experienced fighter by a mile, and still has some years left in the tank. 
Joaquin Buckley vs Abdul Razak Alhassan
In an exciting Middleweight matchup, Buckley is back against Alhassan, another knockout artist. All five of Buckley's UFC appearances have been TKO's, win or lose. Alhassan has only lost via decision outside of his brush with Khaos Williams in 2020, where he was knocked out with five strikes total. 
Tale of the Tape for Buckley vs Alhassan 
| | | |
| --- | --- | --- |
| Fighter | Jaoquin 'New Mansa' Buckley | Abdul Razak Alhassan  |
| Age | 27 | 28 |
| Height | 5'10'' | 5'10'' |
| Reach/Stance | 76'' Southpaw | 73'' Orthodox  |
| Record | 13-4 | 11-4 |
| Submissions/TKO in UFC | 0/3 | 0/5 |
| Fighter Training Camp | Xtreme Couture, varied  | Team Elevation |
| UFC Losses Via TKO | 2 | 1 |
Joaquin has a nice three inch reach advantage that can mean the world for a southpaw with a strong left straight. This is allegedly the first bout that Buckley has ever been able to train full time for, finally leaving his job at Walgreens to exit Saint Louis. 
Alhassan has far more UFC bouts, going 5-4 overall. His biggest losses have been to wrestlers like Malkoun, Lazzez and Akhmedov who took him down 18 times total across just three fights.
Buckley has only two UFC takedown successes across five fights. 
Comparing Fighter Camps
Elevation has performed moderately in the past few years.
Alhassan left Syndicate for elevation in late 2021, so his time at the camp may have been only for the past eight weeks. Buckley has been cross-training, touching base with Syndicate including Alhassan's former training partners.
I feel Buckley has an advantage, both in cross training and in scouting old coaches of Alhassan. 
Betting Odds and Odds History for Buckley vs Alhassan
| Bet Available at Betonline.ag | Odds and Payout per Dollar Wager  |
| --- | --- |
| Buckley Money Line | -164 |
| Alhassan Money Line | +144 |
| Over 1 ½ Rounds | -105 |
| Under 1 ½ Rounds  | -125 |
Adbul has been the underdog for two fights in a row for the first time in his UFC career. He was the +215 underdog in his upset of Alessio Di Chirico last August, opening it up with a fight-ending head kick and Knockout of the Night. Outside of these two bouts, Alhassan was the favorite even in his four losses, spanning back to 2016. 
Buckley was the underdog to Holland, losing at +380 in his debut. He also lost as a -262 favorite to Chirico in January 2021. Buckley has only fumbled once as the favorite, including in Bellator. 
Prop Betting Analysis
The under captures four of Buckley's UFC fights. His last bout went to the third round. Alhassan's only been knocked out once, thirty seconds into the first round. However, the majority of his opponent's have been takedown artists. 
Both men can be finished, both want the finish early, and neither have the defensive capacity to do an Izzy Adesanya and avoid damage for multiple rounds.
The only reason you'd bet the over is because you think Buckley's time at Xtreme Couture has offered him a new found ability to wrestle effectively. I've seen no training footage evidence of this. 
Back to break the internet again ?

[ @NewMansa94 | #UFCVegas48 | Feb 19 | Live on @ESPNPlus ] pic.twitter.com/vD7OJnpk9f

— UFC (@ufc) February 15, 2022
Fight Prediction and Breakdown for Buckley vs Alhassan
Both fighters absorb more punches than they land. There is no such thing as a guaranteed banger, but this is as close as it gets. I don't doubt one of these men will get knocked out, my only concern is if they'll show up gun shy and we see a round three TKO. 
I'll be betting the Under 1 ½ Rounds prop at -125. It pays out better than the Buckley money line, which is my second choice. Buckley is more dynamic, faster, and has a higher rate of strikes landed per minute by .4 strikes.
Alhassan is yet to fight a UFC level southpaw fighter, and this often adds to the rate of exchanges and left-side strikes landed. 
UFC Vegas 48 Main Card Wrap Up
Walker vs Hill seems like it would be the most likely bout for a finish on the main card, but there are three fights that I think we'll see solid finishes in.  
This may prove to be one of the more exciting cards of the year in terms of action
Despite many criticizing the card for not having enough big name fighters. If you're new to MMA betting, and need a better understanding of my prop picks, start here.