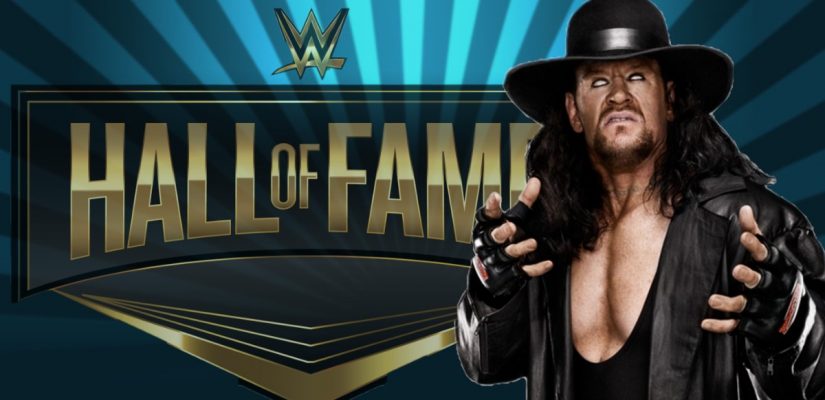 The Road to WrestleMania 38 has officially begun! The WWE's annual flagship event is scheduled for April 2 and 3, 2022, at AT&T Stadium in Arlington, Texas. As is tradition, the weekend's festivities begin the night before, on April 1, with the 2022 WWE Hall of Fame induction ceremony.
Headlining the WWE's 23rd Hall of Class is one of the company's most influential, enduring, and beloved superstars of all time: The Undertaker.
Mark Calaway (Undertaker's real name) joined the WWF in 1990, remaining a consistent fixture on-screen and a leader in the locker room for the next 30 years. He's a four-time WWF/WWE Champion, three-time World Heavyweight Champion, WWF Hardcore Champion, and seven-time WWF/WCW Tag Team Champion (with four different partners).

The Undertaker is one of the last superstar performers from WWF/WWE's glory days, the Attitude Era, to be inducted into the Hall of Fame. After April 1, the only legendary wrestler from that period left to honor will be Dwayne "The Rock" Johnson.
WWE Hall of Fame
To date, WWE has honored 228 inductees (58 of whom were inducted posthumously):
121 performers inducted individually,
46 Legacy Inductees,
17 group inductions (consisting of 49 wrestlers total),
12 celebrities, and
7 Warrior Award recipients.
Eight wrestlers have been inducted twice (individually and as a member of a tag team or stable):
Who Will Induct The Undertaker?
Following the Hall of Fame announcement, fans and pundits alike began to speculate who would induct the 56-year-old Texan. As one of the most respected athletes in pro wrestling history, there will be no shortage of friends and peers vying to do The Undertaker the honors.
MyBookie.ag is offering betting odds for eight of The Undertaker's potential inductees – including one long-deceased friend, in the form of a hologram. (I don't know where MyBookie's oddsmakers get this stuff, but I love them for it.)
| | | | |
| --- | --- | --- | --- |
| Pick | Betting Odds | Pick | Betting Odds |
| Vince McMahon | -220 | Shawn Michaels | +600 |
| Kane | +130 | Kurt Angle | +1000 |
| Mick Foley | +200 | Shane McMahon | +1500 |
| Triple H | +450 | Paul Bearer (Hologram) | +2000 |
There are two names missing that I'd like to see as betting options:
1) Stone Cold Steve Austin
The first is Stone Cold Steve Austin. With the 2022 Hall of Fame ceremony taking place in the Lone Star State, it's only fitting that a fellow Texan would introduce him. Plus, Stone Cold is one of the only wrestlers alive to reach a similar legendary status.
2) The Godfather
The other is one of Mark Calaway's closest friends: Charles Wright – best known by his ring name, The Godfather. By all accounts, they spent years driving from town to town together to make shows as members of the Bone Street Krew (BSK).
On an episode of WWE's The Bump, Wright said the following:
"Our relationship is much more friendship. He's my brother, I love that dude, I really do. We've been through a lot together and he's a good dude. And to this day, we never talk wrestling. We just talk about what's going on between the two of us."
Vince McMahon –220
The favorite to inaugurate the Deadman is Vince McMahon, WWE's majority owner, Chairman, and CEO. In the past, McMahon has inducted James Dudley (1994), Stone Cold Steve Austin (2009), and Donald Trump (2013).
However, Vince is no longer the powerful orator he used to be. When he's appeared on WWE television in recent years, his voice sounds shot, he mumbles and seems to be reading cue cards.
On a recent podcast, legendary wrestling personality Jim Cornette said that there's no way Vince inducts The Undertaker. According to Cornette, when he introduced The Rock 'n' Roll Express in 2017, presenters were ordered not to thank or mention Mr. McMahon.

Still, Vince McMahon may make an exception for one of his most loyal and consistent performers. The Chairman of WWE seems to have big plans for this year's WrestleMania weekend.
As of last night, Vince McMahon vs. Pat McAfee was listed as a match on the internal schedule for WrestleMania.

— Dave Meltzer (@davemeltzerWON) February 26, 2022
Vince McMahon is expected to launch a program with Pat McAfee, which will include WrestleMania 38.

Source says it will "most likely" be billed as an official match on the WrestleMania card

– POST Wrestling pic.twitter.com/oOugYPMb3s

— WrestlePurists (@WrestlePurists) February 26, 2022
Now, it's being reported that the 76-year-old billionaire might be wrestling!
Between Stone Cold possibly returning for a match and The Undertaker going into the Hall of Fame, Vince is going all-in on WrestleMania 38. It almost feels like this is the long-time owner's last hurrah.
If so, the odds of Vince McMahon inducting The Undertaker improve dramatically.
Kane +130
Another betting favorite to induct Calaway is Kane, the Undertaker's in-character brother. As kayfabe siblings, their legacies are forever intertwined. Portraying Kane changed Glenn Jacobs's career trajectory, leading to a 2021 Hall of Fame induction of his own.
The two brothers made history together, both as rivals and partners. They formed The Brothers of Destruction as tag team partners and became two-time WWF/WWE Tag Team Champions.
Jacobs and Calaway are also close friends in real life. Kane has expressed eternal gratitude to The Undertaker for launching his WWF/WWE career.
One reason I'm leaning towards picking Kane at +130 is this exchange from last year when Calaway informed his old partner of his 2021 Hall of Fame induction:

He gets emotional receiving the news from his wrestling brother! It would obviously mean a ton for Kane to induct The Undertaker, and I would be shocked if the former hasn't already reached out and made the offer.
Mick Foley +200
The last prospective inductee that caught my eye was Mick Foley. The Undertaker and Foley's character Mankind endured brutal feuds and are responsible for one of the most iconic and terrifying moments in WWF/WWE history.
At their Hell in a Cell Match at King of the Ring 1998, Undertaker threw Mankind from the top of the massive cage onto the announcer's table below.
Foley was almost carted to the back for medical assistance, but he climbed off the stretcher, forced his way back towards the ring – much to the chagrin of multiple officials and Terry Funk – and climbed back to the top of the cell.
Then, he gets choke slammed through the cage's roof down to the ring – ANOTHER</em enormous fall!
By the end of the match, one of Mick Foley's teeth is visibly protruding from his nose.
You can't celebrate Mark Calaway's career without talking about the 1998 Hell in a Cell Match. Maybe Undertaker will ask his opponent from that savage night as a sign of respect.