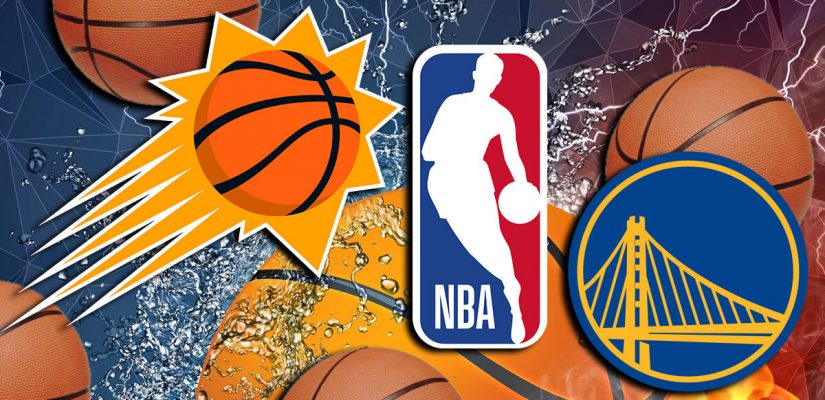 Utah closes in on Phoenix, Golden State for NBA's best record
Cavs edge Thunder with best ATS mark
Loose defenses trend toward overs
Best Records Straight Up
Golden State, 29-8
Phoenix, 29-8
Utah, 28-10
Chicago, 25-10
Brooklyn, 24-12
The Golden State Warriors and the Phoenix Suns continue to sit on top of the NBA with 29-8 records. Golden State won the last meeting on Christmas Day as Stephen Curry scored 33 points and Otto Porter, Jr. hit a couple of late threes to secure the win.
Both teams have a 78.4 winning percentage and continue to be the pacesetters in the NBA.
Golden State has a 2-1 lead in the series as the two teams do not see each other again until their fourth and final matchup on March 30.
1. Golden State Warriors

Although Golden State was hammered, 99-82, in Dallas on Wednesday evening, the Warriors are 8-3 in their last 11 games and they are 12-5 on the road which constitutes a 70.6 winning percentage. Golden State suffered through Curry's worst shooting night of the season so far on Thursday as he was 5-of-24 from the floor and scored only 14.
The Warriors await the return of Klay Thompson, who hasn't played in almost two years as he has been saddled with injuries. Thompson has not played since Game 6 of the 2019 NBA Finals where he injured an Achilles. Defensively, the Warriors are allowing only 36.5 makes per game as well as holding the opponents to 42.5 percent from the floor. In addition, teams only average 21.4 assists per game and they shoot only 49.6 percent and score 101.4 points per game. All of those defensive numbers are league leaders and are a telling reason why Golden State continues to lead the NBA.
As Golden State goes into New Orleans on Thursday evening, the Warriors are 3-3 against Southwest Division competition, easily the worst ledger of the season vs. any division. They are still 7-1 against the Pacific Division and 4-0 vs. the Central Division competition.
2. Phoenix Suns

The Suns continue to match the Warriors and like Golden State, Phoenix is 8-3 over its last 11 contests and the Suns have won three of their last four after posting a 123-110 win over the New Orleans Pelicans on Tuesday evening. In that game, Devin Booker dropped 33 while Miles Bridges accounted for 23 points for the Suns.
They held the Pels to only 40.4 percent from the floor.
Phoenix checks in at 20-17 ATS as that number is currently tenth in the NBA. The Orange Planet is 7-4 in its last 11 games ATS. The Suns go into New Orleans with an 8-5 road record ATS while they are 8-5 as an away favorite. Phoenix has covered the OVER in eight of its last 11 games.
The Suns enter Footprint Center on Thursday evening to battle the Los Angeles Clippers and a win would leave them at 30-8 and would be the second-best start in franchise history after starting 31-17 in 2004-05. Phoenix is the top shooting team in the NBA as the Suns find 47.7 percent of their hosts on a nightly basis.
They only take 31.9 triples per game (26th/NBA), but much of that lies in the fact that they are such a solid mid-range shooting team, they can go down low to DeAndre Ayton or the guard and small forwards drive the basketball successfully.
The Suns are best known for the backcourt duo of Chris Paul and Devin Booker as he has 16 double-doubles on the season so far. Booker also picked up his 2000th career assist earlier this season and he is the seventh youngest player in NBA history to get to 10,000 points.
Phoenix is 16-12 ATS after a win and 10-7 against the number as a road team. They also have mastered a 14-8 record ATS on a day off, but only 13-13 ATS in Western Conference outings.
3. Utah Jazz

The streaking Jazz has won seven out of their last eight games and the Warriors stopped a Jazz winning streak at 16 on New Year's Day as Utah fell, 123-116. When you think Jazz, you think three-point game as their 15.1 makes per game lead the NBA while they are netting the triple at a 36.6 percentage (6th/NBA).
Utah also averages a league-leading 116.0 points per game behind 25.5 points per night from Donovan Mitchell, which is ninth in the Association. Rudy Gobert continues to be a relentless presence in the middle with his 15.5 points and 15.1 rebounds per game. Gobert paces Utah on the glass as the Jazz are second in the Association with 47.3 boarded per night. Adding Hasaan Whiteside was an excellent move by Jazz management to back up Gobert. Whiteside is second in rebounding at 6.6 per game while blocking 1.3 shots (2nd/Jazz).
Utah is 19-19 ATS and the Jazz is quizzically 13-14 ATS after a win and 5-5 after a loss. Utah had a six-game losing streak ATS in December and snapped that as they were an 8-point favorite in a 120-105 win over Portland back on Dec. 29. Utah goes into tomorrow night's game in Toronto as a 7-point favorite, as the Jazz are 10-6 ATS on the road this season.
4. Chicago Bulls

The Bulls are one of the biggest surprises in the NBA this season as they have now won eight in a row with three games in that string of wins being canceled due to health and safety protocols involving the COVID-19 pandemic. Chicago has unseated Brooklyn as the leader in the Eastern Conference.
Although they had 11 players test positive and were out at points in December and they were able to get them all back on Dec. 23. The Bulls lead the NBA in three-point percentage (38.5%) with Zach Lavine at 42.2 percent and DeMar DeRozan posting 36.2 percent from behind the arc. DeRozan is the story of late a he became the first player in NBA history after he hit a three at the buzzer and the Bulls downed the Wizards, 120-119, on New Year's Day.
Chicago's guard play has been strong all season as the Bulls only turn it over at a 13.2 per game clip (7th/NBA). Coach Billy Donovan would be looking at a higher assist number as the 23.5 is 17th in the NBA. This is a deep team that can figuratively play deep into April.
5. Brooklyn Nets

Nets management relented in allowing an unvaccinated Kyrie Irving to play in road games where the protocols are unfortunately not as stringent as in New York where Irving's unvaccinated status has cost him all of his home games. He came back last night in Brooklyn's 123-121 win against Indiana.
He scored 22 points to help the Nets quell a three-game losing streak.
Kevin Durant led with 39, but he and James Harden have been struggling with rest as of late so with the Nets teetering, management caved and made its unfortunate move.
Brooklyn is a tougher matchup inside the arc as Kevin Durant is the key cog in averaging 56.6 percent from inside the arc. You also have LaMarcus Aldridge who shoots at 59.4 percent from two. Defense is this team's calling card, as well as Brooklyn, holds opponents to 43.2 percent (2nd/NBA) and 31.6 percent from three (1st/NBA).
The Nets are 14-21-1 ATS as that is 29th in the NBA just before last place Portland who is 13-24-0 vs. the number. The value of the Nets is overestimated at times as it is hard to project the health and the day-by-day game attitudes of the superstar culture on this team, especially with Irving back in the lineup during those roadies.
The Nets are also 8-15-0 ATS after a win and they are last in the NBA at 10-20-1 ATS after a win.
Brooklyn is still only 6-8 ATS with a rest advantage and the Nets after 10-14-1 vs. the number against their Eastern Conference foes.
Best Record ATS
Cleveland, 25-11-2 – 69.4% cover rate
Oklahoma City, 24-13-0 – 64.9%
Golden State, 22-13-2 – 62.9%
Memphis, 24-15-0 – 61.5%
Chicago, 21-14-0 – 60%
1. Cleveland Cavaliers

The Cavs are one of the best stories of the season as they have moved back into playoff contention as the 21-17 record slates them at sixth in the Eastern Conference and then third in the NBA Central behind the Chicago Bulls and Milwaukee Bucks. In posting the 25-11-2 ledger ATS, the Cavs also have the highest cover margin at 7.2 points per game.
Cleveland has covered at a 15-5-1 record after a win as well as 10-5-1 after a loss. Cleveland is also 13-6-1 vs. the number at home and 12-5-1 on the road. The Cavaliers are 0-5-0 ATS in their last five games while failing to cover in six of their last seven games.
The Cavs have given points in 11 of their last 13 games and they covered six games during that stretch.
2. Oklahoma City Thunder

The Thunder is improving some under the analytics system of Coach Mark Daigneault as they are 13-24 and 8-11 at home. They have lost four out of their last five and are two games off 10th place San Antonio for the 10-seed and a potential spot in the play-in game as a prelude to a potential playoff spot.
The Thunder is a good bet when looking for a cover as they are 9-2 ATS since covering (+4.5) in a 113-110 loss to the New Orleans Pelicans back on Dec. 15. Oklahoma City has, of course, been taking points for over a month.
The last time they gave was on December 2 when they were a (-2.5) favorite over the Houston Rockets and lost 114-110. They have only been favored in two of their 37 games. The other was against the Rockets as well on Nov. 17 when they were a (-3) favorite and took a 101-89 win.
OKC is 23-12-0 on the cover as an underdog and 15-8-0 after a loss.
Check their betting odds against Western Conference foes as the Thunder is 17-10-0 as the probability of a cover is strong with the tough matchups they face in the West.
3. Golden State Warriors

The Warriors have failed to cover four of their last five games as two of those were losses. Golden State was a tough call in December as the Warriors were 6-7 ATS and they covered three in a row during the period of Dec. 20-25 which pushed them closer to around .500. Last night, they were a 4.5-point favorite in Dallas.
They were outscored 29-15 in the fourth quarter in taking the straight-up loss and ATS. As you look at the Warriors over the last few weeks, the highest cover came on Dec. 20 when they were a (-13.5) favorite in Sacramento where they dethroned the Kings and covered with a 113-98 win. So far this season, Golden State is 6-1-0 ATS after a loss and also 6-2-1 when they have two or three games off.
When categorizing the different scenarios against the spread, Golden State is only at 50 percent in two categories where they cover at only a 50 percent rate. The Warriors hold a 5-5-1 record as an away favorite and with a rest disadvantage.
4. Memphis Grizzlies

Ja Morant is one of the top storylines in the NBA right now as Memphis is 25-14 as those 11 games over .500 are the best mark since Ja came to Memphis. It's the best start since 2014-15 when the Grizzlies were at 28-11 through the first 39 games. Morant had his streak of 30-plus points games ended when he had "only' 26 in the Grizzlies 110-106 win over the Cavs.
Memphis has won six in a row and 11 out of its last 14 games. The Grizzlies are a good bet to cover as they have surpassed the number in their last three and five of their last seven games. The Grizz took points and covered in wins over Brooklyn and Cleveland as well as being a 7.5-point underdog vs. the Suns on Dec. 27 and they won, 114-113 when Morant hit a runner with 1.5 seconds remaining.
Memphis has turned into a solid bet as a road team where the Grizzlies are 13-5-0 where they have been favored on the road three times and have checked in with a 2-1-0 record ATS and they are 12-6-0 in covering as a road underdog.
5. Chicago Bulls

As the Bulls have taken over the lead in the Eastern Conference and in the Central Division, the Bulls were 14 games over .500 for the first time since they were 43-29 in 2014-15. Chicago has failed to cover its last three games and the streaking Bulls are 4-6-0 ATS in their last ten outings.
Two of those failed covers were of course the back-to-back buzzer-beaters by DeMar DeRozan as Chicago was (-3) over Indiana but won 108-106 and then the Bulls were (-2) over Washington, but took a 120-119 win on the second buzzer-beater.
In doing the math, they missed the cover by two points in each. Chicago is a good bet with one day off as they sit at 14-7-0 ATS and also they are 11-6-0 vs. the number when in United Center.
Look for Chicago in these two scenarios:
The Bulls as 16-9-0 as a home favorite and they are also 18-11-0 in games outside of the Central Division.
Look out if they are on the road and underdogs as they are 3-4-0 while they are also 3-3-0 with rest disadvantage.
Best Record Over/Under
Toronto Raptors, 22-13-0 – 62.9% over percentage
Miami Heat, 24-15-0 – 61.5%
Charlotte Hornets, 22-16-1 – 57.9%
San Antonio Spurs, 20-15-2 – 57.1%
Houston Rockets, 22-17-0 – 56.4%
1. Toronto Raptors

The Raptors are a fun team to watch play with all of their offensive options and now they are a tremendous threat with Pascal Siakam playing at a high clip and healthy. The Raptors have won four in a row and moved to 18-17 and in seventh place in the Eastern Conference. Toronto can score the ball.
The one thing that is making these Raptors games hit so many overs is their defensive struggles. Toronto allows opponents to shoot 45.6 percent from the floor (18th/NBA) while netting 36.1 percent of their threes (24th/NBA). With a rest advantage is where we are talking about some of the Raptors' offensive successes as they are 9-2-0 and they are also 12-5-0 after a win.
Checking rest is a big factor with Toronto as the Raptors are only 9-8-0 in hitting the over with a rest disadvantage while they are 13-10-0 in games vs. the Eastern Conference.
2. Miami Heat

The Heat have been bombarded by so many players being in the health and safety protocols because of COVID-19, but they continue at 24-15 and are only three games back of the Bulls for the lead in the Eastern Conference. Miami has covered the over in six consecutive games and seven of the last eight.
The Heat allows only 104.3 points per game (4th/NBA), so where they generally get the covers in through their offense, namely a three-point attack that posts a 37.3 percent average (4th/NBA). Tyler Herro is second ins coring at 20.3 points, but he is netting the three-ball at a 38.2 percent clip while Duncan Robinson is averaging 3.0 threes per game and is dropping 35.2 percent. Add Max Strus and Caleb Martin to the mix in that three-point arsenal off the bench and Miami forces you to choose your poison.
Miami has hit the over in 14 of 16 games vs. the Western Conference and they are 9-4-0 as an underdog. They do a really good job on the road where they are 15-8-0 and have covered nine of 14 overs as an away favorite.
3. Charlotte Hornets

The Hornets are 4-2 in their last six games which places them at 20-19 and in eighth place in the Eastern Conference. Charlotte is 10-5 at home and 10-14 on the road and the Hornets will be looking at the balance of home games here in the second season half. Charlotte is the perfect team on which to bet the over because they average 115.5 points (2nd/NBA).
They give up 116.6 points (30th/NBA) so that extreme makes you look for 232.1 total points per game in Charlotte's contests. Now for the irony – Charlotte went for five consecutive under before covering the over in a 124-121 loss to Washington on Monday night. Then, last night, they covered 227 points easily in a 140-111 win over the Detroit Pistons. The Hornets set the franchise record with 242 three-pointers in this game as Kelly Oubre, Jr., was 9-of-14 from three.
Check the previous game when you are playing the Hornets. They are 13-5-1 with the over after a loss. The offensive acumen of this team is also seen in rest advantage as Charlotte covers the over at a 13-8-1 margin with equal rest and then 14-9-1with one day off.
4. San Antonio Spurs

It's been a struggle all year for the great Greg Popovich as the Spurs are 15-22, but they are the fourth-best team in the NBA at covering the over although the under has been the play in three of their last five games. The biggest statistic that exemplifies that over is San Antonio not only shoots 46/7 percent from the floor (6th/NBA).
The Spurs take (93.1) and make (43.5) the most shots on average per game. This allows them 110.9 points per game (8th/NBA). Defensively, they give up 110.4 (21st/NBA) per outing so they don't defend as well as opponents make 45.9 percent of their shots. The Spurs have gone over in 13 of 17 home games while enjoying a 7-2-1 offering ATS as a home underdog. San Antonio is 19-12-1 in games outside the division while and they are also 104-0 against Eastern Division competition.
San Antonio has it's toughest time as it has had only one cover on the over in five games against teams from the Southwest Division.
5. Houston Rockets

The Rockets are languishing at the bottom of the Western Conference as they are 11-28 and they just ended an eight-game losing streak with a 114-111 win over the Washington Wizards last night.Teams that are in compromised positions like these Rockets generally are solid covers on the over because they have a hard time defending as we see with Houston.
They give up 115.5 points per game (29th/NBA) as opponents shoot 46.7 percent (25th).
The Rockets have covered the over in nine of their last 11 games as opponents averaged 123.2 points in those nine.
Here is maybe the oddest stat of the day.
The Rockets have covered the over in 22 out of 39 games, but they only have a cover percentage of more than 50 percent in four of 22 possible categories.
They are both 3-1-0 in games against the Southwest Division and in games with a rest advantage. Houston is 6-4-0 after a win and 4-3-0 with two or three days off.