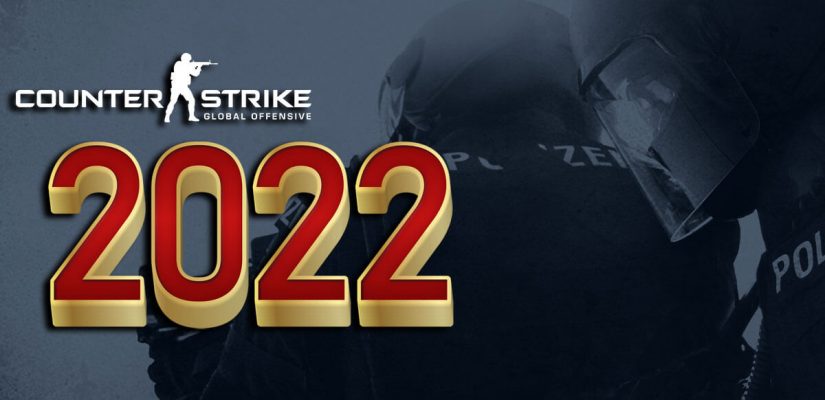 It's time for us to explore the biggest CSGO events this year. Yeah, I know we already had several similar articles, but this one focuses solely on tips for betting on CSGO events in 2022. There's a whole lot of events to cover, with 2022 certainly looking like the year of CSGO esports' return!
No worries, we won't cover all CSGO events this year – just the most important ones. Covering all events would take way too much time because, as you probably know, there are new (smaller) tournaments practically on a daily basis.
Betting on CSGO Events in 2022 | Key Events to Keep Tabs On
There's no time to waste! We have nine massive CSGO events to tell you about so let's jump right in!
IEM XVI Katowice
IEM XVI Katowice starts next week. It's the first big CSGO tournament of the year, with expectations set sky-high for the event that'll bring all the best CSGO to fight for the lucrative prize pool.
February 15th is the start date, with 24 teams eager to start things off with a win.
The tournament will consist of three stages. Sixteen teams will kick it off from the play-in stage, followed by the group stage where eight directly qualified teams await their competitors.
Here's a look at the eight directly qualified teams:
Some of the strongest play-in teams include Ninjas in Pyjamas, Astralis, Faze, BIG, and OG. So yeah, all in all, the first big tournament of the year is going to be packed with excitement!
The third stage is the playoff.
It will be held at the Spodek Arena in Katowice, Poland and will pack live audience. The playoff is imagined as a single-elimination bracket with bo3 openers and semifinals, and bo5 grand finals.
ESL Pro League Season 15
ESL Pro League Season 15 is scheduled to start on March 9th and last through April 10th. Yep, a whole month of AAA CSGO action awaits us, right after the end of IEM XVI Katowice. As stated earlier, 2022 is the year of CSGO's return, and I'm loving every part of it.
When it comes to betting on CSGO events:
ESL Pro League S15 should definitely be on your radar. The two ESL season we get every year usually possess top-notch action. They're among the most lucrative events too. This one will feature $823,000 in prize money, just like S16 and S17. As for the structure, Season 15 will feature 24 teams and is going to be held in Malta as a LAN event. It will feature two stages, groups and playoffs. All matches are bo3 from the start up until the grand finals. The grand finals are set for a bo5.
We already know all 24 teams that will be a part of this one. All the biggest name are on the list, including the likes of NaVi, Gambit, G2, and Vitality. The fifteenth season of ESL Pro League is going to be awesome!
PGL Major Antwerp 2022
This is it – it's official, PGL will host the second consecutive CSGO Major Championship, this time in Belgium! This is the biggest CSGO event in the first half of 2022, no doubt about it!
CSGO Major Antwerp 2022 is what most folks can't wait to start betting on! The show starts on May 9th and will last through May 22nd. Through these two weeks, we're going to see 24 teams battle it out against each other for a whopping $1 million in prize money.
The last Major, the one in Stockholm, was all about Natus Vincere. Of course, that means the CIS behemoths are favored to win the Antwerp Major too. But, there's plenty of time till May and things in CSGO tend to change quickly. One week you're establishing your era, the very next week your scrubbing the floor with two winless events.
? We are delighted to announce that PGL will host the first Major of the year, PGL CS:GO MAJOR ANTWERP 2022, in Belgium ??

?️Read more: https://t.co/G77CU0HcDI#PGLANTWERPMAJOR pic.twitter.com/dcXJLNofUw

— PGL (@pglesports) February 2, 2022
Structure-wise, Major will have three separate stages with sixteen teams starting from the first and eight more joining from the second. The third stage, AKA the playoffs, will be held at the Antwerps Sportspaleis and is likely to feature a live audience. If you're looking for the best lines for betting on CSGO events this year, PGL Major Antwerp will be right up your alley!
IEM XVII Dallas
Next up, Intel Extreme Masters Season Seventeen. It's the first event of XVII season; it's starting on the last day of May, and it's going to feature sixteen participants. There will be $250,000 in prize money, $100,000 of which will go to the winning team.
While we don't know much about the participants (or anything at all, really), we do know the format. IEM XVII Dallas will kick off with two double-elimination groups. Winners will advance to the semifinals, second and third-place teams to the quarterfinals. All matches are scheduled for best-of-threes… well, all except best-of-five grand final, that is.
We'll find out a lot more about this tournament shortly after the end of IEM XVI Katowice. No worries, we'll have a special article addressing the updates as well as more tips for betting on CSGO events.
BLAST Premier Spring Finals 2022
As you probably know, BLAST Premier Group Stage is all done. We've found out six teams that will get to play in the Spring Finals. They are as follows:
Let's not forget about the Spring Showdown, though! It's a smaller event, true, but it will give us the two remaining Spring Finals 2022 participants. The Showdown is scheduled for April 20th so make sure you tune in.
As for the Finals, the show starts on June 14th and will last through June 19th.
Eight teams will get a chance to play, six of which we already know. The group stage is where the fun will begin, with two-double elimination groups and bo3 matches from start to finish, not just in the group stage but in the playoffs as well.
IEM XVII Cologne
The second event of IEM XVII will be held at the Lanxess Arena in Cologne, Germany. July 5th is the start date; July 17th is the end date. As per usual, we'll get to see 24 teams do their best for a whopping $1 million in prize pool money.
As things stand right now:
Not a single team has been officially confirmed yet. But, we can already state the obvious – IEM XVII Cologne will feature all the world's best!
That said, if you are interested in betting on CSGO events this year, make sure you don't miss out on IEM XVII Cologne!
ESL Pro League Season 16
The sixteenth season of ESL Pro League is scheduled for August 31st. I know, I know, it's a long way from now. No worries, we'll be short with this one!
There will be 24 participants and $835,000 in prize money.
The winning team will go home with $175,000 in prize money and a direct seed for the upcoming BLAST World Final 2022. We're looking at a competition that will last for more than a month, meaning it's one of the longest opportunities for betting on CSGO events this year.
To put things in perspective, PGL Antwerp Major will last two weeks.
BLAST Premier Fall Finals
That's right, the second big BLAST Premier event. It's scheduled for November 22nd and will feature $425,000 in prize money, just like the Spring iteration. We can expect both tournaments to possess similar production quality and exceptional CSGO gameplay. I for one can't wait for these to start.
We're looking at yet another LAN event here. We still don't know the exact location, though, that information will be disclosed at a later date. The location doesn't really matter that much for our CSGO betting tips. What's important is the LAN factor – should BLAST Premier Fall Finals switch back to online, we'll be sure to let you know so you can adjust your bets accordingly.
At the moment, we still don't know any of the participants. But, as the Spring season comes to a close, the names will start popping up left and right.
BLAST Premier World Finals 2022
Last but not least, BLAST Premier Word Finals 2022! It's the biggest annual event within the BLAST Premier series.
Natus Vincere and Gambit met in the grand finals and S1mple's marvelous performance was, in the end, crowned with the title. BLAST Premier World Finals will kick off on December 14th and will feature eight participants, just like last year.
The prize pool will be the same too, a whopping $1 million, half of which are reserved for the winning team. That's surely going to spice things up with this one!
As for the participants, here's how they'll make it to this event:
Are We Going to See Two Majors This Year?
Prior to the pandemic, CSGO always featured two Major Championships every year. But, the health restrictions have done their part in 2020 and 2021. 2020 had no Majors whereas 2021 had just one – PGL Major in Stockholm.
As you can see from numerous lines for betting on CSGO events, CSGO esports is finally back.
LAN events are making a proper comeback, so it's likely that we're going to see another Major sometime in November. It would be a real shame if we don't, that's for sure!
Wrapping Things Up
Remember, these are only AAA events that have been scheduled thus far. There are lots of smaller events too – DreamHack, ESL Challengers, BLAST Premier Groups and Showdowns, LAN Sweet LANs and many more.
Chances are that we'll see another Major by the end of the year. The Antwerp Major is scheduled for May, and if history is any indicator of what's to follow, we could have another one in November. All things considered, there won't be a dull moment as far as betting on CSGO events in 2022 is concerned.
The calendar is packed with exciting AAA events and, don't worry, we'll be here to cover them all! As always, thanks for reading the whole piece! Until next time. May the odds be in your favor!