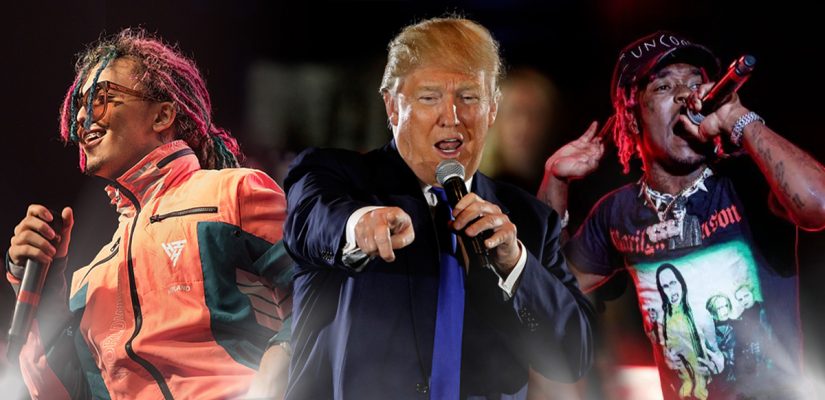 "If the service is free to use, you're the commodity being sold," was the statement that finally pushed me over the edge and convinced me to delete my Facebook and Instagram accounts a few years back. In today's digital world, it seems like our data and attention are some of the most valuable resources we, as citizens, possess.
Whether you're talking about social media "influencers," musicians, and writers (like myself) — finding success on the internet is all about generating content and getting as many eyes on said content as possible. As it turns out, politics in the early 21st century are following the same rules.
The concept of an attention economy has been around for decades, but I first started thinking about it more clearly after listening to a J. Cole interview with Angie Martinez on YouTube. He was discussing mumble rappers, a few of which had taken offense to his song 1985 and had taken to attacking Cole in social media posts and on stage.
After meeting with some of the personalities behind the "[Expletive] J. Cole" chants – all of whom were polite and admitted to being fans in person — the rapper shared the following with Martinez:
"Oh, okay; this is like – oh, it's marketing… It's trolling. We're in the age of trolling. These kids have figured something out. They figured out that attention is ALL that matters. The skill – who gives a [expletive]? The quality? Pfft…No, all that matters is attention. This music is just a platform for me to get attention – and what's even more important than the music is the [expletive] that I do outside of the music. What type of wild [expletive] can I cook up or say, just to get this attention. We're living in the Donald Trump era."
J. Cole went on to concede that Donald Trump didn't necessarily invent this phenomenon, but he's arguably the most glaring example of the attention economy in action. That's what got me thinking about the President's prospects of being re-elected in 2020.
Trump's Media Attention in 2016
In most political races in the United States, the side that spends the most money wins. However, that was nowhere near the case in 2016, where Donald Trump vastly underspent his competitors both in the GOP primary and general election.
An article from Business Insider in 2016 broke it down:
"Former Florida Gov. Jeb Bush spent more than eight times as much money on advertising as Trump — and he's been out of the race for nearly a month. Cruz, Sen. Marco Rubio of Florida, and Ohio Gov. John Kasich have all spent more money than Trump on ads. Even New Jersey Gov. Chris Christie, who dropped out of the race in early February and has since endorsed Trump, has spent nearly twice what the GOP frontrunner has to date on bought media."
In the general election, Hillary Clinton's campaign spent $768 million, versus Trump's $398 – almost double. Where the eventual winner made up ground was in "earned media," or standard coverage that doesn't have to be purchased by the candidate.
Media analysis firm Trump received roughly $5 billion MediaQuant estimates that in free media leading up to the 2016 election. It didn't matter what the journalists were saying about him, just that they were talking about Donald at all. In that sense, he continually benefitted from saying outlandish and/or offensive things that ignited outrage from the pundits and social media users alike.
A quote from the President's own book, The Art of the Deal sums it up perfectly: "good publicity is preferable to bad, but from a bottom-line perspective, bad publicity is sometimes better than no publicity at all. Controversy, in short, sells."
Betting on the 2020 Presidential Election
The idea that "all publicity is good publicity" isn't exactly new – I just never thought it would apply to politics on this level. It always felt like our public servants were held to a higher standard and that it would only take one major gaffe or scandal to end a career, but that's no longer true.
Looking forward to the 2020 presidential elections, this means bad news for the Democratic candidates. Not only has the media not learned from their mistakes, they've doubled down – covering nothing but Donald Trump with various degrees of outrage in their voices for the entirety of his first term in office.
If the coverage he received in 2015-2016 was worth $5 billion, the President must have received no less than $30 billion in earned media since then. And the major networks don't appear to be adjusting their strategies, which makes me wonder if Trump's biggest detractors really want him gone at all.
All of the media personalities who pretend to hate Donald Trump the most are also the biggest beneficiaries of his presidency. Look at Steven Colbert, for example. After taking over for David Letterman in September 2015, his show was tanking, as people realized they didn't like the real guy nearly as much as the Comedy Central character.
There were even rumors of Colbert being replaced by James Cordon, who was making waves online with his Carpool Karaoke skits. It wasn't until Steven could get political again and spend his show attacking Trump that he became a contender in the ratings again.
The same goes for Rachel Maddow, who has become the highest-rated cable news pundit on television under the Trump administration. Do you really think she wants a Democrat to take office in 2020 if it means her viewership will take a hit? Not a chance.
Bernie Blindness
Make no mistake; the networks are all plenty aware of the fact that the attention they're feeding Donald Trump is only strengthening his run for re-election. If they didn't want him in office, he'd get the treatment reserved for outsider candidates like Bernie Sanders, Tulsi Gabbard, and Andrew Yang.
You see, when they really don't want to help someone's chances, they pretend they don't exist. They fudge their poll numbers, leave them off graphics, and call them by the wrong names.
When it comes to the business of selling media, they all want President Trump to get re-elected – which is precisely why I'm betting on him to win a second term at +130 odds. He's all anyone has talked about. Sure, there's always a snarky tone or a promise that the walls are closing in on his administration at any minute, but he's still the only topic being covered.
And if Lil' Pump can get 991 million views on a video called "Gucci Gang," in which he repeats the title for roughly 90% of the total lyrics in the song, Donald Trump can turn a similar amount of attention into four more years.