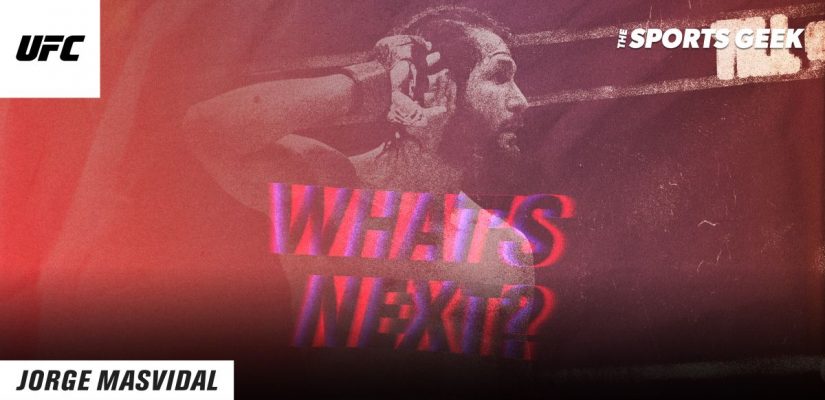 Jorge Masvidal, one of the biggest draws in UFC history, will face his long-time training partner and former friend Colby Covington in a matter of hours and, needless to say, we're all bursting with anticipation — UFC 272 will surely end up being one of the most lucrative pay-per-views of the year and it's easy to understand why.
Still, one cannot help but wonder: what options will Jorge Masvidal have should he end up losing at UFC 272? The outcome itself is, perhaps, the least important element of the equation — it's what happens during the fight that'll end up leaving the biggest mark. Losing a competitive decision is by no means as "career-ending" as getting knocked out cold (by your "arch-nemesis," no less).
That's yet another reason why this fight is so darn interesting: there's so much more on the line besides bragging rights and a sack of cash. And yes, this is a personal feud between two welterweight behemoths, but it's also a contest that comes at a very peculiar point of their careers: they've both reached a "dead end."
There's really nothing left for them to do or accomplish in the welterweight division as they've both lost to the reigning champion — twice. You can't really sell a third fight after everything that went down which means these two gentlemen find themselves at an impasse.
Their position is quite a thankless one: they're in their prime and are unquestionably some of the best and most talented welterweights who've ever taken flesh. But there's still one guy who's better than them and that whole hierarchy isn't going to change, no matter what they do or say.
Even if Masvidal wins — an unlikely event if the bookmakers are to be believed — he's not going to come any closer to a third title shot. And, well, it's easy to understand why: the way in which his last fight with Usman went down has erased all doubt as to who's the better fighter.
For Covington, the situation is ever so slightly different: the fact that he shared 50 highly competitive minutes with the sitting champion does paint him in an entirely different light. That said, he doesn't have any leverage to "force" a third fight with Usman nor would a win over Masvidal change that.
Colby's next move is no secret: he's going up in weight and plans on challenging the venerable Israel Adesanya. We, for one, love that idea. For Jorge, however, things aren't quite as clear.
He doesn't have to change anything if he ends up losing, but we doubt he'd still want to compete as a welterweight and pretty much assume the role of a gatekeeper. There's no prestige in such a thing.
You want him to sell pay-per-views and to generate as much hype as possible, but those things are pretty darn hard (if not impossible) to pull off if he's paired with, say, the seventh-best fighter in the division.
A clean slate is the way to go.
Going at it before they hit the scales ?

[ #UFC272 | Tomorrow | Live on ESPN+ PPV: https://t.co/A6HVDV98ON ] pic.twitter.com/GKOlvkX0jW

— UFC (@ufc) March 5, 2022
A Move Up in Weight
This would be the most logical option. He was a lightweight way back when, but at thirty-seven years of age, we seriously doubt he'd be willing (and able) to cut so much weight. So, a move up seems most likely.
Not only is it a reasonable decision, but it would also open the door to many exciting match-ups: Kelvin Gastelum, Darren Till (a rematch), Paulo Costa, Sean Strickland, Jared Cannonier, and last but certainly not least Robert Whittaker. The mere mention of these match-ups are enough to have us start watering at the mouth.
Welterweight, in comparison, looks like the most boring division in the world.
Moving up in weight would give Masvidal another shot at making history, although we don't think he'd pose much of a threat to Adesanya's throne. Colby, on the other hand, seems like a much harder match-up for the reigning middleweight champion.
Thank you Hunter Cambell and @danawhite and my team @malkikawa @Abraham_kawa and @FirstRoundMgmt for making sure my kids will never go hungry again #blessed pic.twitter.com/C2yk5l5pru

— Jorge Masvidal UFC (@GamebredFighter) March 3, 2022
Big 'Money' Fights
This option is also on the table and it's about as likely as the one above. Masvidal is one of the biggest draws in the history of the sport. He's also not going to compete for much longer so why not capitalize on all the hype?
Why change weightclasses and go through all the hassle when it isn't going to generate as much buzz as a potential rematch with Nate Diaz? Or, perhaps, Connor McGregor? This legendary Irishman will supposedly return to action this Summer and he'll do so as a 170-pounder.
Just imagine how many pay-per-views that fight would sell. Dana White's probably watering at the mouth at the sheer thought of it.
Although, in all fairness, we don't really see any other enticing match-up for Jorge at welterweight. A fight with someone like Leon Edwards or Belal Muhammad might be exciting on paper, but they don't make any sense standings-wise. No one else is popular enough to warrant a fight with "Gamebred" (or "Street Judas" as he is referred to by Covington).
It's also worth mentioning that Masvidal's last win came all the way back in 2019. He was able to become as big as he is through miraculous KOs but it's been a hot minute since the last time we saw something so impressive from him. And sure, he is a household name, but he's not going to have that much drawing power if he's on a three-fight losing streak.
So, needless to say, there's quite a lot on the line for Jorge Masvidal — the outcome of his fight with Colby at UFC 272 will have far-reaching implications for his career and future.
Will he thrive under the pressure? We'll find out soon enough.